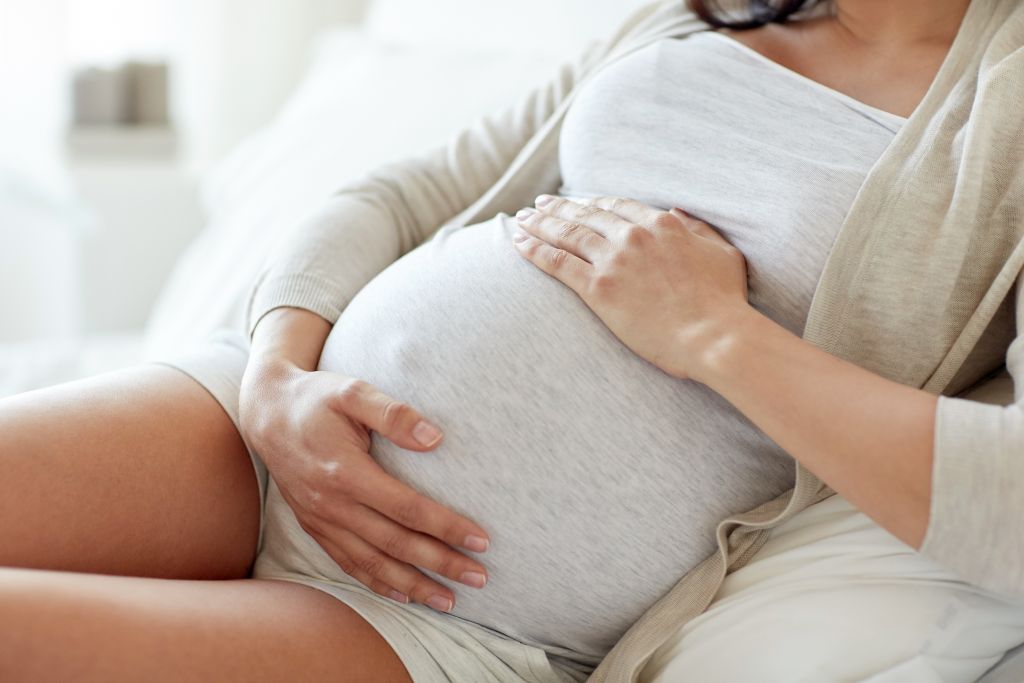 We love getting birth stories from clients! This is a beautiful story from one of Ashley's HypnoBirthing students. Through all of the unknowns of labor and delivery for a first time parent, this mom describes her birth experience and how relaxing and keeping calm throughout eliminated any room for fear.
Wesley Thomas Sarazin was born 9-2-18 (13 days prior to EDD) at 5:02 pm. At 4:30 am on 9-1 was laying on the bed at my cabin and felt a pop/jolt feeling and thought my membranes released, but I stood up and no fluid was coming out. I went to the bathroom and had instead lost my mucus plug. I laid back down with my husband and had 2 contractions 20 minutes apart, but decent intensity. Since the cabin is about 1 hour and 15 minutes from home, I knew I wouldn't feel comfortable laboring there and wanted to go home. Chris started to drive, and about 15 minutes before getting home I started to vomit. I got out of the car and fluid gushed. Surges were 6 minutes apart and lasting about 1 minute, with lots of back labor.
We got home and I took a shower, grabbed our hospital bags, and contractions were now about 5 minutes apart. I had wanted to labor at home for a while, but felt that I needed to head into triage because I was doing more vomiting and I felt like I needed to poop so I was afraid to try not knowing what my cervix was doing. I was 1cm and "soft" with baby's head pretty low at the appointment just over a week prior. We got to triage around 9:00 am. I was still only 1-2cm but surges seemed quite intense and still no more than 5 minutes apart. They confirmed I had released my membranes and I was taken up to L&D by 10:00. I had some high BPs initially but they came down and stayed around 135/85 so they weren't really concerned about pre-e. I was GBS neg.
Krista, my first nurse, was awesome. She has been in the field for 25 years. I'm a nurse so I wanted an IV in up front, because I don't have great veins. I got in the tub right away and labored there for about 2 hours. I did not have to do continuous monitoring. They took an initial 20 minute reading (wireless in the tub) and then just traced me for 2 minutes each hour with the portable one. I purchased a bath pillow on Amazon and that made it more comfy. I listened to Rainbow Relaxation and some other YouTube/Amazon playlists that I had ready. I got out and dried off, and did some squatting. I hated the ball. I hated leaning forward; the sensation in my abdomen when leaning forward was less tolerable than the back labor. I had lots of rectal pressure the whole time, probably my least favorite part.
I had them check me at around 1:30 pm, and I had made it up to about 5.5cm and 90% effaced. I continued to labor, now mostly side lying with a peanut ball and some standing/squatting and rocking hips. Krista, the RN, told me to try to get through 4 surges in 1 position and then switch to another position; that it would help time go by, and for me it did. I would do about 3-4 surges and then switch. It gave short term goals to get through. Kind of like when you've got 10 more minutes to run but you think of it in five, 2 minute sections, just get through the next 2 minutes.
My husband, Mom, and sister took turns applying heat or ice to my back and some counter pressure. I also held heat or ice over my pelvis as it just felt like menstrual cramps. Between surges, I would tell myself to be "loose, limp, relaxed". I continued with either Rainbow Relaxation or a really great birthing affirmations track that I had found on Youtube. My favorite affirmation was "My surges are not stronger than me because they ARE me". Baby did have some late decels but was overall ok.
The first 5 hours I was barely monitored but had to be watched more closely at the end. About 2 hours later I was having natural expulsion reflex and I was about 7.5cm and 100%.
Doc finally came in and I was relieved when she didn't leave, which encouraged me to know that things were likely happening soon. She was fantastic. Even the nurse commented that she has a very midwife-like approach and I felt totally comfortable with her. She put a warm wet towel on my perineum and did counter pressure during my surges. She told me to keep doing the natural expulsive pushing if it was happening even though I was not 10cm because baby was coming down well, at +1 station and tolerating it. She said, "You're not going to rip through your cervix, your body knows what it is doing."
After 20 minutes of active pushing, I was struggling to breathe because my urge to push was so strong it was hard to breathe in as much as I'd like. They threw a mask on me and had me push with 1 leg up through 2 surges and then switch and lean the other way to get baby to keep rotating. They got a little aggressive with how they had me push but at the time I was ok with it because I wanted him out ASAP! His head came in and out through several surges and once I popped that head through his body came all at once, such a relief.
During transition I almost asked for some nitrous oxide, but with knowing that the end was in sight, I just kept completely relaxing between surges. I didn't have any drugs aside from IV fluids. The Doctor did do a pudendal block right before I pushed which I had never even heard of but am super thankful for. I didn't have the "ring of fire" feeling that some people talk about.
I didn't get post delivery pit, and had no issue with bleeding. Baby did about 2 minutes of delayed cord clamping, and then I donated the rest. He wasn't pinking up well and neonatal needed to come. He had lots of fluid/mucus in his lungs and got deep suctioned. H also had to go on CPAP. Once he was looking better, they put him on my chest again, but unfortunately after a few minutes his color was not looking good and we had to call neonatal back for more CPAP and suction. He was threatened with the NICU and I told him to get his act together so he could stay and snuggle with me. I just kept talking to him from across the way. My husband and mom were right by his side as well. The 3rd try to my chest worked. He had mild signs of respiratory distress but his color was looking better.
The next hurdle was hoping his blood sugar was ok since he couldn't try to latch until his breathing was stable. Luckily that was good!  The only thing I would change about the whole process would be to slow down on the pushing because I think that would have minimized my tearing and maybe the baby wouldn't have had as much fluid in his lungs.
We are in mother baby now, doing fine. He has been latching pretty well. He still is borderline tachypnic so Dad and I are taking turns holding him because he does better that way. No bassinet for him tonight.
I had my Husband, Mom and sister in the delivery room and am so glad they got to witness our awesome birth. The labor and delivery was hard but honestly not as hard as I thought it would be. It was different I would say, in regard to the back labor and rectal pressure. My husband called me a "gangster". He said, "I don't know how to say this the right way, because I know it wasn't easy, but you made it look easy. It didn't look like you were uncomfortable."
Before labor and birth, Chris was a lot better than me about trying to use the HypnoBirthing lingo and shut down any negative birth stories that people would tell. We had several people (who are honestly GREAT people, so it surprised me) say to us, "Oh you'll see once you get into labor, you'll want an epidural," or "You don't get a trophy afterwards." After a few of those statements, I just stopped telling people that I was going to try for a natural birth. Fortunately, my mother delivered 4 children without medication, so I had her encouraging me and my husband fully believed I could do it, more than I did.
I should say that the reason I took HypnoBirthing was because I believe that our bodies are made to do this. One of my friends, who's biggest fear about labor was that she would go too fast and not be able to get an epidural, had read the book – Ina May's Guide to Childbirth and she gave it to me when she was done. That book further ingrained the message that our bodies are made to do this and a birth without fear will hopefully progress as it should. I think that is the most important part of preparing yourself for natural childbirth. I can honestly say I was never fearful at any point and had a beautiful, exciting, experience.
Most, if not all, of my preferences were met and I am so happy with my experience. I was up to the bathroom and walking around the room less than 2 hours after he was born, and I'm really not having any pain. Bleeding is appropriate without the dose of pit. Just trying to get some rest but being extra attentive though this first night because of my little guys breathing.