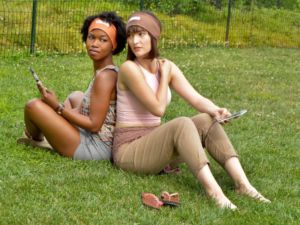 How ZENBands Became a Part of Pregnancy  
Gold Coast Doulas is pleased to announce a guest blog by Dr. Erin Stair on her headbands that are perfect for listening to HypnoBirthing scripts or childbirth playlists. I use them for listening to podcasts like "Ask the Doulas" with Gold Coast Doulas on Soundcloud and Itunes.
Erin is the creator of ZENBands, ZENTones, author of Manic Kingdom, and the founder of bloomingwellness.com. She writes all of the blogs at blooming wellness and interviews all of the guests, with the hopes of building an intersection between science and wellness. She is a graduate of West Point, where she was recruited to play soccer, and after the Army, went on to medical school, earned her medical degree, and then received the Global Health Leadership scholarship from New York University, which she used to earn her Masters of Public Health. She has a keen interest in population-level interventions for stress, depression, obesity, anxiety, and disease reduction in general, and for the last several years, has served as the chief of research for an international digital health company. She lives in New York City and is always working on her next book.  
I've always been very interested in noninvasive, natural anxiety-reducing techniques and how effective they are during stressful times. My interest led me into the world of sound therapy, particularly binaural beats, or what some call phantom beats. Many people listen to binaural beats to help reduce stress, anxiety, induce sleep and boost mood. The scientific body of evidence for binaural beats isn't robust, but there is no shortage of anecdotal evidence, and I'm betting this will be a hotbed for future research. After talking to a few scientists and sound engineers, I began designing my own binaural arrangements ( ZENTones) including arranging different frequencies of sounds with sequences of tones. I held several focus groups during which volunteers, mainly veterans with PTSD, listened to the arrangements of sounds to see if various ones improved sleep quality, reduced anxiety or boosted mood. Many folks listened while lying down and a recurring theme in feedback sessions was that their headphones or earbuds were uncomfortable. Their ears hurt after lying down, and the headphones/earbuds were painful or too heavy. Their feedback was my inspiration for creating the ZENBand.
I wanted to create something simple, lightweight, eco-friendly, and portable that would help make listening to the ZENTones more comfortable. I also wanted to include tenets of color therapy in our design, since color significantly impacts mood. Hence, the ZENBand , a headband and speakers combo, was born. We use cotton for the bands for two reasons: Cotton is lightweight, and unlike many artificially-designed cooling fabrics, polyester and fleece, cotton does not contain microplastics. There are flat, lightweight, custom-made pillow speakers inside the band that can be removed and easily plug into phones, laptops or MP3 players. They truly feel like cushions for the ears. We also get them made in a variety of colors, so folks can find one that suits their mood. The speakers are purposely not noise-canceling, as we want people to be able to hear others around them, especially since a lot of folks wear them at night. You still want the ability to hear noises, alarms, kids crying or dogs barking. Furthermore, ZENBands can also act as eye masks to help keep out ambient light and reduce anxiety. Light can aggravate anxiety and stress.  Based on feedback, the next version coming out this Spring will be a little wider, to make it easier to pull the ZENBand over the eyes and optimize the relaxation response.
While most of our customers used the ZENTones and ZENBand for anxiety, travel, or sleep, one time I received a message from a woman who was pregnant and close to giving birth. She asked if I could expedite shipping, because she planned on wearing the ZENBand for hypnosis during labor. I wasn't sure what she was talking about, but after receiving several more orders with a similar request, I started researching relaxation techniques for pregnant women. They included deep breathing exercises, pregnancy cards, prenatal yoga, positive affirmations, guided meditations and hypnosis. I even talked to Ob/Gyn doctors and midwives who mentioned noticing reduced anxiety and fear levels in women in labor who used one of the aforementioned anxiety reducing technique during pregnancy.
That was a few years back and now we get orders from pregnant women all over the world. We work with a lot of birth professionals and birth centers. Women have sent us photos of them in labor, wearing their ZENBands, and it's pretty awesome. We love being part of the birth process, even if it's just a tiny part in making women more comfortable. A lot of women write us and tell us that they love that the ZENBand allows them to listen to their relaxation scripts or birthing music while also keeping their hair and sweat out of their eyes. I should note that the ZENBand is not Bluetooth, as we feel more comfortable with reducing EMF exposure so close to one's head, and we want to make sure that people always have access to their sounds/affirmations when they need them most. Bluetooth doesn't always work well in every location, including hospital rooms. Also, phones can be a big distraction when it comes to relaxing. Phones can be a huge source of anxiety and listening sessions can be interrupted with incoming calls or the impulse to jump on Social Media or check your messages. To help eliminate those impulses, reduce anxiety and enhance relaxation, we recommend using the ZENBand with an old-fashioned Mp-3 player. It can be pleasantly refreshing and a much needed break from our phones.
To check out ZENBands and ZENTones, please visit us at bloomingwellness.com.  As a token of our appreciation, please use code ZEN for a first-time customer discount.
Erin Stair, MD, MPH, founder of Bloomingwellness.com
*Note: Gold Coast was not compensated for promoting this product. It is one we personally use and recommend.