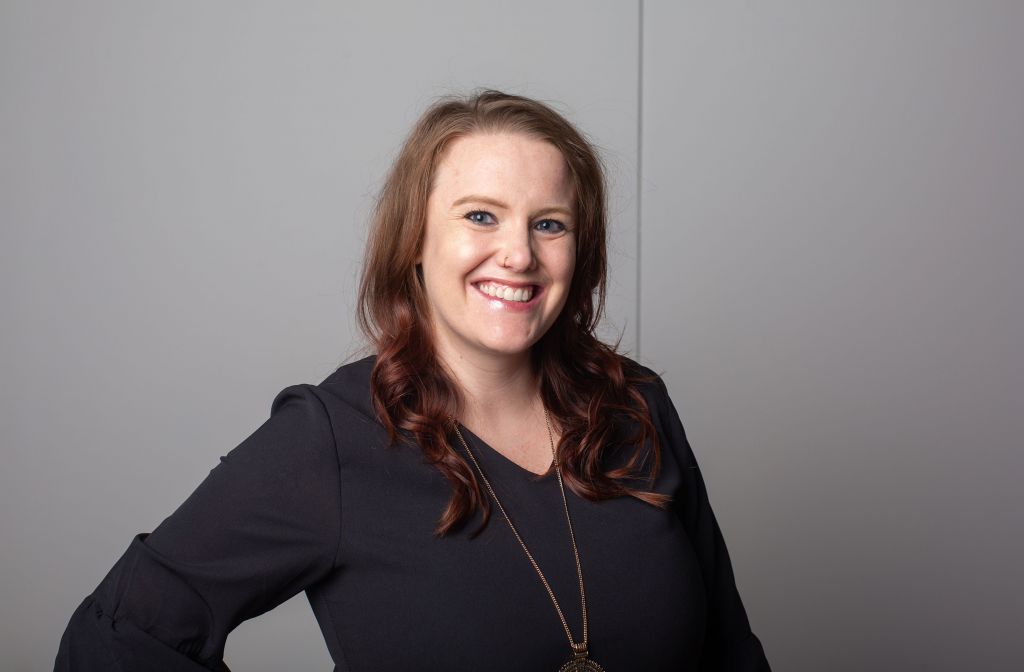 Audra Geyer, Gold Coast's newest birth doula, tells us her birth story and how birth support from her doula was a game changer.  She also took HypnoBirthing classes and went from being afraid of labor to looking forward to it!  Her experience with Gold Coast let her to become a doula herself! You can listen to this complete podcast episode on iTunes or SoundCloud.
Kristin:  Welcome to Ask the Doulas with Gold Coast Doulas.  I'm Kristin, and I'm here today with Audra to talk about her birth and HypnoBirthing experience.  Welcome, Audra!
Audra:  Hi.  Thank you!
Kristin:  So tell us a bit about yourself.  I know we met at the Baby Expo in your early pregnancy stages.
Audra:  Yeah.  I live in Alger Heights with my husband and our two dogs, and we have a seven-month old daughter, Charlie.
Kristin:  This was your first pregnancy.  So tell us about how you planned for your birth.
Audra:  So initially, I had no plans for my birth.  I just envisioned that it would not be an enjoyable experience, and I just had to get through it, and it was just part of what the process was for having a baby.
Kristin:  And how did you get that information?  Was it from movies or friends, or what made you sort of fear birth?
Audra:  I think just society's view on birth.  You know, everyone I had talked to, I had just heard horror stories about their own personal experience.  And, yeah, watching movies, TV shows, everything just shows that this is a terrifying, awful experience, and so that's just — I was just preparing myself for that.
Kristin:  And I think people tend to share negative stories more than they do their positive birth stories with friends and family.  That just feeds into it.  So you took some classes with us in early pregnancy, and also used both birth doula support as well as postpartum. So tell us a bit about that preparation and maybe how it changed your mindset.
Audra:  Yeah.  So I went with a friend to the Baby Expo, and I had heard about doulas before but just assumed they were for natural home births.  So we just started talking, and I heard about HypnoBirthing.  I remember the first question I asked you guys at the Baby Expo was, can I still get an epidural?  And they were like, oh, of course.  Whatever birth you want, we're just there to support you.  So I went home and just did a ton of research, and I was like, holy cow.  There's this whole world of doulas and support for women that I never knew about.
Kristin:  Yeah.  There is a misconception that doulas are only for home birthing, unmedicated birthers, and, you know, especially at Gold Coast, we pride ourselves on judgement-free support, and we have clients who want an epidural the second they get to the hospital, clients who are planning a surgical birth and they want support emotionally and with resources for that birth.  So, yeah, doulas are definitely for all birthing persons, not just unmedicated birthers.
Audra:  And my whole life I've struggled with anxiety and depression, and my husband and I knew that would be something we'd have to keep a close eye on while I was pregnant but also postpartum, and to be like, oh, I could have this support right away, and just knowing that I will have someone in my corner and someone to support my husband, too.  It just provided us both with a lot of comfort.
Kristin:  Yes!  So tell us about HypnoBirthing and what you learned in that class.
Audra: HypnoBirthing was amazing!  First off, we just learned so much about the birthing process and what happens to our bodies in labor.  Stuff we've learned, but I've never really taken a deep dive into it and thought about it.  And just a big focus on labor and delivery and pregnancy — our bodies were meant to do this.  We learned a lot of medication, breathing techniques, but it was also a big focus on bonding with your baby, bonding with your partner.  Every class we left, I just felt so connected to my baby, to my husband.  A lot of positive affirmations and just really starting to envision my pregnancy, my labor, delivery, as such a beautiful experience no matter what happens.  And what a gift I'd been given to be able to go through this.
Kristin:  Right.  Exactly.  And what I love about HypnoBirthing is it's, as you said, it's more like that mind-body connection versus just positions and some physical techniques you can do to reduce the perception of pain.  So it's just — there's such an emotional connection to birth and your partner and your support team, and of course breath and using positive language in birth and taking the fear out of it.  It's a huge aspect of HypnoBirthing.
Audra:  I remember my husband was like, sure, I'll do this with you.  And when we left our first class, he was like, that was nothing like I imagined.  He thought we were going to be in a gymnasium with pool noodles on the floor in different positions, and I think he just felt really empowered, too, that look at what I can do to help support my partner and be just as involved in the birth.
Kristin:  Right.  Beyond HypnoBirthing, I know you took some other courses through Gold Coast.  What else did you do preparation-wise?
Audra:  I took the Saturday Series course.  So Comfort Measures, Breastfeeding, and then Newborn Survival.
Kristin:  And what were your takeaways from that one day series?
Audra:  It was just so nice to have information, and I just felt so much more calm and educated and kind of knowing what to expect and knowing that there's no right or wrong way.
Kristin:  Right.  It's what right for you.  I think all of us, you know, emphasize that in our classes, whether it's Alyssa's Newborn Survival or the Comfort Measures that I teach, and certainly Kelly's breastfeeding class is eye-opening in so many ways and shows how a partner can be involved in feeding, as well.
Audra:  Yeah, and I think with the breastfeeding, it really just prepared me, that if that's the route I choose to go, it's going to be hard, and it's okay that it's going to be hard.  I think I had an idea that, oh, no, breastfeeding is going to be so easy.  She'll latch right away.  We'll have no issues.  But to know that, yep, you're not alone.  This can be a struggle, and again, you have to figure out what's best for you and your family.
Kristin:  Exactly.  Now we're getting to your birth phase and working with birth doulas and so on.  I know Katie was your doula.  Tell us about that experience.
Audra:  Oh, it was amazing.  I went from initially, "Of course I'll have an epidural," to, nope, I'm going to do this all naturally, thanks to HypnoBirthing, to at 37 weeks finding out I needed to be medically induced.
Kristin:  Lots of changes with that.  Tell us how Katie supported you in pregnancy and then leading up to the induction.  A lot of people don't really understand the role of a birth doula through pregnancy and labor.
Audra:  Yeah.  I had — the minute I signed the contract with Gold Coast, I had Katie's support.  Through the phone; I could text her with any questions, anything I was worried about, anxious about.  She would respond, provide me with resources.  A lot of what I needed was just reassurance that things were going how they were supposed to go, that I was okay, baby was okay.  And especially as a first-time mom and first time being pregnant, your body does a lot of things that you don't know would happen.
Kristin:  Right.  There's a lot of, "Is this normal, or do I need to call my provider?"
Audra:  Exactly.  And so just knowing I had someone there, nonjudgmental, you know, just supporting me — because, you know, calling your provider, you don't always get to talk to them, or they'll just yep, yes or no, give you a short little information, and then they have to move on with their day.  So having someone who can sit down and really just talk through your options, talk about how you're feeling, checking in with you emotionally.
Kristin:  So when you found out you needed to be induced, how did your doula support you through that process before she supported you in the hospital?
Audra:  So I left my appointment with the doctor sobbing in the car, just absolutely terrified about getting induced.   So the first thing I did when I got home was text Katie.  I just expressed all my fears to her and what I was feeling, and first and foremost, she reassured me that the medical team I had chosen were going to take the best care of me.  My baby was going to be safe and healthy.  I had blood pressure issues, and so I was just terrified of what could happen if my blood pressure gets really high.  She encouraged me to write out a list of questions to ask my doctor.  Like, if this happens, then what do we do, or what would this step be?  What would this look like?  So I could have more of an understanding of what potentially could happen at the hospital.  And then also she really encouraged me to write out some affirmations, because I love writing affirmations and I use them all the time, and so I was able to write a list of affirmations that I would use while I would meditate to just help calm me down and center me, focus me, and let me still enjoy these last few moments of being pregnant.
Kristin:  That's fantastic.  So you were able to have conversations before the induction started, and you got the answers you needed to feel empowered.  So tell us about some of the induction process and when your body started to kick in and when you felt like you needed in-person support and how that went.
Audra:  We knew it was going to be a long induction process, just because I was 37 weeks and my body was not near ready for labor.  So between Katie, myself, and my husband, we were basically in constant communication through text message, just how I was doing, how I was feeling, what the next step was.  And Katie actually came the first night we were at the hospital just to check in, see how we were doing, letting us know whatever we needed, she was there and ready for us.  And things were going pretty stable at that point; nothing that we needed a lot of support.  We were just resting.  So she went home, and said, I have my phone with me.  Anything you need, call, text, reach out.  And things were slowly progressing.  It got to the point where I did end up getting an epidural, but I was just pretty relaxed.  And then the next day around noon, my water broke, and things started to pick up pretty quick.
Kristin:  Yes.  It intensifies everything, for sure.
Audra:  We reached out and said, hey, you know, I think we're ready for you to come.  Labor has officially started after 24 hours of being at the hospital.  And so by the time Katie got there, my epidural had kind of worn off a little bit.  So I was in a lot of discomfort.  I was not feeling well, and I just remember her coming in and with her and my husband, they were both just supporting me as I would breathe through my surges.  And I actually — Katie has two sons, and I remember at one point looking up at her, and saying, I just need you to tell me what you love about being a mom, in between, so that I was able to focus on the things I had to look forward to as I was in some of these deep pains and discomfort.  And it was just so amazing to hear.  You know, I had my husband on one side telling me the birth affirmations we've written, and then I had Katie on the other just sharing these amazing things that I knew I would soon be experience.
Kristin:  Yes.  I love it!
Audra:  With that, I was able to just relax, surrender, and just — I felt so calm despite being in one of the most uncomfortable situations I've ever been in.
Kristin:  That's great.  So things intensified.  Did Katie help you move into different positions?
Audra:  Since I had the epidural — because I finally got some relief — she would help with the nurses, with moving me, and I think the biggest thing for me was just the reassurance she was giving me, that I was doing great, my body was moving along, this was where I was supposed to be, helping me feel excited.  And I think for Rob, too, she just was an extra support for him because he was supporting me so much, and it helped me to know he was taken care of as well.
Kristin:  Yes.  That is a huge part, because we do support a couple as a whole and make sure that the partner has gotten rest if needed with inductions or had a chance to get food or to step out and take a break because it can be intense when they're pouring everything into you and are trying to be that supportive partner.  We don't want them to be depleted at the time of pushing and meeting their baby.  So I'm glad that he felt taken care of, as well.
Audra:  Yeah.  And once I finally felt relaxed and got a lot of relief, Katie encouraged us both to take a little rest.  And there's actually a picture of us, with me in the bed sleeping, Rob on the couch sleeping, about an hour before I gave birth, and it's just one of my favorites.  The last few moments of us resting, just the two of us, and that moment was able to be captured.
Kristin:  And then did Katie offer support after the birth?  Like, how did she help after your daughter was born?
Audra:  When Charlie was born, she came very quickly and ended up needing to be on CPAP pretty quick after she was born.  So as a new mom and just already very anxious, I was terrified.  Like, what is this looking like?  Is she okay?  Is this normal?  What are they doing?  And I had just given birth and my body — you know, I was just in this tremendous amount of emotions in general, and she was able to support both my husband and I.  She encouraged Rob to go stand by Charlie and then was able to be there with me while the doctor was finishing up with me and just kind of keeping us informed, educating us about what was going on and that things were okay because the nurses and doctors, they're all talking to each other and saying terms we didn't understand, and just encouraging me to ask questions if I had any and validating that, you're doing a good job advocating for yourself, Audra, and just — yeah, it was nice knowing my husband could be with Charlie for that brief time, and I had someone right there with me, as well.  And so then after Charlie was able to be off of CPAP, we were able to do our skin to skin.  She helped us with latching and, again, I was just very anxious.  Is this supposed to be happening?  Does she look okay?  Is she breathing okay?  And just, like, bringing me back to focus of, look, you just gave birth, and you have this newborn baby in your arms.
Kristin:  I love it.  Did she follow up after she left to see how you were doing when you were still in the hospital?
Audra:  Yes.  She would follow up to see how feeding was going, and then we did — I would say about a week after Charlie was born, she came to our house to just follow up and see how things were going, and she got to see Charlie and hold her.  And it was just so nice to have her support and to have — like, that she was such a part of this experience to us, where I was so vulnerable, but yet it was such a beautiful, emotional experience that I feel just so connected to her now.
Kristin:  Yes.  I feel that way with my doulas.  It is vulnerable, and a time of reverence.  So, yeah, you end up feeling like your doula is part of your family for that journey, whether it's a birth doula or a postpartum doula.  And, of course, you delivered pre-COVID, but your postpartum phase was during COVID.  So that's changed your initial plans as far as postpartum doula support went.
Audra:  Yeah.  So we had — I'm trying to think.  Maybe a couple weeks before COVID hit, being at home and being able to use our postpartum doula.  And I remember initially being like, okay, what do I do?  How can I entertain the doula?  Like, I need to clean the house.  I need…
Kristin:  You're a helper, obviously!
Audra:  I need to look presentable!  And Jen was our doula, and she came over and was just like, oh, my gosh, Audra, like, you can relax.  I have Charlie.  Don't you worry.  And I would go take a nap.  I would rest.  I would come downstairs, and the house would be tidied.  She'd have a snack waiting for me.  My pump parts would be clean.  The diapers bag was packed and ready to go.
Kristin:  Perfect!
Audra:  Yeah.  Less things I had to worry about or to focus on later that day.  And I like to talk and talk through experiences, so a lot of times, too, we would just sit and talk, which is what I needed at that time.
Kristin:  And we are there to process the birth with our clients as far as postpartum doula support and then help you heal and talk to you emotionally.  I feel like friends and family ask more about the baby and don't check in enough with the birthing person and how they're doing and how they're feeling.  Everyone wants to hold the baby and give gifts for the baby, and there's not enough attention to the birthing person.
Audra:  Yeah.  The amount of times I got asked, how's the baby sleeping?  You know, it was never, how are you sleeping?  How are you doing?  It was, oh, how is she sleeping?  And I also got a lot of, oh, I'm glad that's going great now, and you just wait until you see what happens.  And I'm like, my body is still healing from this crazy experience.  I'm keeping another human alive.  What about me?  I need help, too.
Kristin:  Exactly.  And in traditional cultures, women are supported for 30 to 40 days from friends and family, and they aren't expected to do anything.  And in our culture, it's like, okay, get back to work.  Get back in shape.  You should be feeling great and don't complain.
Audra:  Keep the house clean!
Kristin:  Right.  Be perfect!  And that's not how it should be.  So we're trying to bring back some more of that focus on the birthing person.  So you are now a doula with us!  So tell us how you became interested in becoming a doula after your experience and a bit about why you are drawn to this work, because you obviously have another career.
Audra:  Yes.  So like I said earlier, I went from not knowing a lot about birth, just expecting, you know, this to kind of be a terrible experience, and through my education and through the help of having doulas, I was able to make my birth one of the most beautiful experiences I've gone through, and I found myself, after giving birth, wanting to talk about birth a lot, and I was doing a lot of research, reading a lot of books, reading about postpartum, and right now, I'm a speech language pathologist.  I work with people who've either had a stroke or a brain injury.  So I've always worked with people, helping people.  That's been a passion of mine.  And just realizing the lack of knowledge, especially in the United States, of the postpartum experience, the birth experience, and what a doula is.  And I just thought, wow, if I could help give other women the support I had and help them through this journey, help them have the experience and support that I had, that would just be so fulfilling and just — it makes me sad when I think about all the people I know who look back on their birth and their postpartum and it was — they felt like they had no support and they felt so alone.  And that shouldn't be the norm.
Kristin:  Right.  Yeah, they feel isolated, especially now during COVID, and we've been working all through COVID.  Some of our postpartum work had halted, and some hospitals weren't allowing doulas in, so we offered virtual support only, but I feel like now more than ever, because of the isolation with COVID, doula support and that connection is so essential and providing information, as you said, so couples can make informed decisions about their birth and their postpartum phase and planning out what they want to do after baby or babies are born and how they can accept help from others or hire help, like postpartum doulas or a housekeeper or a meal delivery service, whatever it may be.
Audra:  Yeah.  And even the comfort of knowing you guys have a sleep consultant, and if I ran into issues, you know, I had 12 weeks off for maternity leave, and a big area of anxiety was, what is it going to look like when I go back, with sleep?  And so I always knew I had Alyssa if I needed her.  Thankfully, Charlie got on a good sleep routine on her own, but just knowing the amount and the diverse support that Gold Coast had, I knew I was going to be taken care of, and I knew I was in good hands.
Kristin:  So what did you learn — obviously, you worked with doulas, but then you recently took your birth doula training.  What opened your eyes that you didn't know before about the doula role?  Tell us a bit about your training.
Audra:  It was so amazing.  Just learning about nonjudgmental support.  No matter what someone is thinking, feeling, we are just really there to support them.  And, obviously, as we go through our own births and raising our own kids, we can develop our own feelings, but putting those aside and saying, we are there to support you, and no matter what you choose.  So it was nice to just learn about all those different strategies and how I could go in and help a woman in any situation, no matter what.  I would feel confident doing that.
Kristin:  Right.  And your particular training through ProDoula — and I'm also trained through ProDoula — you realize you don't need all the things as a doula, and you have that instinctual knowledge, and you're able to just serve; again, without judgment, and an open heart, and a brand new doula can be just as effective as someone who's seasoned like myself.
Audra:  Yeah.  And, again, before I knew much about doulas, I always thought, oh, they have the birthing balls and they're in the tub and, you know, all these other knick-knacks that you have to have.  And it's really just yourself being there.  That's all you need.
Kristin:  I mean, I have a birth backpack that is filled with things, but outside of, you know, my bosu and a couple other things — like, I like the LED candles to put in the bathroom if a client's in the tub or shower, but I don't use everything I bring.  Other than snacks for myself, and that's key.  Got to keep going!  But, yeah.  So we're excited to have you on the team!
Audra:  Yes.  I'm so excited!
Kristin:  And I know you have plans eventually to become a postpartum doula, but you are available for hire for labor doula support.
Audra:  Yes!
Kristin:  So we're excited to begin that process with you.  Thanks for sharing your story, Audra!
Audra:  Yes.  Thank you for having me!  I love sharing it and talking about my experience.
Kristin:  You'll impact so many families, not only from listening to the podcast, but when they begin working with you.  And we will include a link to your bio in our podcast notes and the blog.  Thanks for listening to Ask the Doulas with Gold Coast Doulas.  These moments are golden!