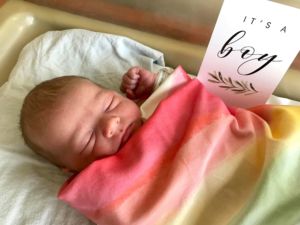 HypnoBirthing - Brianna & Ben's Story
A huge thank-you to our HypnoBirthing student for taking the time to share her beautiful birth story with us! We hope you love this as much as we do!
My husband Ben and I decided to take a HypnoBirthing class because we had a goal to have a natural birth and because we didn't think the hospital class would teach us much other than how to be a good patient. I was also very interested because I wanted Ben to be involved and to have more knowledge about birth. After one class we knew we had made the right choice! We really enjoyed meeting with everyone and being in an environment where birth was talked about so highly instead of with fear and anxiety. After that first class I had no anxiety about birth. I was genuinely excited about my baby's birthday and knew my body was made for this. We learned so much about how a woman's body is made to birth, and how to breathe calmly before and during birthing. We learned how to make informed decisions and how to ask the doctors the right questions. We felt so prepared.
My entire pregnancy was very healthy. Baby's heartbeat was good. I was measuring on track. My blood pressure was great (it got even better after we learned calm breathing!) and my weight gain was normal. I had no complaints except some hip pain from sleeping on my side. I knew first-time babies usually come late and my due date came and went and induction was discussed when I was 41.5 weeks. Because I knew how to talk to my doctor, I felt comfortable with the process and they agreed to allow me to labor as naturally as possible once they started the induction process.
Once at the hospital, we discussed our birth preferences with our nurse who was incredibly supportive of all our wishes. Before they gave me the pill to dilate, my cervix was still closed at 1:00 AM. I believe that the calm breathing techniques and relaxation soundtracks were able to help me stay loose and limp and my cervix dilated with the pills and my labor started without pitocin! They told me this is very rare – probably 1 in 500 first-time moms are able to go into labor without pitocin for an induction. The process they said could take up to 3 days but it looked like we would be having our baby before the 24 hour mark!
As the surges grew more intense, Ben was able to suggest new positions and read relaxation scripts to me. He was just as knowledgeable about birth as I was and that was so wonderful. By the time I was feeling the urge to push, the doctor noticed my baby was "sunny side up" and initially tried to turn our baby manually. I asked if instead I could change positions and they agreed and baby flipped! It's amazing how my body and baby worked together. Very soon after that, at 7:49 PM, our baby boy was born! Our doctors and nurses all remembered our birth preferences and I was able to pull my baby up to my chest without any medical instruments touching him first. Nurses didn't rub him off and lights were kept dim. The doctor waited for Ben's ok to clamp the cord after it stopped pulsing and our son was able to breastfeed right away with a great latch. It was such a beautiful moment! We enjoyed over an hour of skin to skin and then Ben held him skin to skin as well. When they weighed him I was so surprised to find he was 9 lbs 2 ounces! I birthed him without any pain medication, minimal tearing, and I have recovered quickly!
I've thought a lot about how HypnoBirthing helped me in my pregnancy, labor, and delivery. The truth is that it made a huge difference in every stage. Before the class I thought I knew everything about pregnancy and birth, but it turns out there was so much more to learn. And we went into every stage with enough knowledge to talk openly and easily with our doctors. We knew what our birth preferences were and why we wanted things a certain way. We knew how to stand up to protect our baby, and we were given so many tools to stay calm, relaxed, loose, and limp. Without this class I know I would have requested pain medication and I know I would have been much more upset about a scheduled induction. But because I was able to make my own informed decisions, I have no regrets about our birth. I'd do it all over again!