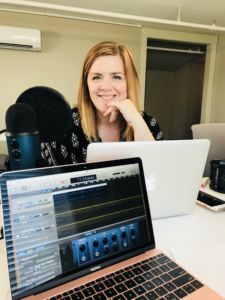 Podcast Episode #38: Amber's HypnoBirthing Story
We love hearing birth stories, especially from our clients.  Listen as Amber tells us her birth story and how HypnoBirthing helped both her and her husband through 23 hours of labor.  You can listen to this complete podcast on iTunes or SoundCloud.  You can sign up for our HypnoBirthing classes here! 
Alyssa:  Hello!  Welcome to another episode of Ask the Doulas.  I am Alyssa Veneklase, co-owner and postpartum doula.  I also am a gentle sleep consultant, and I teach our newborn survival class.  We are here with Amber again.   We talked to her before; she's The Coziness Consultant, but she's also a past client.  She took our HypnoBirthing series with her husband, Kyle, and I wanted to ask you a little bit about your journey through HypnoBirthing and then how that relayed into your birth.
Amber:  So I became familiar with HypnoBirthing through, specifically, a friend who had a horrible experience with her first birth.  She didn't do any preparation.  She kind of just went into it thinking everything would work smoothly and she would do what the doctor said, and she had a very traumatic experience.  So when she got pregnant with her second baby, she decided she was going to educate herself and prepare.  So she went through HypnoBirthing and just sang the praises of HypnoBirthing, so then we decided to do that because I felt really strongly that I wanted to go into it educated.  I didn't want to feel like I was unprepared.  And I didn't just want to focus only on breathing.  I knew that I was determined to have as natural a birth as I could, and I wanted some skills and some tools.  So that's how we ended up coming to HypnoBirthing, and the experience for us, honestly, at the end of the day, was the difference between making it through the birth unmedicated and following the birth plan that we really wanted.  I wasn't so married to my birth plan.  I knew if some extenuating circumstance happened and I ended up with a C-section, that was going to be okay, too, but my goal – what I could control was to be as prepared as possible, and HypnoBirthing really allowed us that opportunity.
Alyssa:  For somebody who's never heard of HypnoBirthing or maybe has but doesn't understand it, what would your elevator speech be to a new parent thinking about HypnoBirthing?
Amber:  So it's much less New-Agey than it sounds.  It's basically just kind of an approach to having a framework to understand that your body is designed to give birth, and so when you go through HypnoBirthing, you learn how each of the muscles are working; how each surge, they call them, or contraction, is actually progressing you toward having a baby.  And then it's tools and techniques designed to help you get in line with that, to understand what your body is trying to do and try to get out of the way and allow your body to do that thing.  In HypnoBirthing, they talk about this cycle that you feel discomfort and so you're fearful, and then you're fearful so your body tightens up, and then you feel more discomfort, and you can't get out of it.  So HypnoBirthing gives you the opportunity to get out of that cycle, to be able to think through what is happening in your body and breathe and relax.  They give you some really practical ways to do that, to work with your body instead of fighting it.
Alyssa:  So tell me, what did that class look like for you and Kyle together, since couples take this class together?
Amber:  So we showed up weekly; sat down together, and our instructor talked about – well, she always showed a video of someone actually delivering through HypnoBirth, and they were all very different.  Their reactions were all very different, but all inspiring.  And then we would learn about the body, learn about the stages of labor, and each week kind of built on the last.  But we were also given these techniques of how to practice.  So every week we learned a different style of relaxation, a different way to – something to visualize or whatever.  So as a couple, I would notice, like, okay, so this week, I didn't really resonate with that, but then the following week, there would be something that I would be sitting there and realize, like, oh, I'm holding a lot of tension in my face.  Every time I go to take a deep breath or do the things she says, I realize I'm holding my shoulders up by my ears.  And so it really created an awareness for me of my own body and my own tendency towards holding tension.  And so then I could turn to Kyle and say, "Okay, when we're in labor, these are the things I know about myself.  I need you to remind me.  If you see me furling my brow, I need you to mention that – gently.  Really kindly.  If you see my shoulders, that I'm holding my shoulders, please bring my attention to that."  And so then when it came to the actual delivery, it was one contraction at a time, just taking one at a time, and him being aware of those things we had talked about.
Alyssa:  And what would he do?
Amber:  So that first – you know, if you've ever had a baby, if you've ever been in labor, you know that contraction is coming, and it's like amping up, and then it kind of hits that initial intensity.  And he would just be talking right in my ear: "Amber, okay, relax.  Let your breath out.  You need to breathe.  You're holding your breath."  And it's like talking me through that initial peak of each one so that then I could get my head back in the game and relax my body through the remainder of the surge.  My water broke, and my daughter was born 23 hours later, so we had a LOT of practice going through those surges together
Alyssa:  So tell me how HypnoBirthing – you said it was kind of the make-it-or-break-it.  It was such a long labor and all that practice.  Did you want to give up?  Why didn't you give up?
Amber:  I think I'm pretty stubborn, so I was really determined.  And I also knew we were giving birth in the low intervention suites at Butterworth, so I knew if I decided that I wanted meds, I had to move to a different room.  I knew going into it that there was some pressure on me to stick to this, and I really wanted to anyway.  But I think the difference for HypnoBirthing for me was leading up to it – one of the things that you learn in HypnoBirthing is that they give you scripts and you get some audio clips that are basically different things that you can listen to, to relax to.  They're kind of like guided medications.  So I created my own and had it recorded, and I listened to it every night leading up to my birth so that I got used to and in the habit of relaxing, first in my head, then in my shoulders…
Alyssa:  You came up with the scripts that worked for you?
Amber:  Yes, and then I practiced to it.  So we listened to it every night, and he would always fall asleep during it.  I never would; I would listen all the way to the end, of course.  But so then when it was go time, we had it there, and a lot of the hours that passed, I spent listening to that and relaxing to that because I had practiced to it.  And so then when it was game time, it was like I could pull it out and just work through it.  And there were certain parts I would listen to over and over because I had written it in a certain way knowing that I hold tension in my face; I hold tension in my shoulders.  So for us, it was a combination of me listening to the audio that I had practiced to, the two of us listening to it, and then also him reminding me, using the things we knew.  And even when I got to transition – and that was the one time I shed a tear.  I just let the tear fall, and I was like, I don't think I can do this.  And Kyle said, "This is what we learned.  We know when you start to say, 'I don't think I can do this, I'm giving up, I can't do anymore' – this is when we're almost to the end."  And so having someone there that knew, that had heard all the same things I had, had heard it in a different way, and was able to access that when I couldn't, was the difference for me.  I really don't know what would have happened if he hadn't been there and if we didn't have the tools.
Alyssa:  It sounds like he was a much more involved part of the process because of the HypnoBirthing classes.
Amber:  He was, and he took it seriously.  I think for some guys, scenarios like that are really uncomfortable, but he just saw the entire things as a team event, that we were doing this together, and he was just as much as part of it as I was.  And so it was really cool because we were alone – I was in the tub laboring when I had to push, and it's one of my favorite memories because it was hilarious.  It was like, "Oh, I think I need to PUSH!"  And he was like, "Okay, I'm going to go find someone to help us!"  But then I'm pushing, and they transitioned me to the bed, and we hadn't discussed it, but the midwife said, "Okay, Kyle, you jump up and put your back against the headboard."  So he had his back against the headboard and his legs out in front of him, and then I sat in front of him and leaned against him.  And it was such a payoff to deliver that way after laboring that entire way together.
Alyssa:  Which you couldn't have done in another room?
Amber:  No.  And it was so beautiful because we didn't talk about that.  That was kind of a gift that – I'm sure they do that with a lot of moms, but that was a surprise to me, and it was just a really sweet thing.  But even then, as I'm pushing and as I'm laboring, in that last, intense couple of hours, he's right there in my ear – you know, literally.  His face is right there, and it was just all the difference in the world to have the support and have the reminding because yeah, it's hard to keep your head about you when it's all happening.  You need a teammate to help you remember and to feed you those solutions and help and options to get your brain out of the intensity of what's happening.  So it made all the difference for us.
Alyssa:  Awesome.  We should get Kyle in here sometime to talk about it.
Amber:  Yeah, his side of the story is that – the part when I had to push, he always says, "I just had to go find an adult.  We needed an adult in that room."
Alyssa:  Well, thanks for sharing.  It's a lovely story.  I love hearing HypnoBirthing birth stories.
Amber:  It was great.
Alyssa:  If you have any questions about HypnoBirthing, email us: info@goldcoastdoulas.com.  You can always find us online, on Facebook, and on Instagram.  Thanks, Amber.
Amber:  Thank you.