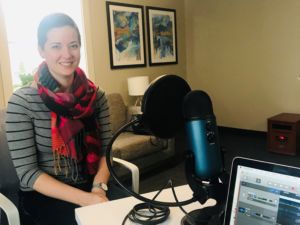 Podcast Episode #65: Annette's HypnoBirthing Story
Today we talk with a previous HypnoBirthing student, Annette Beitzel, about her personal experience with HypnoBirthing at Gold Coast Doulas.  Although she didn't use it how she intended, it had an incredible impact on her pregnancy and birth experience.  You can listen to this complete podcast episode on iTunes or SoundCloud.
Kristin:  Welcome to Ask the Doulas with Gold Coast Doulas.  I'm Kristin, and I'm here today with my business partner, Alyssa.
Alyssa:  Hello!
Kristin:  And we've got Annette Beitzel here.
Annette:  Hello!
Kristin:  And we are talking about Annette's experience with taking HypnoBirthing class back in 2016.  So thanks for coming on!  First of all, as far as all of your options of out-of-hospital childbirth classes, what made you choose HypnoBirthing?
Annette:  Honestly, I heard about it on a podcast, and it just sounded cool.  At first, just the name HypnoBirthing sounds really kooky, like, oh, yeah, those people!  But just hearing the person's experience with it, it was like, oh, my goodness.  This sounds like exactly what I want.  I already had planned on natural birth at a birthing center.  That was my goal, and so it just felt like it fit really well with what my goals were.  Breathing is better than medication, right?
Kristin:  Of course, yes!
Annette:  So yeah, it just sounded like it fit well.
Kristin:  Perfect.  And did you have any reservations about HypnoBirthing, when you think of hypnosis?  When people call our office and ask questions about HypnoBirthing, they get a little freaked out by the "hypno" aspect of it.
Annette:  I think that because I heard about it on a podcast with a person who really explained it right away as just relaxing yourself; that's what you're doing; you're doing it to yourself.  Nobody is coming in with a watch on a chain!
Kristin:  That's what people imagine, for sure!
Annette:  It was harder to explain to my husband.  I was like, okay, just listen to this podcast.  This will help you understand what I heard.   Because it is; it's one of those weird things.  It just sounds that way, right?
Kristin:  Right!  And you mentioned your husband, so again, one question we get a lot about the class is that people feel like with hypnosis, it's internal, even with self-relaxation and visualizations.  How is your husband involved in both the class as well as your birth using that technique?
Annette:  So in the class, you do all the same exercises.  A lot of it is dealing with your fears and just understanding the process, and so men come in with those things, too, right?  Maybe not the same ones or different ways, but they still have their expectations of what birth will be.  And so I think he found it really helpful to really get an expert explaining what's really happening, that women's bodies are made for this.  And then also they do all of the "hypnosis" along with the women, so everyone is doing it together.  I mean, it would feel really weird if the men or the partners were just sitting there watching, but they're involved.  It was all group things, so he understood what I was doing.  There were some exercises that he would sort of help me.  I don't remember the different things, like tapping or different things like that, and so he sometimes played a more active role.  But also, I think, if I had gone by myself, he wouldn't have really understood what I was doing in birth because the way it all ended up, he didn't do really anything.  And so I think he would have been, like, oh, my goodness; I've done nothing; nothing's happened here; I'm useless.  But he knew what I was doing.  He knew I was inside myself.  He knew that I was relaxed.  He knew all of those things, and so I think it really helped him just understand what was going on and not be like, "Oh, do I need to do anything?!"
Alyssa:  I have not gone through the class.  I've tried to set myself outside of this as a person listening who doesn't know what HypnoBirthing is, and I'm thinking it still sounds hokey.  So when you say "hypnosis," what kinds of things are you doing in the class, and why isn't it hokey?
Annette:  Right!  Because it works would be the main reason I'd say it's not hokey.  So basically all she does is go through a reading of something, and she uses a very soothing, calm voice, so it's easy to sort of stop thinking that you're in this room, in this place.  You just close your eyes, and you think about what she's saying.  I think the first one you do, she has you raise your hand as if a balloon is raising you up or something.  And so you just kind of realize, like, oh, I can go outside of my brain.  I can come back into my self-conscious, or I can sort of disconnect a little bit.  And that's all me.  I'm listening to her, right, but it's all me just choosing what I want to focus on, how I want to move my thoughts or my energy.  So I don't know; it does sound a bit ridiculous, and even in the first class, she's totally talking about that.  She's like, I know this is weird.  I know it sounds weird, but you're relaxing yourself.  Don't think hypnosis; think relaxation.  That's what you're doing here.  And is there anything better for birth?
Kristin:  Exactly, opening up and relaxing — that's key to it!
Annette:  So, yeah, to me, listening to a big explanation of what it really was from an expert was really helpful.  These are the steps you can take, and this is how it can benefit you.  But for me actually being in the class, it was like, yeah, okay; this is me; this just me relaxing; this is me choosing what I'm thinking about, what I'm focusing on.  If I want to think about my fears, that's going to make me tense up or stress out.  Or I can think about a flower opening up, and I'm sure that sounds silly, but that's sure a lot more relaxing than, "Am I going to go to a C-section?!"  It's what do I want to choose to think about, and how will that help me give birth the way that I want to.
Kristin:  And certainly it goes over the basic physiology of what your body is going through, understanding the stages of labor and what's normal, and for those birthing in the hospital, a little bit about what the hospital experience is like, as well as breastfeeding.  So anything an out-of-hospital class would cover, in addition to changing the language of birth.  That's one of the things as a doula that I love the most is just changing some the fear-based words.  I mean, contraction already sounds like you're tensed up, and just looking at "surge" as a more opening, positive word, and not looking at pain.  You know, you go to the hospital, and it's like, what's your pain threshold.  They ask you that, like, ten times during labor.  So just sort of changing that language and using affirmations, which I love.  Being positive and just being relaxed.  And the fear releases you do in task — can you talk a little bit about that experience, of doing a fear release?
Annette:  Yeah, that was really interesting.  So I think that my husband actually experienced that one more deeply than I did because I remember the whole thing.  I remember going in the book and pulling out pages and saying, I'm not going to be afraid of this.  This is okay.  I already know the facts because we've gone over what do I expect.  Can my body handle this?  Very likely, yes!  And so for him, he doesn't remember it at all.  He was so relaxed and so into it that he — which is an interesting aspect.  Talking about the different affirmations and stuff, you listen to something that's about 30 minutes long every night, and to me, that was one of the main things that I really did that was super consistent.  I listened to it every single night, and it's Rainbow Relaxation.  So it goes through all these colors of the rainbow, and I think by the second color of the rainbow, I'd be asleep every night.  And she was like, that's totally fine.  You can sleep, and it's relaxing, and you're still hearing it, and it's fine.  And I remember a couple of times, I would wake up at the end, which means I wasn't actually asleep, I was just in that super entranced state where I was really relaxed, really in my subconscious and feeling it.  And it was just such a weird feeling, because you're like, oh, my goodness; I was awake this whole time.  I was hearing these things, but I didn't really feel that awake.  So it's amazing what your brain can do and just how relaxed you can really get.  So with the fear, I don't think that I came in with the same fears that a lot of people do.  I already had two sisters-in-law go through natural births at birthing centers, so I was kind of like, yeah, this it totally doable.  I'm not experiencing terrifying birth stories all the time.  I came in with relatively positive expectations.  And then going through the actual information part of it, it's amazing.  I mean, she really explains to you what is this; how does it work.  Your body is made to do this!  Now, I have to caveat that my sister-in-law — another one — her pelvis cannot.  It doesn't work.  So it doesn't work for everyone, but for the vast majority, our bodies can do this.  And that was my experience, too.  I didn't do anything for labor.  It was just there, and he came out, and there we were.  I don't think that the fear thing for me was the biggest part of it.  The biggest thing for me was the relaxation, and even through my whole pregnancy, I had a miserable pregnancy.  I had SPD starting at 14 weeks, which is symphysis pubis dysfunction.  I could not walk without excruciating pain.  I couldn't put my pants on.  I couldn't do anything; it was just horrible.  And I was pretty down about it.  It was really frustrating because I was going to be the active, pregnant woman that was going out walking all the time and keeping active, and I just couldn't.  Talking to Ashley about that, she just helped me reframe everything, and the last couple of months of my pregnancy were just completely different.  I was so much more positive; I was so much more relaxed and comfortable, and even though there was still pain, I wasn't just grumpy all the time.  And I had been up to that point.  I would say my husband was probably really glad we took the HypnoBirthing, even just for my pregnancy.  I was just so much more at peace, and it was so, so helpful with that aspect of it.  So even before we got to the birth, I already felt like HypnoBirthing is amazing because look at my outlook on this pregnancy.  It's okay.
Alyssa:  So you had the ideal birth where you said you didn't have to do anything; it just happened.  So what kind of tips or advise would you give for parents for whom that doesn't happen or if they know they're getting a C-section.  Would HypnoBirthing still benefit them, and how?
Annette:  Oh, absolutely!  So first of all, I would not say I had the ideal birth.  He came out without my working for it, but I actually had some really intense bleeding the night before.  I was planning on a birth center and ended up in a hospital because my midwife just didn't want to touch this; this is scary; could be placental abruption.  You know, we didn't know.  So I checked into a hospital at 6:30 in the morning.  We thought I was probably at a 6 or a 7.  I wasn't really having intense surges; I wasn't feeling that much pain.  It was there, but it felt more like Braxton Hicks at that point still; maybe a little stronger.  We knew I was in labor.  They had found that out before because I had actually been in the hospital earlier that night and went home.  So at midnight, my water had broken, and 6:30, I'm in the hospital.  We were like, yeah, nothing is really happening yet.  But it was still a little scary.  I was in the hospital and I didn't really want to be in the hospital, but they went with my birthing plan, which was like an emergency birthing plan, which unfortunately I had to use.  So I'm sitting in this hospital.  She turned down the lights for me.  She's doing intake paperwork because I'm not supposed to be there, and I'm answering questions between the surges, and all of a sudden, I felt him move into the birth path, and I was like, oh, I feel him moving down right now.  And she's like, oh, good good!  I'm like, no, no, he's coming!  And they were like, okay…  And I rolled over away from her; I'm not going to answer any more questions right now.  And they checked me, and I was at a 10.  And this is six hours or seven hours after my water had broken.  So it was so, so fast.  He was born 20 minutes later.  It was actually too fast.  He didn't get properly squeezed out, so he was vomiting up stuff the next night, which is scary in its own right.  So yeah, they were, like, oh, don't push!  I'm like, honestly, anything that happened was involuntary.  And then the doctor got there.  He came out ten minutes after the doctor was there, and he was there telling me, you might want to hold your breath!  And I was like, no, I don't!  I remember that conversation.  I remember when he was crowning.  They told me, oh, he's crowning.  And I was, like, wait, I thought this was supposed to be a ring of fire.  Where's the fire?  And that was my thought while he was crowning.  I was just relaxed.  That's all I can say.  We did not have time for listening to any of the meditations.  We didn't do anything during the actual birth because even during the night, I was sleeping most of the time.  So I feel like I barely did a HypnoBirthing, other than the fact that I was relaxed and I was breathing.  And that's what I really took from all of the classes and all of the work, which is part of the reason I wanted to do this, because it was like, hey, I didn't even really do it, but it still worked, right?  I didn't spend 12 hours listening to relaxation things and breathing him down.  I did breathe him down, but very quickly!  So yeah, I had a second degree tear and there was all sorts of other things, but my placenta was getting old.  They said that was part of the reason for the bleeding, and so there was reason for concern, which I would also say, the whole time, it was like I didn't want to go to the hospital, but all right, here we are.   I think just the knowledge of everything — I never freaked out.  I wasn't worried.  It was just like, okay, well, this is what's happening now.  And just very — I think I was very go with the flow.  And my husband and everyone else was kind of freaking out.  I was texting my family because they're in another state.  I told them I was going to the hospital because there's lot of bleeding and they think it might be this and whatever, and they were all freaking out.  And then 20 minutes later, we're sending a picture of a baby.  Okay, well, I guess it was okay!  So, yeah, it was an ideal birth, and also completely not what I was expecting or planning.  I was going to be in a birthing tub all night long, right?  That was my plan!  But even without going along with the plan, it still was just completely changed how I was approaching everything, how I felt about it, what I was even thinking about.  I was thinking about my breath and feeling him in my body.  Everything else was so peripheral.  Oh, there's doctors out there.  I even remember looking up, like, oh, look at all these faces I have never seen before.  I think there were five or six people at the end of the bed!  And I was like, all right, well, here we go then!  And all of it was so — I just got the inevitability of a birth.  It was going to happen.  It didn't matter what I was doing.  It didn't matter what they did.  Here we are in this place that I wasn't planning, and here comes my baby, just exiting my body.  And I think after that birth, I really did believe and understand the women giving birth in a coma because it was like honestly — I feel like my body did some pushing.  It didn't feel like it.  It didn't feel like what people explain is a birth.  It was just like my body helped him exit.
Kristin:  You were breathing your baby down, as we talk about, the birth breath in HypnoBirthing.  But of course, we see the movies where everything is traumatic and the woman is screaming.  That's not what the reality of birth is, even with a precipitous birth, which can be a little bit stressful and overwhelming if you haven't prepared the way you did and having that relaxation.  And even with your change of plans, in HypnoBirthing, of course, instead of a birth plan, you talk about birth preferences, so what you would like in an ideal situation, knowing that you may need to be flexible, which you obviously were, and you handled it very well.
Annette:  Yeah, sorry, I forget some of the terminology.  It's been a couple of years.  But yeah, it was amazing.  It was, okay, we're working with my midwife, so we don't need to tell her what all we were going to do.  We were on the same page already, but I was really glad we actually did walk through all of that and come up with a list of what we really wanted from a birth.  And he was on my chest for two hours before they even touched him to do anything.  They still followed all of the things that I wanted, and I think that was a really helpful part of the class.  I was going into it thinking, "That's not going to happen to me!  I'm not going to be in the hospital!"  But I was, and I'm really glad that somebody walked me through just saying what I want, if I'm in the hospital.  Just lay it all down.
Alyssa:  Having the knowledge and being educated ahead of time, I think, is a big part of releasing fear because you know what to expect "if," instead of walking into this unknown.  And then you would have been panicking because you're in a hospital; there's six people that I don't know at the end of the bed; what's happening to me?  You were kind of like, oh, yeah, we talked about this.
Annette:  Yeah, it was very much that way.  I know what my body is going to do, so you all can hang out if you want.
Kristin:  And we have students that have planned Cesareans that want to eliminate some of that fear or students who then have medical issues and then need a Cesarean.  That can certainly be helpful.  I mean, the situation you just described is just knowing how to plan, how to relax, to use your breath, regardless of how you birth.
Annette:  Yeah, for sure.  That would have been such a huge — I mean, I can't imagine if they had said, hey, you're in a Cesarean.  I know it was all about — got to keep breathing.  That's what I need to think about!  I'm just going to keep breathing, and this baby is coming.  I'm going to be holding this baby soon.  And if somebody, especially with a planned Cesarean — I know these women have so much fear around that.  It's a surgery; that's a huge thing.  And yeah, that class would be so helpful to process all of those fears and to know your body will be okay.  You will be okay.  Your baby will be okay.  You're going to come through this.  I can't imagine the difference in being in that situation, but with the confidence and the relaxation and all of that, rather than being scared and stressed out.  I imagine that would be much more helpful.
Kristin:  So, Annette, at what point in your pregnancy did you take HypnoBirthing?  It sounds like you had some time to practice.  You were saying you were listening to the relaxation tracks at night.
Annette:  I think that we were taking it in November, and then he was born in March.  We had a couple of months afterwards, which, like I said, was super helpful.  Honestly, I would have taken it at the very beginning, after knowing how much it helped me with pregnancy.
Kristin:  Yeah, HypnoBirthing is different than a lot of childbirth classes in that it helps to take it earlier in pregnancy so you have time to practice.  Of course, we have students who take it right up until their due date and sometimes even go early and miss a few classes.
Annette:  Yeah, we had that happen!  We lost a student.  It happens!
Kristin:  But certainly, like you said, to have a few months or even taking it very early in pregnancy, where other classes, you want it fresh on your mind, especially if it's focused more on movement and positions rather than the whole mind-body-spirit connection.  That is one thing that I think is different about HypnoBirthing is it's not just the physical movement and breath.  It's a focus on your inner being and peace and serenity.
Alyssa:  Yeah, it sounds like it's not just for birth, and I would venture to say that it probably helps — that you probably even think about it now in day to day.  Like, it almost helps you when a situation arises just in life?
Annette:  Oh, for sure, yeah.
Alyssa:  Just breathing and releasing fear in whatever way you've come to do that.
Annette:  Yeah.  And I do meditation now, and I didn't think that was a cool thing before, but now I'm like, sure, yeah, that sounds great!  I want to get back into that space with my mind where I'm in control of things and thinking about what I want to be thinking about.  I'm not usually going through the ones the instructor did, but it's opened me up to that whole world of what can my subconscious do?  And a completely unrelated thing; I'm now doing EMDR therapy, which is also very similar in using the relaxation and controlling what you're thinking about and all of that.  And I think I would have thought that was ridiculous, if I hadn't gone through HypnoBirthing.  So yeah, it's amazing all the different ways in your life that it can continue touching you.
Alyssa:  Our brains are powerful.  They do a lot of good and bad for us on a day to day basis!
Annette:  Definitely, yeah!
Kristin:  So it sounds like your class had a mix of birth center, home birthers, and hospital birthers?
Annette:  Yes.  I don't think anyone had a planned C-section, but there was a mix of all three of those, yes.
Kristin:  And then another question that we get pretty commonly is for people who are very religious, faith-based, would this class be something that they need to steer away from?  That's a common – because of the hypnosis, maybe, but having experienced it yourself, can you address that for us?
Annette:  Yeah.  I mean, I grew up super religious.  I'm not as much anymore, but for sure, I remember that being something.  Oh, yeah, hypnosis; that's something that you would want to stay away from.  And this class isn't that at all.  It's 100% you controlling what you're thinking about and thinking about what you're deciding to.  It's just all you.  That's all I can say, right?  You're listening to someone talking, but you're choosing everything that you're doing, and all of the images that you're seeing and everything is what you want to do.  So nobody is controlling your mind.  Nobody is coming in and saying, drop this pen, and then suddenly you're dropping pens or whatever.  It's all you, relaxing, choosing what you're listening to, choosing what you're going to respond to.
Alyssa:  It really sounds no different for a religious person than prayer to me, right?  Like, they could almost — it could feel like prayer to them, and they can call it whatever they want to call it: medication, prayer, hypnosis.
Annette:  Yeah, it's relaxation, right?  That was the thing that I came away with, especially.  It's relaxing yourself.  So if you want to go and learn how to relax yourself, then this is for you.
Kristin:  Thank you so much for sharing your experience.  Do you have any last words or tips for our listeners?
Annette:  If you're thinking about HypnoBirthing, do it.  It's amazing, truly; 100%, I tell every single pregnant person I meet: have you heard about this thing called HypnoBirthing?  And then I tell them my story.  It's a weird one.  I didn't use it the way you're supposed to, but it still made a huge difference.  Even now, I'm like, I don't know; did I earn the woman badge of giving birth?  I feel like I kind of didn't, but here's my kid…
Kristin:  You totally did!
Annette:  So apparently, I did!
Alyssa:  There's the proof!
Annette:  but yeah, it's amazing.  It really is, and I think it's perfect for any birth situation, for anyone who's going to give birth.  Do HypnoBirthing.  It really is amazing.
Kristin:  Thank you again, Annette!