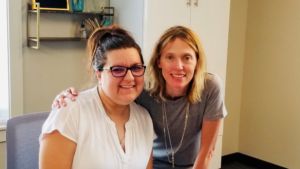 Maddie's HypnoBirthing Story: Podcast Episode #81
Today our former birth client and HypnoBirthing student, Maddie Kioski, tells us her personal pregnancy journey using HypnoBirthing and how it helped her feel excited about labor and delivery instead of scared.  You can listen to this completed podcast episode on iTunes or SoundCloud.
Kristin:  Welcome to Ask the Doulas with Gold Coast Doulas.  I'm Kristin, and I'm here today with Maddie Kioski.  She is a former HypnoBirthing student of Gold Coast and also my birth client.  Good to see you!  It's been a while.
Maddie:  You, too!  It's been so long.  We just had the third year birthday for Charlie, so three years!
Kristin:  That is so amazing!  I love following all of your adventures on Facebook.  So, Maddie, let us know a little bit about your HypnoBirthing experience and why you chose HypnoBirthing and what it did for you.  We'll have another episode coming up about your actual birth story, but this is focused on the class.
Maddie:  I'm lucky to have two older sisters who were very instrumental in that they both researched natural birthing and all of that, so before I ever got pregnant, I was kind of familiar.  The middle sister took a HypnoBirthing class in Atlanta, so when I got pregnant, I knew I wanted to go for a natural birth, so I started researching in our area.  I found you guys, and I found speed-dating with the doulas, and so I was like, oh, perfect.  And I saw you guys did the HypnoBirthing classes, so once I came and met you guys, I was sold.  I knew for sure this is what I want to do.  So my husband and I did the weekends class, so we had just longer weekend classes.  When we started, he was not totally sold on it, but he said, well, if you want to do, then of course we'll go and we'll do it together.  I actually really enjoyed having the weekend class.  For me, it was a long period instead of the shorter periods; you could really focus on it and really get in depth.
Kristin:  Did you do any preparation knowing that it was a very time-intensive class versus being spread out for five weeks?  Did you read the book in advance?  Did you do any preparation?
Maddie:  I didn't.  We came to the class, and then we would read after class on the way home; we'd read on the way to class, and then we'd do some in the interim before the next week.  I just knew this is what I wanted to do.  I can't remember; I think I was maybe five months when I started.
Kristin:  That sounds about right.  Yeah, I remember there was some time before your due date.
Maddie:  Yeah.  So we started listening to the rainbow relaxion every night.  It was weeks before I even knew there was a rainbow in it; I just fell asleep every time.  But my husband listened to it every single night, so he was pretty familiar.
Kristin:  It's good to fall asleep to.  It means that you're getting in that fully relaxed state.
Maddie:  Right.  So I think what was really, really helpful for me in the classes was reframing how you think about birth.   That was really helpful for me.  Instead of saying Braxton-Hicks, it was practice labor.  This is natural and normal and healthy; really understanding that trusting my body to do what it needed to do; trusting my baby, that he was going to be able to do what he needed to do.  Reframing all of those words was really, really helpful for me.
Kristin:  Yeah, I'm all about the impact of language.  Even the contraction; you think of it being intense and tightening up, but in labor, you want to be relaxed or it's just going to be more uncomfortable and take longer, so calling it a surge, for example, and viewing the wave-like motion of labor.
Maddie:  And I also think what was really helpful for me is understanding what's actually happening with your body and the different phases and knowing — I felt very internal when I was going through it, and so knowing what was going to happen and having learned about all the physical physiology, hormones, and all of that — I felt was really helpful to just kind of put my mind at ease and feel more prepared about what was going to happen and what I could expect.  And I think being able to relax and feel more relaxed about it also let me feel a little free with, if something doesn't go exactly how I want it to go, that's okay.  We have another plan.  We know if it's an emergent situation, things are going to have to change, but feeling more relaxed about the birthing process allowed me to feel relaxed about letting go of exactly how things were going to happen.
Kristin:  Right.  And there are some misconceptions about HypnoBirthing only being for home birthers.  You birthed in the hospital?
Maddie:  Yes.
Kristin:  And you were able to apply what you learned in class?
Maddie:  Absolutely.  I took an old phone with me and I had my rainbow relaxation, and I had some other music on there and the affirmation track, and so I was playing those while I was at the hospital.  Even just something like keeping the lights down low to allow a more relaxed atmosphere, to allow your hormones to really react to the calm environment rather than bright lights and people coming in and out.  I mean, you can change your environment when you have the knowledge of what it should be to help your birth go more easily.  So that was helpful.  And I was fortunate to go to Spectrum Butterworth, and you can labor in the tub there and all of that, and they have a lot more training as far as helping women through a natural birth.
Kristin:  Yeah, your provider makes a difference; a supportive hospital and their policies and procedures make a big difference in being able to achieve HypnoBirthing in the hospital.
Maddie:  What was helpful as well: I did do a lot of research as far as who I wanted as a provider and selecting a provider that you guys have worked with a lot and a lot of other moms in the area have recommended, so they were more familiar with HypnoBirthing, too, and they understand it more and understand what a natural birth looks like.
Kristin:  And it can be much different to observe someone who is internally focused if a provider is not familiar with HypnoBirthing.
Maddie:  Right, exactly, and not feeling forced to respond and explain what's happening and just allowing your body to do the work that it needs to do, allowing your baby to do the work that they need to do.
Kristin:  Exactly.  Was there anything from the class that didn't sit with you?  I always say, take what you like from a class or experience and then discard the rest.  Was there anything that didn't resonate with you immediately?
Maddie:  I responded well to a lot of the self-hypnosis kind of techniques, but we didn't end up really using those a ton when we were actually going through the birth process.  We did a lot of focusing on breathing because that's where I really ended up struggling was just calming down and getting those deep breaths in and having my husband understand what needed to happen; understand I needed to be breathing to get that oxygen in for baby, too, and help calm my body down.  He was a fantastic birth partner.
Kristin:  I remember that about your birth, for sure.  He's a very supportive partner.
Maddie:  He was really involved, and we felt really connected after, so that was beautiful.  And I know some people did a fear release, and for me, that didn't really work, I feel like, as well for me.  I think it would be really helpful for some people, but my main concerns were that I get migraines, and they're really bad, and I've had kidney stones and they're really bad, and so I felt like, oh, man, if I can't handle those, am I going to be able to do a natural birth?  So I think what helped more was just understanding how the birth process works, and then I talked with some other moms who also struggled with those same health issues, and they were able to help calm my fears, as well.  Understanding that your body is putting out all that love hormone; you're not going to be getting a migraine.  Your body is protecting you from that; it's focused on what needs to happen.  So the actual fear release part, I didn't really use that as much.
Kristin:  And one thing about the HypnoBirthing class that's helpful is you work on your birth preference sheet or birth plan.  Was that helpful in having discussions with your providers during your pregnancy?
Maddie:  Extremely helpful.  I think it was almost more helpful for my husband and I to kind of give us a guideline of what we need to focus on.  With HypnoBirthing, we had informed choice, really; here are evidence-based articles that you can read about these certain preferences that you can choose from.  That was helpful for us to talk about.  My providers were so wonderful, though; I just kind of was like, well, here's my sheet, and they were like, yep, these all look great.
Kristin:  Whatever you want!
Maddie:  So that was helpful.  But I would say I had a shift change, and so I think what would have been helpful that I didn't realize was making sure, when we did that shift change, that the other nurse made sure to read the birth preferences.  I had put on there that I didn't want coached pushing, and so when she came in, I don't think that she had really read it necessarily, and so then they were pretty focused on that.
Kristin:  That can be challenging, the timing.
Maddie:  I was just trying to block that out.  You were helpful, and the midwife and my husband were all talking about breathing and getting those breaths in, and that was helpful.
Kristin:  Great.  Any other tips or advice for anyone considering HypnoBirthing?
Maddie:  I think it was so helpful and such a bonding experience that I feel — I felt prepared and I felt excited to give birth.  I think so many women go into it feeling scared and saying, give me drugs; they just feel from the beginning that I'm not going to be able to do it.  And after going through HypnoBirthing and really understanding the process, understanding and getting to a point where I trust my body and trust my baby; it's natural; it's normal; it's healthy.  I was so excited!  I was so excited to go in and give birth.
Kristin:  I could tell that; I could see it and feel it.
Maddie:  And you can know, okay, it's not going to be a walk in the park, but it was beautiful, and I feel so fortunate to have had such a wonderful first birth experience.
Kristin:  Do you use any of the breathing or relaxation techniques in general life or parenting?
Maddie:  I do, actually, do a lot of deep breathing when I feel frustrated and I need to take a step away and focus internally; do some breath depths; focus on a relaxing color.
Kristin:  I do that with my kids.  I get them to use HypnoBirthing and the birth breaths and the relaxation.  For me, I have a fear of the dentist, so I've used it at the dentist!  Yeah, it's very helpful.  Well, it's so good to have you on, and we'll talk about your actual birth story shortly.
Maddie:  I'm excited!
Kristin:  Thanks for listening to Ask the Doulas with Gold Coast Doulas!  Remember, these moments are golden.