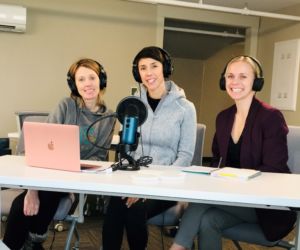 Podcast Episode #60: A Naturopath's Perspective on Pregnancy and Depression
Doctor Janna Hibler, ND talks to Alyssa and Kristin about how a naturopathic doctor treats pregnant and postpartum women, body and mind.  You can listen to this complete podcast episode on iTunes and SoundCloud.
Alyssa:  Hello, welcome to Ask the Doulas podcast.  I am Alyssa Veneklase, co-owner of Gold Coast Doulas, and I am here with Kristin, my business partner today, and Janna Hibler.  She's a naturopathic doctor and clinical nutritionist.  Hello, Janna!
Janna:  Hi, how's it going, guys?
Alyssa:  So Kristin and I met you at a little gathering of the minds at Grand Rapids Natural Health Recently.  We kind of hit it off, and then you and I got coffee, and we hit it off even further.  We got to chatting forever, so we were like, let's just pause this and record our conversation!  And today, first, I want to know a little bit more about what you do, but when the two of us were talking, we spoke quite a bit about postpartum depression, and I want to talk about what happens leading up to that, even before you get pregnant, but then during pregnancy, too.  What does that look like?  What do depression and anxiety look like?  How do we nip that in the bud?
Janna:  Yeah, definitely!  So it's really important for all of us mamas and future mamas to know that how we are before we get pregnant and give birth is a good indicator of how our health might look like after we give birth.  Things you mentioned such as anxiety or depression tend to get more severe after we give birth just because of the extreme stress and sleep deprivation that we are under, having a newborn.  I like to emphasize to my patients that this is nothing to feel bad about.  It's just when you don't sleep, you don't release the same neurotransmitters and have the same brain chemistry with certain levels of uppers and feel-good hormones.  So it's kind of…
Alyssa:  I'm obviously a big proponent of sleep for babies and parents.  So what would you tell a parent who says I'm not even pregnant yet; I'm thinking about getting pregnant.  How does a person even know if they have depression or anxiety?  And what do you do about it?  Let's say that I'm kind of a depressed person or I get anxious about things at work or with my friends or my family.  What do you recommend?  And then let's say I came to see you as a naturopathic doctor.
Janna:  So again, I like to really emphasize that you are normal and this is a normal part of being a female.  If we're talking evolutionarily speaking, we were made to be out in nature, and so when we're put in the city, even if we're out half an hour from Grand Rapids downtown, there's a lot of lights.  There's a lot of noises.  There's a lot of things going on that cause an overresponse, and that can lead to anxiety and depression.  So some symptoms might be feeling nervous in certain situations or some OCD tendencies, or a lower mood display and laughing less or getting less excited about certain things in life.  These can be very mild, but if you look at them over the course of the day, if you have a lot of little things, they do add up.  So when you walk into a naturopathic doctor's office, something I really love and take to heart is that we have our medical concentration, but we also have a lot of education with psychology and knowing how the brain works.  So I would ask you a bunch of questions; the normal medical questions you get, but in addition, we're going to ask about your sleep cycles, your exercise, your diet regimen.  All these play a part in our mental health, and my end goal is for everybody to feel their best all the time.  In order to find out how people are feeling, I like to run a series of either urinary or blood tests.  This can give us an indication of brain chemistry, hormone levels, cortisol, in addition to the normal things like checking sugar and red blood cells.  I really like to hone in on these specialty tests because by checking our brain chemistry, I can find exactly what neurotransmitters might be high or low, and we can treat appropriately.
Alyssa:  So when you talk about neurotransmitters, what does that mean?  What are you looking at and what does that mean to you?
Janna:  So our neurotransmitters; there's the common ones we've all heard of like dopamine, serotonin, norepinephrine, epinephrine, even histamine.  There is a whole slew of uppers and downers, and basically, we take the brain chemistry analysis tests so we can see if some of them are off.  Some people that have allergies have high histamine levels.  That's an upper, so when we have allergies, those people actually tend to have anxiety, as well.  And so we can actually nip the anxiety in the bud by treating the allergies and reducing histamine levels.  So it's really a cool science.
Alyssa:  And the cortisol and serotonin and melatonin, all those things you can actually check with blood and urine?
Janna:  Exactly, yeah.
Kristin:  And a lot of women have issues with their thyroid; is that part of the testing, that you can check thyroid levels?
Janna:  Absolutely.  I like to refer to it as our hormone triangle where we have our thyroid as the king, our sex hormones like estrogen, progesterone, and then we have our cortisol.  All three of those categories play a huge role in our hormone development and picture that we have, so we do a lot of intensive testing to find out where those levels are at.
Alyssa:  And what would you do if I came in and my cortisol levels were sky-high and you noticed something with my thyroid?  What would you tell me to do?
Janna:  So depending on your lab results, the thyroid could be treated in two ways.  One, sometimes we do give conventional medications, and then another way to treat, depending on your levels, is with herbs.  We can give a series of botanical herbs to actually bring your levels back to normal, as well as certain nutrients.  There's a number of co-factors that actually feed our thyroid hormone to turn from its inactive to active form, and without them, we will not function.  So that's things like vitamin D and iron and vitamin C; very common nutrients that we take for granted, but they play a vital role in our thyroid health.
Alyssa:  So how long do you test that out before you put them on a drug?
Janna:  Typically, I like to give a patient three to six months to see if we can fix it with nutrients and herbs.  Again, it comes back to what the patient wants.  If a patient wants results this month, then we might take a more aggressive treatment plan.  But if they're willing to do it completely naturally, then three to six months.
Alyssa:  So let's say I get it under control; I'm pregnant, and I still notice now that I still have some anxiety or depression.  What do you do during pregnancy?
Janna:  I really like to encourage diet and exercise and sleep.  Those are our biggest best friends to really help out.  Different lifestyle factors can have a huge effect on our mood and behavior.  So let's start with maybe some foods.  We could eat a diet rich in dopamine, so we could do things like chocolate.  I mean, who doesn't love chocolate?  We all love it, but do we know it's high in magnesium and it's high in zinc?  Those are vital co-factors to run our brain chemistry.  We can also have blueberries or nuts and seeds, which are high in vitamin B6 and 9 and all these B vitamins to help also with our mood.  We could do some grass-fed or fermented foods, which help with our gastrointestinal health, which again, I'm sure you guys have all heard of the gut being the second brain.  And then sulfur; sulfur-rich foods like onions and garlic that actually help with detox, so if we are having some things get backed up, we can help get them out.  So we really try to approach it from a multifactorial view hitting all points.  How's our diet?  How's our exercise?  How's our sleep?  How's our stress?  And a lot of what I get into with patients, too, is how is your relationship at home?  Do you feel supported?  Do you feel loved?  Do you feel heard by your partner?  By your business partners, your coworkers?  These are all part of our needs that play a role in our mental health when we're pregnant and when we're not pregnant.
Alyssa:  I was going to say those are things that should be carried over throughout, right?
Janna:  Yeah, yeah!
Alyssa:  Meanwhile, exercising and getting enough sleep.
Janna:  Totally, and pregnancy just kind of is that opportunity where we find our weaknesses in our body, and it's actually a great opportunity to increase our health for the rest of our life and find out things we wouldn't know about it unless we were pregnant.
Alyssa:  Oftentimes, I feel like that is the point in a woman's brain and body where we finally start to understand and care about what's happening to our body, and because we're growing another human, then we're like, oh, I better start taking care of myself so that I can take care of this baby.
Janna: Yeah, and I think that has a lot to do with what happens after we give birth and why a lot of moms struggle.  I mean, I want to say that loud on this podcast right now that mom life is hard.  It is a struggle, and I know we all try to put on a face that we're doing well and everything's perfect at home, but mom life is hard, and that's maybe another podcast sometime, but that's a conversation I'd love to get started because it is hard, and to that extent, why we have a hard time after birth is a lot of the time – and I'm sure you guys see this all the time, being in the house with moms – that the moms forget about themselves.  They put all of their energy, all of their love, into their baby, and I was guilty of it, too.  I mean, I have a two-year-old, and I definitely did it.  I'm still guilty of it some days because we love that human so, so much.  But I think it's really important for our mental health and as mothers to put the energy back into ourselves and remember that we really can't pour from an empty cup, and we have to be healthy and strong ourselves in order to make strong and healthy babies.
Alyssa:  So what do you recommend to a mom who's suffering from depression?  You know, maybe they had a beautiful pregnancy, easy labor and delivery, and then they're like, oh, my God; this is way harder than I thought, and then sink into a depression that they've never experienced before.  How do you get them out that?
Janna:  And so many moms do!  There are so, so many out there that come in, and they're like, not even my husband knows how sad I am; not even my best friend knows how sad I am, and that's where I really encourage everyone to just start reaching out.  I don't want you to be ashamed; I don't want you to feel guilty, because it doesn't mean you're a bad mom.  You're an excellent mom because you care so, so much, and asking for that help and taking that first step, making people aware that this is something I do need help with, and receiving that love.  From a medical standpoint, too, we'll go in and I'll help adjust hormones and your brain chemistry with either herbs or conventional treatments or nutrient levels to help your body, but I think so much of it also comes from a mental and emotional spot of feeling supported and loved by your people around you.
Alyssa:  So is naturopathic medicine, in general, more of a functional approach versus the medical approach or kind of a combination?
Janna:  Exactly, yeah, and functional medicine is so great.  That is the bridge between conventional medicine and natural medicine because we all agree on it, you know.  We see a lab level, and it's important to attend to it when it's on its lower level.  Traditionally-minded thinking, we only would treat something like vitamin D if it was set low because that's the level that can cause rickets and true mobility issues, but what about everybody that has low-normal, that they're in that functional, funky range?  That's at a stage that can cause depression, that you can get autoimmune diseases.  So as a naturopathic doctor, I really work on treating it then and now so we can prevent getting those diseases because they may not pop up in five or even ten years, but they will happen if they're not treated.
Kristin:  Even in pregnancy, there's evidence that preeclampsia with the lack of vitamin D, that can be a factor in developing preeclampsia.
Janna:  Exactly, and that's how it can be that simple sometimes where moms come in and, hey, they just want to run a nutrient panel just to find out what are their baseline nutrients, and then that way when breastfeeding comes into play, especially for extended breastfeeding – I've been breastfeeding for two and a half years, so that's something I've been keeping a constant eye on, what are my nutrient levels, because we don't want to cause other problems from just being depleted.  So yeah, that's a great point.
Alyssa:  Depleted is a good word to describe mothers postpartum, I think.  Most of us at some point just feel depleted, whether it's mentally, physically, whether it's just breastfeeding.  That alone can make you feel depleted; this baby is literally sucking the life out of me!
Janna:  Because you're giving everything!
Kristin:  I tandem nursed, so I really felt depleted when I was nursing two!
Alyssa:  It's like this weird tug of war between "I love doing this" and "I hate doing this so much."  I remember getting so over it when I was done, and then a month later I missed it.  I was like, oh, my God; I'm not breastfeeding anymore!  But I was so ready to throw those pump accessories in the trash and celebrate, but it's just a weird…
Janna:  It is!  And every mom is different, so we like to celebrate moms at each level, whether they want to breastfeed for three months or six months or a year.  We all have our breaking point, and we want to prevent us from getting to that point.  Mama matters, too!
Kristin:  For sure!
Alyssa:  Well, thank you so much for joining us, and if people want to find you to come visit you or just ask you questions or follow you on Instagram, where do they find you?
Janna:  Absolutely!  So I'm currently accepting patients at Grand Rapids Natural Health, and I'm also on social media as holisticmommyandmedoc, and you can reach out there anytime.  My name is Janna Hibler on Facebook, and feel free to message me anytime.  I like to get to know my mamas.  Since I just moved from Vermont, I'm looking to build up my network of mamas because we are a tribe and we all need to stick with each other, so whether it's personally or professionally, I do want to link up with you!
Alyssa:  Thank you so much!
Kristin:  Thanks, Janna!  We appreciate it!