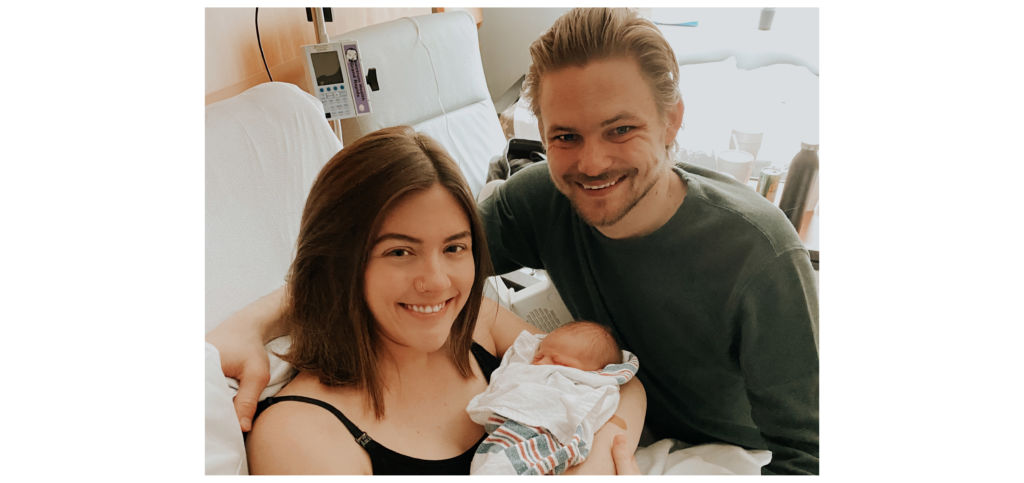 Sam & Justin recently had their baby boy, Judah, in the hospital in the midst of the COVID-19 pandemic.  They describe their experience in the hospital as well as how beneficial birth doula support was throughout pregnancy and then during labor and delivery, even though support was virtual instead of in-person.  You can listen to this complete podcast on iTunes or SoundCloud.
Alyssa:   Hi, welcomes to the Ask the Doulas Podcast.  I am Alyssa Veneklase, co-owner of Gold Coast, and today I'm talking to Samantha and Justin, who recently had a baby at a hospital in this midst of this Coronavirus pandemic.  We're going to talk to you about what that was like.  Gold Coast is not attending births after Governor Whitmer's declaration that we have to stay at home, and we don't know when the order will be lifted.  So we kind of just wanted to get a sense of what it was like for you two to go through this whole process.  How far along were you when you hired us?
Samantha:  Pretty early when we found out.  We knew when we were trying to get pregnant that having a doula was something that was really important to us, as well as a midwife and just trying to go that more natural route.  So the minute we found out we were pregnant, it was kind of getting things in plan.  So I would say after the first trimester after we kind of told everybody.
Alyssa:  So you hired pretty early, and that was before all this crazy virus stuff happened.  And you worked with Kristin and Ashley as your birth doula team.  Even before all this stuff happened, what did support look like through the majority of your pregnancy?
Samantha:  It was wonderful.  Being a first time mom, obviously, you have a ton of questions, and I just didn't want to be the person to be blowing up my midwife all the time, plus it's hard to get ahold of them.  Our midwife was through Spectrum, so obviously you can't just pick up the phone and call her.  It's not as easy.  So being able to have a team of doulas that, any question I had from — I had artisan cheese one day and freaked out thinking I did something wrong.  So to be able to text them things like that and just have that reassurance all the time was awesome, as well as after every appointment, they wanted updates on what's going on with baby, so it was just that extra support and knowing that they're there no matter how stupid the question was.
Alyssa:  Well, and as a first time mom, I think we feel like all of our questions are stupid.  Oh, I hear the baby!  Hi, Judah!  So, yeah, obviously, because of this, we're on speakerphone, and they're at home and I'm at my home because nobody can go into work.  You guys are quarantined at home with the baby, which is probably kind of a blessing in disguise, maybe.  You can actually kind of hunker down and just focus on bonding and feeding and all these great things without visitors.  But like you said, Grandma comes over and she can't see the baby!  That's so hard.
Justin:  It's been a blessing for dads, I think, especially because I would have had to go back to work today.  I am working, but it's from home and it's slower, and I've got some time to help support Sam and build my relationship with Judah, too, so it's kind of a blessing in disguise for — I mean, it sucks, but it's been nice.
Samantha:  And as a new mom, you're hunkered down.  I mean, I was planning on not leaving my house for a month, anyway, so it's kind of nice, especially during this quarantine time, because you're quarantined anyway with a newborn, so it gives you something to do and keep occupied with.
Alyssa:  Right.  Well, and focus on the positive, right?  Like, there's so many negatives that we can be focusing on, but you're stuck at home with a newborn baby.  Boohoo, right?  This is what you've been looking forward to for nine months!
Samantha:  Exactly, exactly.
Alyssa:  So your support during pregnancy really would have been the same, Coronavirus or not, because it's a lot of text and phone calls and emails, right?  It's all virtual, anyway?
Samantha:  Yeah.  Yeah, that wouldn't have changed, and like I said, they were available pretty much 24/7, so it was just nice to always have them in our back pocket when we needed them.
Alyssa:  Right.  Tell me about the labor, then.  What happened when you were at home, and how did that support, the actual virtual support after finding out that your doulas can't support you in person, how did virtual support look then once labor began?
Samantha:  So we came up with a plan that we would utilize anything that we needed.  If we needed to do a video chat, we had my laptop ready to go to bring to the hospital.  But once labor started, we kind of — before I went into labor, we talked over, you know, what are the signs, when we should contact them, how long I wanted to labor at home; all that stuff that we would have done anyway if it was just normal circumstances.  So when I went into labor, it was the middle of the night, of course, and we texted both of them and ended up calling Kristin.  She was the one who answered, and we told her how far apart the contractions were.  She could hear, you know, how I sounded and could tell that they were ramping up.  You know, you can just — moms — everybody says moms have the telltale sign of when contractions aren't a joke anymore.  So, yeah, she said, yep, sounds like you're really getting in the swing of labor.  She told me to get something to eat before I went to the hospital and kind of gave us some tips before we — as Justin was packing the bag and getting our bags in the car, some tips I could do before we headed out the door.  And so we did that and then headed to the hospital, and from the moment we got there in triage, I had a couple — well, of course, birth is always unexpected, but I had a couple things come up that I wasn't expecting to happen.  So from the moment we were in triage, we were in constant contact with Kristin and Ashley, whether it was me or — it was actually mostly Justin.
Justin:  Yeah.  I actually took — like, I would step out of the room a few times just to call her.  There was just a couple moments there when we were down in triage where she was uncomfortable, and the room is a little small.  It was hard to get into that calm state of mind that we were looking for.  So without trying to stress Sam out, I stepped out of the room and just called Kristin.  I was, like,  hey, you know, what are some things I could try to, you know, bring her back into this calm state of mind that we've been working on forever.  It was great.  She gave us some positions to try, some things to talk to the nurses about.  Like, she knew there was a tub down in the triage area, so she said to go ask them to use the tub.  So it was good to have them just there — just any questions we had, just to call real quick.
Samantha:  Yeah.  And we had a couple unexpected things, because I wanted to labor naturally, but we had some issues.  I had a LEEP procedure a couple months ago.  Well, not a couple months ago; about a year ago, but that caused some scar tissue that made my labor really difficult.  So we had to have the conversation of having an epidural because my labor was so erratic and my body was under a lot of stress.  So that decision we talked over with the doulas.  And then having Pitocin brought in, which was also something that was on our "absolute no" list, but it was nice to be able to call Kristin.  Spectrum was wonderful, too.  I mean, the nurses and midwives were great as far as giving us all the information we needed and then giving us time to talk it over.  But having Kristin there to be able to call and say, here's what they're telling us, here's what we're thinking — to have that reassurance from them was huge, especially because our birth plan changed so much, and it was upsetting for me, especially.
Alyssa:  Right.  That's hard when we get into this mindset of, like, here's my plan and I'm going to stick to it, and baby or your body says otherwise.  To have an expert to ask those questions and give feedback that's not — and I think that's one thing a lot of people thing, that doulas are there to tell you what to do.  It's more about asking you the right questions so you can figure out what's right for you.
Justin:  Just having that — just having that information so that we can make our own decision.  Just having them giving us all the proper information we knew everything that was at stake and we could make a better, informed decision.  It was a huge help.
Alyssa:  Right.  Knowledge is power in this instance, for sure.
Samantha:  Yeah, and even the positions.  Once I did get the epidural and Pitocin, we still wanted to do a really low dose of Pitocin to try to have my body naturally ramp up contractions, so Ashley and Kristin sent us a bunch of pictures of positions we could try.  They were always available for Facetiming and virtual, as well, but we never needed to.  But to have that in the back pocket was comforting, as well, that if we needed to virtually see them face to face, knowing that we could do that was very comforting for me, especially.
Alyssa:  So once you actually moved from triage to the labor and delivery room, you said you didn't actually have to use Facetime or anything.  Was it more of you, Justin, were in contact with them because Sam was in active labor?
Justin:  Yeah.  It was a lot of text messages and a few phone calls.  If it was something we wanted to all talk out together, we'd call, or if it was just a quick question, I'd just shoot them a message real quick.
Samantha:  And I definitely think if I didn't need — if I wouldn't have had the epidural, we definitely would have utilized Ashley and utilized some of our HypnoBirthing techniques to help me get through labor and probably would have used virtual face to face more, but just because things moved so fast as far as me needing some intervention, it again changed our plan as far as utilizing the doulas a little bit differently.  But, yeah, it was constant contact throughout the whole labor process, and it was actually nice after I did get the epidural.  I was able to then talk to them and tell them what's going on and what kind of positions I can try and different things like that.  So the plan changed a little bit, but staying in constant contact with them didn't.  It was pretty consistent throughout the whole labor process.
Alyssa:  And what about when you got to the point where you were ready to push?  Was there anything they could do to support you during that time?
Samantha:  Well, we planned on having them Facetime for that, but my pushing went very quickly.  I only pushed for about 30 minutes, and we didn't even — when we started, it was — we texted them saying, oh, they want us to do some practice pushes, and 30 minutes later, we were messaging them saying, well, baby's here!  So, yeah, we had the whole plan set up for them to help — especially because I had an epidural, they were really going to help me try to breathe baby down, which is what we ended up doing, but to have them face to face so they could see what was going on.  But it just ended up happening so fast that we weren't able to do that.  But after baby came, we were in contact with them, telling them his birth weight and all that stuff, and once we got up to the room, letting them know how latching was going as far as breastfeeding.  So it was just the best experience possible, especially because I was so devastated, you know, being nine months pregnant and all this emotional — that's emotional in itself, and then to find out your birth plan is completely blown to smithereens…
Justin:  Two weeks before we even go to the hospital.
Samantha:  Yeah, two weeks before the hospital.  It was just terrifying, but to have them there in that virtual sense was everything because it would have been a very different experience if we weren't able to have them at all, that's for sure.
Alyssa:  So let's say a couple just found out they're pregnant, and they knew they wanted a doula, like you, but then they have this worry.  They're going to do the hospital birth; they want a doula, but the doula may or may not be able to be there.  What would you say to a family who's kind of on the fence about hiring a doula because of the current situation?
Samantha:  I would say, hire.  Hire a doula because, yeah, the situation has changed, but I think even more in this time, you need that extra support more than ever, especially because, in my circumstance, my midwife wasn't even able to be there.  I had a totally different team because of the way they split up her team, so not only is your birth plan changed, but then my midwife who I've been seeing for the last nine months wasn't able to be there.  So just to have that team, that constant contact, still stay the same even though they're not there in person, was just a huge comfort and relief for me.  And especially for Justin.
Justin:  I was going to say, for the fathers-to-be out there, I think it's even more important for them.  We went through a lot of the classes and stuff, and we had good knowledge going in, but you get in the heat of the situation, and you know, her surges and contractions were starting to really hurt her, and I didn't know what to do in that situation.  So we had this whole plan, and I was doing my best to stick to this plan, and when you get thrown that curve ball, having someone to turn to and just get that reassurance.  I might have made the right decision in that situation, but just to have them say, "Yeah, you did," or, you know, this is — "Yeah, you did do a good job there.  This is what's going to happen.  Here's the outcome."  Just having that extra sense of security in this very unsecure time is a huge benefit.  Even though they're not there, it was almost like they were, and it was very helpful, especially for the dads that sometimes might feel a little lost.
Alyssa:  Right, which usually, most of them, I feel like, they do probably feel a little bit lost.
Justin:  Especially the first time.
Samantha:  Yeah, and it takes the pressure off, too, you know, just because I'm telling him one thing, and he's trying to say, you know, it's going to be okay, but for him to then reach out to the doulas and say, you know, here's what's going on, and for them to not only give me reassurance but him was a game changer, for sure.
Alyssa:  And like you said, you've built a rapport with them throughout your pregnancy.  I didn't know that your midwife couldn't be there either!  So without your doulas, you would have not had your midwife either, and you would have literally been in a hospital with a bunch of nurses who you've never met, and that was it.
Justin:  Right.  Exactly.
Samantha:  And thankfully, we had an amazing team.  Our nurses and midwives that we ended up getting were amazing.  But also, you're going — it's your first time.  You're laboring.  It's new.  And then you have a whole bunch of strangers, so you're throwing that mix in it.  So having the doulas there that we've had throughout the whole pregnancy, virtually, even though they couldn't be there, was such a comfort because it just — you had somebody to turn to that you know.
Justin:  One more thing, too, is the hospital — I don't know about other hospitals in the area, but Spectrum — it was like a fortress.  It was so clean and locked down in there.  We kind of forgot this whole thing we even going on until we left.  I mean, I went down in the cafeteria a few times, and every time I went down there, a whole different section was being completely pulled out and cleaned.  There was no visitors walking around.  There was no one walking around.  I mean, it really did feel like a fortress.  Even getting into the building, we had to go through a couple security checkpoints, so if anyone was worried about the hospital part of it, I think that especially Spectrum, that I know of, I think they're doing a very good job of keeping everything separated, and the sections of the hospital that need to be cleaned and all that.
Alyssa:  That's a good point.  For those who maybe have that as a main point of fear for them, delivering in the hospital, they're doing everything right.  I mean, they obviously want to keep their patients safe and healthy.  It's got to be weird to walk through that hospital and hardly see anybody because there's no visitors.
Samantha:  It was weird pulling up because they have the whole security detail, and it was, like, "Why are you here?  What's going on?"  It was very weird, but like Justin said, it ended up — I almost was sad to leave, just because you're in this clean, sterile bubble, and like I said, we almost forgot about this whole Corona thing because you're in — you are — you end up being in the bliss of having your baby, even though it's such a scary time.  But having — you know, right after he was born, we talked with Ashley and Kristin, and then it was just kind of that blissful — we went up to the room, and they're doing a very good job.  Obviously, things change, but I think they have it pretty locked down.
Alyssa:  That's great.
Justin:  They're definitely out in front of it.
Alyssa:  So then you guys go home, and usually, they do a postpartum visit, but I'm assuming they did that virtually, as well.
Samantha:  Yes.
Alyssa:  Did you have that already?
Samantha:  We did.  From the moment we got home, too, we were in constant contact with them, from them asking how he was sleeping.  I had a couple questions just as far as my recovery and what I could do for comfort as far as that goes, just because as a new mom, you just don't really expect the discomfort.  I kept thinking, you know, I didn't have stitches or anything like that, so I thought, oh, I'm going to be good, but you don't realize what you've put your body through.  So it was just nice to have them there so I could say, I'm feeling — you know, what can I do about this pressure that I'm feeling?  I'm having some pain and discomfort here.  To have that support on the postpartum aspect, because, you know, this whole time leading up to the birth, you're thinking pregnancy and delivery and labor and all that, but postpartum support is also huge, and they really, really helped with that, giving me ideas and tips of helping my milk supply come in.  It was just — they've been wonderful.  And we just had our virtual visit with them face to face, and that was great to be able to see them.  They could see the baby.  And then to tell them the birth story, since they weren't there — I mean, they were there, but they weren't.
Alyssa:  They got bits and pieces but finally got to hear the whole thing.  That's great.  Well, is there anything else that you wanted to add or that you think other parents should know?
Samantha:  I just think if you're on the fence, I mean, nothing — I had this whole — I thought I planned for even the most unexpected in pregnancy, and I definitely didn't because pregnancy can change in an instant.  But I think that's why even more now in these times to have that extra support and to have a doula because we plan on having another child, and I've already said to them — I said, well, hopefully you guys will be there in person for our next baby!  But I couldn't imagine going through labor and birth and even through pregnancy and postpartum without having a doula and support, and I think Justin feels the same way.
Justin:  Absolutely.
Samantha:  It's like having your best friends to be able to talk to, and it's such a comfort, especially —
Justin:  But a best friend who's also very knowledgeable!
Alyssa:  Your best friend who's knowledgeable and judgment-free and can give you all the best support.
Samantha:  Yeah.  And especially because my birth plan changed so much in the sense of having to have interventions, which I didn't think I was going to, so that was even more unexpected, and to be able to — you know, you're in the rush of the moment, and I was really upset, and, you know, you get down on yourself as a new mom thinking you're failing in some aspect.  To be able to have them — obviously, Justin can sit there and tell me all day that I'm doing the right thing, but to have somebody else who's not only gone through that experience but seen other women and giving me advice and telling me what I'm doing and the decisions I'm making are right for me and my baby was such a relief and such a comfort because it's such an emotional time, and when things aren't going already as planned, and then you throw in more wrenches into the mix, it can overwhelming.  So to have them as support was just everything to me.
Alyssa:  Thank you so much for sharing!  I wish that I could see little Judah, too.
Samantha:  I know!  I know.
Alyssa:  It's really hard!  But, yeah, focus on bonding with that little guy.  How's breastfeeding and everything going?
Samantha:  Breastfeeding is going good.  We've had to supplement a little just because he's such a peanut, but, again, they've helped with that, as well, just because that can be hard as a mom.  You know, you think, oh, breastfeeding is going to be this simple thing, and it's hard.  Being able to talk it over with people — they've given me some great articles, and I had a virtual meetup with some new moms that Kristin suggested, a team that I should join in on, and that was really helpful.  I got some great tips from that, and to not only see new moms who delivered around the same time as I had, and that was all virtual and really cool to be able to hear from them.  You know, they might not be going through the same issues as I am, but to hear they're also having questions and not knowing what to do was really reassuring because you can get stuck in this loop of, why is this not working for me?  What am I doing wrong?  Why is it so easy for everybody else?  And you don't realize other moms have, you know, if not the same issues, then different issues.  It's all different for each person.
Alyssa:  Yeah.  It's not easy for everybody else.  It just seems like it is.
Samantha:  It does, and it's easy to get down on yourself and think, oh, you know, woe is me, why is it not working for me?  But to be able to have not only doulas but then give me other resources to be able to reach out to was also great, as well.
Alyssa:  That's awesome.  Thank you for taking the time to share your story!
Samantha:  Of course!  Thank you