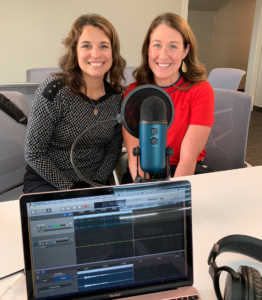 Baby-Friendly Hospital Initiative: Podcast Episode #89
Today we speak with Katie and Becky from Spectrum Health in Grand Rapids about what it means to be a designated Baby-Friendly hospital. You can listen to this complete podcast episode on iTunes or SoundCloud.
Kristin: Welcome to Ask the Doulas with Gold Coast Doulas. I'm Kristin, co-owner, and I've got Alyssa here. And we've got special guests joining us today from Spectrum talking about the Baby-Friendly initiative. So welcome, ladies! Introduce yourselves and tell us about your background!
Becky: My name is Becky Crawford, and I'm a nurse manager at Spectrum. My background is in postpartum and labor and delivery nursing.
Katie: And I'm Katie. I'm the project specialist for women and infants at Spectrum Health. My background: I am an RN, and my background is high risk OB and postpartum nursing.
Alyssa: Awesome!
Kristin: Fantastic! Thanks for joining us! Tell us about what baby friendly means and why it's such an intense process to go through certification. Fill us in!
Katie: The Baby-Friendly hospital initiative was actually created back in the early 90s, and it's an international organization to promote, protect, and support breastfeeding practices. Spectrum Health Butterworth was designated Baby-Friendly initially in October of 2014, and we just went through the redesignation process and were redesignated at the end of May of this year. There are ten steps for Baby-Friendly that each support breastfeeding practices, and we can talk through some of those steps, as well. You have to be proficient in all of those ten steps to receive the designation, so you really have to show breastfeeding excellence, and it's a really strict and rigorous process to go through.
Becky: I think overall, the way I describe it to patients is that we've created a culture that's supportive of breastfeeding and of moms that want to breastfeed. So it's not that we force anyone to breastfeed. Our goal is just to educate moms, support them, and help them be successful if that's the option they choose.
Katie: Absolutely. As nursing professionals, part of our responsibility it to make sure that best practice and current research reaches our patients and that they're educated on all of those best practices. Breastfeeding is best practice, but it's also about informed choice and supporting our patients with whatever choice they make. While Baby-Friendly is primarily about breastfeeding and supporting breastfeeding, there is a formula feeding option there, and we support patients in that option, as well. It should never be about pressure. It should just be about education and informed choice.
Kristin: That is a question that I get from doula clients. If they choose, whether for medical necessity or personal choice, to formula-feed, how they can navigate the system with Baby-Friendly hospitals.
Alyssa: That's what I was going to ask, too. Do you think that designation scares a mom who knows she doesn't want to breastfeed? Does she think shes going to come into this hospital and you're going to try to force it? What does that look like for a mom who doesn't want to?
Becky: We do hear that feedback from moms that haven't delivered with us, that they're just nervous. Having to talk about breastfeeding, even, can be an uncomfortable conversation if they know that's not the choice they want to make. So our approach with our staff is to educate the patient on all the options, let them choose, and then support. So it should be a one-time conversation. We're going to talk through all your feeding options. These are the great benefits of breastfeeding. If you choose not to do it, okay. Then let's talk about formula feeding, and we'll focus our education there. So making sure they know their options, they understand the benefits, and then support.
Katie: And, you know, nurses educate on a lot of topics, right? It's not just about breastfeeding. But the other topics we educate on, it's the same sort of informed choice, right? Breastfeeding is such a personal decision. It's such an emotionally charged topic. I think that while we need to educate our patients on breastfeeding and why it's great, we also need to acknowledge the fact that it is a really personal choice, and it's okay if you choose not to, as long as we've given you all of the information.
Kristin: And so your labor and delivery nurses, your postpartum nurses — everyone is specially trained to support the initial latch and continued breastfeeding through their stay?
Katie: Yes.
Kristin: And that's something that we always stress as doulas is that you have support from your nurses as well as the board-certified lactation consultants who do rounds in the postpartum time.
Katie: Actually, one of the ten steps is staff education. All of our nurses receive 20 hours of dedicated breastfeeding education. Of that, 15 hours are classroom education and then 5 of those is clinical, practical breastfeeding education hours. Every one of our nurses; it's built into orientation for any women's nurse, so everyone from labor and delivery to postpartum gets this education. There's also a requirement for providers, so nurse midwives as well as physicians, to receive additional breastfeeding education, as well. Per Baby-Friendly, they're required to receive three hours of breastfeeding education.
Becky: We also have a team of lactation consultants that offer further help for any mom that's struggling, but I'm also bringing in more peer counselors, too, just to round on every patient and offer every mom some support, ever with those first few times they're latching, just so they can hear that they're doing a great job. It's really just to address the breastfeeding concerns of all moms, not just the moms that are struggling, just to really walk them through it.
Katie: And we do have quite a few nurses that are certified breastfeeding counselors, so they have received additional education as well as the education that they received for Baby-Friendly.
Kristin: How are you able to support moms with babies that go to the NICU initially with their breastfeeding goals?
Becky: Well, actually, we get them pumping right away. If your goal is to breastfeed, we like to have them pump within two hours of delivery to start establishing that supply. Our nurses will come in and do education, and the lactation consultants will see them, also, and just talk about the importance of pumping to build up that supply. They're also going to skin to skin. There are some lactation consultants that are dedicated just to the NICU and these moms, so there's a lot of support there, too.
Katie: The providers in the NICU are very, very supportive of breastfeeding, and they encourage and educate moms on the importance of breastfeeding, as well, so there's good collaboration between our OB teams and our NICU teams regarding supporting those moms in breastfeeding and being successful.
Kristin: That's what my clients tell me, that they get a lot of support, even over at Helen DeVoss, as well as in their rooms with lactation. As far as other elements of the Baby-Friendly designation, what else encompasses those ten standards?
Becky: There's a lot. We start right at delivery, with the golden hour after delivery. We place baby skin to skin immediately after delivery, and we avoid all unnecessary care for that first hour. Any exams or assessments would all be done while the baby is skin to skin on mom. We try to give them that time to bond and establish that first feeding.
Kristin: And if the mom can't do skin to skin, I have dads ask me all the time about the benefits of them doing skin to skin with baby. So that's something that's encouraged, as well?
Becky: Absolutely. We've had lots of dads do skin to skin. We like to bring them in on the process whenever possible.
Kristin: That's fantastic. And then delayed cord clamping is now a standard policy?
Becky: Yes. And we also room-in, so babies stay with their moms 24 hours a day unless mom requests otherwise. But that's what we try to encourage and do all procedures at the bedside to keep the family together 24 hours a day.
Katie: I think that rooming in is another hot topic when you're talking about Baby-Friendly and breastfeeding, and the literature does tell us that rooming in does help moms to be more successful breastfeeding. I think that it's important that patients understand that we're going to allow you to keep your baby with you. We're going to be able to take care of mom and baby together. You're going to learn your baby's feeding cues. You're going to learn all those little nuances. We're going to help you learn that in the couple of days that you have with us. There is space where if you wanted your baby to go to a nursery, we could do that. We're supportive of that, as well, but again, we are going to educate, and then we're going to honor choice.
Becky: Exactly.
Kristin: And then there's delayed bathing and other procedures beyond that?
Katie: Yes.
Alyssa: What's the thought behind all the delayed cord clamping, delayed bathing? Why? What are the benefits?
Katie: The delayed bath is sort of about the transition from being inside mom and then outside and regulating temperature. So we wait at least twelve hours. We like to wait closer to 24 hours to do that first bath. We're, of course, not going to hand you an ooey gooey baby. We do a little wiping off, but it really does help that baby transition to life outside of mom and regulate. It also allows you to go immediately into skin to skin so the baby can help regulate not just the temperature, but the heart rate and the breathing. And, again, that's evidence based. In fact, there's a pediatrician out in Massachusetts who really pioneered the Baby-Friendly initiative in the hospitals out in Massachusetts, and she did a study on delaying the baby bath, as well. That's the literature we have for it; it's all about maintaining stability for the baby.
Kristin: That's awesome, Katie.
Becky: For the delayed cord clamping, that just gives the newborn a little more blood volume, and, actually, it's better for baby. There's no reason to cut the cord any sooner, unless the baby is having a respiratory issue and would need resuscitation, so that would be out of the norm. But otherwise, we do wait and delay so the baby can have more blood volume from the placenta.
Alyssa: How long?
Becky: Our standard is a minimum of one minute. I know a lot of moms request —
Alyssa: So this isn't like it's for an hour —
Becky: We're not saying 10 minutes or 20 minutes. Generally, the cord stops pumping within five minutes. So some moms request to please wait until it stops pulsating, and we can do that, too. Generally, we wait about a minute, and that's probably close to when it stops pulsating. But we're not talking about an hour or anything like that.
Kristin: Yeah, some of my clients want to see it actually turn gray and stop pulsating before it's cut.
Alyssa: And I didn't want to see mine at all.
Becky: I didn't either, personally!
Alyssa: My husband did accidentally and was like, oh, my God, an organ just fell out of you!
Katie: I love all of that stuff. It's so fascinating!
Kristin: As far as additional steps that you take to get recertified, tell us about that process and why it's important.
Katie: You will see in our women's and infant services department that OB triage is on A level, and then all the way up to the 8th floor in that tower, you'll see the 10 Steps for Baby-Friendly posted. It's just showing our support of those ten steps. We have to show that patients receive prenatal education in our clinics regarding breastfeeding. We have to show that all of our staff receive the education. The people that come out to do our survey — the interview staff.
Becky: And patients.
Katie: And patients and providers, so they will go in patient rooms to see that they receive the education about breastfeeding and that they're being appropriately supported for breastfeeding. So they look at our exclusive breastfeeding rate.
Kristin: And then you have support groups, as well, when mothers go home and need additional support. They can go to free support groups and seek help through their OB or midwives or pediatricians?
Katie: Absolutely. I think a lot of our pediatricians have at least one pediatrician who is an IBCLC, so a lactation consultant, as well. I know that our DeVoss clinic has two pediatricians that are lactation consultants.
Becky: And our pediatrician who is an IBCLC actually oversees the residents, and so she's the one working with them and training them. It's kind of keeping that mindset forefront for all of them, too, and helping them learn the Baby-Friendly system.
Katie: So while nursing took this on and rolled it out, there is a lot of support from providers, as well. Of course, our nurse midwives receive, as part of their education, breastfeeding, but our pediatric providers are all very supportive of breastfeeding, as well.
Alyssa: Is there anything that you think is a misconception for this Baby-Friendly Initiative? Is there anything that it isn't? You told it what it is, but what isn't it?
Becky: Yes. I think the thing we hear most is that, I'm going to be pressured to breastfeed if I deliver there. And there is nothing further from the truth. Our goal is a culture supportive of breastfeeding, not a culture of pressure. So our goal is to educate, let moms make decisions, and support them. So there's no pressure. I think the other big misconception is about rooming in. Sometimes you have a mom who, let's say, has had a C-section and she's exhausted, and she just needs support for a couple of hours. We will accommodate that. We're all about supporting moms. So although we do encourage rooming in, and there are a lot of benefits to it, in certain circumstances when it's not best for the family, we support what is.
Katie: I think that it's the 80/20 rule. There's going to be exceptions to every rule, and it's just important that we support our patients through that. I think that Becky and I have probably both taken care of those moms that have had long labors or C-sections, and they come up to the floor, and they just need rest. You have to take care of yourself.
Becky: They're crying. The baby's crying. Everyone's hit a wall. And it's like, why don't I just cuddle your baby for an hour. You take a nap, and then let's try again. Sometimes just 45 minutes of sleep can change the entire situation.
Katie: I remember after my second one, I got two hours of sleep. Like, two consecutive hours. And it was the best two hours ever!
Alyssa: I'm thinking about my situation. It was fairly quick. Yeah, sure, I was tired, but I did choose one time in the middle of the night to have them take my daughter to the nursery so I could get — it was about two hours. But I felt so amazing. But I wasn't in this dire circumstance. So today with — this was before the Baby-Friendly. So today, would I have to prove to you that I need the sleep?
Becky: No.
Katie: No!
Alyssa: It's just, would you take her for a couple of hours? You're not going to say, well, you don't check these boxes, so she won't go.
Becky: No. I think the goal is when moms come up to the postpartum unit to talk to them about, well, babies room in 24-7, and we keep you together and care for you together. However, if you have a need to send your baby to the nursery, we'll accommodate that. So our goal is to not educate the mom at 2:00 a.m. who's exhausted and crying about how she should room in with her baby. That's not really the time to have that conversation, and it probably wouldn't be well-received. So we want to educate them when they first come up so that at that point, at 2:00 a.m., if you decide to make that decision, it will be more like, okay. I'll bring her back for her next feeling.
Alyssa: I didn't think I wanted to, but now I do.
Becky: And that is common. Okay, I just need a little bit of a nap, and then I can keep going.
Kristin: Yeah, we've had clients hire us to help out in their postpartum room when their partner had to go home to tend to another child or had a job to get back to. We've loved that role of being in the hospital, as well as later on in the home, to support them and help them get sleep and also learn baby cues and feedings and help support breastfeeding.
Alyssa: Basically, be their postpartum doula in the hospital as well as at home.
Becky: We would welcome that support, definitely! I'm sure our nurses would love to partner with you on that!
Alyssa: For those moms who don't want to send — maybe they desperately want the sleep, but they don't feel comfortable sending their baby to the nursery. Your doula sits in the rocking chair and holds your baby.
Becky: What a great option!
Alyssa: Yeah, it's been really kind of life-altering for a few of our clients who are a little bit more on the — you know, a lot of moms just have anxiety, especially first-time moms.
Katie: I think that so much of the focus goes to the baby, but we're taking care of mom, too, and that needs to be in the forefront, as well. There's two patients there.
Becky: And be aware of her self-care and her needs in the moment, too, because what I always try to tell my patients is, you need to take care of yourself so you can take care of this baby. And if that means a short nap, then I think we need to do that because it's going to make you a better mom in the morning when you've had a little bit of sleep.
Kristin: Exactly. What other hospitals in the area within the Spectrum brand are Baby-Friendly? We have clients in a 50-mile radius of Grand Rapids, so we work with a lot of your smaller hospitals, as well.
Katie: So Spectrum Health Butterworth just received redesignation, like we talked about. Spectrum Health Zeeland.
Becky: They're newly designation last September.
Katie: And then Spectrum Health United Memorial up in Greenville. They were designated five years ago, and they're going through the redesignation process right now.
Alyssa: So is it every five years?
Katie: Yes. And then Spectrum Health Big Rapids is going after designation, as well. We have, as a system, Baby-Friendly requires us to have an infant feeding policy, and we have standardized that infant feeding policy across the system for all of our regional hospitals, as well. So you're going to see a piece of Baby-Friendly in all Spectrum hospitals. And the reason for that is that it's evidence based and it's best practice, so even if they're not designated Baby-Friendly, these are practices that we should all be doing.
Becky: Right. They're probably practicing very similar to Baby-Friendly, even if they don't officially have that designation.
Alyssa: That's great. Anything else you want to share before we sign off?
Kristin: What resources, if any of our listeners want to learn more about Baby-Friendly or some of the work Spectrum has done — where can they go online to get more information?
Becky: I think just going to the Baby-Friendly website will give you a lot of information about the 10 Steps and about what we're focused on as a Baby-Friendly hospital. So you can really start just researching Baby-Friendly, and we are following that to a T, so that will tell you how we're practicing.
Katie: Our provider offices also have education and information about Baby-Friendly, and then —
Becky: Our childbirth education classes.
Katie: Yes, at Spectrum Health Healthier Communities. They have information, as well.
Kristin: So the educators can fill their students in with any questions they have?
Katie: Correct, yes.
Kristin: And then is there anything special with the hospital tours that our clients go on before delivery? Do you incorporate Baby-Friendly or answer questions based on that? I haven't been on a tour in a while.
Katie: I don't think that they specifically talk about Baby-Friendly, except that —
Becky: The practices, probably.
Katie: Yeah. They likely don't highlight the nursery like they used to. Our nursery — we don't have babies lined up in the nursery like we used to. They're with their moms, so you can't go to the maternity floor and look through the window of the nursery. There's no babies there.
Becky: I do think they talk about some of our practices, about how you room in and we keep babies together. And I think the other thing is maybe some of the practices, like the skin to skin after delivery. Things that might be different than other hospitals, just so they know what to expect; that we would never supplement a baby unless it was medically necessary, and we're not handing out pacifiers unless somebody requests it. So it might be slightly different than other hospitals that are doing deliveries in the area.
Katie: Our childbirth educators are pretty passionate about breastfeeding and supporting breastfeeding practices, as well as supporting natural birth. They give the whole gamut of the birth experience.
Kristin: Well, thank you for joining us and sharing so much!
For tips on how to make your hospital room feel cozy for birth read Creating A Cozy Hospital Birth Space in First Time Parent Magazine by Kirstin Revere.