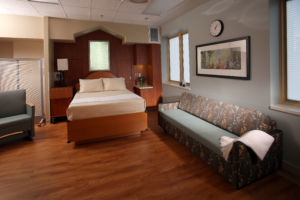 Make Your Hospital Room Feel Like Home
Today's blog comes from one of our past birth doulas, Courtney Garvelink. Her experience with birth clients, as well as being a licensed massage therapist and previous HypnoBirthing instructor, makes her an expert on comfort measures in the delivery room. See what she has to say about making your hospital birth feel more like home.
If you are preparing for a birth, you are getting your body and your mind ready for what may be the most important and wonderful experience of your life to this point. There are so many options and decisions to make leading up to the birth itself, one of which is where you will deliver; home, birth center, or hospital? Maybe, for you, it's not a choice. Your finances or insurance may limit you to one option, usually a hospital. And some families just feel more at ease in a hospital. If you are among the many who will be welcoming your new babe in a hospital setting, there are still ways create a warm and comfortable atmosphere that reminds you of home during your stay.
I believe the environment you are birthing in can greatly impact your laboring time. Before we look at what you can do to make your hospital stay feel homier, let's understand why that would matter. Your surroundings and birth environment can have a real impact on how you cope and progress during labor.  The way we feel and our perception of comfort during labor directly effects our hormones during birth. We are not much different than animals, in that when they give birth they find a dark, secluded space where they feel safe. This allows the hormones needed for birth to kick in and flow well, shutting down the fight or flight response that happens when we feel unsafe or uncomfortable. During labor, we want our body to produce all the oxytocin it can, keeping adrenaline at bay. Hospital rooms are often bright and cold, with visible equipment you may or may not need. They can lack the welcoming feeling you get when you arrive home, ready to relax. Here are several ways you can make your hospital labor room feel more home-like.
Dim the Lights
Giving birth is about as primal as you can get, so take a note from our animal friends. Hospital room lighting is adjustable, and it's your room, so adjust away. You can ask the nurses to keep the lights dimmed down, they usually have no issue with it. If they need to brighten the room so they can see what they are doing, they will usually turn them back down for you when they leave.
Room Temp
There will almost always be a thermostat in each room. When you get there, adjust the temperature to what you would normally have it set to at home or maybe just a touch cooler. It's normal for women to run a little warmer during labor. You are probably working harder than you ever will during your birthing time.
Turn on Some Candles
LED candles are great for setting up a relaxing atmosphere. Please don't bring wax candles to burn, this is a fire hazard. If you like to burn candles at home for the aroma, my next tip can help with that.
Essential Oils
There are several essential oils that are safe during pregnancy and labor that can be beneficial for boosting your energy, easing discomfort and muscle fatigue, and creating a calm aroma in the room. You can mix some water with your favorite essential oil and mist the room or linens you'll be using. Check before using a diffuser in the room, as some staff may have sensitivity to certain aromas or the hospital may not allow them. You can also dilute the oil and apply to the skin directly. Be sure to get good quality oils or find an aromatherapist who can help you decide which oils are best.
Bring Your Own Pillow/Favorite Throw Blanket
When you are ready for relaxation or sleep at home and you lay your head on your pillow, you are conditioned to relax and sleep. This will be comforting at the hospital when you're laboring. Use your pillow as a cue to relax as you move through different positions.
Play Some Tunes
Create a playlist of your favorite music, whether it's calm or upbeat. Music can help reduce stress and the perception of pain during labor. Start working on that playlist while you are in birth preparations by finding what genres or artists are soothing/relaxing to you. Listen to those tracks or stations throughout your pregnancy; it'll be familiar during labor and help promote relaxation.
Bring Your Own Gown
Lets be real, no one likes wearing the standard hospital gown. They are dull and unflattering. They remind you every time you look down that you are in a hospital. Bring your own button-down gown or an oversized button-down shirt. The buttons will help give easier access for breastfeeding and skin-to-skin. You can also find cute birthing gowns online.
Pictures From Home
Do you have a favorite picture from home that makes you happy or brings with it a feeling of calm? Bring it to the hospital! Maybe not your large canvas print, but something you can pack in your hospital bag. Having a piece of home can be comforting and calming during your stay in the hospital room.
The Best of Both Worlds
Did you know Spectrum Health now has two natural birthing suites at Butterworth (pictured above)? If you are low-risk, it's a wonderful option. The rooms have a queen sized bed, lamps for softer lighting, birthing balls, and a Jacuzzi tub. And they didn't forget about Dad; the rooms also have a recliner, flat-screen television, free Wi-Fi, and a pullout sofa. You cannot bring oil diffusers or wax candles, but overall they feel much more home-like than most hospital rooms.
Hire a Doula
Okay this sounds great, but how will you remember all this when the time actually comes? A birth doula can be your best resource. Let them meet you at the hospital and get the room ready for you. Let your birth doula take care of creating a home-like environment as well as pain management techniques and encouragement along the way.
To learn more about Courtney and ask her questions about birth doula support, you can fill out a contact form on our website or join her at an upcoming "What is a Doula?" event at EcoBuns in Holland.