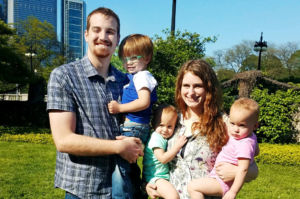 Meet our new doula, Tricia!
Meet Tricia Buschert, our newest birth and postpartum doula. She is also our new multiples expert! Let's learn a little more about her.
1) What did you do before you became a doula?
I've been a stay at home mom for the last four and a half years.
2) What inspired you to become a doula?
My kids were my biggest inspiration to become a doula. After I had my son, I knew I wanted work with families, but it wasn't until after our twin daughters were born at 32 weeks, spent 6 weeks in NICU, exclusively pumped for 10 months and struggled for over a year with postpartum anxiety did I figure out exactly what I wanted to do: become a birth and postpartum doula.
3) Tell us about your family.
I'm married to my high school sweetheart, Zach. He is an accountant and is currently working on his Masters Degree in accounting. We've been married 6 and a half years and have three kids. Our oldest, Gideon, will be four in a couple weeks. When he was 15 months old we were surprised to find out we were expecting identical twins. Kira and Rosalind just turned two, and being a twin mama has been one of my favorite roles ever. We also have two cats named Shanele and Layla.
As a family we love to be outside, go bowling, and go to the zoo. Gideon also loves to play Super Smash Bros with Daddy.
4) What is your favorite vacation spot and why?
My favorite spot that my husband and I have traveled to is Myrtle Beach. The beaches were gorgeous, and we had so much fun exploring the city together. One day we would love to go to Europe and travel to Scotland, Britain, and Germany.
5) Name your top five bands/musicians and tell us what you love about them.
I grew up on country music and I still love it. It's primarily what I listen to, but I also listen to some pop and rock. I love country because there is songs for all feelings- when I'm sad, when I need some encouragement, and when I just want to dance around. I listen to pop when I need to dance around the kitchen with kids and get my heart racing during a workout.
Carrie Underwood, Keith Urban, Rascal Flatts, Tim Mcgraw, and The Chainsmokers are some of thel bands/artists I listen to often.
6) What is the best advice you have given to new families?
A nurse in the NICU told me to find something positive in each day and I've shared it ever since. Even if it is "my meal was warm today" or "the baby didn't puke on me" or "I got to snuggle the baby". It doesn't have to be a big thing. Just to find one good thing in the day that made you happy. In the beginning, with three children under two, finding something positive made the 25+ diapers, the 6-7 hours attached to a pump, and the 2 hours of broken sleep a little easier.
I also tell new parents to ask for help. Raising children takes a village, especially when you have multiples, and asking for help isn't a sign of weakness, but a sign of strength. You have to take care of you to take care of them.
7) What do you consider your doula superpower to be?
The ability to encourage others.
8) What is your favorite food?
Currently its chicken ceaser salads. I've been really loving them lately!
I also love sausage and egg souflee, apples with peanut butter, and Mocha lattes with coconut milk.
9) What is your favorite place in West Michigan's Gold Coast? 
I love the Rockford Dam. There are local shops nearby, food, and our favorite ice cream place. The trail is close by for our family walks, there are often activities, and it is a fun place to bring our kids. My husband also proposed to me there and so it holds a special place in my heart.
10) What are you reading now?
Sensory Yoga for Kids: Therapeutic Movement for Children of all Abilities by Britt Collins
11) Who are your role models?
My grandmas are my biggest role models.