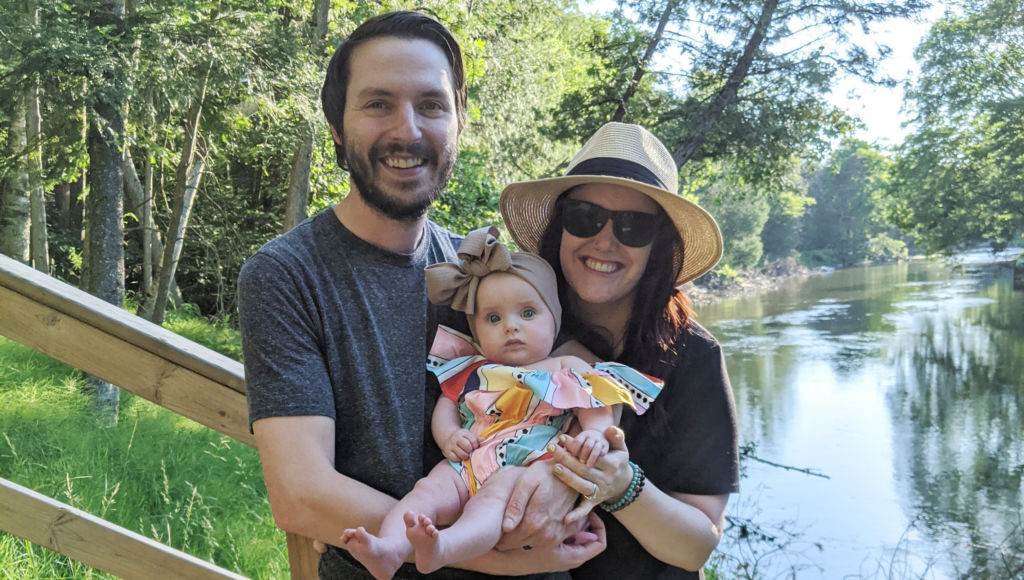 We are excited to introduce you to Audra Geyer, our newest birth doula! She was a recent HypnoBirthing student and birth client of ours who loved the experience so much she decided to become a doula herself!
What did you do before you became a doula?
I currently work as a Speech Language Pathologist at Spectrum Health. I got my Bachelors and Masters Degree from Michigan State University.
What inspired you to become a doula?
Going through my own pregnancy and birth journey. If you would have told me 10 years ago I was going to become a birth doula, I would never have believed it. I used to be terrified of birth and assumed it would be the WORST experience ever. With the help of my doula and HypnoBirthing, I was able to make the birth of my daughter an empowering, beautiful, and spiritual experience. The idea that I can support others through this journey is just so amazing.
Tell us about your family.
My husband, Rob, and I have been married for almost 4 years. We have an amazing 6 month old daughter, Charli Kate. We have 2 dogs, Laverne and Winston. Rob and I met at Michigan State and now live in Alger Heights.
What is your favorite vacation spot and why? 
We LOVE to travel. Our favorite vacation spot we have been to is Egypt and hope to go back again someday.
Name your top five bands/musicians and tell us what you love about them.
I don't really listen to a lot of music, I am more of a podcast gal. If I am listening to music it is usually from a Broadway Musical. I am currently obsessed with Hamilton.
What is the best advice you have given to new families?
Take things one day at a time or one surge at a time!
What do you consider your doula superpower to be?
The ability to talk through anything with people.
What is your favorite food?
Pizza- just plain cheese.
What is your favorite place in West Michigan's Gold Coast?
I love the Blue Bridge in downtown Grand Rapids. It's where my husband proposed.
What are you reading now?
I am a bookworm! Currently I am reading Good Moms Have Scary Thoughts, The Unexpected Spy, and The Matriarch Rules.
Who are your role models?
My role model is definitely my mom. She passed away when I was 16 after a courageous battle with cancer. She lived such a full life and had such a passion for helping others. She never took a single moment for granted!