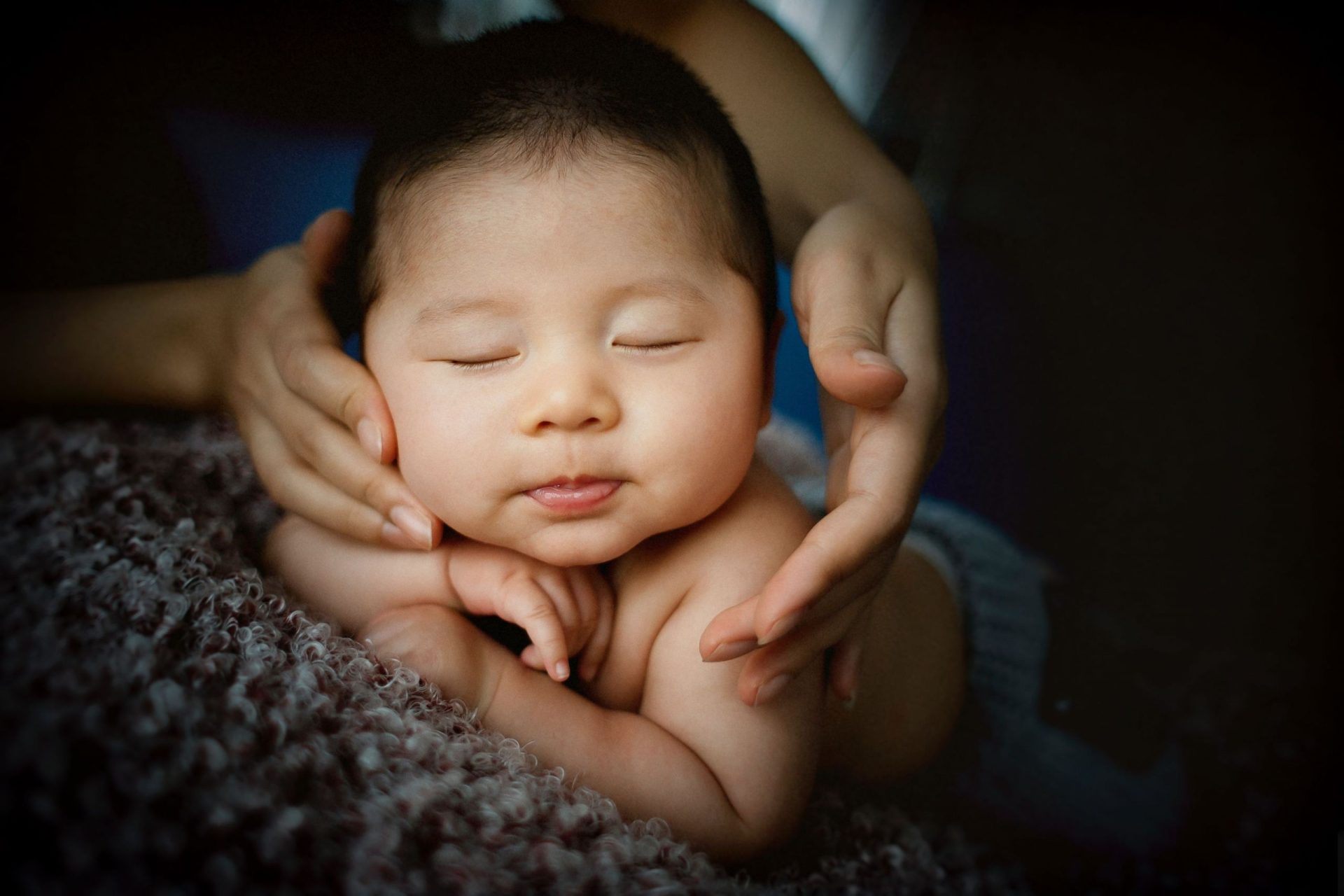 April 14 is Baby Massage Day, so in honor of this day, we have a special blog from Cristina Stauffer, LMSW, CEIM. Enjoy!
Infant massage is an age old practice that has many great physical and emotional benefits for babies and their caregivers; however, did you know that the basic techniques of infant massage can be used throughout the lifespan? Yes, it's true! From newborn babies to teens and young adults, nurturing touch is good for everyone.
An introductory infant massage class typically focuses on babies who are not mobile yet – usually 6 months and under – but that does not mean that massage ends once a child starts to crawl. Although offering massage may become more challenging as babies grow, there are many creative ways to incorporate massage into everyday life with children of all ages.
Movers and Shakers (ages 6 months – 24 months) – Massage becomes more playful as children become more active and curious. This is a great age range to introduce touch through the use of songs and stories. Well-known nursery rhymes such as "The Itsy Bitsy Spider" or "This Little Piggy" can be used to engage a busy toddler. More physical games and activities such as playing "Head, Shoulders, Knees & Toes" or "The Hokey Pokey" can offer opportunity for gentle touch and to teach body recognition and awareness.
Lower your expectations for what a massage looks like with this busy age range. Massage is sometime only accepted in very small ways, but remember that some nurturing touch is always better than none at all. Techniques taught in an introductory class can be used with this age to help relieve tension in legs and ankles as babies begin to crawl and walk, to reduce teething discomfort and to alleviate congestion and sinus pressure.
Preschoolers (ages 2-5) – Songs and games become even more interactive and fun with preschoolers. Massage techniques such as "Building a Pizza" or "Planting a Garden" (typically taught in the second session of Gold Coast Doulas infant massage classes) make for great interaction and nurturing touch between child and caregiver. Taking turns drawing pictures or writing letters on each other's backs and guessing the secret message becomes fun and exciting towards the end of this age range. Children this age also start to want to give massage to parents, caregivers, siblings and friends in addition to just receiving it themselves. So sweet!
Preschoolers might also start to experience growing pains as their muscles stretch to keep up with their rapidly growing bones. Using basic massage techniques for legs and feet or arms and hands along with a heat pack can be very helpful to ease these pains.
School aged children (ages 6-12) – School aged children begin to become more aware (and sometimes self-conscience) about their bodies. It can be increasingly challenging to find opportunities for nurturing touch and massage. Tailoring what you are offering to your children's specific interests can be helpful. Offer a special sports massage like a soccer massage, dancers or gymnasts massage, or a swimmers massage. Not into sports? Artists, writers, videogamers, and computer geniuses need relaxing massage too.
This age range is also a nice time to encourage reciprocal massages. Take turns pampering each other by rubbing a scented lotion onto each other's hands or feet. You might be surprised by how well your child engages in conversation about their day, their dreams or their challenges during a few moments of quiet massage.
Pre-teens, teens and young adults – (ages 13+) – Massage is about connection and comfort with this age group. Of course, your preteen may not want to play massage games any more or even willingly let you touch them some days. This is when we offer massage as pain or tension relief. It might go something like this – "Wow, you have been working so hard on that paper! Can I give you a little hand massage to help you relax"? or "You have had such a stressful day! How about I rub your shoulders for a minute?" or "You played your heart out on that soccer field today! Would you like me to rub your legs for a minute to help relax your muscles?" Teaching older kids to give themselves a slow, intentional hand massage with an indulgent lotion can be an excellent introduction to mindfulness practice as well. This is a great mindfulness practice for adults too!
It probably comes as no surprise that children who are massaged from a young age are more likely to accept massage as a teen or young adult as it has become a familiar, comforting practice for them throughout their lives. On the other hand, I will always advocate that it is NEVER too late to add nurturing touch and massage into your interactions with your children. What are you waiting for?
Check out our BECOMING A Mother course! It's a self-paced, online series to help reduce fear and gain confidence in pregnancy, birth, and early parenting. With recorded video lessons, monthly live chats, and a supportive FaceBook community – it's everything we wish we would have known before we had our babies! We'd love to see you there!
Kristin & Alyssa