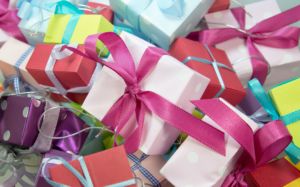 [un]common sense: Buy them what they asked for
[un]common sense is a blog about navigating through everyday life, using some common sense tips to make it just a bit easier, and sometimes a little more fun. Alyssa is a wife, mother, and postpartum doula who has some tricks up her sleeve and wants to share them with the world. Well now, don't you feel lucky?
I recently attended a friend's baby shower; the first I've been to in years. I was surprised to see that not much had changed since I had my own (over five years ago). The mother was showered with gifts alright, most of which she did not register for.
There's nothing more annoying than opening boxes and gift bags filled with presents that your Aunt thinks "Is just the most adorable outfit ever" or your Grandmother says,"I just couldn't pass up when I saw it!"
They have the best of intentions, but when it comes to having a baby, or babies, you don't need extra stuff just because it's adorable. You need practical, useful items that will make your life easier, not just make the baby or nursery look cute.
I remember after my baby showers having a pile of baby blankets, toys, and stuffed animals. What the heck was I going to do with all of it? I didn't register for any of them, most of them were hideous, newborns don't play with toys, and most importantly you can't put any of that stuff in a crib, so why in the world would anyone think a baby needed all this stuff?
I returned what I could (blankets, onesies with silly phrases, gigantic toys, fancy pacifiers, stuffed animals) and donated whatever came without receipts and the stores wouldn't take. I wonder how many hundreds of dollars were spent on those gifts, wasted. Wasted because it was not what I asked for! People took it upon themselves to decide what I needed for my baby instead of buying what I requested. It made all the time I spent researching what I needed, then registering for it, seem pointless.
So, I watched in agony as my friend opened up gift after gift that she did not register for. I watched as the mound of "Oh my god, it's sooo soft!" blankets grew, the pile of "So stinkin' cute!" stuffed animals overflowed, and the boxes of expensive newborn outfits began to stack up.
I wonder when people will get it? Baby showers are about the Mom and baby, not about them.
In-home support from a postpartum doula is the most wonderful gift you could give to new parents. If I could have taken the hundreds of dollars wasted on fuzzy leopard print blankets and extra large stuffed animals and put it toward a doula, you better believe I would have! My friend ended up getting a very generous amount gifted toward postpartum help because she requested it in her baby shower invites along with her registry.
If you are pregnant and planning to have baby showers, contact Gold Coast Doulas about a customized invitation stuffer. It's an easy way to ask your friends and family for postpartum support.
The most common question I get asked as a Postpartum Doula is "What do you do for families?" It's hard to answer because I consider my work to be fluid. It will change from family to family, and even day to day with the same family. One day a mother might need a nap, so I make sure the baby is cared for while she lies down, and maybe pick up the house a little or do some meal prep while she sleeps. The next day the same mother (because she got a nap) may be full of energy so we take our first outing together, be it to the grocery store or a walk around the block. If the mother has older children, she may feel like they've been neglected and want to spend some quality time with them; so again I will care for the newborn so she can focus on the older siblings.
Our services allow a mother to a nap or shower, drink a cup of tea, or finish her thank-you cards. We offer local resource suggestions for health care providers, chiropractors, mother's groups, kid-friendly restaurants, or maybe the best place to buy a bottle of wine. We are also there for emotional support. We let her talk, cry, whatever she needs to do. And we make sure she is heard. A Postpartum Doula is an expert voice of reason that will not offer opinions or judgment.
Oftentimes new parents just need someone to guide them through the first few weeks or months with a newborn. Breastfeeding is often harder than expected. Parents finally understand what sleep deprivation means. They may be scared to give the first bath or clip baby's nails the first time. A Postpartum Doula's role is so very important. We are your village. We are here to support you and your family, judgment-free with no hidden agendas.
Contact Gold Coast if you have interest in any of the services we offer.
Bedrest Doulas, Birth Doulas, Daytime and Overnight Postpartum Doulas, Customized Baby Shower Stuffers, Lactation Consultations, or any of our classes including HypnoBirthing, Newborn Survival, Breastfeeding, Preparing for Multiples.