How the Pandemic Positively Affected Working Out From Home!
The original owner, Marissa Andersen, and I (Sarah Greidanus) soon-to-be owner, went into 2020 knowing that it would be a big year for our business – FIT4MOM Grand Rapids. Marissa was passing on the reins to me after being in the helm for over 8 years. The transition was underway and everything was scheduled to change hands smoothly. And then Thursday, March 14 brought the news that schools were shutting down and not returning for at least 3 weeks. As a fitness company that caters to moms with young children, we knew it would be hard (and probably unsafe) to continue offering in-person classes with extra kids around who were off from school, even though there were no other shutdowns happening at the time.
No one yet knew the magnitude of what this pandemic would bring, but we did know a few things – 1) moms were scared and needed their community now more than ever and 2) we needed to be creative in order to continue to provide this community.
Over the next two days, we spent hours together at Sarah's kitchen table mapping out a plan of what the next few weeks could look like. Little did we know that the decisions we were making would change the course of our business and the lives of everyone in this community for a year and counting. Prior to last March, FIT4MOM Grand Rapids operated solely as an in-person fitness company, with additional in-person activities for moms with or without their kiddos. In years past, we had offered an occasional virtual workout on social media when weather prohibited us from meeting in-person. But that was the extent of our experience in the virtual world.
In just two days, those kitchen table meetings produced a brand new FIT4MOM experience but with all of the same love and support that the community has always known!
We switched all 13 classes we offered to a Zoom platform – class formats were altered slightly toaccommodate smaller spaces and minimal equipment, and class times were rearranged to accommodate for at home learning conflicts.
We offered weekly virtual mom hangouts (like trivia, coffee chats, games, etc) to give moms space to relax, have a few laughs and most importantly connect in a disconnected world.
 We arranged virtual craft playdates and story times to occupy kids so moms could shower or enjoy coffee in peace, and also so the kids could have a sense of connection with the outside world as well.
 And most importantly, we didn't miss a beat. Our instructors didn't hesitate to jump on board and recreate their living rooms, kitchens, and basements into virtual fitness studios.
The first week was a bit tumultuous for us, with technology hiccups and the creation of new systems and processes, but our clients were able to count on at least one thing in their lives staying consistent. We had countless notes of thanks from our village for continuing to provide support and a shelter in the storm, like this one from Christen K.
"When COVID hit and FIT4MOM went virtual, it opened so many doors for my fitness and mental health! I was now home with my kids 24/7! What inconvenienced some was my biggest blessing. I am able to join classes safely from home without the extra driving time. An hour workout is back to an hour and not an hour and 40 minutes. I don't have to pack the kids and all the things to keep them entertained. They can play in the house, watch a show or come outside with me. I have been able to make virtual classes work 5 out of 6 days! I sign out of my class and into my kids zoom. If it doesn't work to attend a virtual class live, the library of recordings is always accessible! I love attending the live classes because it adds a level of community and enthusiasm. It has helped me remain social and sane!
I hope some sense of virtual stays in the future as it allows me to be a part of this awesome Mama community."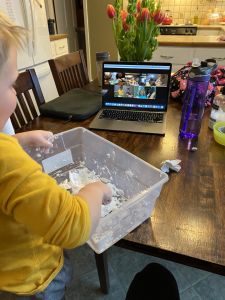 Now fast-forwarding 12 months, our classes and events are still going strong! We still offer 13 classes a week, with both prenatal and postnatal options in a wide range of formats. We are currently completely virtual but are looking forward to the spring when we will be able to meet outdoors again in a socially distanced format. While we would prefer to be able to see each other in-person, there definitely have been some perks to our virtual classes – like not worrying about snow days, rolling out of bed right into an early morning class, and having a complete library of past class recordings!
We have continued to offer a lot of fun activities for moms with virtual candle making, The Price is Right, and secret Galentine's Day porch drop offs. We have lots of fun for the kiddos too with virtual crafts and some outdoor playdates. And we are excited to be launching a new program in the spring!
Overall, adjusting to the pandemic has been hard for us just as it's been hard for fitness companies around the country. But we are so grateful for a supportive team and village of clients who have been there to support us through it all. This village has shown we can stay strong no matter what is thrown our way!
Check out any of our FIT4MOM locations in the Greater Grand Rapids Area: :
FIT4MOM Grand Rapids
Sarahgreidanus@fit4mom.com
FIT4MOM West Grand Rapids – Hudsonville, Allendale, Jension, and Grand Haven
brittneyjewett@fit4mom.com
FIT4MOM Holland
Kyriaphenix@fit4mom.com