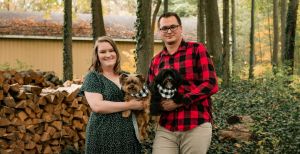 Meet Jessica Moeckel, RN - our newest Birth & Postpartum Doula!
What did you do before you became a doula?
I was a RN at Mary FreeBed, then I transitioned to Saint Mary's L&D. Most recently, I was at Mercy Health Physician Partners.
What inspired you to become a doula?
The first birth I attended was in college during the L&D portion of nursing school. In that moment I knew I wanted to always be a part of this major event in a family's life. I pursued L&D as a nurse but it wasn't the right fit. As I looked into becoming a doula it was much more appealing to me as a nurturing, caring, and supportive soul.
Tell us about your family.
My husband's name is Luke. We got married in October of 2017. We have 2 small dogs – a 12 year old Yorkie named Oliver and a 2 year old Havenese named Watson.
What is your favorite vacation spot and why?
I went to London, England in college and that has been my favorite travel experience so far. London is wonderfully historic and has so much amazing culture and architecture.
Name your top five bands/musicians and tell us what you love about them.
Maroon 5 – The best summer-time memories band.
Ed Sheeran – Makes me want to fall in love with my hubby daily.
Chris Tomlin – His voice pierces right to my soul.
One Republic – Best dance around and sing into a hairbrush music.
Lauren Daigle – "Rescue" has me in tears every time.
What is the best advice you have given to new families?
This new situation is unknown to you and your baby; give yourselves and your baby grace in this time of discovery.
What do you consider your doula superpower to be?
I have a calming presence and endless patience.
What is your favorite food?
I love French Fries and Chicken & Waffles pizza (yes, it's a real thing!).
What is your favorite place in West Michigan's Gold Coast?
I was born and raised in Saint Joseph, MI so it will always have a special place in my heart.
What are you reading now?
The Doula's Guide to Empowering Your Birth
Who are your role models?
My Grandma. She has such a capacity for understanding, compassion, and healing hurting hearts.