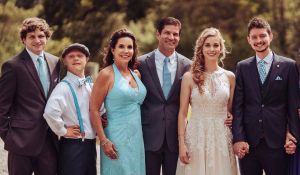 Meet Lee Ann, our newest birth & postpartum doula!
What did you do before you became a doula?
Currently, I own my own Health & Wellness business through Isagenix. In addition, I work as an Interior Designer for a company that does home staging for realtors and their clients. Previously I was an Administrative Assistant for Leadership Events throughout the US and Canada.
What inspired you to become a doula?
It was suggested to me by a friend and it resonated with me that this was something I have always wanted to do.
Tell us about your family.
My husband, Jeff, and I have been married for 32 years. We have three adult children – Steve, Shannon, and Griffin. We lived in the Nashville area for ten years and have been in Holland since 1998. In 2019, we added our son-in-law, Ciaran, to the family with a lovely family/friend small wedding in Ireland.
We love to travel and experience other countries and cultures. We have been to Mexico, Peru, Costa Rica, Italy, Korea, Japan, Hong Kong, and Ireland. We like to hike, kayak, ski, boat, golf, and other outdoor activities.
What is your favorite vacation spot and why?
Ireland because our daughter lives there currently! We also love Arizona and Colorado. Honestly, we love just to travel.. All of our trips have been such wonderful experiences and memories.
Name your top five bands/musicians and tell us what you love about them.
Garth Brooks, Adele, Ed Sheeran, Amy Grant, and the Beatles. Honestly, I just love a large variety of music. I love to dance, I love the message of the lyrics. Mostly it is the emotions that music evokes.
What is the best advice you have given to new families?
Breath, enjoy the moments, take things one at a time, and don't hesitate to ask for advice or assistance. We all need it.
What do you consider your doula superpower to be?
Being a calm presence in an anxious situation.
What is your favorite food?
Seafood and Yellow Curry
What is your favorite place in West Michigan's Gold Coast?
Lake Michigan, skiing up north, or hiking in our many parks
What are you reading now?
ProDola, Labor Doula Training Manual
Who are your role models?
There are three very influential woman in my life: my mother-in-law (Rosemary), my best friend of thirty years (Juli), and my spiritual coach and treasure friend of twelve years (Trisha).