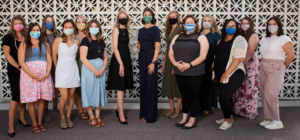 Although 2020 threw us a curveball, we still had a great year. We supported more clients than ever and worked diligently to find ways to support them safely. Here are some of our accomplishments.
Worked with 218 clients.
Attended 81 births.
Worked 2,900 postpartum hours.
Supported 10 twin and triplet families.
Had 22 lactation visits.
Did 29 sleep consultations.
Taught 33 classes.
Made the top birth and postpartum doula lists for GR Kids.
Named Best Doulas in Grand Rapids for 2019/2020 by the readers of Grand Rapids Magazine.
Became members of the Grand Rapids Chamber of Commerce and celebrated our 5-year anniversary in October with a ribbon cutting outside our office.
Collected 13,422 diapers and wipes for our annual diaper drive with Nestlings Diaper Bank and Rise Chiropractic Wellness. We donated $500 to Nestlings Diaper Bank as well.
$2,411.49 donated to charitable organizations.
166.3 hours volunteered in the community.
Added seven new team members.
Two new subcontracted doulas received their Elite doula certifications.
Each doula averaged three classes of continuing education.
Moved all of our consultations, prenatals, postpartum visits and classes to the virtual format in March for the safety of our clients and team members. This also decreased fossil fuel consumption and energy usage.
Celebrated 100 episodes in June of our Ask the Doulas podcast (we launched our podcast in 2017).
Nominated for Organization/Business of the Year for the 2020 MomsBloom awards.