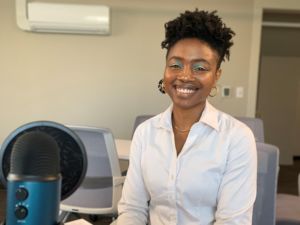 Understanding Your Cycle: Podcast Episode #82
Dr. Nave now works with queens through her virtual practice Hormonal Balance. She talks with us today about a woman's monthly cycle. What's "normal"?  What if you don't get a period at all? Is PMS a real thing?  You can listen to this complete podcast episode on iTunes or SoundCloud.
Alyssa:  Hello, welcome to Ask the Doulas.  I am Alyssa, and I'm here with Kristin.  Our guest today is Dr. Nave, who is a naturopathic doctor at Health for Life Grand Rapids.
Dr. Nave:  Hi!
Alyssa:  We were excited to meet you – what was it, a few weeks ago?  We presented to your team, and you – I was really intrigued.  Tell everyone what you specialize in as an ND, and then they'll know why I wanted to talk to you so bad.
Dr. Nave:  I am especially excited about assisting women to reconnect to their identities, and the way in which I do that is by really looking at their hormones, their mental health, their physical health, and other aspects of their life.
Alyssa:  Do you only work with women?
Dr. Nave:  No, I do not, but my passion is women.
Alyssa:  So today you're going to talk about cycles, and I know you have a couple specific thing about a woman's cycle that you want to talk about, so explain what those are, and then let's just dive in.
Dr. Nave:  Okay.  I want to talk about what a typical cycle should look like, so this is how your cycle should look if nothing is going wrong.  And then we'll transition to talking about PCOS and what is going on with that.
Alyssa:  And what does PCOS stand for?
Dr. Nave:  PCOS is polycystic ovarian syndrome.  In medical terminology, a syndrome just means a cluster of symptoms that fit this particular diagnosis, and so with PCOS, what's happening is that the woman isn't bleeding or she has skipped periods, and that is due to low progesterone, which is an important hormone that allows the endometrial lining, basically, in the uterus so that implantation of the fertilized egg can happen.
Alyssa:  Okay.  So let's talk first about what it should look like.
Dr. Nave:  Sure.  With our cycle, there are five main hormones that influence a woman's hormonal cycle.  We have LH and FSH, which are the hormones that are produced by the brain to tell an egg to mature and to allow the endometrial lining, which is basically the build-up of tissue in the uterus that allows the implanted fertilized egg to become a baby.  So we have those two hormones that are produced by the brain, and then we have estrogen, testosterone, and progesterone that are produced in the ovary.
Alyssa:  All the time, or only if an egg is implanted?
Dr. Nave:  At specific times.  A typical cycle, in terms of what we would call the normal cycle or the optimal cycle, would be a 28-day cycle.  We have some leeway in terms of, in the medical community, how we diagnose whether it's too long or too short, whether it be above 35 days or less than 21.  For me, I think it's best if it's 28 days because it's kind of like cycle with the moon, so the lunar cycle, because it also helps with the math.  So we'll just use 28 for the typical just for explaining what happens.  In the first 14 days, that's what we call the ovulatory – like, the building up of estrogen.  The brain tells the ovary, by way of follicular stimulated hormone, FHS, to make one of the eggs mature.  So it's like, hey, ovary, let one of these eggs become the mother, so to speak.  The brain does that, and then the ovary responds by allowing one of the eggs to become mature. We have multiple eggs that are responding during this time in different life stages, but the one that is the oldest usually gets picked, in terms of its life phase.  It becomes mature; the estrogen is being made by the egg itself, which allows for that ovulation to occur.  FHS tells the egg to become mature, and then the egg itself makes estrogen so the egg can further mature.  It's a fascinating, interesting thing that's happening.
Alyssa:  That's during ovulation?
Dr. Nave:  Yes, so during the first 14 days of your cycle, the estrogen is building up so that the egg can fully mature.  Then what happens is that there are two types of cells that are a part of the egg.  One produces estrogen, and the other aspect makes testosterone, so those are the other two hormones that we're talking about.  Once the egg matures and it's released, the thing that's left behind is called the corpus luteum, also known as the yellow body.  That then makes progesterone.  All of this is sort of happening at the same time, so we say 14 days for the ovulatory phase, but really, it's like the brain is telling the body to make progesterone at the same time it's telling the body to make estrogen.  It's just that it's at a lower level.  Until the egg is released.  You don't really have that progesterone being made.
Alyssa:  It's ebbing and flowing based on the day of your cycle?
Dr. Nave:  Yes, yes.  Around day 14 is when the egg is released.  It's the highest level of estrogen at that point in time, and then the yellow body that's left behind – the brain told the egg, by way of the luteinizing hormone, LH, to start making progesterone.  Are you following?
Alyssa:  Kind of, yeah.  In my head, that little egg is moving along, following a timeline.
Dr. Nave:  Right!  At day 14, we have the highest estrogen, and progesterone starts to climb up.
Alyssa:  And estrogen is decreasing and progesterone is increasing?
Dr. Nave:  Yeah, estrogen is at its peak; progesterone starts to spike up a lot more.  I'm grossly simplifying it, sorry!  As the progesterone is being built up – so the corpus luteum is making the progesterone because the brain told it, hey, make progesterone by way of the LH, the luteinizing hormone.  That causes, then, the endometrial lining in the uterus to build up so that implantation of the egg can happen.  Towards day 28, which is when you expect bleeding to occur – basically, the reason why bleeding occurs is that the progesterone starts declining at that point because progesterone is necessary for the build-up of the uterine wall so that implantation can happen, but if there's no fertilization off the egg, then it basically is a withdrawal of the progesterone, and then it just sloughs off.
Alyssa:  So day number one is not the – is that the day your period starts?
Dr. Nave:  Yes.
Alyssa:  So day 28, then, is the day before you period starts?  Okay, I'm seeing the timeline in my head.
Dr. Nave:  Yeah.  Day one, when a doctor asks a woman, okay, what's day one of your period, he or she is technically asking, when's the first day of your bleeding.  Technically, we're always cycling, but we consider day one the last time you bled.  That's what the cycle should look like.  Now, when we experience our periods, even though people consider it the status quo that we experience PMS, we don't have to experience it.  Does that make sense?
Alyssa:  The hormonal changes don't necessarily mean that we're going to have the mental and – becoming angry or disorganized or frustrated?
Dr. Nave:  Yeah.  Seeing those symptoms for a woman, that would indicate to me that maybe the ratio is a little bit off.  Some examples are acne or being really bloated.  Being bloated, puffy, having water retention and having really heavy bleeding – that could be a sign that the woman is experiencing what we call estrogen dominance.  Now, estrogen dominance doesn't necessarily mean that she has high estrogen.  It could just mean that her progesterone is low and therefore throwing off the ratio so that when she's experiencing premenstrual syndrome, PMS, she's experiencing these symptoms, even though if it were normal, she wouldn't have to.
Alyssa:  So you're not saying that PMS is made up.  It's a real thing; it just means there's an imbalance somewhere?  It can be fixed, that you don't have to deal with this stuff?
Dr. Nave:  Absolutely.  And the weepiness: estrogen.  Estrogen is important for our bone health, our cardiovascular health.  It's the reason why we as women don't get heart attacks until much later in life because it protects our hearts; it's important for our bone health, which is why when you experience menopause or perimenopause, it's very important to get your bone density checked.  That's the importance of estrogen.  And then testosterone, which is produced by the egg, is important for sex drive and being able to be aroused.
Alyssa:  What happens in a woman's body when they're aroused that helps with implantation?
Dr. Nave:  When the woman is aroused, that allows the cervix to sort of pulsate so that when climax is achieved, the sperm can travel up into the uterus and, hey, let's get to the egg wherever it is.  It also allows for the vaginal canal, which typically is around three inches, which sounds crazy, but it actually lengthens and stretches.  It's a muscle that moves to accommodate the penis, if you're having that kind of intercourse, or allow for artificial insemination in that way.  So it increases the likelihood of implantation successfully occurring.  It's so cool!
Alyssa:  We'll pause so everyone can visualize!
Dr. Nave:  Our bodies are amazing!  In order for conception to occur, not only do the hormones have to cycle how they should, but you have to address your mental health; are you in the space that you can have intercourse or whatever it is?  The ovary itself isn't even attached to the uterus.  There's a gap between the two of them, and we have chemotaxis – basically a chemical, like how your body produces the hormones, that attracts the egg to go down the fallopian tube as opposed to staying in your abdominal area.
Alyssa:  So every time you see a picture, it looks like…
Dr. Nave:  They're attached?  Yes.  But they're not.
Alyssa:  So they have to let go and then actually be drawn up by the fallopian tube and then into the uterus?  They're not attached?
Dr. Nave:  No.  We have connective tissue or fascia that's in that area –
Alyssa:  Which helps kind of push it in the right direction, probably?
Dr. Nave: Not exactly.  It's more like it creates this compartment so that your uterus isn't just floating around in your abdominal cavity.  We have this connective tissue that anchors it in that area so there's less likelihood that a fertilized egg will end up outside of the uterus, which is why ectopic pregnancies are so low in terms of their incidence.  But we also have these finger-like projections in the fallopian tube that brushes the egg along.  So it's not just the hormone that's attracting the egg to where it needs to go and we have all these other signaling processing that are working.
Alyssa:  I'm picturing a crowd surfer pushing it along.
Dr. Nave:  We're all supporting you!  So that's what a normal cycle should look like.
Alyssa:  Ideally, that's what it should look like?
Dr. Nave:  Yes, ideally, that's what it should look like.
Alyssa:  And when a woman doesn't have her cycle?
Dr. Nave:  When she doesn't have her cycle, then we have to consider two different things.  Is it that she's not bleeding at all, which we call amenorrhea, or are there greater than 35 days between each cycle, in which case we call that oligomenorrhea, or many menses, technically.
Alyssa:  It seems like it would be the opposite because there's a big space between.  But either way, it's a problem, and that will help determine how you treat it?
Dr. Nave:  Yes.  And so if it is that a woman isn't bleeding, as in amenorrhea, then we have to consider why is that the case.  Is it that she's pregnant?  That would be the first thing to assess.  Is she pregnant?  Okay, she's not.  What exactly is going on?  One particular condition that I've been hearing or rather seeing more women experience is called PCOS.  We mentioned it earlier, that PCOS stands for polycystic ovarian syndrome or Stein-Leventhal syndrome.  Basically, what's happening is that instead of the progesterone going up around day 14 to day 28, instead of it increasing, the body is changing it into another type of hormone.  Just to give you some context, our bodies use cholesterol to make all our steroid hormones, which are all our sex hormones as well as cortisol.  Our bodies use the cholesterol and then turn it into pregnenolone which is like the mother of all of those hormones. Pregnenolone can then become progesterone. It can become testosterone.  It can become estrogen, which we have three different types of estrogens, or it can become cortisol.  In PCOS, what's happening is that instead of the pregnenolone going down to becoming progesterone, it's getting turned into either testosterone, estrogen, or cortisol.  A woman who potentially has PCOS or has been confirmed with that diagnosis – in addition to having amenorrhea, for her to be diagnosed with it, she also has to have two out of three symptom criteria.  We have what's called hyperandrogenism, which is high testosterone, and some of the symptoms she could experience would be cystic acne or hirsutism, which is just a fancy term for hair in unwanted places, like coarse, thick hair along your hairline or along your breast or in places that aren't typical areas that you have hair distribution.  That's one, and then the amenorrhea that we talked about, and the last one is seeing cysts.  The only way that we can really assess if there are cysts in the ovary is if we do a transvaginal ultrasound.  I say we, but not me, but the actual tech would do that for you, and basically, they place a probe inside the vaginal canal, and they use an ultrasound on top of the abdomen to visualize if there are any cysts in the ovary.  The reason why we get the cysts – to back up again to looking at the cycle, instead of the egg being released, the egg just stays there, because you need the progesterone to tell the egg, hey, release.
Alyssa:  It stays where?
Dr. Nave:  It stays in the ovary.  And then in the ovary itself, you have all these eggs that look like they're just about to release, but they end up forming what's called a cyst.  It can be fluid filled.  Cyst is just a fancy term for a ball, kind of.
Alyssa:  I didn't know a cyst could be an egg that didn't move.
Dr. Nave:  That didn't move, yeah.
Alyssa:  So when people say they've had ovarian cysts burst, it could be an egg that didn't move?  Could be, doesn't have to be?
Dr. Nave:  Could be, doesn't have to be.  It could just be fluid.  But in the case of PCOS, it's like the ovary doesn't release the egg, so it becomes mature, kind of, but not to the point where it actually releases because we don't have any progesterone, or there's minimal levels of progesterone so that if and when a woman experiences bleeding, if she has PCOS – so long cycle or no bleeding at all – in the long cycle aspect of things, there's no egg.  It's just blood or tissue that got to build up a little bit.
Alyssa:  So the egg still is stuck in the ovary?
Dr. Nave:  Yes.  I mean, you could have some release at some point if her progesterone can get high enough that that can occur, but it's kind of scattered.  You can't really track it per se because it's insufficient.
Alyssa:  So she's having them, just not – I guess 35 days instead of 28 – wouldn't most women just go, oh, that's no big deal; I just have a long cycle?  What are the other symptoms?  What else would they see?
Dr. Nave:  She could have the symptoms of PMS but never actually bleed.  So she's still cycling, because remember you're still cycling, always, whether you bleed or don't bleed; the hormones are still doing their thing.  She can experience the PMS symptoms but not bleed, which means that she's not able to get pregnant.  And even if you don't ever want to get pregnant, our uterus is what I like to call an emunctory.  An emunctory is basically an organ that our bodies use to detox or remove toxins.  If we are not bleeding, that means those hormones are getting reabsorbed into our bodies, which for a woman, if she's estrogen-dominant, it basically reinforces the estrogen dominance because she's reabsorbing it in her intestines, which makes the symptoms to get worse.  Because to get rid of our hormones, once they've done their thing and we've shed our lining and we bleed, the other way in which we get rid of our steroid hormones is by poop.  So if you're not pooping, then…
Alyssa:  Is that another symptom or side effect?  Is that a cycle issue, or not?
Dr. Nave:  It could be a cycle issue.  One of the symptoms that women sometimes experience is when they're on their periods, either they're constipated or they have really loose stool, and that's because of hormones.
Alyssa:  They call it period poop, and I never knew why.
Dr. Nave:  Yeah, it's because of the hormones.
Alyssa:  So it's normal?  If you're having a regular cycle and you have a day of poop that's not normal, it's just your hormones?  That's normal?
Dr. Nave: Normal in the sense of it's to be expected with what you're experiencing, yes.  Other things that can happen with PCOS, and this is not with every woman, is that some women gain weight.  Some don't.  For a woman that does gain weight if she has PCOS, what's happening is that the body is converting the progesterone into cortisol.  And cortisol is the hormone that affects our sleep-wake cycle.  So when you first wake up in the morning, the reason why you're fully awake is cortisol.  It spikes at that point.  What happens when we're under a lot of stress, or if you have PCOS, our bodies are making a lot more cortisol, and that cortisol allows for the breakdown of stored glucose and the conversion of other proteins and fats into glucose.  This issue with that happening for prolonged periods is that the woman can experience what's called insulin insensitivity, so her body is no longer able to respond to insulin, which means that when she eats, then she can't stabilize her blood sugar, which means that the sugar stays longer in the bloodstream, which causes damage to small blood vessels and nerves, which is what happens in diabetes.  That's why for a woman with PCOS, having metformin might work, which is why some doctors place a woman with PCOS on metformin to increase her chances of conceiving.  It's not just the hormones that affect your cycle; hormones influence every aspect of our lives, from the moment we wake up and take our first breath to the moment that we pass on into the next life.  It's this orchestra that each hormone has a part to play and influence each other in term of how effectively each part is able to do their part.
Alyssa:  So let's say I came in and I had questions about my cycle.  What's the first thing that a woman could expect?  Bloodwork?
Dr. Nave:  The first thing I would want to know is what labs she's already gotten done.  Has she gotten her thyroid checked?  And when I say thyroid, I don't just mean THS because THS is just your brain telling your thyroid, hey, make the thing.  It's also looking at the levels of the thyroid hormones because you have two types of those.  You have free T3 and free T4.  Their ratio is also important.  So thyroid function; CBC, which just stands for a complete blood count.  It's checking for anemia, because that could be another reason for amenorrhea.  You may not be bleeding because you're iron deficient.  And then I would also want CMP.  That's a complete metabolic panel, and that looks at the kidney and liver function, which are affected if blood sugar isn't being regulated effectively.  On the CMP, there's also a fasting blood glucose on there, so that would be something to look at.  I would also want to review her symptoms.  What symptoms are you experiencing?  Are you experiencing acne?  Are you experiencing bloating and irritability on your menses?  Do you experience depression on your period?  There's also the consideration that we have PMS, and then we have PMDD, which is premenstrual dysphoric disorder, which is basically PMS on steroids.  It's like the cycle overall is so horrendous that the woman can't go to work.  It's affecting her daily life, affecting her mental health.  She's more depressed on her period, more irritable, or really angry, or in so much pain that she can't leave her home.  Looking at her as a whole person is what I'm about.  And she's the expert in her experience, right?  She knows what it's like to walk in her body, to experience these symptoms, how they affect her life, and then both of us taking our expertise to work together to get to the root of why this is happening and give the body the tool that it needs so it can rectify it.
Alyssa:  You just reminded me that I need to make an appointment with you.  I remember when I met you the first time, I was like, yeah, I need to see her, because not only have I turned 40, but I know my hormones are changing.  My periods are changing.  Just weird things happening.  So how do people find you?  What's the best way to get ahold of you?
Dr. Nave:  I am at Health For Life Grand Rapids, and you can check the website and look for my page.  There's a 15-minute free meet and greet and consult, so we can see if we're a good fit.  I can hear about your concerns, and you can get the cure that you need.
Alyssa:  I love it.  Thank you so much for joining us.  We're going to have you on again, and we'll talk about some other intriguing topics.  Again, thanks for tuning in. This is Ask the Doulas Podcast; you can always find us on our website and on Facebook and Instagram.  Remember, these moments are golden.