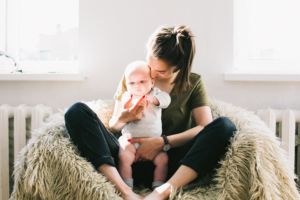 How Sleep Deprivation Impacts New Parents
Becoming a parent is one of the most exciting and scary milestones of a person's life. It's likely your emotions will run the gamut from excited anticipation and joy, to fear of the unknown and uncertainty about what's ahead and how you're coping with parenthood. Managing night time feeds, tending to your baby throughout the day, and trying to keep up with your other responsibilities as you acclimatize to parenthood can make sleep difficult. While this is somewhat expected, sleep deprivation can have a serious impact on the health of new mothers and their babies, so it is important to get as much rest as possible.
The importance of sleep for new parents
The diminished quality and quantity of sleep that new parents often experience can result in physical and mental fatigue and an increased risk of postpartum depression. Prolonged lack of sleep or poor sleep quality can also increase the risk of diabetes, weaken your immune system, reduce attention and focus, and impair hormone production, causing weight gain, loss of libido, and moodiness.
Because our bodies require sleep to function correctly – and a specific amount of sleep that allows us to cycle through the various sleep stages several times throughout the night – a dip in the standard or quantity of hours we accumulate asleep in bed can have a far-reaching impact on our health and quality of life. One recent study found an association between poor sleep quality and postpartum depression.
There are two main phases of sleep – NREM (non-rapid eye movement) and REM (rapid eye movement, when dreams occur). Throughout these stages, specific changes and functions are carried out in our bodies and brains. NREM phases are when most of the physically restorative processes of sleep are performed. Our muscles and cells are repaired, our immune system is boosted, and the deep sleep of stage three NREM is what's needed to wake feeling refreshed in the morning.
REM sleep occurs around 90 minutes after we first fall asleep and NREM phases are complete. This is the dreaming phase and the time that our brains process the salient and emotional experiences from waking life. When our body doesn't get the required amount of sleep, it is unable to consolidate all the emotional and experiential data we have collected while awake, neither is it able to complete the physically restorative processes we need to feel refreshed and energized. That's why we feel fatigued, forget things easily, and may find it difficult to manage our emotions.
Tips for getting the right amount of sleep
While some disruption to your sleep is to be expected as you adjust to the new normal; the good news is that there are a range of tactics and strategies you can employ to still get the amount of sleep your body needs.
Create the right environment for sleep:
When you do head to bed, it is important that you are able to drift off to sleep as quickly as possible so you can maximize your sleep time. To create the right environment for good sleep, keep your bedroom cool and dark. Light affects our melatonin production and signals to our brain that it's time to get up. Turn the baby monitor down too so their snuffles and murmurs don't disturb you, but you'll still wake if they cry out for comfort. If you do have trouble falling asleep, try a wind-down relaxation or mindfulness meditation that will help calm your mind and body.
Share the responsibility:
Taking care of a baby is a 24/7 job that requires constant activity and emotional resilience. No one should expect that they can do this on their own.
Negotiate a schedule with your partner that lets you share nighttime feeds, diaper changes, and those evenings when baby just doesn't want to go to bed. It's necessary to ensure you have the right support so the sleep and health of you, your partner, and baby don't suffer.
Accept help:
Have you ever heard the African proverb "It takes a village to raise a child"? This isn't just about the direct interactions; it's all the support functions that are needed to raise a happy healthy child too. Don't be afraid to ask for help with the cooking, cleaning, endless laundry, groceries, or just holding your baby for a while so you can have a shower and dress! The everyday, mundane tasks that were so simple pre-baby can take monumental effort to complete once there's a baby in the house. Most people know this and will be happy to lend a hand.
Embrace the nap:
Babies rarely sleep for more than four hours at a time. While this is a major contributing factor to those interrupted nights, the multiple two to three-hour naps your baby takes through the day provides ample opportunity for you to rest too – if you let yourself. Resist the urge to catch up on chores and instead take a half hour nap that will help manage your fatigue. Avoid sleeping longer than 45 minutes though as this will adversely impact your night's sleep.
Christine Huegel is on the Editorial Team of Mattress Advisor, covering a variety of topics pertaining to sleep health in order to help people get their best night's sleep.
Image via www.pexels.com.