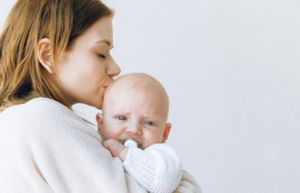 Top 10 New Parent Essentials
Did you notice that this list doesn't say "Baby Essentials"? Nope, it's not an error. YOU are the single most essential thing in your baby's tiny life. While you process all the feels over this game changing reality, I've got your back with some advice on essentials that will ease your transition so that you can experience a little more rest, comfort, and peace of mind. 
#10: A comfortable chair and a selection of board books
You're going to be spending a lot of time in this place over the next several years, feeding, snuggling, consoling, reading, and likely sleeping. Start building your collection of books early and add to it often. Your baby will love the sound of your voice, they will love the expressions on your face, and most of all they will love the time spent on your lap, together. Begin cultivating a love of reading and language from the beginning!
#9: Stroller
The sheer number and price range of strollers on the market is staggering. This market reflects the many priorities of consumers. As a Michigan Mama, I often take into consideration the age of the baby when they are born because it determines the need for a car seat system. For example, any baby born around October isn't going to see too much stroller time before May, so a carseat system isn't too important and a bassinet, even less important. On the other hand, a baby born in May will need the additional support and a parent will likely enjoy the ease and mobility of a safe travel system.
#8: Baby Bjorn
Sometimes a stroller isn't ideal; maybe you enjoy trail walking or you simply prefer that intoxicatingly sweet fresh baby smell right under your nose. In that case, consider a Baby Bjorn Carrier.  My 4th child basically lived in this from 6 weeks to 6 months, maybe longer, no one's judging. Bottom line, get yourself a way to hold a baby while also having the ability to answer the phone, make dinner, or fold a basket of laundry.

#7: CuddleBug Wrap
Similar to the Baby Bjorn, the CuddleBug Wrap allows for close proximity and easy access to kisses, but is considered a soft wrap. This wrap is breathable, yet structured enough so that it provides great support inside or outside. Unsure how to use a soft wrap? No worries, contact Gold Coast for referrals to places where you can learn how to baby wear and sometimes even borrow them for free.

#6: Summer Deluxe Baby Bather
I love running a bath, closing the bathroom door so that all the warmth stays in, and then placing newborns through older babies in this baby bathing seat. Now, if you're looking for bells and whistles, this seat may not be for you, but I'm a simple gal who likes portability, fast-drying washable mesh, and a fresh smelling baby.
#5: Pacifiers
Sucking is an innately soothing practice for a baby. Why not have one or two on hand to try? My favorite is the MAM, but try not to overthink it.
#4: Swaddle Wraps
I Love the Aden by Aden and Anais 100% cotton wraps for Summer Babies. A tight swaddle gives babies a safe and secure feel, which often lends itself into better sleep. This alone qualifies the wrap as something you should buy several of.
Pro Tip: Some swaddles have zippers on the bottom that allow for easy access to diaper changes and also mean that you don't have to un-velcro during the night, buy these! 
#3: Black Out Curtains
In order to help shape healthy sleep habits, it's helpful to be able to make a room pitch black during daytime sleep. Daylight sends a physiological message to our brains to wake up and can impede daytime naps.
#2: White Noise Machine
No, not the kind that has birds chirping or sings lullabies. A low, steady, white noise that has the ability to sound like a dust buster when employed. This single purchase will add hours of sleep to your life and that, my friend, is precious.

#1: (DRUMROLL….) A DOULA!
Doulas are for "that kind" of parent… you know the kind who welcome support, encouragement, peace of mind, rest, and stability during a vulnerable time. Use one and then recommend that your girlfriend, sister, brother, neighbor- use one, too! 

This blog is written by Jen R., a local doula in the Grand Rapids area.
Gold Coast Doulas is a participant in the Amazon Services LLC Associates Program, an affiliate advertising program designed to provide a means for sites to earn advertising fees by advertising and linking to Amazon.com.