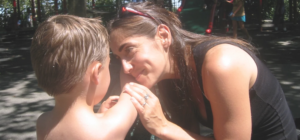 Parenting and Sleep: Podcast Episode #98
Laine Lipsky, Parenting Coach, talks with Alyssa today about the negative effects of sleep deprivation on children and parents.  You can listen to this complete podcast episode on iTunes or SoundCloud.
Alyssa:  Hello and welcome to the Ask the Doulas Podcast.  I am Alyssa Veneklase.  I'm excited to be back with Laine Lipsky, parenting coach.  How are you?
Laine:  Hi!  I'm good.  How are you doing?
Alyssa:  Great!  So when we talked on the phone last week, we talked a lot about sleep, and we didn't intend to talk about sleep, but I told you that I was an infant and child sleep consultant, and then you were like, oh, gosh.  The way sleep deprivation affects some of the families that you're working with — it kind of created some interesting thoughts.  I'd love to hear some examples of how some families you've worked with and how sleep deprivation has affected that whole family, because I see that when I work with — I'm hired to help children sleep, but obviously, these parents aren't sleeping, either.  That's why they're calling me.  And then sometimes even when I get the children sleeping, these parents are, like, I still can't sleep.  It's like if they've been two years without a good night's sleep, they have to retrain themselves.  So even though I'm not an adult sleep coach, there's still a lot of rules from children that apply to us as adults that I kind of have to remind them of and tell them to be patient with themselves, just like they had to be patient with their child to get them into this new rhythm.
Laine:  Yeah.  It is such a big issue, and I can speak from personal experience.  I have, hands down, the champion worst sleeper ever.  He is now a teenager, so for anybody out there who thinks that they could take me on, like, my kid on, when he was a baby, I challenge you to a duel, a sleep duel.  A sleep-off.  Whatever you want to call it.  My son — so I'll just start by saying my son — he would go to sleep.  We did all the "right things" for sleeping, and when we would put him down at night, he would go through the night and wake up every 45 minutes.  And I was a nursing mom and I was not intending to cosleep, but because of his wake cycle, and nobody — nothing could get him back to sleep.  He had something called silent reflux.  It was really hard to diagnose.  It was really concerning.  We ended up cosleeping, and I — we had to out of absolute necessity.  So every 45 minutes — so literally, when I would put him down — and that's in heavy quotes; "put him down" for the night, I would start weeping because I knew that there was just this huge thing ahead of me called "night" which was going to be really, really painful and difficult.  And you and I said we both know that, you know, sleep deprivation is a form of torture in prisons and there's — I firsthand have been through it, and I work with people who have been through it.  So I just want to start off by saying, like, I feel anyone's pain who's walking around feeling like their body hurts, their eyes burn, they're short-tempered; they're not making clear decisions, and especially on top of it, we're recording this podcast during this COVID lockdown time.  All of that stuff is just on, you know, steroids right now because we're also stressed out about the uncertainty that surrounds us.  So my heart goes out to anybody who's struggling with sleep right now, and it's so widespread.  The impact of a parent being sleep deprived and maybe both parents being sleep deprived is just such a trickle-down effect.  And so, yeah, I can tell you a lot about clients who I've  had, but I just wanted to start off by saying that I have total empathy for somebody who is going through that.  It's a really important issue.
Alyssa:  Yeah.  You almost forget how bad it is, and then you have one night of bad sleep, and you remember.  Oh, my goodness; how did I do this for weeks, if not months?  And some of my clients, for years.  You know, for two years.  It's devastating to relationships to where I –you know, they'll say — or even six months.  Six months old; I had a long maternity leave.  I need to go back to work, but I haven't slept in six months.  Or I went back to work after three months, and I have not been productive at work for the last three months.  It affects everything.
Laine:  Right, or people driving to work totally sleep deprived.  That's dangerous.
Alyssa:  It's worse than drunk driving.  I mean, statistically, I think there are more driving deaths related to sleep deprivation than drugs and alcohol combined.  Combined!
Laine:  Wow.
Alyssa:  Yeah.
Laine:  I didn't know that.  So I say a lot, joking not joking, in my practice, if parents were able to get on top of sleep early on in their families that I'd be out of a job because a lot of what I see are behavioral issues that are stemming from a lack of sleep.  And you just think about how you feel when you are tired, when you're cranky, when you — you know, when you feel that way as an adult, you're able to sit down.  You're really able to say, I'm feeling really — at best, you're able to say, I'm feeling really cranky.  I'm just really tired.  You're able to maybe take a nap somehow, magically.  You're able to have a cup of coffee.  When we think about our kids — or, you know, maybe people have a glass of wine to take the edge off.  There's no taking the edge off for the kids.  They don't have that.  Maybe it's nursing.  I guess that would be the closest thing.  But there's no edge — they're just edgy all the time.  And so in a family system, what I see is that when kids are not rested and parents are not rested, we're not dealing with the actual people.  We're dealing with the tired versions of those people.  And so one of my very first questions when I speak to people about their parenting is, how is your sleep.
Alyssa:  That's great.
Laine:  It's that essential.  And because I shared a few minutes ago about my own son and my own sleep struggles: we defied the parenting books at the time to schedule our day or create a schedule around feeding.  I was, like, forget feeding.  Who's going to eat when they're tired and cranky?  Like, does eating feel good when you're tired?  That's not a solution.  The solution is sleep.  And so we quickly learned — and I don't know if this is what you teach, but you're so flexible.  You teach a lot of different things to people.  But had you been my sleep coach at the time, or sleep consultant, I would tell you that we were scheduling our day around our son's wake-up time.  Like, that's what we — we're scheduling our day around his sleep needs.  His feeding seemed to be fine, but his sleep was just crazy off the charts.  And I think part of that is temperament.  I think a lot of it is.  And to this day, he doesn't — well, to this day, he is a teenager, so he sleeps crazy amounts, but up until he started that whole sleep routine as a teen, he still needed less sleep than everybody.  He still needs less sleep than me.  And that's where I see in families the real — when it's upside down, when a parent has high sleep needs and a child has lower sleep needs, that's a red zone for me as a parenting coach.
Alyssa:  Yeah, it's really hard because in the podcast we previously recorded where you said there's no one parenting style; there's no practice style — but the same with sleep.  There's no one — or there are some best practices, but there's no best parenting style.  Same with there's a lot of sleep methods, but there's no one right sleep method for everybody.  So when I give someone a sleep plan which says, you know, based on your child's age, this is what a child typically — what a nap schedule typically looks like or a feeding schedule typically looks like.  Most parents want to go by the — just down — and I have to remind them, we're not watching the clock.  We're watching your baby.  Your baby's cues tell us, how long is their wake cycle?  Can they stay awake for an hour and a half before they get tired, or can they stay awake for two and a half hours before they get tired?  That will determine feeding and sleep schedules, not this list, not the clock.  So they just want me to hand them this guide that miraculously works, and it's just not that easy.  We really have to watch Baby's cues to understand what your baby needs, because if a typical baby needs 15 hours and yours only needs 14 hours, what does that mean?  Let's try some things.  What is this going to look like?  A later bedtime?  An earlier wakeup?  A shorter nap?  Troubleshooting together is why I think finding a good sleep coach is the only way to be successful because you can't just read a book because then you are looking at this sleep guide in a book saying, okay, oh, my gosh, it's 2:03.  I'm three minutes late.  You should have been down for a nap.  But your baby's not tired.  So then what?  Who answers that for you?
Laine:  Yep, and to have somebody help you watch that, because just like with parenting advice, you know, the old adage is that — the old whatever you want to call common wisdom or whatever that you might get from your own parents often doesn't apply.  Sometimes they do.  Like, if you're lucky, you know, like a baby will sleep when they're tired.  Well, not if you have a baby who's really high-strung, temperamentally speaking, or who's overtired.  Their form of being really tired is wired, which is the case in my kids.  Right?  He didn't get that dreamy, dazed-off look when he was tired.
Alyssa:  He didn't give you the sleep cues of yawning and rubbing his eyes?  Mommy, I'm tired.
Laine:  There was no book that fit my child, and so to your point, I had to learn to read him and I had to stop reading the books.  And I didn't do it perfectly.  You know, I still don't do it perfectly, but just even that shift in my mindset of, like, oh, I need to read my child, not the books.  It's the same thing that I say to parents about parenting, which is, learn to read your child and take in the information but, you know, information overload is overwhelming and we're just being inundated with it now, and it's conflicting information.  It's like, you know, I'm a sports coach by training.  Then I apply all of that to parenting.  If there are too many voices in your huddle, right, the team gets off track and doesn't know what they're doing.  You need to have one clear voice in the huddle and for each parent, it's going to be them.  Their family is their huddle, and the more clear that the leader can be, right, the captain — you're the captain of your team — the better everybody is going to respond to that, or at least you're going to know whether it's working or not.  So what I find is happening with parents is they get in their, you know, best-meaning selves, they want to be informed.  They're getting, like, flooded by information and they don't know how to parse that out and to make it work for their child.  So is that something that you — how do you talk to parents about that?  Like, how would you help — that's what I hear a lot from parents is, like, I don't know what to do.  How do you handle that?
Alyssa:  A lot of the times, parents will come to me and say, we've tried it all.  We've done all of the methods.  All of them, even ones that I don't agree with, right, like just crying for two hours.  But they're so desperate.  They're, like, this is what my pediatrician told me or this is what the book says.  I'm just going to try it.  Well, there's so many methods, but they can be done incorrectly, and maybe that method's not the right one for your child.  So if they've come to me and said, I've tried Method X but then I read through their intake form and I'm like, well, no wonder that didn't work.  Here's what we're going to try.  Or we get into something and they're like, hmm, but my sister has a baby who sleeps really good, and this is what they did, and you're not telling me to do that.  I'm like, well, that's their baby.  So you do.  You have to tell them — like, I love the coach analogy.  I am your coach.  We're a team.  We're doing this together.  I'm not coming in and just telling you what to do.  I'm doing this based on your family's needs.  And then I educate you so that you can go and do it yourself because I'm not with you everyday for the next several months or years.  So I educate them so they have the tools moving forward to do exactly what they need to do.  And I also love the coaching analogy, the sports analogy, because for older children, I explain to them sometimes that it's even with the emotional aspect.  You know, we talked in the last podcast about how we can't just make our kids happy all the time.  Experiencing a wide range of emotions is normal, and we need to help them learn how to cope with those.  This comes into play a lot with sleep because you hear your child cry when they're tired, and it's this automatic — we just feel this distress.  But sometimes those same cries during the day — you take a toy away or you have an overly tired child who just wants to cry about everything — you can ignore them during the day a lot easier than you can at night.  But we need to help them cope with these emotions.  So it's — what do I say to them?  You're not in this to play the game for them.  You have to help teach them how to play the game themselves.  Right?  Like, we can't hop in and do it for them all the time.  With sleep, we're coaching them.  That's my basic — I forget where I was going with that, but…
Laine:  You were talking about how coaching as an analogy was working for — yeah, for helping them learn how to do it and being — I think you said it; like, not doing it for them but coaching them to do it, and that the older they get, I think you were talking about, that maybe that was a piece of it, too.
Alyssa:  Yeah.  I mean, a baby needs a lot more help and it takes a lot longer.  When you have a two-year-old, it's a lot different than a six- or nine-month old.
Laine:  Right.
Alyssa:  You know, they're talking, walking, moving.  They're a little bit more — they're smart.  They can be tricky.  They know how to get you to stay in that room a little bit longer.  There's no thirstier child than one you're trying to get to bed.  Mommy, I'm thirsty.  Mommy, I'm hungry.  Mommy, I need this.
Laine:  Yeah, so does that — does your advice for parents change depending on all the things?  You know, the child and the parent, whatever — because that's a classic one that comes up for people.  Like, my child has all the excuses and can crawl out of their crib and can crawl out of their bed or whatever.  Do you have some wisdom to share with people who are really —
Alyssa:  Bedtime routines.  Bedtime routines are so important.
Laine: For the kids who don't — for the parents who are like, we have a bedtime routine, and it involves bath time and books and me putting my child in bed, and then my child's coming out of bed, like, a zillion times before they stay in bed.  That's the bedtime routine, and they're sick of it and they don't have any recourse.  And I'll tell you something, Alyssa: some of my clients have gotten some of the worse advice from pediatricians, including people to, like, lock their child in their rooms.  That's come straight out of the mouth of a pediatrician, and just, like — I want parents to know that if advice that you're getting from a source doesn't feel good, then it's not good.  It has to feel good to be good, and it should be something that is aligned with your values, something that's aligned with your personality and also that will work for your child's temperament because it just breaks my heart to hear people on the phone, and I hear it all the time, people crying; well, I did this and it felt terrible, but my pediatrician told me to do it, so I — you know, thinking that they were doing the right thing.
Alyssa:  So when they work with me, I have them fill out an intake form for that reason.  I want to know, what is your parenting style?  What's your child's temperament?  What have you tried in the past?  What's worked; what hasn't worked?  And what is your end goal?  So I will make a plan based on that.  Not what I think you and your child need to be doing, but what is your goal as parents?  Maybe you have a one-year-old still breastfeeding exclusively, and you just to cut that down.  You don't want to eliminate all night feeds.  Twelve months probably could sleep all night without a feed, but if you're okay; you just want to have two feeds instead of five — okay.  Let's work our way back.  Let's eliminate a few of them and see how it goes.  And typically, you know, at that age, we would probably end up eliminating all of them, but then it's also the opposite.  I might have a four-month-old client whose parents are, like, I need my baby to sleep all night.  Well, okay.  At four months, your baby probably still needs to eat at night, so let's talk about what a realistic overnight looks like for this age.  So sometimes the expectations aren't quite — you know, they might be a little bit unrealistic.
Laine:  Right.  Same thing with parenting.  We want our five-year-old, three-year-old, to set the table and then go up to bed by themselves.  And I'm like, yeah, no.  That's not — that's not a thing.  Or it could be, but it's very rare.  So maybe you get this question a lot or this issue a lot that comes up; maybe this is a good place to overlap a little bit.  I hear from parents a lot that they have some shame, like, a lot of shame that they don't know how to parent, that they should know how to parent.  Some people are more forthcoming and say, you know, well, I was raised by parents who I'm not looking to emulate.  I want to be parenting differently than how my own parents parented me, and I don't know how.  There's not so much shame there, but when people are, like, trying to do it differently and they can't; they think that they should know how to do it naturally, and it's not coming out the way — it's like when you have a picture in your head and you start drawing, and it's, like, nope, that's not what's in my head.  Not at all.  Right?  I get that a lot.  I hear that a lot from parents who are really struggling with this internal sense of, I should be able to do this.  Do you get that with people who are — especially around sleep and in this culture of, well, just let them cry it out, or they'll sleep when they're tired.  Do you find that parents struggle with that?
Alyssa:  Yeah.  It's kind of like breastfeeding, right?  We think it's going to be this natural thing, and then when we really struggle with it, we think that there's something wrong with us when nobody tells us as new moms that breastfeeding is really hard.  Same with sleep.  It's just something that our bodies want to do naturally, and people tell you that newborns sleep all the time.  Well, they do for a little while, and then they don't.  So when it hits the fan and you don't know what to do, they start reading books.  It's this downward spiral of, well, I read this book and it didn't work, so I gave up and now, like you, you just end up cosleeping if you don't want to, and I have clients who have been cosleeping for three years, and the parents haven't slept in the same bed for three years.  Some families, that works.  They do that by choice and it's fine, but the ones who are calling me, it's not because they love this situation.  They've gotten there by desperation, and somebody's not happy.  So every family is so different, and I always warn people: if any sleep consultant comes in and says they have a plan and just one plan, or if it includes cry it out, you just say, thanks but no thanks.  There is no one plan.  If there was one way to do this, I could write a book and tell everyone what to do and be done.  Right?  And same with you.  Every family is so different.
Laine:  Well, what I see is that when people are willing to take a plan, kind of no matter what, it means that they're actually going to start — they're going to start walking down a path of, I'm going to do whatever works to get the behavior I want, no matter what.  And that's a path, from a parenting perspective, that's a path of very authoritarian, very old-school parenting style.  Right?  Where it's going to be harder if you're not really showing flexibility; you're not going into it with empathy.  It's going to be harder to develop those skills and that mindset toward your child and toward your parenting style as your child gets older.  Right?  So something that I think gets lost when parents are willing to pick up a solution — and I get why they do.  Right?  Like, I get why they pick up the, "I'm just going to let them cry and figure it out," because they are at their wit's end, and it's overwhelming to think about it being a process.  They want it to just be a simple solution.  I get the temptation there.  However, my cautionary tale to parents is, if that's the way that you approach sleep, it's likely going to inform how you're approaching parenting in general, and that is — I rely on the science for this and I don't come to this with judgment.  The science absolutely tells us, and the research tells us again and again, that when you're parenting with an authoritarian style of parenting of, we're going to do this no matter what, and you're lacking empathy in that, you're going to get certain outcomes for your kids in the long term, and they're never the outcomes that parents want.  You know?  Like, if I were to ask you, what are the outcomes you want for your daughter?  What are your outcomes that you want for your daughter when she's — push it out 20 years.  She'll be 27?  What kind of woman do you want her to be?
Alyssa:  I want her to be kind and successful and learning from me, right?  Maybe running her own business.  Yeah.  I want great things for her.  Right.  Right.
Laine: Independent, right?  You want her to be emotionally healthy?
Alyssa:  Right.
Laine:  Attract emotionally healthy partners?
Alyssa:  Right.
Laine:  Right?  All that stuff; resilient, gritty.  Right?  All that stuff; self-assured.  All that stuff are the outcomes that we know — we know that a certain type of parenting, a certain parenting path, gets.  There's not one right way to walk the path, but there is as path, and that's what I call best parenting practices.  Right?  We know.  The research is telling us again and again, and if you're not walking that path, you are walking another path, which is to get insecure kids who are, you know, not as successful as they could be in the three big categories, which is work, school, and relationships.  That's just research.  So I feel so passionate about having people start as early as possible making parenting choices that feel right to them to get the outcomes that they want.  Never had somebody raise a hand in my course or my class or workshops that I run saying, I want my child to be insecure.  I want my child to attract dysfunctional partners.  Never, right?  I would love to talk to that person.  I think; maybe I wouldn't want to talk to that person.  But we don't want that.  That's not our natural instinct, and it's so — I like to think of the really early years of being a parent as training for the parents of how you want to be a parent.  And then it sort of morphs into, how are we training our kids?  How are we guiding and shaping them?  But the early decisions, how we respond to them as infants, how we respond to them when they're really little, when they're preverbal, especially — that's training ground for us.  It's essential training ground for parents for how we're going to be.  How are we going to listen?  Are we going to ignore?  Are we going to jump every single time?  What is the sweet spot?  What is the sweet spot for each particular parent?  There is a sweet spot.
Alyssa:  We talk a lot about that, and I like the term "sweet spot" because there are some parents who are fine ignoring, and then there are some who are jumping every time.  And when you really talk about listening — they're like, well, my baby's just crying.  What do you mean, listen?  I'm, like, crying is communication.  And they are — they can't verbalize it, but there are different cries.  Especially as a baby develops, those cries actually do sound different, and even before they sound different, take a look at what happened when your baby started crying.  Was there something that you can actually take note of?  A loud noise; maybe a dog barked and it disrupted something, or the sun moved just enough, and it's shining right in their eyes.  Taking note of what maybe happened to cause the crying instead of saying, oh, my baby must need food, or my baby needs to be held.  Because some babies, as much as we want to hold them all the time, are a little bit — they just don't need it.  They need their own space a little bit more.  And those are the ones who will cry.  You know, grandma comes over and gets in their face and wants to pick them up right away, and then grandma feels bad, and I'm like, no.  I call them space invaders.  You just invaded the baby's space.  Move in a little bit slower.  Give them time to adjust.  My daughter was like that.  She needs to assess everything that's going on in that room before she decides where she wants to go and what she wants to do.  If someone comes at her, game over.  Babies are the same way.  They have little personalities.  I mean, it takes a while to figure them out, but —
Laine:  But in those early stages, they're little mammals, and they're responding from that part of their brain and their being that's the most developed, which is that limbic part of them, which is able to convey — like, my dog right now is conveying a message, right?  She's not using words, but I know what she wants.  She's sitting by the door.  She's having that little howl-cry, plaintive cry.  I know she wants to go out.  I also know that she's already been out.  She doesn't need to go out, and when she does go out, she's been super destructive lately.  And it's going to get louder, and she's going to get upset.  And if she were to — to be clear, because I never want to be at all misquoted or confused as saying kids are or should be treated the way that animals are treated — if she were a child, I do not believe in ignoring kids.  I would be going over there.  I would be getting down on her eye level, and I would say, oh, I know that you want to go outside and you're so upset, and I see you're so frustrated.  And while leading her away, because if she's not — while setting a boundary.  We're still not going outside.  Let's do something else.  So it's not just bait and switch, which I know that there's a lot of parenting programs out there that are all about just redirecting a child's behavior.  But we're not looking at just behavioral creatures.  We're looking at emotional, one day fully formed, human beings.  Right?  So the behavior is one piece of it, and to your point a moment ago about what parents are doing, it's not just the what; it's also the how.  Like, how are you walking into your child's room?  Are you flinging the door open while they're crying and being, like, oh, my gosh — because your babies are going to pick up on that energy, too.  Right?  So being responsible for our own energy before we engage with our kids, whether they're crying or frustrated or being pissy or whatever it is, being responsible for our own energy is an essential piece to how they're going to then react to us.  How we respond to them informs how they react to us.  It is a cycle, for sure.
Alyssa:  Yeah.  We talk about that.  And, you know, they can pick up on our anxiety, especially around sleep.  Like you said, you can go this whole day; you can drink your cup of coffee, have a glass of wine at night, but then all of a sudden you knew: it's night.  And you just feel this anxiety around sleep that you almost can't help, but then your child senses that, which makes going to sleep even harder.  But then you're also sleep deprived, so of course you're more anxious because you're sleep deprived, and it's just this vicious cycle.  Probably 30 percent, maybe up to 50 percent of the parents I work with probably have some form of postpartum depression and/or anxiety, because I'm working with a lot of new moms.  And that just escalates.  That's another vicious cycle.  If you have it, sleep deprivation makes it worse.  But even if you don't have it diagnosed, maybe you have sleep deprivation, which is causing depression-like symptoms without being actually depressed.  It's just really hard.
Laine:  But it doesn't matter.  If the symptoms are the same, it doesn't matter what it is.  You have to treat the symptoms, right?  I was talking to a sports psychologist the other day, because I'm always curious about how sports training and sports psychology overlaps with parenting.  It's just this intersection that I find really fascinating, and it's where I lean in with parenting.  Let's treat it like sports training, in the sense that you've got to be prepared for it.  You've got to do some real training for it.  There's a pre-game.  There's a game time situation.  There's a post-game.  You know, it makes sense to me because I grew up around athletics.  But — oh, what were you just saying about —
Alyssa:  Oh, depression and anxiety.
Laine:  Oh, yeah, yeah, yeah.  Thank you.  So this sports psychologist, who also now works with women who are postpartum and have postpartum depression and/or anxiety, she was, like, oh, sleep deprivation — it's not only, like, tied to it; it can be the cause of it.  You know, back to this thing about sleep deprivation being a form of torture: it can absolutely trigger anxiety and depression.  And I just was, like — I mean, I knew that, so when she said it, it wasn't earth-shattering news to me, because I'd seen it — but to hear her say that with such, like, authority — I was just, like, wow, yeah.  That's a real thing.
Alyssa: The hormone shift that's happening anyway after you have a baby — like, it's the largest hormone drop of any mammal, I think, when you have a baby.  And then add sleep deprivation on top of that, which as a human species, we can handle a little bit of it.  Our bodies are made to handle a little bit of that after having a baby, but not months.  We just can't handle it.
Laine:  And certainly not years.  So what would you say to somebody — like, what would be advice that you would have for somebody who is struggling with sleep during this particular moment in time; the COVID situation; the unique time that we're all going through around sleep, because, you know, people wonder, you know — they worry.  They worry and they wonder, and I remember that feeling of, like, I know sleep is the most important thing.  My baby's brain is growing, and I have all this information about it, and I was definitely one of the more anxious people around sleep.  I was like the sleep police.  And I was also facing people who were saying, oh, it's no big deal.  It's no big deal.  So I felt like I was fighting the other side of it, which made me more vigilant.  So it was hard to find that balance for myself.  But I'm wondering, like, what would you tell somebody who is feeling like, I know sleep is super important, and I'm in this, like, bizarre situation at home where I'm working from home and there's, like — there are noises around.  There's not quiet.  It's not ideal.  So I'm struggling with sleep, and we're in this bizarre time.  Like, can you put anybody's mind at ease?  Like, beyond saying, like, well, your child's not going to die.  You know, they'll survive.  For people I work with, that bar is too low.  You know?  They want to be raising thriving, really healthy — like, optimizing their child's childhood experience.  Right?  So do you have any just blanket wisdom or anything that could help them have their minds put a little bit at ease?
Alyssa:  Yeah.  I mean, you said it.  Sleep is so important, and I think especially right now with a worldwide pandemic with this virus, proper sleep helps build our immune systems, so let's try to get proper sleep.  And even though we're working from home — you know, like we said in the last podcast, let's change your perspective.  Instead of saying, maybe my kid won't sleep enough because I'm here and I'm working and there's all these noises.  Let's shift that and say, well, I'm home.  I have a lot more opportunity.  I don't have anywhere I have to be at a certain time.  Let's focus on sleep.  Instead of letting my kid say, oh, you don't have a schedule and you can stay up until 10:00 now, let's continue a pretty consistent bedtime routine, especially for kids — you know, you have teenagers; different story.  For babies and toddlers — even my daughter; she's 7.  We walk back there at 7:30 at night.  We brush teeth, put PJs on, we read a book, and I walk out at 8:00.  So a 30-minute routine is pretty good.  It gives you plenty of time to do kisses and cuddles and, you know, that's plenty.  But it's so important because someday school will start again and work will start again, and it's going be really, really hard on these parents who have to get back into a rhythm.  So if you've gotten out of that rhythm, maybe you can slowly work your way back to getting them.  And it's hard.  Like, here it's summertime, which means at 8:00 when I leave her room, it's still light out.  But she's still tired, so I just make it as dark as possible.  But try to keep a consistent routine, and that's a wake up time and a bedtime.  And then if you have a younger kid who's still napping, sound machines; make it dark in that room; crank the sound machine, and do what you can to keep the house as quiet as possible.  And then you had mentioned some of your clients have kids who are crawling out of cribs.  If you can wait until a kid is 3 to take them out of the crib, that's better, because developmentally, they're — before 3, they don't really understand that this is a bed and I shouldn't crawl out of it, and then you're kind of having to shut the door and lock them in the room, which nobody wants to do.  You're essentially making — I tell parents who have to do that, consider the room now a crib.  So you have to look at everything in that room and make sure nothing can fall on them; they can't — there's no — nothing that can hurt them, and you're essentially turning the room into a crib.  But before 3, it's really hard.  But there are some tricks.  If you have a 2-year-old who's crawling out of a crib and you're afraid they're going to hurt themselves, and if they wear a sleep sack and they can unzip it and crawl out of it, flip it around so that the zipper is in back.  Maybe they can't reach that zipper.  If they're really smart and can get at that zipper, put it on backwards and then put a little T-shirt over it.  They would have to really work.  They have to pull the T-shirt off.  Just try to make it as hard, but it's hard to climb out of a crib with a sleep sack over your feet.  I have had some Houdini babies who even that doesn't work, but for most, even just having the zipper in back, they — even if they can touch it with their hand, they can't get it all the way down.  So that's one trick.
Laine:  Houdini babies.  That's hilarious.
Alyssa:  But make sleep a priority.  Instead of saying, oh, I can't — I just can't — there's no way I can get on a sleep schedule or get my kids back on a schedule.  If you make sleep a priority and have some sort of routine — we need routines as adults, and kids especially need some sort of normalcy and routine.
Laine:  Does it have to be to the minute?  Bedtime is 7:30?
Alyssa:  No.
Laine:  What's your take on that?
Alyssa:  No.  Give yourself some flexibility, especially for younger babies.  Thirty minutes on either side.  So let's say a working parent; they need to be up — they need their baby up at 7:00 in the morning because they have to get baby fed and out the door.  Now, on the weekends, let them sleep in until 7:30.  If you go past that, you're really messing with the natural rhythm of the baby's sleep cycle that we've worked so hard to put in place, that they can sleep, you know, 7:00 to 7:00.  You don't want them to some days be able to sleep until 9:00 or stay up until 9:00.  Even as adults, every hour of sleep that we lose, it takes us about a day to recoup.  So time differences; if I fly to Seattle and visit my friend, three hours different, it takes me about three days to adjust.  And I can deal pretty well with that, but for a baby, it's really hard; really hard to deal with.
Laine:  Yeah, yeah, yeah.  And parents get really nervous about traveling with babies, and how do I do this?  And, again, this comes back to being aligned with what your values are.  It's okay to not travel with a baby.  Even though you see people on planes with babies all the time, it doesn't have to be you.  Just getting really clear about where you stand and what's important to you and why you're doing what you're doing.  What's your why?  Is it because you feel guilty or is it because you feel jealous, or is it because you feel like you really, really need to go visit your mom?  Those are all really different answers to the same question.
Alyssa:  Yeah, I get asked a lot about travel.  People want to travel with their kids a lot, and sometimes it's just not conducive to have a three-hour time difference with a baby because you'll probably have to go to bed really early or get them in bed really early, and that means you can't go anywhere, unless you have the resources to hire a nanny or you're visiting parents and they'll stay.  You know, you can put them to bed at home while you leave.  You know, my client right now, they like to go camping.  Before we part ways, how do we camping with this baby?  And we talk through that.  What does that look like?  Go hiking after the nap; come back at lunch; put the baby down again.
Laine:  Again, I think kids are so different.  They come just so different.  You don't get to — it's like getting a dog, right?  If you want to, you can thumb through a book and find your ideal breed, and you can pick the type of dog that's going to have, likely, like, 99 percent sure, you're going to have the kind of behavior that you want from that dog, right?  If you go to the pound and you're going to get some sort of mix so you don't know exactly what you're getting, then you have to work with what you have.  And that's what parenting is.  Parenting is, you work with what you have, and you don't get to pick.  And so I really — one of my favorite things to caution parents against is comparing other people's outsides to their insides.  Right?  Like, what is your reality versus what you're seeing somebody else in that moment having?  If you're somebody who wants to go camping with your baby, if you have the type of baby that can hack that, there's nothing inherently wrong or bad about taking a baby camping, unless you're going to artic.  You know, perhaps that is not a good idea, right?  But if you've got an "easy" baby and sleep is not an issue, or you're happy snuggling together, great.  That's awesome.  But if you don't have an easy baby or sleep has been a huge issue in your house, then you're not the family who's going to — if you want to have the shit show afterward, you know, and you're willing to go and take that risk and then it's a calculated risk — it's just not fair to then be upset with the baby or be upset with your child for being cranky afterward.  You just to be informed, know what you're doing, know what you're getting yourself into when you take those risks.  And I think it's one of the most empowering things that parents can do, to be really clear about what they are and what they're not willing to tolerate.  Just like in life, right?  What are you willing to tolerate, and what is your happiness equation?  What are the elements of your happiness equation?  It's really important for people to know that and to get right with themselves so that they can live their best family life.  And it's not going to be a blueprint from somebody else's family.
Alyssa:  Yeah.  Realistic expectations, again.  You know, it's just maybe sometimes telling them, sorry; I have to let you know that your baby's not going to — based on working together, this activity you want to do won't suit your baby — but now.  Maybe later.  Don't give up on this dream to go camping.  It might just have to wait a couple of years until your child is down to one nap a day instead of three.  And again, like you said, you talked about being fluid instead of, like, having this solid — it needs to ebb and flow.  Be flexible.  Realize that your baby is a human who has separate needs from you, and just because you want to do this, your baby might not want to.
Laine:  Part of the deal of becoming a parent.  There's sacrifices, you know?  And it's funny; like, I think that we talk about that a lot, right?  Like, there's a lot of sacrifices in parenting, or there's a lot of sacrifices in marriage, or there's a lot of sacrifices in whatever.  But when it really comes down to it, when that happens, when you're confronted with the sacrifice, it's a very hard thing.  It's a tough pill to swallow.  And I just — maybe a good sort of point for us here is to talk about or to ask the question of, like, what is it that is important, you know, and where are you willing to sacrifice?  What is the sacrifice that you face when you're a parent, and what are you — how do you respond to that?  How do you respond to the fact that you're being asked to sacrifice stuff?  You know, it's a tough one.  I don't think people have a high tolerance for that, especially in this day and age.
Alyssa:  Yeah.  We want things to go our way all the time.
Laine:  All the time.  All the time.  Well, it was definitely a good conversation.
Alyssa:  Yeah!  We covered a lot!  Well, why don't you tell people again where they can find you if they have questions about the parenting end, before we sign off?
Laine:  Sure.  I have my website.  You can also find me on Facebook, and I have a very slim social presence right now because most of the stuff I've been doing in my life and my career has been live and in person, but I'm slowly building a social presence.  So definitely go to my website.  And feel free to check out my online course.  It doesn't talk directly about sleep, but it does talk about discipline and the issues that follow, you know, if you're having trouble with getting kids to cooperate and you're facing a lot of meltdowns.  It will definitely, definitely help you.  And some of that is probably because they're underslept, but it will help you anyway.
Alyssa:  But the two go hand in hand.  You know, a lot of times, to help them get to sleep better, they need a little bit of discipline, and then once that — you know, with consistency and the right discipline for that family, the child will understand, this is the new routine.  I can sleep better, and then you no longer need to discipline because then it just becomes part of their routine.
Laine:  Absolutely.  Absolutely.  So, yeah, the course will be — the free class will definitely be of help, and then people can also book a free call with me.  And those are the main ways to find me.  And I want my listeners to listen in to what you're about to say, too, because I want them to be able to find you.
Alyssa:  Yes, you can find us at our website.  We're on Instagram and Facebook, and this podcast is called Ask the Doulas.
Laine:  So good.  Thank you so much for having this conversation today!
Alyssa:  Thanks for joining me!
Laine:  My pleasure.  We'll do it again soon.