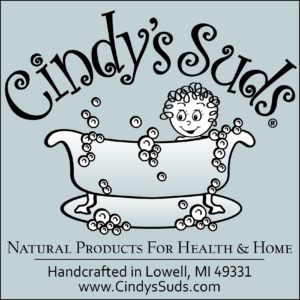 Podcast Episode #5: Why Choose Natural Products for Your Baby's Body?
In this episode of Ask the Doulas, Cindy and Alyssa talk about the benefits of choosing natural care products for your baby and your household.  You can listen to the complete podcast on iTunes.
Alyssa:            Hi, welcome to Ask the Doulas with Gold Coast Doulas.  Today we are talking to Cindy, creator and owner of Cindy's Suds.  Can you give me your elevator speech of what is Cindy's Suds?
Cindy:            Sure, sure.  So Cindy's Suds is a 100% natural company that provides natural bath and body products and products for home, primarily to parents of younger families who are seeking to make the change from more conventional-type products to more natural-based products once they start realizing how much better that is for their bodies and for their families and homes and everything.
Alyssa:            I love it.  I recently got some of your stuff, and I'm obsessed with the body butter.  I love it.
Cindy:             Oh, good.  Which scent did I send you?
Alyssa:            I don't even know.  Do you have an unscented?
Cindy:             I do, yeah.
Alyssa:            So tell me how you started Cindy's Suds and why.
Cindy:            Okay.  So I have three kids.  Our middle child was born with very, very dry skin and severe eczema, and his skin is so much thinner than my other kids, if that even makes sense.  My other two kids, when they were born, they had darker skin and they just loved them, "Oh, they look like they have a tan.  They look darker."  When he was born, I was like, "Whoa!"  Almost transparent, his skin was so thin.  So he had always had very sensitive skin, just really paper-thin, almost, and after he was probably maybe six to nine months, I really started noticing his skin was super, super dry.  He started developing eczema patches on his legs, on his butt cheeks, on his arms.  And he would scratch them at night or when he would take a nap, and he would wake up from his naps with bloody legs and bloody fingernails, and it was just heartbreaking as a mom to go in there.  He was trying to give me this little smile, and he's got blood on his sheets and blood on his legs.  So that broke my heart, and in my mind, because I'm a physician assistant by trade, in my mind I thought, oh, well, it's eczema.  You treat eczema with steroids.  But in my mom's heart, I'm like, are you kidding me?  There's no way.  This kid, his skin is way too thin.
Alyssa:            Yeah, what does cortisone cream do?
Cindy:            It thins out skin, yeah, so cortisone cream further thins out skin as it's decreasing inflammation on the skin, so I'm like, there's no way.  This kid already has super thin skin.  There's no way I'm going to do that to him.  So that kind of got my mind rolling with, well, what else is out there?  What else could I do?  And this was almost – well, this was 16 years ago because he'll be 16 this month.  So there were natural products out there, but there weren't to the degree that there are now, and so I started going to the library and getting out books because this was also almost to the point where the internet was kind of still in the early phases, and just because I'm more old-school, you just didn't think to go to the internet for things because it wasn't really a resource that normal moms tapped into yet.  So I went to the library and got a bunch of different books, and there were not a lot.  There were a handful of books on making natural products for your skin and for your body and things, so I just started combing through those and writing down.  This sounds good, and this sounds good.  Kind of compiling little mini-recipes that I would try, and I did try the recipes, and it worked, and I ended up with so much of it that I started giving it away for gifts and for friends who had babies, and then here we are, ten-plus years later.  Well, I didn't start the company until after I'd been doing it for several years.
Alyssa:            So you've been making this for 16 years?
Cindy:             I've been making it for 16 years, yeah.
Alyssa:            And the company?
Cindy:             And then we've had that for ten years.
Alyssa:            So for six year you made it but didn't sell it.  What finally made you – was it a friend going, "You really need to sell this stuff"?
Cindy:            It was that.  It was friends; it was family; it was the fact that I had so much of it at home from making it for my own family that I got to the point where I'm like, okay, either this is just – it's got to go to more people, gift-wise or birthday-wise or whatever, or I should start selling it.  And then I had a couple – the reason why I started, funny enough, was we had a garage sale, and I was getting rid of my baby stuff.  And so I had some of this, of my product, out for sale, and one of the ladies who ran a craft bizarre at a local church said, "Oh, you should be in our craft show," and I was like, oh!  Perfect idea!
Alyssa:            So is that how you started, craft shows?
Cindy:             That's how I started was craft shows, yeah.
Alyssa:            Okay.  And so 16 years later, what happened with your son's skin?  Did it progressively get better?  Did you find out what caused it?
Cindy:             You know, in hindsight, I'm sure so much of it was diet-related.
Alyssa:            That's what I was wondering.
Cindy:            Yeah.  And that's kind of where we're all going.  Looking at the skin as a whole, the skin is kind of a mirror or window into what's going on inside your body.  And so when you see skin issues on the outside that you're like, oh, something's not quite right, you've got to look inside.  What's not right on the inside?  And oftentimes more than not, it's a dietary condition, but back up 16 years ago, we didn't really think that way right off the bat.  It was more like, oh, there's a skin condition.  You treat the skin condition.  And I think still there are maybe some people that still think that way.  It's a skin condition; treat the skin.  But more often than not, if it's a skin condition, let's see what else is going on and let's figure out if it's dietary or if it's autoimmune, which can also have a little bit of a factor, too, with eczema, psoriasis, things like that.  But typically there is some kind of a dietary component.  So in hindsight, yes, he probably had sensitivities, even back then, to dairy products and probably to gluten, as well.  For sure dairy because now he's on a dairy free diet and much better.
Alyssa:            So you have figured out some dietary things now as a 16-year-old?
Cindy:             For sure, yeah.
Alyssa:            Yeah, because my daughter, who's four and a half, we found out – it's been about two years ago that we found out her eczema was due to several food allergies.  And it's funny because the older generation, like you said, 16, 20, 30 years ago, they're the ones who say, "Oh, this is just a bunch of bunk.  All these gluten free; that's just ridiculous.  My kids had eczema for years."  Well…
Cindy:             Hmm.  Exactly!
Alyssa:            "Yeah, you just put cortisone cream on it; you deal with it."  And we have noticed a significant difference.  She still does get eczema and we have to put stuff on it occasionally, but it's definitely internal.
Cindy:            Yes.  For sure, for sure.  And when I went to PA school, I graduated in 1996.  There was nothing in our schooling on anything holistic, anything alternative.  It was strictly western medicine because that's what was taught.  And so it's relatively a new concept still for those of us old-school people that went to school in the 80s or 90s.  It just wasn't something that was even – something that you thought of or studied or were aware of.  So a lot of this stuff is self-taught, and then just learning from there, and then seeking out providers now that are natural-minded or alternative-minded.  Not to say that I've turned my back on western medicine, but you need to embrace both, I feel like, because there's a huge component where both are useful.
Alyssa:            Right.  So what would you recommend?  Let's say we have a new client; they have a baby.  I think thin skin or not, all babies have just such super-sensitive skin, and you have some really good baby products.
Cindy:            We do, yeah.  So whether you use my product or somebody else's product or you make your own product, my overall encouragement for a new mom, especially, is seek out something that is as natural as possible.  The fewer ingredients the better, obviously.  Most things that you're going to buy over the counter, store-bought brands, they contain chemicals.  Even if they say, "Oh, it's the natural version of Johnson's & Johnson's," or natural version of whatever –
Alyssa:            Many of them still have alcohol.
Cindy:             Tons of them do.
Alyssa:            As one of the first ingredients!
Cindy:            Right.  It's like water and then alcohol.  So you've really, really got to turn into a label-reader.  That's huge.  I know a lot of moms are like, oh, I'm going to make it myself.  Which I'm like, excellent.  That is so great.  Do it.  Dabble in it.  Learn about it.  But a lot of moms just don't have the time to do that because parenting is so overwhelming at first, especially with your first.  There's just so much to learn, so much to do, that if you don't want to make it yourself, seek out a company or two that you trust, that you believe in, that has the same philosophy as you do with using minimalistic ingredients, and just be a label-reader.  You've just go to flip everything over that you're buying and see what's in it.  The fewer ingredients, the better.  And then everything just sparingly.  For a little baby, you don't need to douse a baby.  Sparingly.  Another thing that I always tell new moms: new moms nowadays, they want to give their baby a bath every night.  And babies don't need baths every night.  They just don't.
Alyssa:            It really dries out their skin.
Cindy:            Once a week.  Oh, man, it does.  So once a week; twice a week, at the most, but this nightly bathing routine just strips the body of natural oils.
Alyssa:            I try to get my clients, post-partum clients or sleep clients, away from a bath being part of the bedtime routine for that reason.  And plus with some babies it actually kind of wakes them up and it's a fun activity.
Cindy:             It stimulates them, yeah.
Alyssa:            So I tell them unless this is putting your baby to sleep, this does not need to happen at night.  So let's pick a day, Sunday afternoon, you know, let's give them a bath once a week.  And the nighttime routine is more like, let's read a book, sing a song.  Let's get that bath out of there because when my daughter had eczema or had it really bad, and I was bathing her sometimes every day, every other day, because you think you need to – it was making it worse.
Cindy:            Exactly, yeah.  And that's what I think is so great about the fact that there are doulas now, and I so wish that I had one with my kids.  But you don't know what you don't know, and if you're walking through parenthood for the first time, and your mom, most likely, was old school, and you give them a bath every night, and then you put on Johnson's & Johnson's baby lotion, and they smell like a baby.  You don't have somebody who's going to kind of walk with you and tell you what may or may not be beneficial, and so that's what is so great about having a doula walk beside you when you are pregnant or delivering or after delivery, as just someone to kind of give you feedback and what does this look like, raising this little tiny baby?  There's not an instruction manual.  So it's great when you can come and share with a new mom and dad what you've learned.
Alyssa:            Yeah, we can be a trusted resource.  And it's hard.  Every family is different, so, like you mentioned, like the moms or the grandma.  They know one way of raising children because that's how she raised hers, so she has these ideas in her head of how this works, but a doula has worked with so many different types of families and all walks of life, and we can walk into that space and say okay, I see where you are at right now.  This is what's going to work best for you, and then here's trusted – again, be a trusted resource for this is how this looks.
Cindy:             Right, exactly.
Alyssa:            Well, thank you for sharing today.
Cindy:            Absolutely.
Alyssa:            We are going to have you on again later in the month, and we look forward to talking to you.
Cindy:             Sounds good.  Looking forward to it, too.
Alyssa:            If people have questions about your products, do you have an email, phone number, or website?
Cindy:            Absolutely.  You can go to www.cindyssuds.com.  That's our website, and on our website, you can check out our products.  There's a little product description next to each product.  If you have specific questions, there's a Contact page on our website that you can put your question in and it sends it right to me.  You can also email me directly at cindy@cindyssuds.com.  Those are the two best ways to get ahold of me, and if you have specific questions, definitely shoot me an email.  I love the education part of talking to moms and dads, just helping them kind of navigate the waters of what it looks like to be a new parent or to add a second child or a third child, or what does it look like to go from conventional products to natural products.
Alyssa:            Because sometimes you have do that slowly.
Cindy:            You do, yeah.  You can't sometimes just jump in.  You've got to make a slower transition.
Alyssa:            Baby steps.
Cindy:            For sure.  So yeah, I welcome any questions.  Any way that I can help, shoot me an email.
Alyssa:            Excellent.  Thank you.  And if you have questions about this podcast or Gold Coast, you can email us at info@goldcoastdoulas.com.