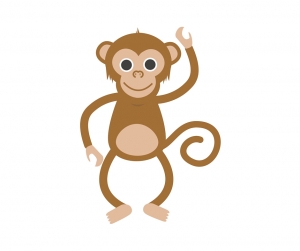 We are pleased to present a guest blog on feedings from Becky Antaya. Becky is a Registered Dietitian Nutritionist (RDN) who has worked with women, infants and children for over 12 years. Through her experience educating moms and families about nutrition and breastfeeding she discovered a need for mothers to be nurtured and supported during the postpartum period, unlike her own first pregnancy. After struggling with undiagnosed postpartum depression and limited family support, Becky now is an advocate for mental health postpartum services. Becky is a ProDoula trained Postpartum doula through Gold Coast Doulas.
In our house when my kids were young feeding time was always referred to "Time to feed the Monkeys". I am not totally sure why but we thought it was cute. We adore our little monkeys (even though they are big enough to feed themselves now). But looking back, feeding time at our "zoo" was anything but! There's a lot of preparation and thought that went into it. We couldn't just throw food at our little ones and say eat like they would at a zoo. There were burp cloths and bibs to round up, Boppy to be located, bottle to be prepared, comfy couch to clear off, etc, etc. and this was just for the BABY. So add in a busy sibling and what do you do? How do you keep a toddler/preschooler occupied while feeding your baby 8+ times a day? Here are a few tips I have discovered along the years to help tame your feeding time:
• Keep a basket or special box of toys that only come out at times when you are feeding your baby. I would recommend keeping it to more quiet items or toys that aren't too loud. They can still make noise but nothing that would scare you or your little one during the feeding.
• Read books during feeding time that your toddler/preschooler would enjoy. Keep them only for feeding time and not bedtime since that is a special time of its own. Maybe even throw in a nutrition or food book since you are feeding someone at that moment. Head to the local library for some great ideas. A couple of our favorites were the "If You Give a Mouse a Cookie" series by Felicia Bond or "Muncha, Muncha, Muncha" by Candace Fleming.
• If you allow television, limit that time to feedings. Put on one of their favorite movies or shows but be sure to stop it when the feedings are complete. If the TV is on all the time then this "show time" quiet time won't work. Same goes for using the iPad or tablet. If you always allow it, feeding time probably will not be sacred electronic time for your little one.
• Keep snacks handy. Inevitably your toddler always wants to eat or drink when you sit down to feed the baby. You could reserve a shelf in the fridge for the cup and have your child open up the fridge herself (what a big girl!). Have a water bottle nearby. Stock an easy-to-reach drawer full of pre-approved snacks. Suggestions are to choose your food (goldfish, dry cereal, grapes, or other healthier options) and pre-prepare snack size bags. Portion control is always good with little ones! Makes less mess.
• Get them involved. Is your preschooler willing to hold a bottle? Sit next to your child on the couch. Place a pillow on his/her lap, the baby on top. Show him or her how to feed the baby. This doesn't mean you can walk away. Stay close by. Chances are your older child will be done in just a few minutes but at least they received some attention and know that these tasks are important.
• Have them learn how to burp the baby. Of course you want them to be gentle. Show him or her how to gently pat baby's back and keep that burp cloth handy.
Finding new routines is hard with a newborn and older siblings but be patient. Eventually it will work itself out and your family zoo will learn to enjoy feeding time. And always remember to feed Mommy monkey too!