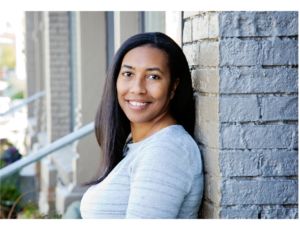 Acupuncture during Pregnancy and Postpartum: Podcast Episode #103
Dr. Carrie Dennie, ND speaks with Alyssa about the benefits of acupuncture during pregnancy and postpartum.  You can listen to this complete podcast episode on iTunes or SoundCloud.
Alyssa:  Welcome to the Ask the Doulas Podcast.  You are listening to Alyssa Veneklase.  I am the co-owner of Gold Coast Doulas, and today, I am so excited to be talking to Dr. Carrie Dennie, a naturopathic doctor at what was Grand Rapids Natural Health but is now the Michigan Center for Holistic Medicine.  Hello!
Dr. Dennie:  Hi, Alyssa!  Thank you for having me!
Alyssa:  I want to know, do you prefer Dr. Carrie or Dr. Dennie?
Dr. Carrie:  Dr. Carrie is fine.
Alyssa:  Okay.  Dr. Carrie.  So I have some questions for you.  You started out this path, and you became a naturopathic doctor, but then I was reading your bio.  You had one acupuncture treatment and just fell in love with it and then went on to acupuncture school and graduated the valedictorian of your class?
Dr. Carrie:  I did.
Alyssa:  That's amazing!
Dr. Carrie:  Thank you.
Alyssa:  That makes me wonder what happened in that treatment of acupuncture that just made you fall in love with it so much.
Dr. Carrie:  So it was interesting because my school has both programs, and we get free access as students to go and have free appointments.  And so I had never had it, you know.  Heard about it, and so I went and tried it.  And it was just — I think the — my favorite part about acupuncture is that it's so relaxing.  I don't care what you're coming for, if it was pain, if it's some sort of an organ dysfunction.  Nope — well, yes.  That is important, and you can get relief, but also, the relaxation.  It just — it's so amazing.  It's just so invigorating.  A lot of my patients will say that they feel gentle sensations when they're in the treatment.  And, again, everybody leaves feeling just relaxed and they end up sleeping better that night or even several days afterwards.  Like, there's just so many different ramifications that can occur as a result of one acupuncture treatment.  So that's why I loved it.
Alyssa:  So I've only had one, so I'm not very experienced in acupuncture, but what exactly — what is it doing?  You know, I know I have these little needles poked in.  I would imagine that it's doing something to my nerves, which then send signals to my brain to do something else?
Dr. Carrie:  That is correct.  So that's how we understand it from a conventional medical perspective, is that you have nerve stimulation.  The nerves release chemical messengers that can go to the brain, the spinal cord, the muscles, the organs, and then affect change from that point on.  Also in general, acupuncture can reduce inflammation.  It is a stimulator of endorphins, which are natural pain relievers, so obviously can help relieve pain.  It can improve blood flow and circulation.  And, again, like I said, it is just relaxing and has an overall mood-boosting affect.  One other thing that I will say is that I had a patient recently who was undergoing chemotherapy currently, and they were unable to get their treatment because their white blood cell count was too low.  So they came for an acupuncture treatment, and after one, the numbers went up enough that this person was able to get his treatment the next time.  Again, it's so amazing how these little needles can affect great change in the body.
Alyssa:  Yeah.  So this is kind of a strange question that just popped into my head right now, but what's the most amount of needles you've ever had in someone?  Or is it typically, like, only a dozen or so?
Dr. Carrie:  So I try to keep it around let's say 15 or 16, and again, it just all depends what they're coming for.  But the most, I think, that I've ever personally put into someone was around 30, and the reason why is that their concern involved their fingers and toes.  And so I had needles in between fingers and toes, which is about 18 needles in total, let's say.  And so the rest of the other body points add on top of that.  Like I said, normally, I try to keep it less than that, but again, it just all depends.  This person who I did all these needles in, they felt benefits afterwards.  I love it.
Alyssa:  And that's the point, right?
Dr. Carrie:  Exactly.
Alyssa:  So how do you integrate the two, then?  As a naturopathic doctor, how do you integrate that medicine with acupuncture?  Is that a silly question because you're like, well, they just go hand in hand?  The benefits of both?
Dr. Carrie:  It's not silly, but you're 100% correct.  They definitely go hand in hand, and it all depends on the patient.  So as a naturopathic doctor, for your listeners who may not know, I am trained as a primary healthcare professional, and I am trained to emphasize prevention, treatment, and optimization of health using natural therapies that are safe.  And most of the time, research has proven them to be effective.  And so primarily my goals are always to identify the root cause of disease, to reestablish the foundations for health, which basically is diet and lifestyle changes, and then again to support the body's natural ability to heal itself.  And that's the piece right there where acupuncture just fits in perfectly.  Again, tiny needles being applied in random places, if you don't understand the theory behind it, but it, again, it just has so many different effects on different systems.  And so like I said, I was in school for naturopathic medicine, but once I had that treatment, I had to add on my acupuncture degree because it just didn't make sense to leave without this awesome therapy.
Alyssa:  For you, it was just a no-brainer.  It was like that missing piece of the pie to what you were already doing?
Dr. Carrie:  Yes.  And it was interesting, what I was learning, because it just makes so much sense when you really start to dive into the theory and why they are — you know, why this person or these people decided to do these things.  It's just so interesting.  And it's natural.  Again, the Chinese developed this over 4,000 years ago.  They didn't have MRIs or X-rays but they were able to ascertain functions of the organs in an — you know, almost in the exact same way that we do in western medicine, but there's some tweaks.  But again, it was just amazing, so I had to do it.
Alyssa:  I love it.  So, you know, for our listeners, most of them are either pregnant or in this postpartum period.  If someone were to come to you pregnant or newly postpartum, would you have to treat them differently, or what would treatment look like for them?
Dr. Carrie:  So treatment for anyone is initially a two-hour long appointment, and we talk about everything, especially if they're coming to me for naturopathic medicine.  If they're coming to me for acupuncture, the initial appointment is an hour and a half, and again, we're still talking for at least an hour in both sessions.  But I'm not just focusing on their chief concern, whether it's, you know, having lactation issues, or I've just got this nausea all of a sudden.  You know, it's more than that.  I want to know everything because your health is influenced by so many different factors beyond just the physical.  You know, what is your mental emotional state?  Do you have any religious or spiritual beliefs?  Are you walking in those beliefs?  Are you using — are you living those principles?  All of that affects your health.  But then also, too, we talk about the things that you do and the things that you eat and what comes out of your body every day, and hopefully people are looking at the things that come out because, again, these are all…
Alyssa:  It's important!
Dr. Carrie:  Yes!  These are clues towards your health.  And so we talk about all of those things, and then, you know, the thing that I love about naturopathic medicine and that I incorporate with acupuncture is that I want to heal your whole body.  I want to care for your whole body so that you can have the best life that you have because your whole is as well as can be.  And so that's usually how it starts is a two-hour treatment.  If it's acupuncture-based, after we talk, then I start the acupuncture, and I have a whole process, especially for people who don't or who have never had acupuncture before, and I kind of walk them through it.  But then they just get to relax afterwards.  And if they like heat, there's heat therapy that can be provided.  Music, you know.   Essential oils.  It's just relaxing while you lay there.  And you can either focus on your breathing, or if you're a person that prays, you can pray while you're laying there or you can meditate.  Or you can just, again, invite in relaxation and good vibes and sent out the bad ones while you're resting and not thinking about all the things you have to do afterwards and the nuances of life that tax our systems.
Alyssa:  I think that maybe the relaxation part that people who have not had an acupuncture treatment before might not realize is that you put the needles in, and then — is this the case for you?  Do you leave the room and then they have time to relax?
Dr. Carrie:  Yes.
Alyssa:  And that's what I didn't know when I had mine is, oh, I just get to sit here in this beautiful room with the noise machine going.  But yeah, that sounds lovely.  Heat therapy and essential oils.  It's kind of like you get a massage and then you still get to lay there for a little while.
Dr. Carrie:  Yes.  You get to bask in stillness, you know, and hopefully, you can let go of all the things that are plaguing you for those moments while you're laying there and just let your body heal itself.  You know what I mean?  Let your body do what it can do for you when you're not under stress all the time.
Alyssa:  So are there certain areas of the body, then, that you probably couldn't work on for a pregnant person?  Like, you know, certain spots that might activate labor?
Dr. Carrie:  Correct.  So with pregnant women, we do not — we're trained very strictly on this.  There are several points we do not do during the pregnancy, and even with my patients that are trying to conceive, depending on what's going on, I may or may not do them, either.  But, yes, we're trained very much not to do those, unless the woman is in the third trimester.  Maybe she's trending towards her due date or she's past her due date.  She wants to try to avoid an induction process in the hospital.  Then we would do those points because we are trying to promote labor.
Alyssa:  Yeah.  That's a great point because early in pregnancy, you want to avoid them, but you've got this mom who's 38, 39, 41 weeks, and she is in there for the complete opposite reason.  Help me get this baby out!
Dr. Carrie:  Exactly.
Alyssa:  That makes sense.  And then what about postpartum?  You know, a newly — you know, there's all sorts of things with healing and then mental and emotional wellness.  Is there anything specific in the postpartum time that you would do for a parent?
Dr. Carrie:  Totally.  So moms, being a new mom or a new parent in general, is overwhelming.  Now there's a whole other human or humans that you have to care for, and it can definitely be an around-the-clock experience.  So the first thing that I would suggest for anyone looking to acupuncture to help is for that relaxation piece, to alleviate anxiety; to relieve stress.  For the parent to have, again, that moment, time where they don't have to worry about the baby or babies or their spouse.  They can focus on zenning out, relaxing.  So that's number one.  Specifically for new mothers, you know, postpartum depression can be a huge obstacle to battle during this time, and so acupuncture, again, would promote serotonin and dopamine production, and these are the happy hormones.  So, again, boosting mood.  It can improve sleep and boost energy, which are very much important things to have when you have new babies.  But beyond that, again, like you said, there's healing and rejuvenation that needs to happen after a birth, and acupuncture can definitely assist with that.  Another thing that people don't think about is milk production.  Acupuncture can definitely help boost lactation so that, you know, that's one less thing that mom has to worry about.
Alyssa:  So where in the body — I'm picturing nipples or needles in the boobs.  Where do you — is there another spot on the body for anyone who might say, oh, that sounds interesting, but I don't think I could handle a needle in my boob.  Where does it go?
Dr. Carrie:  Totally!  Again, all depends on how they present.  But you're 100% correct.  There are points in the chest area where I could put needles.  I would not, though, and that's the beautiful thing about acupuncture, like you said, is there are other places that you can put needles, and the answer is yes.  So some are — one is on the shoulder area or in the — yeah, on the shoulder area, and then there's other that are kind of, again, on the limbs that I could use to boost milk production.
Alyssa:  That's really cool.  We have two lactation consultants, and I wonder if they've ever recommended acupuncture to anyone who's struggling with milk production.  That's an interesting idea.
Dr. Carrie:  Something else, though, that I want to mention, too, as a naturopathic doctor, is I don't just think in one lens.  I have both on, hopefully, if my brain is working correctly.  But I would also be thinking about naturopathic therapy.  So as we know, labor is a trauma to the body, and depending on — even if it goes smoothly, or even if there are some complications, like you said, healing reformation needs to be done.  But you also need to know the state of your body, and a lot of times, bloodwork is necessary or recommended after labor.  And so think of things like just the general CBC in case the person is anemic; looking at the thyroid, because there is a connection between delivery or pregnancy and thyroid dysfunction afterwards.  And then simple things like vitamin D.  Depending on the time of year, you may have been inside for the majority of your pregnancy because it's cold.  What's your vitamin D status?  And so a lot of these, if there are dysfunctions in these areas, it can mimic depression.  And so those are things that you want to look at, also, or consider looking at, but then also other lifestyle things.  I know that having new babies is overwhelming, like I said, and so are you taking care of you?  Are you going outside if it is nice enough to go outside?  If you can go outside, you know, I always recommend people go out for 30 minutes.  Take the baby for a walk.  Hopefully, the rhythm of the walk will put the little one to sleep, and then you can tuck them in the bed when you get back and hopefully have more time.  And especially if you live around nature, if you can go into nature, it's been proven that being in nature is calming.  And so those are other things that I suggest.  And then the walk is exercise, and that we know is beneficial to the body, as well.  You know, it's just so many different aspects of being that I look at when people come to see me.  And so you likely will hear me say things that are naturopathic tips in my acupuncture appointments, and I definitely recommend acupuncture to the majority of my naturopathic patients, unless I know they don't like needles.
Alyssa:  Right.  Well, I think even someone who doesn't like needles, you could put, like, a sleepy blindfold on them or something, because you can't even feel them.  I was so surprised because I was watching, and I was, like, I didn't even feel that.  That's wild.
Dr. Carrie:  It's so true.  A lot of the times, I do hear from people that they don't necessarily feel certain points.  But I won't lie and say that there aren't times where you definitely feel the needle go in.  But it's instantaneous, you know what I mean?  It's not like a lingering pain.  You're not going to lay there in pain for 30 minutes.  No.  You're going to be relaxed.  But you're right, and they're very thin.  The needles are almost as thin as a strand of hair.  It's totally different from what people think when they're normally thinking about getting their blood drawn.  That's a huge needle.
Alyssa:  I agree.  Totally different.  Totally different.  You know, that makes me wonder, how young — can you take children?  Can you do acupuncture on children or even babies?
Dr. Carrie:  Yes.  Technically — I wouldn't say babies, but in China, they do acupuncture as young as one year old.  But with children that young, the needles are not in for an extended period of time.  It's more of a stimulation of the point and remove the needle and move on to the next point sort of a thing.  With children, I think the youngest person that I've done acupuncture on was 14.  And so for kids, especially us in America where this is not our culture — it's the norm to have acupuncture as a therapy that they can readily go to.  I would say if you're children can't be still for, I don't know, 10 minutes, let's say, then they probably shouldn't come for acupuncture.  Again, you have to have the mental capacity to be still and be able to relax and not move.
Alyssa:  Right.  And that's why it doesn't work on babies because they're flailing their arms all around, and if anything, they're going to hurt themselves more than heal.
Dr. Carrie:  Exactly.  Right.
Alyssa:  This has been enlightening!  Is there anything that you wanted to cover that we didn't cover?
Dr. Carrie:  So I just want to mention, for women who are pregnant, definitely, acupuncture is safe and an awesome way to relieve any of the common symptoms that they have at any stage or that they may have at any stage of pregnancy.  During the first trimester, if you are having nausea, vomiting, or you're just extremely fatigued or you may be constipated or have diarrhea, this is an important way to kind of support those systems and just, again, rejuvenate the body.  During the second trimester, a lot of times aches and pains occur or start occurring.  That is another great reason for acupuncture.  Again, if sleep is starting to become uncomfortable, acupuncture is awesome for insomnia.  And then even like hemorrhoids or complications from GI dysfunction can be addressed through acupuncture.  And then like we were talking, in the third trimester, if they are close to or beyond their due date, labor induction or labor promotion, I should say.  And then one thing that's really interesting that women may not be aware of is that if your baby is in a breech position and the doctor is talking about a C-section, you can come to an acupuncturist and we can do a sort of heat therapy, and it's really interesting.  It's over your toe, your pinky toe, and it's amazing.  Again, the woman — it's ideal if she comes at 36 weeks if she finds this out, but we do this heat therapy, and I send them home with the heat therapy so they can do it at home, but a lot of times, the baby will move into the correct position.
Alyssa:  That's incredible.  Is there a statistic on how often that actually works?
Dr. Carrie:  I don't know any off the top of my head, but I know that it's definitely been studied.
Alyssa:  Yeah.  I've heard of it before.
Dr. Carrie:  Yeah.  The therapy is called moxibustion.
Alyssa:  Say that again?
Dr. Carrie:  The therapy is called moxibustion.
Alyssa:  Moxibustion.  Huh.
Dr. Carrie:  It's basically burning a dry cone of Chinese mug wort over the toe, and it sends this, like, smooth, warming sensation deep into the body.  We use it for other reasons as well, but that's — again, you just get it over the toe, and baby flips over the majority of the time, in my experience.
Alyssa: That little baby pinky toe sends some signal all the way into the womb, and tickles that baby right around?
Dr. Carrie:  That's right.
Alyssa:  Wow.  Well, thank you so much.  If somebody wants to find you specifically, I mean, we'll link to your website and stuff, but why don't you tell us how people can find you?
Dr. Carrie:  So you can definitely find me on Facebook.  I'm Dr. Carrie ND on Facebook, and you can also find me on Instagram.  But all of this is available on our website.
Alyssa:  Perfect.  Well, thank you so much for all of that information.  I'm sure everyone will love this, and I have learned so much more about acupuncture!
Dr. Carrie:  Well, thank you again for having me.  I really appreciate it.