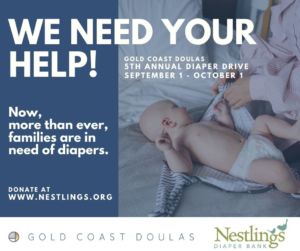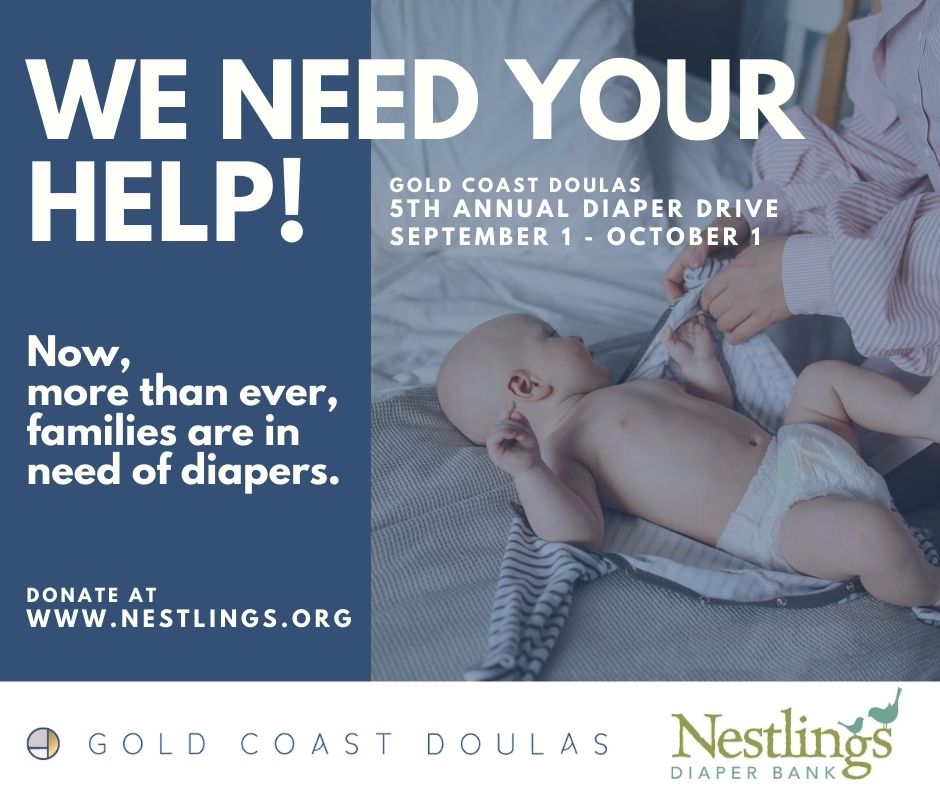 Gold Coast Doulas 5th Annual Diaper Drive
Gold Coast Doulas LLC is holding our 5th annual Diaper Drive from September 1st to October 1st, 2020. Giving back is an important foundation of our business as a Certified B Corporation; clean diapers make a huge impact on the health of new families.
Diaper need is something that goes almost completely unrecognized, but 1 in 3 babies suffer in dirty diapers and no government programs provide them. Food, shelter, and utilities are the only items covered by assistance. Diapers are expensive and many families make tough choices between paying rent and utilities, or buying diapers. Research shows that 48% of parents delay changing diapers and 32% report re-using diapers to make supplies last longer.
The Gold Coast Doulas diaper drive coincides with National Diaper Need Awareness Week, September 21 – September 27. Diaper Need Awareness Week is an initiative of the National Diaper Bank Network (NDBN), created to make a difference in the lives of the nearly 5.2 million babies in the United States aged three or younger who live in poor or low-income families.
Our drive specifically benefits Nestlings Diaper Bank of West Michigan and Great Start Parent Coalition of Kent County. Holland-based Nestlings has distributed over 600,000 diapers and helped over 18,000 families since 2011. Nestlings Diaper Bank also works with 31 partner agencies to distribute the diapers to the families in need.
We need your help! Our goal is to collect 30,000 diapers to support families in need in Kent, Ottawa, and Allegan counties to celebrate our 5th anniversary. This would fill up a semi truck with diapers. We collect opened and unopened boxes and packages of new disposable diapers, used cloth diapers and cloth supplies, new cloth diapers, and new boxes or packages of wipes.
Diaper donations will be accepted from September 1 to October 1 at the following partnered drop-off locations:
* Please wear masks and use social distancing when dropping off diapers!*
In Zeeland:
Howard Miller Library 14 S. Church Street
R. Lucas Scott. Co.  114 E Main Ave.
In Holland:
FIT4MOM Holland: Donations Accepted at classes
Brann's 12234 James Street
Harbor Health and Massage 444 Washington Ave.
EcoBuns Baby + Co. 12330 James Street
Great Legs Winery Brewery Distillery 332 East Lakewood Boulevard
Holland Pediatric Associates 926 Washington Ave Building C
The Insurance Group 593 Heritage Court
In Grand Rapids:
Rise Wellness Chiropractic PLC 1430 Robinson Rd SE, Ste 201
We appreciate your support! You can donate directly to fill their Amazon Wish List.
Contact us at info@goldcoastdoulas.com with questions.