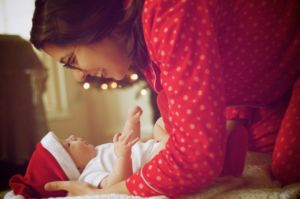 The Most Wonderful Time of The Year...or is it?
On of our birth doulas, Angel, reflects on this holiday season as a mother with a newborn. I think alot of us can relate…
So you recently popped out a baby. Maybe your first, maybe your last. Either way, you are probably feeling a bit like you're treading water. I know. I feel it too. You're coming to terms with a newborn, a new you, and now a sweet, simmering pot of holiday expectation that, left unchecked, will surely come to a boil. 
Was your baby on a good schedule? HAHAHA! Not anymore! Events, family visits, traveling, and so many parties! 
Does your baby soothe himself to sleep? Not at grandma's he wont! 
That super cute Christmas outfit you bought for the absolute perfect holiday pictures? HAHAHA! He just pooped out the sides of it!
The coughing and the sneezing and the passing of the baby…. Is it rude to say no, you can't hold my baby? Am I a momzilla now? (Pro-tip: Remind Aunt so and so that if she doesn't give your crying baby back, your nipples will explode all over her holiday party! Nothing freaks people out like a visible let down!) 
Let's throw a snow storm in there for good measure… have fun driving across the state with all that postpartum anxiety.
Solidarity sisters. I feel you. I see you. My pot is beginning to simmer as well. 
I know how hard it is just to get to where you are going, let alone all the big personalities and opinions once you get there. It's hard to savor this time of year when even this time of life is so demanding. This might not be our year to savor. Just keep putting one foot in front of the other; be patient with yourself, and others. SAY NO! (I feel like this is worth mentioning again.) Be kind, but please say no. And don't be too proud to ASK FOR HELP. Sometimes asking for help also looks like saying what you feel out loud. Talk to someone, see your doctor. (I already made my appointment). Breathe.
See? That feels better doesn't it? And if you really want to have some in person head nods and YASS KWEENs, find a local postpartum support group.
We can do this! We ARE doing this!!!