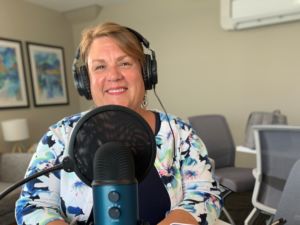 Stress Mastery: Podcast Episode #85
Deb Timmerman, RN, DAIS, CSME speaks with us today about her new certification in Stress Mastery.  What does that mean, you ask?  It's all about learning positive ways to handle stress and actually master it, instead of letting stress take over.  Listen to see how this can help parents throughout pregnancy and postpartum.  You can listen to this complete podcast episode on Itunes or SoundCloud.
Alyssa:  Hello, welcome to Ask the Doulas Podcast.  I am Alyssa Veneklase, and I'm so excited to be talking to Deb Timmerman today.  I haven't seen you in so long!
Deb: Hi, Alyssa, it's great to see you, too!
Alyssa:  For a little while, we had you teaching a prenatal stress class here, and then life    and business just got kind of in the way, and we haven't scheduled any more, but I loved that class.  You have so much good information about stress and how stress affects the body, but now you have some new certifications where you're actually talking about how our bodies need stress to a certain extent; is that correct?
Deb:  I am.  So I think maybe the first place to start is, why the prenatal stress education?  I'm a member of the Michigan ACEs Initiative Education team, and that's not a formal name, but a couple years ago, Michigan got some grant money to bring the ACEs study — ACEs stands for Adverse Childhood Experiences study — and the consultants who were involved in that study, they actually set up a agreement for them in Michigan to use the ACEs science to see how we could change the way we're delivering healthcare in Michigan.  So the ACEs study is all about things that happen in childhood, like dysfunctional household, abuse, neglect, and you basically get a score for the ten questions that are on this little survey, and what they found was that the higher your score, so if these things happened to you from 0 to 18, the more likely you are to have emotional, physical, mental health issues as you age, and it even cuts time off your lifespan.  As they began to do further studies after that, they found out that some how we deal with stress actually affects our genes and is passed on when you have a baby.  That's a long answer to that, but I think it's really important because it's where kids get their start, and if you don't know about that, you can unknowingly pass on certain things to your kids.
Alyssa:  You are in this high-stress environment while pregnant.  It's affecting your baby?
Deb:  Yes, it is.
Alyssa:  And I remember the movie.  It was called Resilience?
Deb:  It's called Resilience, the science of stress, biology of hope. Or maybe that's backwards; biology of stress; science of hope.  Anyway, you can find it, Resilience, and there's a trailer out.  Yes, really interesting movie.
Alyssa:  It is.  Tell me about your new certifications and this new idea about stress.
Deb:  Okay.  I was an ACEs kid.  Out of ten, my score was six, and when I learned about that particular piece of data in my life, it clarified everything for me.
Alyssa:  And six is high?
Deb:  Six is high, yes.  Anything over four, it really increases your chances and your risk level.  So I had a lot of health issues when I was in my 40s.  I fell down a flight of stairs on my summer vacation, had a bad injury from that.  But also was extremely heavy.  I weighed 321 pounds, and I was on diabetes medication and high blood pressure pills, and I had a really high-stress job.  And my family life was nuts.  So I happened to go to a conference, a nursing conference, and heard about this, and it was like I had discovered something really critical.  It was like the missing puzzle piece for me to figure out why I reacted or had the habits that I had, and as I started to travel down that road, I became really interested in sharing that information with people because I think it's key.  We spend a lot of money on the back side of health, taking care of chronic illness.  My thought was, wow.  This made a huge difference for me.  What if I could share that information with folks?
Alyssa:  And it's probably worth noting that you are an RN?
Deb:  I am an RN.
Alyssa:  And that's what you were doing in your previous life?
Deb:  I did, and I didn't know about that particular study at that time, and I wasn't — I mean, they cover the stress response in nursing school, but not to the point with all the brain science and all of that.  So in the last 20 years, they've made huge discoveries, and it's super interesting.
Alyssa:  When did you leave the nurse world?
Deb:  Four years ago, I left the nurse world and started my own practice, but I had trained as a healing touch practitioner.  In 2009, I started that, and I don't remember when I finished, but I was never able to use that in a private practice, but I did in my buildings.  I was a nurse manager in both of my previous jobs, and I found that when you teach people those self-care skills, it really changes your culture, and it made us care about each other.  When we care about each other, we do better with our patients and the folks that we're charged with caring for.
Alyssa:  So you taught the other nurses or the patients?
Deb:  Eventually, we did teach nurses healing touch at the hospice, which was my last job, but there are all kinds of other really cool interventions that you can do to build capacity for stress management, and those are the things that we worked on.  You mentioned the stress certification.  I've been a diplomate of the American Institute of Stress for a couple years, and you get that designation based on the amount of training that you've had regarding stress and how you've used that to help other people, and at the end of last year, this little thing came in my email box, that they were doing a beta for this stress mastery educator certification, and I got invited to submit an application.  I was one of 40 people throughout the world that was chosen for beta one, and we worked with Heidi Hannah.  She's a Ph.D. researcher and stress mastery educator and teaches at Harvard, and she has all these other amazing professors and Ph.Ds. who share this information, so I was super interested and hoped I would get selected just because I thought it would be really neat to learn from these people.  And it has been beyond my wildest expectations.
Alyssa:  What is stress mastery?
Deb:  We talk about stress management like we have to manage stress, but we actually need some stress in our life to help us grow, learn, and adapt.  And when we master something, it means that we learn to dance with it in a positive way, and we use it to fuel positive change versus working on controlling what's going on in our life.  So I actually now help people build their capacity versus teaching them how to manage it.
Alyssa:  Build my capacity to deal with stress instead of trying to reduce it or eliminate it?
Deb:  Yeah.  The way we do that is through evidence-based practices like the healing touch that I did.  That was one thing I had under my belt, but since then, I've become a Tai Chi Easy Practice leader.  That's all about Qigong breathing and moving meditation.  I've also gotten a certification in mindfulness and meditation.  Breathing and some of those other key interventions that we can do on a daily basis throughout our day are really what helps stop that stress reaction and helps us build that capacity.
Alyssa:  What if somebody is like you before with a really stressful job and a stressful home life?  All these stressors: you don't want people to try to eliminate some of that?  You just want them to learn effective ways to cope?
Deb:  Well, I don't think that you really — coping means that we have to continue to deal with it, and yes, you do have to decide what you're going to work on first, and there are certain areas of life that you're going to have to make some decisions about and maybe pare down, or maybe that job is really horrible for your health and it's time for you to move on.  So we do validated stress assessments to figure out what areas of your life and out of sync and where your stress issues come from so that you can make good decisions.  Oftentimes, when you're in the midst of it, you just know that the world is falling down around you, and you don't have any clarity about where that stress is coming from.
Alyssa:  So how do you differ from a therapist or a counselor?  Or do you also kind of work that in?
Deb:  I would say I work in tandem with a therapist or a counselor.  I'm not going to talk to you about all the things that happened to you in your childhood.  I don't get into all of that.  We use the ACEs screen as a way to help you recognize how your stress patterns developed and then look at the different areas that are out of balance in your life, and then I'm going to teach you how to do a daily practice to help yourself not be so triggered.  Triggers and tamers, I would look at; what are you stress triggers; how can we work with that; what kind of language are you using with yourself.  That negative stuff breeds more negativity.  How can we switch that around to help you have a more positive outlook?  I do a lot with breathwork.  It is one of the easiest ways to get that stress reaction to moderate and to get you into that rest and digest state so that you can think clearly.  The way the brain is organized, the brain's number one job, priority one, is safety.  It's always scanning, looking at the environment, trying to figure out how to keep you safe.  The stress reaction is what keeps you safe.  It gives you that juice, that bolt, of adrenaline to get to safety.  But when you're stuck in that feedback loop and that's your whole life, you really can't think and use the part of your brain for higher executive functioning because that feedback loop kind of gets in this little track.  Do you know those people in your life, where they're kind of stuck in that?  Things are always falling down around them.  Some of the exercises for building capacity are to be able to get that to shut off so that your brain can actually rewire and build new circuitry for that.  That's capacity-building.
Alyssa:  Do you think everyone in general could benefit from some sort of practice?
Deb:  Absolutely.
Alyssa:  It's not just the high anxiety, panic mode — I mean, I think we all feel it at some point, right?  So even if you don't have it on a daily basis, you're noticing it — like you said, what are your triggers?  So how do you — we talked a little bit about prenatal.  What about a postpartum mom who has sleep deprivation working against her, as well, and then maybe new triggers that she didn't even know existed before, who says I don't have time to do Tai Chi with you.  Are you crazy?  I can't do Tai Chi and meditate.  How would you help a mom who came to you and said, what can you do for me?
Deb:  I would tell a mom like that, what did you do to take care of yourself before, and what are you doing now?  Typically, when a new baby comes in or there's a child, they take first priority, and oftentimes, moms are trying to work and take care of this, and the demands are huge.  So first we would walk through, what are you doing now?  What did you love?  What do you have time to do?  How can we structure something so that you give yourself some attention every day?  We've all heard that adage, you can't give from an empty cup.  That's super important.  Your child, from zero to three, learns from serve and return, and you need to have the energy to show up for your child every day so that that child learns to feel safe with you, cared for, and loved.  If you don't have that ability for your child, then you're going to be suffering with problems further on down because your child develops anxiety, sleep issues, all those things.
Alyssa:  And what do you mean, develops from serve and return?
Deb:  Babies mimic what we do to them, the cooing, the eye movement, hugs, kisses.  That's serve and return.  When you're munching on your baby and nuzzling, that actually builds their neural circuitry and helps them feel safe.  It's a normal part of development.  We used to think that babies got all their neurons and they were never going to get another one after they were born, and what you had, if you didn't use, you would lose.  There's a little bit of truth to that.  What gets paid attention to develops, and what doesn't eventually kind of gets pruned away.  There's a process actually called pruning in the brain.  But we know that neural circuitry actually develops now from our experiences and the things that happen in our world around us, so you want to create that loving, safe environment for your baby, and if you come home stressed out and you have nothing else left to give, are you doing the right thing for that child?
Alyssa:  So zero to three is really, really important?
Deb:  Very important!
Alyssa:  Into my brain is popping this video I saw where a mom gives a sad face or a mad face and the baby mimics that.  There's an actual study, and I'm forgetting the name of it.
Deb:  I don't know that particular study, but the Center for Child Development at Harvard does a lot with that serve and return, and they actually have a campaign going right now.  I'll post that link on my website, and you can look at that if you're interested.  Lots of wonderful videos about how the brain develops and why that's so important.  Back to the mom: trying to figure out what she can do within her day to recharge her batteries is super important.  Actually, I just met with a mom this morning.  I think her little guy is four, and then she's got one that's maybe two.  And she said that they just went through a period of stress where their family dog was sick, and they had some financial issues, and their older one started acting out.  My question to her was, and what was going on in your household?  She said it was chaos, and then she looked at me and goes, oh, crap, he saw that, didn't he?  So yes, that is exactly what happens.  And their job is to build a relationship with you, so if you can't be present, they're going to act out because they're trying to get their needs met.
Alyssa:  They notice everything.  My daughter is six, and nothing gets by her.
Deb:  I think I saw a picture with her meditating someplace when you were off, and I thought, wow, Alyssa, that's awesome.  What a great skill to teach your child!
Alyssa:  Well, it's amazing even in schools now; I think they know the importance of this.  They're teaching yoga.  They're teaching mindfulness.  They're teaching meditation.  And even if it's only once a week — I never had that as a kid.
Deb:  Well, and when it becomes part of what we do as our daily practice, it becomes easy.  It becomes habit.  So then it's not like you have to spend all this time on self-care.  You have it integrated into your day.  That's really my job; to teach you how to discover all these different practices that might speak to you because what you love isn't necessarily going to be what someone else loves.  Figuring that out, and then how do you work that into your day, and how do you sustain that for long term?
Alyssa:  That's the hard part, especially as a mother.  My days are never the same, so I would love to be able to say, from 9:00 to 10:00 AM every day, I'm going to do this.  Doesn't happen.  I mean, on top of that, I'm a business owner, too, right, so the day just gets more hairy.  But having someone say, okay, well, let's figure out something that can work for you.  If you can't do it at 9:00 today, let's do it at 8:00.
Deb:  The newest research that's out there is that you should start your day with that practice before you even hop out of bed, and my favorite go-to is a guided meditation.  It's the thing that always made me feel really good, and it's the thing that I teach because I love it.  There's lots of them on YouTube, and the cool thing about YouTube is you can pick the amount of time that you have.  Maybe today you have five minutes, and tomorrow you have ten, but building that and scheduling that into your week.  And then because there's so many different ones, you could pick the rate of speech, the kind of voice.  Like, I have one that I love at night.  It's an Aussie guy who does a sleep thing that's maybe 26 minutes.  I'm never awake by the end of that.  I usually wake up the next day and it's still frozen on my iPad.  It's wonderful.
Alyssa:  For someone who has never experienced a guided meditation, you could choose some with or without talking?  Or do they all have talking?
Deb:  A guided meditation typically is something that helps cue you by voice to pay attention to your body in the here and now, and there's all different kinds of scripts out there, but for someone who's just beginning, I think a breathing thing, a couple minutes of breathing, is really good, and then after you get comfortable with that, you can explore.  We know that the brain needs 10 to 20 minutes of that prime-timing in the morning, but truly, any time you can do 30 seconds or more with focused attention on that effort, it's still beneficial to your body.
Alyssa:  My Apple watch actually does that for me.  It will tell me when to breathe.
Deb:  Yeah, it has a breathing app.  Perfect.
Alyssa:  So that alone, if I do it — most of the time, I'm somewhere that I can't do it and I just dismiss it.
Deb:  If I was working with you to coach, I would talk about what you already have in place, and we would work on building that.  How could you work that into your day, and really, even if you're in a meeting, you could excuse yourself, go to the restroom or whatever, if you were that committed, or reset your watch or program it so that it works around your meetings.  Those are all things that you can integrate into your day.
Alyssa:  I love it.
Deb:  It's easy.
Alyssa:  I mean, it is.  We just find excuses of why we can't or shouldn't.  I just feel like we're always full of excuses.
Deb:  Well, I think that's what I've appreciated being part of this stress mastery educator process.  Heidi is wonderful at being able to package things in a way that are easy and doable.  Three steps to getting your stress mastered: assess, appreciate, adjust.  Figure out where you're out; appreciate what you can learn; and then those tools to adjust.  And then the BFF model, so yeah, being your own best friend, but it really stands for breathe, feel, and focus.  It's really that simple.  We make it difficult because we think it's this thing that has to take a lot of time.  What takes time is changing the habit, but once it gets integrated, then it's easy.
Alyssa:  And then coming full circle here, working that in to your daily practice and having your children see that as part of your practice, right?
Deb:    Yes.
Alyssa:  Because then they are like, oh, this is just something we do.
Deb:  Yes.  Last week, I actually taught teachers how to look at their own stress, a group of 20, to look at what was happening, and they got to choose the track that they wanted to be in, so at the start of the two days that we were together, why are you here?  My mother in law is driving me crazy; I need to figure out how to get hold of my stressor.  At the end of my day, I have nothing left for my family.  Starting with the ACEs piece that we talked about and recognizing how they developed the way they look at stress.  What were the patterns?  What are their triggers?  It was really beneficial for them.  Many of them have ACE training otherwise in their classrooms, but they don't know how to apply it to their own lives.  I mentioned that puzzle piece for me.  That was it.  Okay, now that I understand how I developed it, now I can shift because I can appreciate how I got where I am and make those adjustments.  It makes it a whole lot easier than someone saying, oh, I have to do these ten things today because I have to manage my stress.  At the end of the two days, it was so fun to go around in the circle and to hear them say what they learned about their own issue and what their one takeaway was going to be and how they were going to integrate it.  You can throw out everything you've done and say that you have to start with ten things, but the reality is, we don't have time for that, and it needs to be graduated.  You start with one thing, two things, three things, and pretty soon, you start to feel the shift, and then you're motivated to do the rest of the work.  So yes, they'll go back and model that, hopefully, for their students.
Alyssa:  For their classroom, yeah.
Deb:  I taught some interventions, some Tai Chi interventions, moving meditation, breathwork, short meditations.  You don't have to come up with all the stuff on your own.  There are tons of resources out there.  My job is to just share those resources with you and have you pick what you want.
Alyssa:  Tell us how people find you.  I know you have a website.
Deb: Yes, and you can follow me on Facebook.  Deb Timmerman is my name.  I'm on LinkedIn.  Same thing, Deb Timmerman, RN.  And then on my website.
Alyssa:  And people can find you there?
Deb:  They can find me there.
Alyssa:  Ask questions?
Deb:  Ask questions!
Alyssa:  And set up a consult?
Deb:  Yep, sure can!
Alyssa:  Is it just kind of like booking an appointment?  And what do appointments look like — 30 minutes, 60 minutes, 20 minutes?
Deb:  I typically offer an assessment or at least a meet and greet first to find out if we're even compatible in working together.  That's usually a 30- or 45-minute, either online; we can do a Zoom call, or we can meet in person if you're local over coffee, and finding out what your goals are.  What is it you hope to learn?  Why did you call me?  What's your reason?  What's your motivation?  And then I would recommend, based on that appointment, what I thought was a good strategy for us and how long that might take and what that would cost, and then we would work together.
Alyssa:  Excellent.  Are you covered by insurance or not?
Deb:  We are not at this point covered by insurance, but I think that's going to change because there is a big shift with all this ACEs movement, and they're all getting on board.  Yeah, but in terms of investment, I think — my job isn't to stick around forever.  It's to give you those tools so that you can go on your own, and if you need a little check-up now and again, that's easy to do.  We offer all kinds of online resources for people, and a podcast.  There are medications on there that you can do.
Alyssa:  What's your podcast called?
Deb:  It's called Mindful Moments.
Alyssa:  How fitting!
Deb:  Those podcasts, there's always a little nugget of information.  Usually, they're short, 7 to 8 minutes, but there's a couple that are 20, like if you need a longer relaxation and have time.
Alyssa:  I will have to look it up myself!  Thanks for sharing!