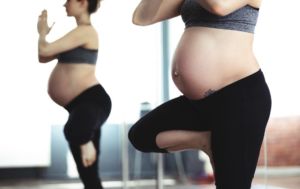 Pregnancy Shouldn't Be Painful
Gold Coast is thrilled to present a guest post by Sally Talbot, PT, Senior PT and co-owner of Health Motion Physical Therapy.
Pregnancy is a wonderful and amazing time.  However, creating a new life does create some major changes in the body. Pain in different areas during pregnancy is a common complaint. Physio–pedia.com states that back pain occurs in 60-70% of pregnancies. While pain can be common, it is NOT normal and does not need to be tolerated. Pain can be stressful, and we know that increased stress for a mother can cause increased stress for baby.
Pain with pregnancy is not normal, and something can and should be done about it. Physical therapists are very helpful at safely decreasing pain and increasing function in pregnant women, helping them have a more enjoyable experience.   
Here are some common pain complaints often associated with pregnancy and how PT can help: 
Low back or sacroiliac pain:  With increased weight gain (all out front), the center of gravity shifts and pulls the back into more of an arched position. Try standing this way – it is not comfortable. Also the abdominals are weakened due to being stretched with the increasing size of baby. This causes more work for the lower back. It is also common for the pelvis to become mal-aligned during pregnancy due to increased ligament laxity. All these factors put more stress on low back muscles and joints and can cause pain. Physical therapy can restore alignment of the back and pelvis and loosen tight muscles and strengthen others to make sure you can feel your best. 
Mid back pain: Increasing weight of the breasts requires more work from the mid back to sit up straight and to lift and carry things. This overwork can result in pain and, if left untreated, it can continue well into the postpartum period, especially if mom is breastfeeding. Holding that newborn is harder than it seems. Physical therapy can assure that the joints of the upper back are moving well, loosen tight muscles, and stretch others to help improve posture and decrease pain. 
Groin and pubic symphysis pain: Later in pregnancy, as the baby drops lower in the pelvis, there is more pressure on the pelvic joints (SI joint and pubic symphysis) and nerves that serve the groin and legs. This can cause pain, making it hard to walk or turn in bed. Weakness or muscle imbalance can contribute to this and make it worse. This is the one diagnosis that most people think that they have to live with – not necessarily true…..  Maintaining good pelvic alignment is key with this – PT can do that as well as recommend positions and strategies when that new bundle of joy gets on your nerves literally.   
Headaches: Headaches can be more common with pregnancy due to changes in posture, increased weight of breasts, hormonal changes, or general fatigue. Tight muscles and weak muscles will make these headaches worse. Even if headaches are hormonal, treatment to the muscles and joints of the neck and upper back can lessen the severity and intensity of the headaches and the need for medication.  
Carpal Tunnel Syndrome: Numbness in the palm of the hand focusing on the thumb and first 2-3 fingers can be a common complaint later in pregnancy, especially at night. Increased fluid retention can cause compression of the nerve that passes through the carpal tunnel in the wrist. This can be greatly improved with physical therapy.  
How PT can help. A physical therapist will be able to thoroughly evaluate the issue you are having and locate the source of the problem and all the contributing factors. They will then create a specialized program to correct the cause of the issue and help you adjust to the changes that your body is going through. This program will include: manual therapy to loosen tight muscles or align the spine and pelvis better, modalities (such as electrical stimulation – yes it is safe!) to speed healing and recovery and provide pain relief, positioning or bracing solutions if needed, and exercises that will help the body keep up with the increasing demands of the pregnancy. Physical therapy decreases the need for medication and missed days from work/life. Help is available. 
If you are having pain and wonder how/if physical therapy could help you, call and a come in for a free consultation. Just mention that you saw this blog post. You can also schedule through the website at healthmotionpt.com.   
Health Motion Physical Therapy
South East: 3826 44th St, SE Kentwood, MI 49512  616-554-0918
North East: 3001 Fuller St NE Grand Rapids, MI 49505  616-451-4284
Remember PT is safe for mom and baby.  You don't have to hurt.