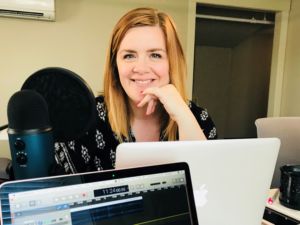 Podcast Episode #30: Amber the Coziness Consultant
How do you make a space cozy when you have children and babies taking over your house?  Amber, The Coziness Consultant, gives us some easy tips for maintaining your sanity during this season of life.  You can listen to this podcast on iTunes and SoundCloud.
Alyssa:  Hello.  Welcome to another episode of Ask the Doulas.  I am Alyssa Veneklase, co-owner at Gold Coast, and I'm also a postpartum doula.  Today we are talking to Amber Brandt.  She is The Coziness Consultant.  Hey Amber.
Amber:  Hello.
Alyssa:  We've actually gotten some of your advice for our new office space, and I wanted to kind of talk to you about what you do for specifically new moms.  We're busy; maybe we're working.  Even if you're not working, you have a newborn; maybe you also have a toddler at home.  How do you create an environment at home that feels cozy?
Amber:  So the coziness consultant side hustle started as this idea that people need to be comfortable in their own homes, and if we're not happy and cozy and our spaces aren't working for us, then our sanity is in question.  And so for me, I just really feel like for starters, people's homes need to be a reflection of who they are.  When you come home, you should be able to sit down and let your hair down, and people who come to visit should feel welcome and know who you are by being in your space.  So a couple things that I really try to focus on when I'm talking with a client or a new mom, especially, is the idea of capacity, for one; that we can only be and do so much, and there's this idea that our lives are like a pendulum of work and rest.  When we're younger and we're single and we have very few responsibilities, we go to work and then we just rest.  We go to happy hour; we hang out; you know, we do our thing.  And our pendulum is really wide, that swing.  But when we're a mom, especially a new mom, our pendulums are really short, and instead it's like your work is picking up this toy and then your rest is a sip of coffee, and then you're right back to work again.  So finding a way to make your spaces work for you in the season of life that you're in, I think, is really important.  So capacity, yeah; the fact that you can only be and do so much.  You need to make your spaces work for you, quirks and all.  The other thing that I talk about is intentionality: looking at a space to determine how does it need to be used.  If you have a dining room that also you homeschool in, or you don't have a good play area because your child's bedroom is so small and toys are everywhere – figuring out how to wrangle that and make it work.  And then at the end of the day, how do you want to feel in this space?  If you have these issues that every time you come home and you look around, you're like, well, there's that pile of papers again, or oh, these toys aren't wrangled, then it's going to affect how you feel about the rest of your life.  And so if you can get your home comfortable and cozy and make it intentional and work, then it's going to take a lot of pressure off of those other areas of your life.
Alyssa:  Yeah, I feel like I've had to let go of some of that as a mom.  I mean, it's funny you talk about that pendulum because before baby, my husband and I – people would come over and be like, does anyone live here?  This place is so neat and orderly; there's nothing even on the counter.  And now, in my mind, it's like a toy explosion.  People still come over and they're like oh, it looks so great still, and I'm like, oh, my God.  In my mind, it's a mess, but I'm okay with it.  But I've figured out what works for me, like what messes – they're still a little bit contained, like I keep the toy mess back in her room, and I just deal with that maybe once a week.  Have her help me, right?  But the rest is a space that I feel comfortable in, like you said, and I'm comfortable with a certain amount of untidiness.
Amber:  Right, and realizing that it's a season, that your kids' diapers are for a season, and that all the toys that make music and sing and drive you insane are for a season, you know, and it's understanding the time of life that you're in and finding that balance of making it work and accepting that this is where I am right now.  I have a client who had me come over, and their house is really midcentury-modern inspired, and she had this long channel in her living room, this narrow space, that used to – when the original builders built it, it was a planter, like a built-in planter.  And they had pulled everything out of it, and it was just this hollow, long, rectangular space.  And she said, it's so awkward; I don't know what to do with it.  But every Tuesday night, we have these families that come over for dinner, and the kids always just sit on it.  And I was like, well, then make it a bench.  Eventually you can make it a planter again if you want.  You can tear it out if you want.  But for now, if that's how it's used, put a cushion on it and make it storage, and make it work for this season of your life that you're in.  You don't have to keep it that way forever.
Alyssa:  Right.  It's good to do things that you're able to change.  Nothing's permanent.
Amber:  Well, and I think, too, something as simple as the way that you look at throw pillows.  Knowing the season of your life you're in, you're like, okay, well, I can buy a lovely cream pillow that's going to get trashed.  Or you can either choose a different color, or you can buy the cream pillow, but don't spend a lot of money on it and it's disposable.  Or buy an expensive one that has a zipper, and you can wash it.  Find a way that makes sense.  If you really are going to toss your throw pillow when it gets too trashed, that's okay.  That's the season of life that you're in, and eventually you can invest more in it.  But figure out what makes sense for you so that they're less of a headache, so that you're not constantly yelling at kids to get their feet off of them, you know.  If it's something that they can live with and you can live with, and it's just the season you're in, then that's what works, and do that thing.
Alyssa:  We moved into our house and bought a brand-new sofa and had our baby, and I think a week later she spit up all over it.  And I was just, oh, no, it's a brand-new sofa!  And my husband's like, this is probably the first time of many that this is going to happen.  You're just going to have to deal with it.  And it was.  I mean, I think she spit up breastmilk on it a couple times.  I've eaten a chocolate chip cookie on it and gotten chocolate on it.  It happens, so you have to just realize that it is what it is.  It's kids and even me.  I'm messy, too.
Amber:  Well, and you can be mad about it, or you can just shrug it off and say this is where we are.  The same thing happened with us.  We bought a brand-new mattress for our bed, and it was the kind that comes in a box like a Casper.  And it came, and we unrolled it, and it looked so lovely.  And we sat down on it, and Winslow, our daughter, who seemed fine one second earlier, threw up.  Not spit up; just threw up on the new mattress.  There wasn't even a sheet on it.  And we both just looked at each other like, okay, well, this is our life now.  And it's like – it's just what it is, you know?  And we're all doing that thing, right?  We all have those stories, and we're all figuring it out.  But whatever you can do to stack the deck in your favor makes a big difference.  Just a couple things that – when I was thinking about coming here today, I thought that I want to leave these women with something really practical.  So I actually came up with just a couple of things that I do that someone shared with me years ago that have made a big difference.  And one of them is buying all-white towels.  A super simple thing, but there's that long period of time with interior decorating where everyone bought everything that was matchy-matchy, and how many loads of laundry is that?  So I remember someone told me once, buy really expensive, really nice hotel-quality towels that are all white.  Spend some money on it, and then just simplify your life.  And I was like, that's such good advice.
Alyssa:  Then you can just throw them all in.
Amber:  One load.  One load, done.  And they're elegant and lovely, and who doesn't like stepping out of a shower and feeling like it's sort of luxurious, you know?  The other thing is keeping a box in your basement or in the garage for garage sale items that have actual stickers.  Just put the stickers right in there, so anytime you walk out to the garage or you have something you need to get rid of, you go out and put a – if you're into the garage sale thing.  If you're into donating, by all means, donate it.  But if your goal is to sell it eventually, put a sticker on it with the price immediately.
Alyssa:  And then it's done.  It's ready.
Amber:  Yeah.  That's one that I'm still not great about, and every time, I'm like, man, why don't I do this?  It's so good.  So two really practical things to take away from the conversation that are just about simplifying your life and making your head space clearer.
Alyssa:  Thinking ahead – sometimes, especially as a new mom, you can't wrap your brain around it.  You're living in the moment.  How do I get through this hour and this day?  Not thinking ahead about what will save me time.
Amber:  Yeah.  But if you can find things that are tiny, you know, like the actual effort to walk the thing to the garage and put a sticker on it, is so much more manageable and bite-sized than thinking about pricing an entire pile; collecting those things and then pricing them all.  So two really helpful things that simplify your life.
Alyssa:  I appreciate it.
Amber:  You're welcome.
Alyssa:  So how do our moms find you?
Amber:  So my website is www.thecozinessconsultant.com.  Same on Facebook; www.facebook/thecozinessconsultant.  I'm also on Instagram, same handle, and I share little tips and some personal insights on Instagram, and that also feeds into my website.  So those are the best places to find me.
Alyssa:  Well, thanks for being here today.
Amber:  Yeah, thank you.
Alyssa:  We'll have you on again because you are actually a past client, as well.
Amber:  Yes.
Alyssa:  So we'll have you on to talk about some of that another time.  But thanks for your advice today!
Amber:  Thank you!