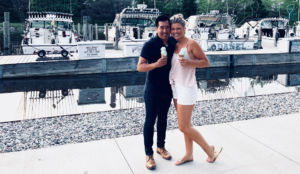 Meet our newest doula, Jenny!
We are so excited to announce Jenny Chandler as the newest birth doula on the Gold Coast Team!
1) What did you do before you became a doula?

Hotel front desk receptionist
Church intern
Maternity center volunteer in Haiti
2) What inspired you to become a doula?
I was in Haiti at a maternity center and loved being with women during active labor. I loved being the one they went to for support and encouragement. Soon after, I had a lightbulb moment when I realized that's part of what a doula does. I started my training and came home a couple months later as a labor doula!
3) Tell us about your family.

My husband and I just got married in May, 2018 after being together for 2 years. We love to longboard downtown Grand Haven, volunteer at church youth group, we're both singers, photographers, and play guitar. We like to kayak, spend time with our families, and chill at home with our cat, Gus, watching Parks and Rec.
4) What is your favorite vacation spot and why?
I like cruises! They're all inclusive and you basically don't have to think much once you're on the ship, which is a vacation for me! There's food and entertainment all the time so you can be busy or chill in the sun. We've stopped in Puerto Rico and it was so cute and fun. We went spelunking and walked downtown old San Juan and it was such a cute town with all the pastel buildings, I loved it!
5) Name your favorite bands/musicians and tell us what you love about them.

Mutemath..We had our first dance to one of their songs because it was meaningful to us during our relationship!
Vertical Worship Band & Bethany Dillon: Great meaningful songs that remind me of my purpose and focus!
Pandora's Pitch Perfect station…Since I like to sing I just belt out those songs and they're just fun and make me happy 🙂
6) What is the best advice you have given to new families?


Encapsulate your placenta and you could have a lot less to deal with as far as depression, emotions, and lack of energy.
7) What do you consider your doula superpower to be?

Couples teamwork and education. He knows her and I know birth so together we can be a great team. A client said they had better teamwork because they had a doula.

8) What is your favorite food?
Mexican…Then always chocolate or a bubble tea!



9) What is your favorite place in West Michigan's Gold Coast?
Downtown Grand Haven, the boardwalk and pier, especially in the summer it's so busy and festive!
10) What are you reading now? 
Gentle Birth Choices by Barbara Harper
11) Who is your role model?
My mom. She stands firm on what she believes, has pushed through really hard life situations, and puts God and her family first.