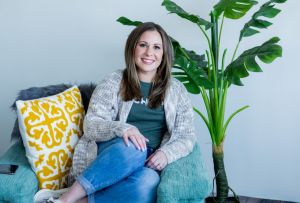 My family is growing, and my home needs to as well!
Need a bigger house but don't know where to start?
The idea of finding a house that checks all the boxes while you're growing your family sounds daunting. I promise we can make it happen. Have you been to Target multiple times to buy new storage containers, totes, and any other organization hacks, but still feel like your closets are bursting at the seams? I know exactly what you're going through, and what you need is more space. You need to actually be able to put things on the counter in the kitchen and a dedicated place for snowing boots to dry without getting your socks wet. Trust me, you're not messy, you're not unorganized, you don't have too much stuff.
You feel like your life is chaos right now, but let's get to the root of what's actually going on. Your house is too small. Your family has grown, and it only makes sense for your house to as well. Perhaps you've been thinking about this for a while, but just don't know where to start. That's OK! They say asking for help is a sign of strength. I can help. Check out the link below for a guide for using my More Space Method. Read below for more information on how you can make this happen.
How to buy if you need to sell.
I'm sure that you've heard it's a sellers' market and it's crazy hard to find a house right now. There are a couple of ways to buy before you sell…
1. Write a contingent offer telling the seller that you have to sell your house before you can buy their house. In a steady market, this would work out just fine but not in this sellers' market. They're already getting multiple offers and there are buyers who don't have to sell their house before they buy this one. Most likely, they will go with the sure thing.
2. Take out a home equity line of credit (HELOC) on your current house to be able to finance your next house. This works if your debt to income ratio allows you to afford two mortgages. Or if the HELOC is enough to finance your next house.
3. Find a lender who offers a bridge loan. This bridges that time between the sale of your current house and the purchase of your new house. There are fees associated with this loan (usually about $1000). However, if you can get into a new home at a lower interest rate you're going to be money ahead. You'll be better off even though you're spending the extra $1000 to be able to qualify for the bridge loan.
4. Ask someone near and dear to you who trusts you for a loan. This may allow you to be able to pay for the new home in cash. Then pay them back with the proceeds from the sale of your house.
5. Perhaps you can afford to buy your new house without selling first. If you'd like to go that route, you need to make a few (usually 3) mortgage payments. Then you can refinance using the proceeds from your home sale to increase your equity. We can definitely get creative and different scenarios will work for different people. I want to express that it is possible to upsize in this market. Imagine your family in a new home, in that perfect school district, with space to grow. Your closets aren't bursting at the seams. The kids actually have their own space. The toys are in a dedicated toy room. You have a sprawling backyard and a neighborhood with other growing families. That dream can become a reality.
What's happening in the market now.
Even though prices are rising, it's still a good time to buy. The reason for that is interest rates. To put that into perspective, if you bought a house at $350,000 with an interest rate of 2.5% your monthly payment is $1,106. If you were to buy that same house for $300,000 at an interest rate of 4.5%, your monthly payment would be $1,216. Interest rates make a huge difference, and currently, they're at record lows.
Low inventory means that there aren't enough houses on the market. There are many buyers out there, but not enough homes for them to buy. Right now inventory is at about two weeks. A steady market is six months of inventory. That's referring to how long it would take for all the houses on the market to be scooped up. And that's why it is a sellers' market. There are many offers on a home, and homes are going over the list price. We'll have to get a bit aggressive when we go to write an offer for your new home. On the flip side, with the right preparation and marketing plan, you can expect to get the same activity on your current house.
Everybody's scenario is a little bit different. Everybody's personality is a bit different too. If you want to be more hands-on, we can make that happen. If you totally want somebody else to take control and you want to be told where to sign, we could do that too. When you're choosing a realtor make sure you find somebody that you respect and that respects you. You're going to spend a lot of time together. You're going to share your thoughts, dreams, and finances with them. Make sure you trust them to get you where you need to go.
About me.
Hello! I'm Sarah.
I help growing families upsize in West Michigan. I strive for a smooth, low stress, and straight forward transaction. The best praise I've received from a client is, "Sarah was incredibly detailed with helping us buy and sell our homes. She was the first realtor I have ever worked with that really made us feel like she was doing everything she could to get us the most money for our home. She made the process of buying our new house a breeze as well. I can't say enough about how pleased we were using Sarah and I would highly recommend her to anyone!"
Helping people like that makes me so proud and drives everything I do! If you're looking for a Realtor who handles the heavy work for you, I'd love to work with you, too!
Sarah Medina | Green Square Properties
Email: hello@sarahmedina.realtor
Phone: (269) 929-1373