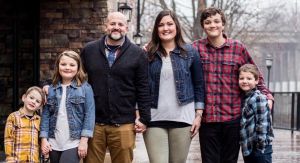 Meet our new postpartum doula, Kristin M.
What did you do before you became a doula?
Before I became a doula I worked in child care. I was a babysitter/ day care provider/ nanny for 20 years. I also am currently a preschool teacher. I have loved kids my whole life, and absolutely love working with them.
What inspired you to become a doula?
After I became a mom of 4 beautiful children, I was looking for a job that I would love, but would also allow me to spend quality time with my family. A friend told me about being a doula and not only was I excited but I quickly became passionate about postpartum and infant care. I love being able to encourage and empower growing families.
Tell us about your family.
My husband and I have been very happily married for 15 years. We have 4 wonderful kids currently aged 14, 12, 10 and 7. We have lived in Denver, Grand Rapids, and London UK. We love to travel, camp, play games and just be together.
What is your favorite vacation spot and why?
My favorite vacation spot is our cabin in the Upper Peninsula. It is one of the few places I feel like I can truly relax. I love how life slows down, and peace and rest become the main focus.
Name your top five bands/musicians and tell us what you love about them.
Frank Sinatra, Lauren Daigle, Florence and the Machine, Hillsong United, and Patsy Cline.
I really love and appreciate all music, but I have a few go-to's. Frank Sinatra was just the best of his kind. He knew how to perform, and he loved it. Lauren Daigle has a beautiful and soulful voice, and I appreciate how she doesn't always sing about the perfect. She is honest about her brokenness. Florence and the Machine has such articulate lyrics, and wonderful songs. Hillsong is an amazing group of Praise and Worship singers, I am very encouraged by their music. And Patsy Cline was another great!
What is the best advice you have given to new families?
We need to have grace for ourselves often. We aren't going to get everything right the first time. It's the mistakes and trials that help us become stronger and better parents.
What do you consider your doula superpower to be?
My super power is getting babies to sleep.
What is your favorite food?
Chocolate.
What is your favorite place on West Michigan's Gold Coast?
Tunnel Park in Holland Michigan.
What are you reading now?
I am reading Becoming Us: 8 steps to grow a family that thrives.
Who are your role models?
My sister in law – a mother of 4 including a set of twins, my Grandma who raised not only her own 4 children but also her grandchildren, and my friend Amber who has such a gentle servant's heart and caring spirit.