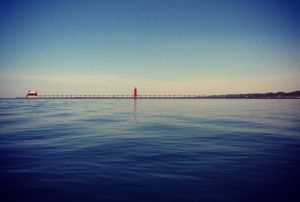 What to do on Michigan's Gold Coast - Grand Haven
Our guest blogger today is one of our postpartum doulas, Lynnette Nichols. She has lived in Grand Haven for 15 years and wanted to share some hidden gems with you. Next time you take a family trip to West Michigan's Gold Coast, stop in Grand Haven and check out these fun, family-friendly activities.
While raising my children in Grand Haven, some of our best memories were watching the clouds as you cross the draw bridge and also listening to my kids giggle as their feet squeak walking on the beach sand. I truly enjoyed having my daughters grow up in this amazing town because Grand Haven has so much to offer. Now that my girls are older and even though we still live in Grand Haven, they really appreciate it here as much as I do and they love to be tourists in their own town. We all know the vacationing dollars can add up quick, so I thought I could suggest some activities that are budget-friendly and also show you some of Grand Haven that you may not have known was here.
HISTORIC TROLLEY RIDES
The public transportation system runs a trolley all summer long, with designated stops between the state park, downtown, and east town. The trolley drivers are very knowledgeable about the history of Grand Haven and they conduct a tour with interesting information and a lot of fun facts. Fares for the trolley are $1.50 and under depending on age.
For more information visit: http://harbortransit.org/trolley/
TRI-CITIES HISTORICAL MUSEUM
Located on Washington Avenue downtown, this museum displays a lot of Michigan History that is great for all ages. Entry is free but if you would like to make a donation of any dollar amount, there is a donation box inside the museum.
For more information on the exhibits visit: https://www.tri-citiesmuseum.org/
DEPOT MUSEUM OF TRANSPORTATION
Located at the West End of Washington Avenue along the Grand River, visitors can explore this restored railroad depot and learn about the history of transportation, including rail and maritime. Entry is free.
PRONTO PUPS
Pronto Pups is an iconic corn dog stand located along the Grand River. These delicious hot dogs on a stick are dipped in a thin batter and are a must have when visiting Grand Haven. The line can be a bit long but it is definitely worth the wait. Ask for mustard and/or ketchup and they will paint it on for you making these a great on-the-go lunch. We typically order two per person and sit in the grassy lawn watching the boats and ships go through the channel.
SPLASH PAD
The Splash Pad in Grand Haven was a great addition to Chinook Pier right at the Marina downtown. Children of all ages enjoy running through the fountain to cool off and I secretly love sitting there to get misted by the cool water. This is the perfect place for a snack break because some of the shops located at Chinook Pier offer ice cream and you can even get pizza by the slice.
MINI GOLF
Chinook Pier has a great mini golf course that we have been going to for years. It is only $3 for adults and $2 for children. This is definitely an option for those not so great beach days.
EAST GRAND RIVER PARK
This is a fun little park located at the East End of Washington Avenue in our area known as East Town. The park is on a bayou of the Grand River and has a boat launch to put in your boat or kayaks and canoes. It also includes a dog park, playground, grills, and restrooms.
EAST END ICE CREAM
This is our favorite place to get ice cream. I may be a little partial because not only does my daughter work there, but it is also a block away from our house. The prices are very reasonable and our dogs love going there for their Harley Sundae. East End Ice Cream is located on the corner of Washington Avenue and Beechtree Street.
BOLT PARK MARKET
If you are in Grand Haven on a Tuesday, make sure to visit this farmer's market. They set up every Tuesday evening all summer long and offer the best local fruit and vegetables, honey and jams, and handmade crafts. East Town is becoming very popular to the locals and is known for their unique style and up-and-coming music festival, Walk the Beat. The market is located in East Town on Beechtree Street.
MUSICAL FOUNTAIN
Last but not least, you have to see and hear the Musical Fountain. This famous fountain is very unique as it synchronizes its light and music display. It performs every night at dusk during the summer and usually has a theme. Our favorites have been Disney Songs and Classic Movie Night.
For a summer schedule visit: http://ghfountain.com/
It turns out, the most memorable activities we enjoyed as a family were actually very inexpensive. I hope you enjoy our beautiful town as much as we do!