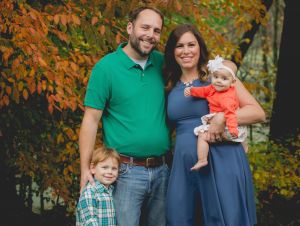 Meet our new birth doula, Angel!
1) What did you do before you became a doula?
I have been a stay at home mom for the past (almost) four years. Before that I worked as a medical assistant in a few different areas, end of life care and a neurosurgeons office.
2) What inspired you to become a doula?
I was so inspired to become a doula by the amazing support I had with my two births. I was so greatly moved and spent the last four years saying I wish I could do that. And one day it hit me -Why not? Timing and opportunity aligned and I feel so fortunate to see my wildest dream coming to fruition.
3) Tell us about your family?
My husband Erik and I have been married almost five years. We moved to Rockford from Fort Myers, Florida two years ago. We have really been loving West Michigan, especially the weather! Our son Benjamin will be four in September and our daughter Hazel just turned one in February.
4) What is your favorite vacation spot and why? 
What's a vacation? Ha! Kidding of course! We usually spend our vacation time in Fort Myers. We have lots of family there to visit and it's always good to escape during the long stretch of winter!
5) Name your top five bands/musicians and tell us what you love about them.
I am a lover of so many different kinds of music from old to new. I love Bob Dylan and Neil Young and the Backstreet Boys (please don't judge my inner fan girl) and John Mayer! And don't even get me started on Bob Seger.
6) What is the best advice you have given to new families?
My favorite thing to tell a new mom, which was also told to me when I had my first is you're the mom and you know best. Listen to your instincts, trust yourself and your judgement. You know your baby better than anyone else.
7) What do you consider your doula superpower to be?
My doula superpower would be my passion. I want every woman to have the birth she desires. My wish is to support women in every angle of birth. Physically, mentally, emotionally… I want to give well-rounded support and will dedicate myself entirely in order to achieve this with my clients.
8) What is your favorite food?
I love food with big flavors – Mexican, Indian, and Thai, but I'm going to be really honest here and tell you, I love a turkey sandwich. If you and I were at a restaurant together 9 times out of 10, I'm getting the turkey sandwich!
9) What is your favorite place in West Michigan's Gold Coast?
How amazing is Lake Michigan? Salt free, shark free, jelly fish free! I grew up going to the beaches in South Haven, and I still have a soft spot in my heart for the pier there and sitting on the black river having a  bite to eat. Since we've moved back to Michigan we ventured out to Kirk Park in West Olive and I was blown away. Such a beautiful park and the water was so clear! Looking forward to more visits along the coast!
10) What are you reading now?
Right now I am reading Pushed: The Painful Truth About Childbirth And Modern Maternity Care by Jennifer Block. It's pretty eye opening. Just questioning whether we are over-using medical technology to manage births at the expense of mothers and new babies.
11) Who are your role models?
My role models are the two women who were vital in helping me achieve the births I wanted so desperately for my own kiddos. My doula Jaci Seiben (out of Fort Myers) was amazing. Her energy was so calming and reassuring. She was exactly the person I'd prayed to have at my side during the birth of my son. For the birth of my daughter, my midwife Shannon Pawson blew me away. She was the definition of care. She was so knowledgeable, and empowered me to make informed decisions. We spoke about everything pertaining to birth before I was even in labor, so all she had to do was come, be a quiet presence and support me and my plan for birth. Both of these women have touched my heart and they are truly who I wish to model myself after.