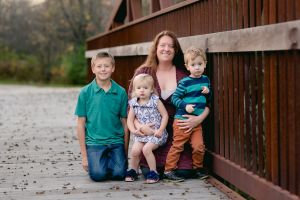 Meet our new doula, Jamie!
1) What did you do before you became a doula?
I worked as a Medical Assistant for 10 years; most of that time was spent at the Pediatric Endocrinology clinic at Helen DeVos Children's Hospital. My full time job for the past two years has been as a nursing student at Grand Valley State University. I will graduate with my Bachelors of Science in Nursing in December. Yay!
2) What inspired you to become a doula?
I have a passion for all things related to pregnancy, the birthing process, and postpartum care for mothers and their families. I feel that mothers are often overlooked after having a baby, especially if it's not their first child. I wanted to become a doula so that I could help mothers in their homes with whatever they need. I want to change the culture of postpartum care, including the stigma that can surround postpartum mental health.
3) Tell us about your family.
I have 3 children:
Noah (13), Jacob (4), and Peyton (2).  We live in Byron Center.
4) What is your favorite vacation spot and why?
I enjoy any place that gets me out in nature and around water, which makes me feel alive and lifts my spirit up.
5) Name your top five bands/musicians and tell us what you love about them.
This is a tough one because I like almost all genres of music.  Right now I mostly listen to country, and one of my favorite artists is Dierks Bentley.  Several years ago I attended his concert in Vegas, and he brought me up on stage, sang with me, then as a joke left the stage and I was out there by myself.  It will always be one my favorite memories!
6) What is the best advice you have given to new families?
That sometimes you need to listen to your own heart and not what everyone else tells you. There is no one-fits-all manual for parenting and sometimes you just need to go with the flow! You will find your own routine and what works best for your family. Never be afraid to ask for help- it takes a village!
7) What do you consider your doula superpower to be?
Since working in healthcare I have learned that I am an extremely empathetic person that can connect easily with others in their most vulnerable times.
8) What is your favorite food?
Mexican- chips & salsa, tacos, fajitas, taco salads…yum!
9) What is your favorite place in West Michigan's Gold Coast? 
Holland State Park or the trails by Felt Mansion- I love being by Lake Michigan!
10) What are you reading now? 
I am in the process of re-reading 2 books from La Leche League International- The Womanly Art of Breastfeeding and The Breastfeeding Answer Book.  I hope to be a La Leche League Leader soon.
11) Who are your role models?
My parents, grandparents, and other family members, who have shown me what it means to live in God's word and always have faith in Him.  I admire Mother Teresa for her unwillingness to waiver in her convictions, despite so many naysayers. It can be difficult to find people willing to take a stand for their beliefs in the face of adversity, and I respect those who do.