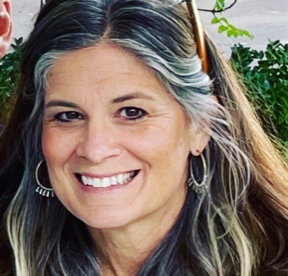 Meet our new Postpartum and Infant Care Doula, Krista
Meet our Newest Postpartum Doula, Krista. She resides in Grand Rapids.  We love to share interesting facts about our team.
What did you do before you became a doula/consultant?
I was an educator as well as a nanny
What inspired you to become a doula/consultant?
I struggled with postpartum depression with both of my children.  It was a scary time, and I could have used more support.  Once my husband died, in July 2022, I did some soul-searching as to what I wanted to do moving forward.  Becoming a postpartum doula allows me to work with the tiniest of people, but also families.  I want to give support to families during this exciting and sometimes challenging time.
Tell us about your family.
I was married to my college sweetheart for almost 29 years. I have a son who is 28 years old and a daughter who is 26.
What is your favorite vacation spot and why? 
I love anywhere in nature. I enjoy hiking, being on the water, and gardening. If a vacation can incorporate any of these things, I'm on board!
Name your top five bands/musicians and tell us what you love about them.
Bob Dylan- The first concert I ever attended, and I went with my dad.
Stevie Nicks- My all-time favorite singer. I love her raspy voice.
Fleetwood Mac- Incorporates my favorite singer.
Dixie Chicks- Strong women band
Indigo Girls- Another strong older woman group
What is the best advice you have given to new families?
Take it one day at a time. On some days, a moment at a time.
What do you consider your doula/consultant superpower to be?
Full of empathy and a pretty good baby rocker.
What is your favorite food?
Fresh veggies
What is your favorite place on West Michigan's Gold Coast?
Charlevoix
What are you reading now?
Fiction-The House of Eve and The Motherly Guide to Becoming Mama
Who are your role models?
My mom and Mother Teresa