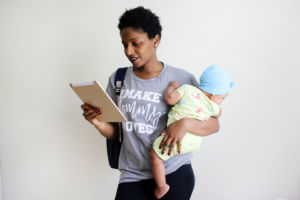 HOW TO TAKE A SOCIAL MEDIA BREAK ON MATERNITY LEAVE
We are so very excited to share this guest blog with you because not only is the author an amazing mother and entrepreneur, but she is also a past client. With over 10 years experience in social media strategy and digital marketing, Chris found her purpose after having her daughter. Pre-baby, she was a self-proclaimed "hustle-a-holic" with no intention of slowing down. Because of her failure to plan a proper maternity leave, she entered motherhood with all the grace of a knock-kneed baby giraffe. Biz Babysitters is the outcome of this struggle. Chris made it her mission to prevent as many women as possible from going through what she went through by supporting them postpartum.
The average person spends 142 minutes on social media every day. Seem low? Remember, this count includes your Grandpa who doesn't know what a DVR is. For the average business owner, it's not surprising that this number is higher by, um, a lot. And here's the catch – for most of us, the amount of time we spend actually in our social apps pales in comparison to the amount of time we spend thinking about what to post. With such a huge importance and energy suck in our day-to-day lives pre-baby, it's imperative for pregnant (or planning to be pregnant) business owners to consider what the heck they're going to do with their social media in their postpartum before it arrives.
Just like every other step of the entrepreneurial journey, there's no one perfect one-size-fits-all solution. Rather, it's a customized series of decisions, based completely on your own preferences. You've got the power and you know yourself and your business best.
Today, I'm going to walk you through three options for logging off of social media in your postpartum time, as well as the potential pros & cons, and some recommended resources for taking action.
By now, we're all becoming more and more aware of the negative effects of social media on our mental health. We're also becoming more aware of perinatal mood disorders. With the two of these worlds overlapping postpartum, there's a strong case for taking your business' social media off your plate in your maternity leave.
Ready to get started? Here are your three options for logging off…

1. HIT PAUSE.
This is the most straightforward – it's literally just stopping.
It's a beautiful option for those whose businesses don't rely on social media for lead generation or marketing. If you decide to go this route, I recommend giving your audience a heads up ahead of time and letting them when to expect you back. No one likes to be ghosted. A potential downside here is that an inactive account cannot build business and can start to gather dust (i.e. lower visibility) from your absence.
*Recommended resource: You

2. OUTSOURCE IT.
Hand off the reigns.
Outsourcing works well for those who want to keep a thriving social presence and continue garnering leads, but are unsure what their own capabilities will be in their immediate postpartum. When outsourcing, I recommend investing in an expert with a vetted system for onboarding to minimize the stress and time investment on your end.

3. AUTOMATE IT.
Schedule it and step away.
This involves some legwork ahead of time, but keeps an active presence while freeing up some mental hard drive. For scheduling, I love the Later app, which can handle both Instagram and Facebook. It gets bonus points because you can use it from both Desktop and your iPhone. Automation is great for business owners who want to DIY it. The potential downside of automation is overwhelm and an increased temptation to "check in" (which is a slippery, slippery slope).
*Recommended resource: Later
The cool thing is that there is no wrong answer – just an array of selections that can all be customized to fit your exact, unique desires. The important part is to take your business's social media, which can be an ever present monkey on your back, off your plate so you can focus on what's important – your own healing during this important transitional time.
No matter which route you choose, you're not alone. If you want support in your decision making, I'd love to chat. Reach out to me via DM on Instagram as @bizbabysitters.
In the comments, tell me… which of these three options calls to you most?