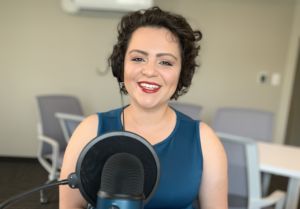 Gaby's Birth Stories: Podcast Episode #77
Gaby is a local business owner in Grand Rapids and talks to Alyssa about the birth stories of both of her children. You can listen to this complete podcast episode on iTunes or SoundCloud.
Alyssa: Hi, welcome to Ask the Doulas podcast. I am Alyssa and I'm excited to be here with Gaby today. How are you?
Gaby: Hi, I'm great, Alyssa.
Alyssa: So we met a couple of months ago?
Gaby: Yes.
Alyssa: Was it the Mom Brain meet up?
Gaby: We did, yeah.
Alyssa: Yeah, and we got to talking about your lovely little bridal shop. I shouldn't call it little, we'll talk about that in another episode. But you have three children?
Gaby: I have two.
Alyssa: Two children.
Gaby: And a fur baby!
Alyssa: But you didn't birth that one!
Gaby: Yeah, no.
Alyssa: I just wanted to talk about your stories. So our moms who are pregnant love hearing positive birth stories and it's not to say that even though your birth story – the outcome may be positive, but there weren't crazy things that happened along the way.
Gaby: Yeah.
Alyssa: I think there are so many people telling you, oh, just wait until… You know? And they tell you negative things about pregnancy, about labor and delivery, about postpartum, and then every year as your kid grows, oh, you just wait until… So I like to give our listeners some positive stories. So tell me about your kids. How old are they now?
Gaby: I have two kids. My oldest, Aurora. She's going to be six this year. And my youngest, Andreas, he's going to be three this year. They're a good amount apart, but still kind of fighting the ages right there.
Alyssa: Yeah. What was it like having a three-year-old and a newborn?
Gaby: She had just surpassed the age of needing me 100% of the time. She was starting to be independent and she was very involved and loving, but there was still that balance of like, she's still not 100% independent. But I like that space. I wouldn't personally go any closer. I know I have friends and moms that are like, I just like to have my babies super close so that I'm having babies all at the same time. And I'm like, that sounds very overwhelming!
Alyssa: I think it's very overwhelming in that stage. I was actually just talking to a girlfriend today who did that and she was like, It was so overwhelming! I don't even know how I made it through. She goes, "But now, it's so easy. They're all within the same age range and they're all independent. And they all just go play outside for two hours together." So I can see the beauty of both ends, I guess.
Gaby: Yeah and now since she's a little bit different, she's still kind of interested in what he's interested in, and can also watch him a relative amount of – you know, she's kind of on the lookout a little bit. So she's enjoying that responsibility of like, I'm in charge and don't do that.
Alyssa: Oh yeah, my daughter's six and she would love to be a big sister.
Gaby: Yeah. She's like, don't do that. Or she'll run inside like, "Mom!" Okay, let's go through the emergency levels here. Not everything is 100% red flag, our house is on fire, emergency.
Alyssa: So how were your deliveries with both of them? Were they pretty similar or completely different?
Gaby: They were relatively similar. I like to talk a look at all the possibilities and when I originally was planning to get pregnant and got pregnant, I was like, gve me all the drugs. Let's set a date for the delivery, just give me all the drugs, and it'll be quick and simple, and I'll be in and out, and I'll look great. You know, in a week I'll be fabulous.
Alyssa: Instagram perfect, right?
Gaby: Yes! It'll be fabulous! And that's when I started reading up more on it and because of my tendencies already – so for example, my back has always kind of been sore, in pain, or more on the delicate side, and I started seeing the complications with medications and where they go and how they go and how they affect you. I started to explore a more natural way, more hands-off, with still keeping in mind, If I need it, that's open. So not ever being like, I don't want it no matter what. But just being like, I want to go in with the mindset of as much hands-off as possible. And then with the nurses and the doctors, because I trusted them if it really needed to be done, or if I needed medication or an intervention, then I was okay with doing that. And it was relatively – the pregnancy itself, I was sick! Sick, sick, sick, sick, sick! I think I lost weight until the last couple of months. And she was right on time and it was a relatively – I don't know if it's long, but it was almost like 12-20 hour from start to finish. But I think the active labor was maybe 6 hours? I was in a lot of pain. It seemed like, I can't even tell you how long it was, but the active labor wasn't that long.
Alyssa: Did you end up begging for an epidural?
Gaby: No, I didn't. What ended up happening is they gave me Stadol at the last stages because I was refusing to sit down, to lay down, because it just hurt so much more. So when the contractions started they put me in a little tub, but as it started to get more intense I just couldn't be sitting down. So most of the labor my partner and I were just on our feet. So I would be on my feet and then the contraction would come and I would obviously just collapse and he would just kind of hold me. Like underarms hold me through the contraction. Then the doctor's like, you need to rest! You've been on your feet most of the labor. And I was like, I can't, it hurts! They'd try to lay me down and I'd be like, "No!" It was just not good. It definitely helped me rest once I took the medicine and I don't want to say it took the pain away, but it definitely helped ease the transition from standing up and the anxiety of like, If I lay down, it's going to hurt more. She came and it was everybody focus! Don't talk to me, focus! And she was delivered. There weren't any complications. She came out great and everybody in my family waited until we were in the other room to come in.
Alyssa: Yeah, I was going to say, who was in the room with you?
Gaby: Just my partner at the time. Yes, I was very adamant about that. In fact, my grandmother tried to come in a couple of times and she was like, do you need anything? And I'm like, There's nothing you can do! Please, I need some space. And I think it really helped me focus in the moment and just continuously tell myself, your body is meant to do this, to go through it, don't panic. I just had to be like, don't panic, just breathe in. You're supposed to do this. If something were to go wrong, someone's going to tell you if something's wrong, they're going to intervene. But as long as they're just like, hey, everything's okay! I'm trusting my environment and my body that this is what it's supposed to do.
Alyssa: So was that intentional decision to only have you in your partner in the room for your first baby?
Gaby: Yes.
Alyssa: Because you wanted to focus.
Gaby: Yes and I feel like I would get distracted. And my mom, I love her to death, she's great. She actually works in the emergency room. She's an interpreter. But when it comes to family emergencies, she gets really panicky. And at that time with my daughter, she was actually in Florida, so it wasn't too bad. It was just my grandma kind of coming in. And I think after the second time, I was like, I will see you when it's done. Please, I'm fine. There's nothing really. I guess in my head it's kind of like, what can you really do? And I have friends that have everybody in there. Like a photographer and the neighbor. They're great, they love it. They just want all the hugs and kisses and I just want everyone like, we're here to work. We're here to get from A to B, but we're going to do it. So I told everybody, you cannot be out until I'm in the next room. And for the most part, they listened.
Alyssa: Minus grandma, twice.
Gaby: Minus grandma! I think she was just – you know, I think it's definitely shocking. Your loved ones want to like, how can I make it better?
Alyssa: Well how did your partner react? Because often times they're the ones who, you know, I want to fix this. I want to help and there's nothing I can do.
Gaby: We had been together for a while and I definitely have a – in my life in general, when I'm sick I have the same kind of reaction. So he kind of knew that I was going to need specific help and we kind of were like – he knew. And he knew that if I needed something I would ask or that for example, really he was just there literally as a support because I was on my feet. And then the next time he was just there to make sure – I was like, I just need you to make sure that if I cannot vocalize what I want, this is what I want. That we have decided together. And he was just kind of there, vigilant, just checking, which kind of also brought me a little bit of peace of mind. Like, I have someone that isn't trying to deliver a baby. I think they were 7.8 and then my other one was like 8.7.
Alyssa: But in your head, you were probably like, this must be a 12-pound baby.
Gaby: Whatever is coming out, I'm doing it and he's not and he can say, go through the checklist.
Alyssa: Right!
Gaby: I'm very – I like to take charge and so at that point, there was only one thing that I was going to be able to focus. We had talked about it and I think he definitely – I have a very like, don't get close to me unless I need it kind of vibe when I'm in pain. But again, I just kept thinking, this is something that happens. That's supposed to happen, that you're meant to happen. Like, you're body's prepared for even though you've never personally gone through it before, but it's supposed to kind of go this route.
Alyssa: So how did that affect baby number two knowing you've been through this before, you knew your pain thrthreshold did that help?
Gaby: I actually thought I was not as far along than I actually was. With both of them! So don't time your contractions in your head. Make sure you're using an actual timer. With my son, when I got in they were like, do you want medication? Do you want some Stadol right now? I was like, Oh, no! I still have time. I've only been here a couple ho ofurs. With my daughter, I was here, it wasn't until like midnight or you know, until I got Stadol, so I still have a couple hours of labor.
They didn't say anything, they were like, okay, fine. You don't want medicine right now, we understand. And then when it started getting worse and I was like, okay, I'm ready!
Alyssa: Give me some!
Gaby: And they were like, you're too far along. And I'm like, wait, what do you mean? It hasn't been that long. I had already labored outside of the hopsital longer and I must have been dilated much faster, obviously, because it was my second.
Alyssa: Right.
Gaby: So it was kind of a shock to me like, wait, I'm not – this is going to happen without anything. So with my son, I didn't have any medication. And he just kind of – I don't think the doctor was a little – she didn't even have time to put gloves on. 'Cause when they were like, you don't need medication, you're far along. I'm like, oh. And then a little bit after that, like less than 30 minutes, I was like, it's time! You have to wait until you feel pressure. I'm like, yes! I'm checking it off, yes. And they're like, no, it's going to be a little bit. And then the doctors come in so relaxed. They're so relaxed. And I'm like, ma'am. You should probably move along. And she sits on her little stool and I'm just kind of watching her like, she shouldn't be this calm because I'm feeling it. It's coming. She's coming. And she literally turns around and she's like, let me put my gloves on. And I'm like, nope! And she's like, what do you mean? And she's like, oh my God. And she just – she's like, okay. And she catches him – he comes out.
Alyssa: No gloves? No time.
Gaby: She didn't have time for gloves.
Alyssa: Oh my gosh.
Gaby: Yeah.
Alyssa: So I mean it kind of was a totally different experience. I mean, very quick.
Gaby: Yeah.
Alyssa: You probably wouldn't call it painless, but it was a lot less drawn out.
Gaby: No. It was a lot less drawn out pain and I don't know if I was – I don't want to say I was used to the pain. I was in pain – like the muscles on the inside of my legs had decided they were too sore the whole pregnancy, so I was in a lot of pain consistantly. Kind of like jolts of pain. I don't know if I was used to pain and then it was a faster delivery and he was just kind of like, I'm ready. And he just slid right out.
Alyssa: Do you think that as first time moms, since we don't know what to expect, our brains kind of tell us that it's going to be worse than it is?
Gaby: I think it definitely contributes to that and sitting down and talking to friends – the stories are not there for us. Like my friends and I are not like, I wish somebody would have sat down and talked about the actual labor. Honestly, not in a, I'm going to scare you. Not in a warning, not in a, don't get pregnant because then labor's painful. But in a, let's go through everything, compare notes. So that you can be at least aware of what actually happens. Be prepared for the pain. As women, we have pain every month. Some of us more than every month. I think we're much more capable, but we have this background fear of labor and delivery.
Alyssa: What are a few of those things that you would say to a new mom who has no idea?
Gaby: I think that mostly would be educate yourself with actually facts. Educate yourself in how you yourself react to pain in just your everyday life. Are you squimish? Are you not squimish? How your partner does that? How are you going to communicate? Some people can't communicate when they're in pain. Does that need to be talked about beforehand? You can bring your $200 ball to sit on, but I could not sit on the ball. It wasn't mine. I didn't pay for it, so I was grateful that I didn't invest in a birthing ball that I didn't need. So there's going to be so many switches. Just kind of learn to be a little bit more go with the flow, 'cause in the end – I want to say it's like the baby in your body that's going to be in charge of what happens. I just kept telling myself like, just breathe. Breathe through it, not because it's going to minimize the pain, but because it's going to help focus where I'm going out of the pain.
Alyssa: Sounds like you could have benefited from our hypnobirthing class. It's like learning physiologically what's going to happen. You know, what's going on in your body, what's happening during a contraction, what's happening during active labor, but then like you said – so you're ahead of most knowing that, let's talk about how I deal with pain and how I process things. Do I like to be touched? Do I not like to be touched? Do I hold all my tension here? So knowing that and talking to your partner about that ahead of time is a big part of what the hypnobirthing class is about. Let's focus on these things and practice how are we going to deal with that when we're in this situation.
Gaby: Yeah and you definitely have to – we work so hard in preparing the room, and the baby, and all the stuff, but that moment is so small comparatively speaking, but it's so intense. And it can leave such a big mark if it gets too complicated. So I feel like being prepared for a lot of stuff makes the load a little bit lighter. 'Cause you already have the answers and you know what to expect. I didn't realize that my doctor wasn't going to be there until the very end. This whole time I'm like, I want my doctor. I've known her for a million years and we're best friends. They didn't call her until the end. Then when I realized, the nurses were just fabulous. They're the ones that are going to take care of you. So it's great to have a great relationship with your doctor, but going into where you're going to give birth and seeing the support and the nurses – the support staff, I guess depending on where we give birth, they're going to be there for the long run. They're really invested in you because they're there with you the whole time.
Alyssa: Yeah. Labor and delivery nurses are amazing.
Gaby: Yeah, yeah. I was kind of worried that – because I wasn't going to be in a hospital, they were going to be like, we're going to wire you up and we're going to put all the juices in you. And I was like, I don't want -. But it wasn't like that at all. I didn't feel forced into a certain way that they were doing things.
Alyssa: Well, is there anything else that you would love to share?
Gaby: I just wish we would trust our decisions more and be more confident in what we can handle, as far as labor and delivery. Again, if you want that support group there around you, and you know you need it, and that's how you've been your whole entire life like you want mom, and aunt, and everybody, and the dog, that's great. But if all of a sudden because you're giving birth everybody wants to sign up and come and take pictures, don't do it. It'll be a good first start to parenting and being with family. It's not about you not loving or caring, or that you don't want them involved ever in the life of the baby, but that is such a critical moment that you can't have extra people that you're really not going to ulitize or that you're going to feel like you're trapped in that room for a long time.
Alyssa: Yeah, so often family members can make us feel – like guilt us into doing things that we don't feel are right. And this is, like you said, the first step in a very long journey of parenting where you have to do what's best for you and your family and not everybody else.
Gaby: Right. I probably would have been mad to see my sister on her phone while I'm mid contraction.
Alyssa: Right! You better not be posting anything to Facebook.
Gaby: Yeah. Like, how can you be relaxing? I'm mid contraction! You know, let's not get angry. Let's just focus on that.
Alyssa: I did the same thing, so I totally understand.
Gaby: People are so hesitant to say – They don't want to hurt anybody's feelings and I think it's – now that we're learning a little more emotional tintelligence, think we can put responsibility on both parts. One to say no and the other part to understand. Hopefully everybody understands if you want to draw that line.
Alyssa: Well, thank you so much for sharing.
Gaby: You're welcome. Thank you for having me.
Alyssa: We will have you on again. I want to learn a little bit more about your business and what it's like. I love talking to moms who are business women as well.
Gaby: Yeah, I can't wait.
Alyssa: Thanks, everyone for listening. You can find us on iTunes and Sound Cloud. Again ,this is Ask the Doulas. You can find us at goldcoastdoulas.com, Instagram, and Facebook. Thanks for listening.