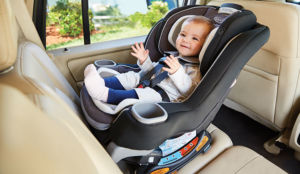 Car Seat Safety: Podcast Episode #72
Today we talk to one of Gold Coast Doulas' Birth and Postpartum Doulas, Jamie Platt.  She is a Certified Car Seat Technician and gives parents some helpful tips about what's safe and what isn't.  You can listen to this complete podcast episode on iTunes or SoundCloud. 
Alyssa:  Hi, and welcome to another episode of Ask the Doulas.  I am your host, Alyssa Veneklase.  I am co-owner and postpartum doula at Gold Coast, and we are talking to Jamie today.  She is a postpartum doula with us, as well.  Hi, Jamie.
Jamie:  Hi.
Alyssa:  And you're also a certified passenger safety technician, and you've started offering car seat checks in clients' homes?
Jamie:  Correct!
Alyssa:  Tell me; what is a car seat tech?
Jamie:  So with these services, I would come to the comfort of your home and do a car seat check with you at your house, and this would involve making sure that the car seat is in the safest place in the car that you have.  There's a lot of details about that in your car manufacturer book that you may not know about.
Alyssa:  Many of us don't read that kind of stuff.
Jamie:  Correct.
Alyssa:  We just say, oh, it doesn't fit in the middle; let's throw it in the side.  But you actually know that you have to look at the manual for each car?
Jamie:  Yeah, there's the car manual that you need to look at as well as the car seat manual.  We have a large book called the latch book, if you know about the latch system.  You can use lower anchors to put your car seat in versus a seatbelt, and there's a lot of different rules and regulations that come with that, depending on what car you have as well.  So there's quite the thought process that goes into that.  We can talk about choosing the right car seat for your child.  If you are thinking about moving from just your rear-facing infant seat to a convertible seat, we can talk about the differences between rear-facing and forward-facing and when is a good time to switch.  Recalls and expiration dates for your car seat; you may not know that a certain part of your car seat was recalled.  You may hear about in the news where a car seat is recalled, but oftentimes, there's just a little part on the car seat that may have been recalled that you don't hear about, and so it's just a matter of quickly getting ahold of the manufacturer, and they can send you that replacement part.  So we can also talk about the latch system versus using the seatbelt.  A common myth is that you can use both; you can use the latch part and the seatbelt part and that's the safest, but that's not true.  So I'll go over all that information.  Making sure your car seat is tight enough in your car that it's not wiggling around too much; making sure it's level and the angle is correct; that's very important if you have an infant.  And most importantly, after I teach you all these things, you get to install the car seat, and I help you every step of the way.  It's very important that you know how to put your car seats in correctly, especially if you have more than one vehicle and you need to switch them, like if grandparents help out.  And I can install the car seat for you, no problem, but I really want you to know how to do it, so there's the education piece so that you will feel confident that your child is safe in their car seat if you do have to move it to a different car.  And then we'll also talk about accessories that you can use with the car seat; what's appropriate; what's appropriate clothing to wear.  For example, you're not supposed to wear winter coats when it's cold out, so I can educate you about the reasons why you're not supposed to wear bulky clothing in a car seat.  How to clean your car seat; there are specific ways that you should be cleaning your car seat, as well.  And then how to properly dispose of them because you never want to just throw your car seat in the trash.  So there's protocols and proper ways of disposing of it as well.  So I will go over all of this information with you in detail at your home whenever the best date and time works out for your family.
Alyssa:  That's really awesome.  I know that when we were transferring car seats around with my daughter, it's one of the scariest things, because my husband always put the car seat in for us, and the first time I had to do it myself, I was so fearful to drive with her because I'm like, I don't know if this is in right.  Is it tight enough?  Is it straight?  Is it crooked?  Is it supposed to be over here?  And I just did the best I could and drove home and then had him fix it when I got home.  But it's really scary.  Had I had a professional show me how to do it, I could have just done it with confidence, right?
Jamie:  Correct, and depending on what research you look at — there's various statistics — but it's somewhere in between 70 to 95% of car seats are not installed correctly.  That could just be one minor little thing; it could be a multitude of things, but it's very common, and so I want people to know that it's okay to reach out.  Before I became a technician, I did a lot of things wrong, and I didn't know I did these things wrong until I became certified and took the class.  And so this is totally judgment-free.  I've worked at car seat events through Helen Devos Children's Hospital, and we have had people come in where their child is not even strapped in the car seat, and the car seat's not buckled down, either.  So this is a free-range child in the car.  So I've seen a lot of different things, and my goal is always to make sure that your child is safer when they leave than when you first came and saw me.  So anything that I can do to help, I would love to make your child safer.  Just know that even if you are making a few mistakes, it's okay, and I will be happy to show you how to do things correctly.
Alyssa:  I think a big part, too, is graduating to the next seat.  That's always a fear for parents.  I know that we probably moved our daughter a little too soon, but I just actually had a client ask today, you know, I think I'm supposed to keep my son rear-facing until two, but he's 35 pounds and tall enough; can I switch him?  He definitely looks big enough, so what would you say if someone is one and a half and meets all the other requirements, but the guidelines say you should probably have them rear-facing until they're two?
Jamie:  So guidelines are just that; they're guidelines.  And there's guidelines to everything in life.  So the important thing to remember is what is going to keep my child safest.  So in Michigan you may have heard, well, I can switch my child from rear-facing to forward-facing when they're two, and yes, you can do that, but is it the safest?  Is it what's best for your child?  Maybe not.  Your child is five times safer rear-facing than they are forward-facing, and there's a lot of different reasons why that is, but you should know that rear-facing is definitely best.  It's your decision what you want to do as a parent, but if you look at your car seat, there's stickers on the side, and it lists the maximum height and maximum weight.  Once your child reaches one of those, then you can flip it the other way, and you should change it to forward-facing because your child has maxed out of what is safe.  The guidelines for your car seat are what have been tested in a crash, so if your child is over that weight limit, he is technically no longer safe and should switch over.
Alyssa:  Okay, so even if they're before two, if they're either reached the height maximum or the weight maximum, it's time to switch?
Jamie:  Some kids are just too tall for car seats.
Alyssa:  And if they're tall, but what if it's a super tall, little, skinny thing?  Even though the height is maxed out, they still need to switch even though they may be really low on the weight?
Jamie:  Correct, because you can be too tall for a car seat, and that's not safe either.  There should be an inch between the top of your car seat and your child's head, and that's what safest.  So if your child is above that inch and is creeping up towards the top of your car seat; well, his head is no longer protected in the proper way that it should be.
Alyssa:  Well, that's an easy guideline, I think.
Jamie: Correct.  So as long as you're making sure that you're following those guidelines that are on the car seat, your child will be safe.  But my daughter is almost three and a half, and she is still rear-facing, and that is because she hasn't reached the weight or the height limit yet, and I know it's safer for her to be that way.  Parents think that, oh, their legs are too long, and they're hitting the back of the car seat, and they're so uncomfortable.  What happens in an accident?  They're going to break their leg; that type of thing.  Those are very good concerns that a parent brings up.  However, research has shown that it's very unlikely that your child will actually break a leg rear-facing in a crash, and it's more important, as well, that their head and their spine are protected, more so than a leg.  You can recover from a leg injury.  Head injuries and neck injuries are much more serious.  So that's another thing to consider is your child can crisscross their legs; they can actually hang them off to the side.  They are okay with their legs looking funny or cramped up sometimes.  They will adjust.
Alyssa:  So let's say the child has turned two, but they haven't reached those maximums.  That's where you're at?  She's well beyond the two years, but she hasn't reached the height and the weight maximums, so she can stay rear-facing until she reaches those?
Jamie:  Correct.  Once she reaches the height or the weight, I will turn her around.  One thing that's really important, and one of the reasons why you should have your car seat checked, is there are changes that you can make to your car seat once you switch from rear-facing to forward-facing.  Sometimes, you car seat may have a bar that helps angle it.  That needs to be switched.  The car seat straps are also placed differently from rear-facing to forward-facing; where they fit on the child is different.  So there are many reasons why you should get your car seat checked by a technician when you do make that switch from rear-facing to forward-facing.  There's several different things that you change when you make that transition.  Sometimes, your car seat may have a bar at the bottom that you need to switch and put up so that angle no longer exists.  The straps that harness your child in have to be placed differently when you make that transition.  And the other big change is where your seatbelt strap goes in the back of the seat.  There's a different spot for it when your forward-face, and there's a different spot for it when you rear-face, and a lot of parents don't realize it.  There's these small little changes that do make a huge difference if you were in a crash.  I've personally seen a car seat that had the seat belt placed in the wrong hole when they went to install the car seat, and it ended up breaking the car seat when it was involved in an accident, and the child was injured.  And so something that seems very insignificant can make a big difference when you do get into a crash, so it's very important that you just have someone that's knowledgeable, that's been trained and certified, to look at your car seat and just make sure that everything looks great.
Alyssa:  I'm already thinking that right now, I need to get my parents over here to have you check the car seat in their car, and then probably mine, too.  Yeah, I think this is critical information for new parents.  And then, obviously, you could help new parents with newborn car seats before they even go to the hospital so that everything is installed and safe and ready to go, and there's no fear there when they're bringing baby home for the first time.
Jamie:  Definitely.  Even if your child has not been born yet, I'll be happy to make sure that your car seat that you may have purchased already is a good fit for your car, that it's placed in a proper position.
Alyssa:  And have grandparents come over, too, and watch and have them help install it in their car, too.
Jamie:  Definitely.  Everyone who wants to learn is more than welcome to come.
Alyssa:  Well, that's amazing, and I'm so excited that we are offering this service.  If you have any questions for Jamie, email us at info@goldcoastdoulas.com.  You can also find us on Facebook and Instagram.  Remember, these moments are golden.
Photo courtesy of Walmart.