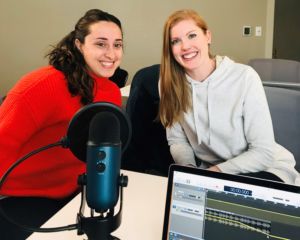 What's the tongue have to do with breastfeeding? Podcast Episode #75
Hear two experts talk about the link between a baby's tongue and breastfeeding.  What are some signs of a tongue tie and what does that procedure even look like?  Shira Johnson, IBCLC, and Dr. Katie Swanson, Certified Pediatric Dentist, give us some insight into breastfeeding a newborn.  You can listen to this complete podcast episode on iTunes or SoundCloud.
Alyssa:  Hello!  Welcome to Ask the Doulas.  I am Alyssa Veneklase.  I am sitting here today with two lovely ladies, Katie Swanson and Shira Johnson, and we are going to talk about breastfeeding and oral growth and development.  Hello!  So we don't really have an agenda for what we're going to talk about per se, but before we started, I was kind of asking, like, well, you know, as a dentist, you send clients to a lactation consultant, or does the lactation consultant send clients to a dentist, and how soon, and what does that relationship even look like?
Dr. Katie:  Yeah, Shira, what do you see in a patient that makes you want to send them to me?
Shira:  Yeah, so I see babies of all ages.  I see newborn babies; I see older babies, and really, regardless of the age, if I am noticing something, I'm always seeing them in some capacity related to feeing, usually breastfeeding, and when I'm seeing them and there are any kinds of feeding difficulties, I do an oral exam, and if I'm noticing anything out of the ordinary or anything that might suggest that the baby is having trouble using their mouth optimally, then I often refer to a dentist.
Alyssa:  Even as a newborn?
Shira:  Even as a newborn, yeah.  Infants can have things going on with their mouth.  People have probably heard of tongue tie, so that's one example of something that I might be looking for signs and symptoms of.
Alyssa:  Should we talk a little bit more about tongue tie?  Because I know you have a very special machine.
Dr. Katie:  Yeah!  So when I meet a baby for the first time, we do an exam with Mom, Dad, or whoever the caregiver is, where we examine the mouth and all the attachments in the mouth.  We have an attachment from our lip to our gums.  We have an attachment of tissue from our tongue to the bottom of the mouth, and we have even other attachments in our mouth, even with our cheeks to our gum tissue, called buckle ties, that Shira and I have talked about.  And all of these attachments in their mouths can actually affect the movement of the tongue, the lip, the cheeks, and how they actually are able to breastfeed.  So when I see a patient, I'm doing an exam, typically just with my fingers, kind of playing and tickling around in their mouth and stretching the lip and moving the tongue around and kind of seeing what kind of movement they have and even evaluating — a tongue tie is actually fairly easy to identify with a baby when they open or if they start crying a little bit.  Their tongue actually almost forms into a bowl if they're tongue-tied, and that's a pretty tell-tale sign, whereas otherwise, when they're crying, typically their tongue will raise, and that helps me see how much movement they have, as well.  So I don't know if you want to talk about other…
Alyssa:  Yeah, Shira, what are your first signs?  What do you notice right away with a tongue tie?
Shira:  So even before I do an oral exam, just talking with the family and hearing the story of how breastfeeding is going or how it's gone and hearing different red flag symptoms, which can really vary from family to family, but certain things like pain with breastfeeding.  We consider it normal to have some nipple pain with breastfeeding during the first week after the baby is born, but then it should subside, and there should be no pain associated with breastfeeding after week one.
Alyssa:  And the initial pain is just because your nipple is getting a lot more action than it probably ever has?
Shira:  Yeah, and there are some hormones on board, too, that can make nipples more sensitive.  But any kind of nipple damage; if baby is nursing and causing cracks or bleeding or scabs, that's one sign that the latch isn't right, and there are a number of reasons why.  It could be positioning.  But often, it's really what's going on with Baby's mouth that affects whether the latch is a good latch.  And then in addition to how comfortable it is for the mom and for the baby, the latch also determines how effective the breastfeeding session is.  So a baby that has some of these oral restrictions going on may not be able to remove milk from the breast as effectively, as efficiently.  So the feedings may go on a very long time.  The baby may be struggling with weight gain.  Those are some common other signs, but then there are some babies that don't have those signs and they still have a tongue tie, so it's a little harder to detect.
Alyssa:  And then you would actually, like Katie does, look in their mouth and look for something specific?
Shira:  Yeah, and I do that, too.  In addition to interviewing the family and watching a breastfeeding session, in most of my lactation visits, I'll get gloves on and really examine the baby's mouth.  Similar to what Katie said, I'll look under their tongue and feel around their lips and their cheeks.  I let the baby suck on my gloved finger, so I feel what the suck feels like, and there's a certain movement that the tongue is supposed to do, a wave-like kind of undulation kind of movement when they're sucking.  So if there's any variation in that, I make note of it.  Sometimes babies hold on really tightly with their gums and it almost feels like they're biting, and that's a sign that they're maybe needing to compensate with other facial muscles rather than letting the tongue do its job.  So there are just lots of different little clues that we look at, and if all the pieces come together, it can potentially point to a probable tongue tie, and as an IBCLC, an international board-certified lactation consultant, it's not in my scope of practice to diagnose anything.  So when I notice all these symptoms, if things are looking like there is an oral restriction going on, that's when I would refer to a pediatric dentist.
Alyssa:  And you, Katie, can diagnose and treat?
Dr. Katie:  Yeah, and what's great about being a pediatric dentist is that I'm very familiar with the growth and development of infants and kids.  But not all pediatric dentists are actually trained in really how to evaluate and treat frenectomies.  You know, yes, I am a board-certified pediatric dentist, and that doesn't necessarily entail that I can treat frenectomies, but how I've been able to acquire this knowledge is through taking a lot more courses in order to be able to understand frenectomies and how it affects the whole body and how it affects feeding and speech.  It affects children from, honestly, in utero when they're still developing and how it affects the whole body's growth, and obviously, the first sign typically is how well they latch and how Mom and Baby are doing during those first few weeks of life when they are able to start feeding.  But definitely, it's really important that I and my business partner, Dr. Kloostra, have taken these courses so that we can work with lactation consultants and better understand how to evaluate for this and how to work with other specialists, as well, like Shira, in order to make sure we're giving those patients the best treatment possible.   What's interesting is that when you're developing in utero, obviously all of the tissues are developing; the muscles are developing.  And when you have a little bit too strong of attachments in certain areas with what's called fascia — it's basically tissue attachment in our body.  We have it in our faces; it's between our lungs, between our organs and muscles, and all that kind of tissue.  Sometimes, in your mouth, you might have a little bit extra tissue, and that's when a tongue tie, lip tie, or other ties can develop in the mouth that can actually create a lot of tension in that tissue and thus tension in muscles that attach to that tissue.  When you have all of that tension, it does affect how their whole body is growing.  Even torticollis and other symptoms at birth have been linked to tongue and lip ties, as well.  The flat head at birth and things like that, too, can all be impacted.  So it's great when moms and babies, if they're having difficulty, when they seek help from an IBCLC like Shira because it's an important sign that there's something going on and the baby needs some help in order to be able to actually grow and develop normally and comfortably as well, too.
Alyssa:  So did we talk about this is a podcast before, or was it when we were just talking here, about what that looks like — the actual frenectomy?  So they see you, and you say, I think this is a tongue tie; I want you to go see the dentist.  Katie sees the baby; says, yes, this is in fact a tongue tie.  Then what?
Shira:  Right, that's a good thing to talk about!  And we should define frenectomy, too.  I often call it frenotomy, so…
Dr. Katie:  Frenotomy is more old school, like using a scalpel, going under general anesthesia or getting sedated, and they are cutting the tissue and suturing it or putting stitches in.  Whereas frenectomy, it's basically just a general term for tissue removal.  So that can really be all-encompassing because there's multiple ways to do a frenectomy, and I can definitely talk more about all of those options because, really, every parent is going to have their own comfort level, too, and we have to be respectful of that, as well.  But generally, with a frenectomy, it does mean removal of tissue, and there is more of a surgical approach.  Typically, you would see an ear-nose-throat specialist, an ENT, and there are children's ENT specialists, as well, that are typically trained at a children's hospital.  And if someone wanted to go that route, definitely seeing a children's ENT is the way to go because, just like myself, I am much more, you know, trained on the growth and development of kids and kids' anatomy and how it grows and changes as their body grows and changes.  But when you see an ENT, typically, the child would have general anesthesia.  General anesthesia is a full-body anesthetic, meaning they are sleeping.  A machine is helping assist with breathing.  They're breathing in gases.  It's basically triggering an area in the brain to just relax the whole body, even the lungs, to the point where they need assistance with breathing.  It's generally very safe, but there is a lot of research showing that having general anesthesia before the age of two to three can actually have an impact on their intellectual and behavioral development.  So because of that research, there has been more evolution of how we do that procedure for infants because they are so little, and obviously their brains are going to be impacted by having general anesthesia.  We don't know how specifically, but definitely, there has been more recent studies out there were excellent studies done to show, yes, there is definitely an impact, which was very helpful in educating everyone.  And so that's why things have evolved to the point where there's other options.  There's even multiple kinds of lasers.  There's something called electrosurgery where you essentially burn the tissue away.  It's another option; it's not the best option, but it's an option that I know has been used.  And then there's multiple kinds of lasers, and that was part of my training as a pediatric dentist and going to these courses and understanding the types of lasers, which ones are going to be best for certain procedures.  Definitely, the bread and butter for soft tissue removal is something called a CO2 laser, and I guess I don't probably need to go into the science of everything, but generally, that has been shown to be the most optimal for soft tissue because of, basically, its ability to have less pain, less bleeding, less inflammation to make sure that soft tissue heals that much faster and the recovery is easier, as well.  But there's other lasers that are great options that I have also used, and my patients have done great with those, as well.
Alyssa:  But the CO2 laser is what you currently have?
Dr. Katie:  The CO2 laser is, yeah, what we have in our office.  And definitely after trying lots of lasers, that's the one we really wanted to utilize for our patients.  But yeah, there's multiple types of lasers that work awesome and are able to provide patients with a great outcome, as well.
Alyssa:  So walk us through that.  It's a mom who has seen Shira for a lactation visit or two, and she says, I believe this is a tongue tie and a lip tie, and you need to go see Dr. Katie.  So she goes into your office, and you say, yep, sure is; here's what we're going to do.  I know we have talked about this, but what does Mom do?  What does Baby do?  What does the lactation consultant do?  What do you do?  What does this whole process look like going forward?
Dr. Katie:  For doing the actual frenectomy?
Alyssa:  Yeah.
Dr. Katie:  Well, at our office personally, we do an interview first, as well, because I want to check what symptoms are going on and talk to Mom and get to know the family and the baby, too, because even getting to know the baby, it's going to help me understand post-operatively what kind of exercises will be best for them, things like that, in order to make sure that the function they gain from the procedure continues and working with a lactation consultant afterwards, obviously.  The procedure itself: one thing is that it definitely needs to be done by somebody who's trained to do the procedure because it's a very quick procedure, but it's a very involved procedure.  It's how much we're thinking about and looking at and trying to control in two minutes.  But generally, once we interview the family and make sure we see the anatomy and this is what we think is a good option for the baby, we basically swaddle the baby so they're comfy and have Mom or Dad or whoever is there give them a little kiss and we have them step out while we do the procedure.  We have a couple assistants in the room with myself or Dr. Kloostra, my business partner, and we use the laser to do the procedure.  It takes, again, about two minutes to do, to vaporize that tissue.  It's very quick.
Alyssa:  And what about anesthesia?
Dr. Katie:  Yes, thank you.  So I do not use any local or topical anesthetic for any infants.  For what we've been advised by pediatricians, just with the immaturity of their liver health, it's really not ideal, and topical anesthetic for that young of a kid is actually now not approved by the FDA because it does have such toxic effects.  So obviously using a small amount in a controlled environment is safe, but we really don't want to put any of our really, really little patients at any risk at all.  But the procedures we've done, the babies do amazing.  So what I observe is they do cry during the procedure.  It's generally a typical coping cry is what I like to call it.  They're crying; they're confused; they don't really know what's going on.  And then once we're done, after about two minutes we take them out of their swaddle blanket and I rock them.  It's kind of amazing how resilient babies are because they calm down immediately.  Every baby I've seen for this, they calm down immediately, and that's when I have Mom come in.  If they're comfortable with it, I like them to breastfeed just to help relax the baby, and that's really why we don't have parents present in the room because I want them to be able to swoop in, be their comfort zone, and help them relax.  I imagine it's very stressful as a parent to actually watch that procedure.  I guess I could even compare it to having your son circumcised at the hospital a couple days after their birth.  It's kind of a similar situation.  I don't think I would personally want to watch it, but everyone has their preference of what they want to do.  How we do it at our office is just really based on what we've observed and learned to make sure that we're optimizing that baby's treatment to make sure we're in a controlled, super-safe environment and that Mom or Dad or whoever it is isn't stressed either and that they can come in and comfort that baby because if Mom is stressed at all, it does make it harder for Baby, as well.  The babies do sense that stress in the mom, so that doesn't really help the baby if Mom is stressed or feeling anxiety.  From what I've found, babies do great in that scenario, which is awesome.
Alyssa:  So then they get some exercises to do and then, seeing Shira again, you can then help with breastfeeding?  And what do those exercises look like?  What do you recommend and what have you done, Shira, for exercises after?
Shira:  Yeah, so I think from provider to provider of people that do frenectomies, there tends to be a pretty big range of what's recommended by the provider as far as there's some wound care, I guess we could call it.  So where the wound is under the tongue, if the tongue is what's been released, I think it can be really important to keep that wound open in a sense.  We don't want it to heal back on to itself, and the mouth heals so quickly.  So many providers — Katie can talk about what she recommends, too — but many providers do recommend lifting the tongue to prevent that wound from just healing back on itself.  We want to create a lot of space under the tongue to help keep that area open as the tongue heals so that the tongue is then able to obtain full range of motion, which is the goal of the procedure.
Dr. Katie:  Right.  And the exercises are really pretty simple, and after the procedure, it's kind of cool how you visually see right away where the tie had been because after we release the tissue, you basically see a diamond shape where that tissue was released.  So whether it's under the lip or under the tongue, when you would raise the tongue or raise the lip, you would see a diamond shape, and the whole goal is that when you do the exercises, you really want to make sure you're seeing that open diamond appearance.  But with the lip, it's really just lifting the lip and raising it so that you see that open diamond, and with the tongue, a few finger sweeps underneath to just make sure it's still open or just lifting the tongue gently with your fingertip is usually a nice way to go, as well.  But it doesn't have to be a lengthy process.  The moment I just took to talk about it is as much time as the exercises should take.
Shira:  That's what I always describe to parents, too, because babies tend to get a little bit upset when parents are doing the stretches or lifting the tongue.  I think it's probably a little bit uncomfortable, but you do it a handful of times a day, but it can be done in ten seconds, and then you're done.
Dr. Katie:  Exactly.
Shira:  And I recommend a lot of other exercises, and they're really kind of personal, depending on what is going on with that baby, whether that particular baby has really tight jaws or a stiff neck or they have a hard time getting a deep latch or a really sensitive palate and a sensitive gag reflex.  So depending on what else is going on as symptoms correlated with that tongue tie or restriction, I may recommend different exercises.
Dr. Katie:  And that's why it's so crucial that even after the procedure, the mom and baby still follow up with an IBCLC like Shira because she's going to be able to diagnose, too — or maybe not diagnose, but definitely observe if there's something else going on, as well, because maybe there's something else going on, as well.  The procedure I do is not the end-all, be-all.  It's not the 100% answer to fix everything going on.  Baby is still going to need a little practice, whether it's lip positioning or tongue positioning, whatever it might be, and whether they need to go see another specialist as well, like a chiropractor or something like that, to help with all that tension in the body.  That tension is probably still there, and sometimes someone else needs to be involved, too, and Shira would be really helpful in anticipating those needs, too.  I think that's an important thing to understand because I would never want to see a patient and then have them go home and not really have that kind of care that they need and not have the best results they could have, especially with the wound care, as Shira said.  It can be challenging for parents to do it because it's hard to make your baby cry, especially when it's already been an anxious thing in your life, having to do the procedure itself.  And I've learned, too, about other ways of doing the wound care when they're sleeping and things like that, and that's something to talk about with the parent too and follow up with them.  I like to call them the next day and see how things are going and then offer them other ideas for wound care, as well, like just pulling the chin down when they're sleeping or lifting the lip up gently while they're sleeping, things like that.  What we wouldn't want is for the baby to not get the proper care afterwards and develop some sort of oral aversion with having the wound care and not getting anything else treated that they might need treated because, like I said, myself doing the frenectomy might not solve everything going on, and they might still have something else going on that can give them some difficulties with feeding, as well.  So that's why it's very important to work together and communicate.
Shira:  Yeah, I think this whole topic of oral restriction is such an important place where collaborative care comes in and using a team approach.  You, a provider who can do the physical release, and then a lactation specialist to help support families with any issues related to lactation.  So when there's been an oral restriction, there's often issues with Mom's milk supply, too, because if Baby has been ineffective at the breast, that can slowly cause a drop in milk supply.  Sometimes, we see moms, when babies have an oral restriction, moms' bodies may somehow compensate for that by having an oversupply or a really active, fast letdown.  But that doesn't last forever, so making sure that the oral function is addressed early on before there are issues with milk production.  So from a milk production standpoint, lactation is really important, as well, and like you mentioned, the third piece that I think is crucial in most of these cases is somebody, a body worker of some kind; a chiropractor or someone that does soft tissue work or both.  Depending on what is going on with that particular baby, the specialist that would be best for them would probably vary.   But yes, I think a team approach is really important because, like you mentioned, that fascia that is the connective tissue that had been holding the tongue is tense elsewhere in the body, so these babies with oral restrictions may also be the babies that have digestive issues.  They may be constipated or have gas, and that can be related to how their mouth has been functioning.  Or they may be babies that are really stiff and don't want to bend their hips.  Babies that are stiff as a board and seem like they want to stand up when they're three weeks old; those babies.  We want babies to not need to hold so much tension in their bodies.
Dr. Katie:  And like you said, the babies who are spitting up and things like that: one really big red flag is when I hear that a baby is taking reflux medicine.
Shira:  Yes, I'm glad you said that.
Dr. Katie:  Because, like you said, all that tension — obviously, that is all connecting to their esophagus, as well, and down to their stomach and things like that, and when they're not having the optimal latch, they're bringing lots of air into their stomachs, as well, and all of that can actually mask what is truly going on.  We may think it's just reflux going on; they just have reflux.  But what's missing is the other parts to it: why do they have reflux?
Shira:  Yeah, why do they have reflux?
Dr. Katie:  That's always the question that needs to be asked when a baby that young is having any sort of health problems is why is that happening.  There's probably something anatomical; maybe something functional, that is actually causing that issue.  Not to say that, yes, some babies may have a true reflux going on, and that absolutely needs to be treated, but what we generally want to avoid is having a baby go on medications or immediately have to go to a bottle or things like that when they don't need to.  So having those evaluations done so that we can avoid those things and help them grow optimally and all that good stuff, too.  And then mom is less stressed, as well!
Alyssa:  Well, let's end on a happy note and talk about the amazing stories that we've seen of maybe a really struggling mom and a struggling baby, and then they have this procedure, and this whole breastfeeding relationship changes.  Can you put a number on that?  How often does that happen?
Shira:  In my experience, and even just from hearing from other practitioners, as well, I would say definitely a majority of people who have the procedure do notice improvement afterwards, especially if they're doing this sort of team approach and getting some body work and doing the exercises afterwards.  I do want to emphasize that it's not an instant fix.  So, like Katie mentioned, she is a really important piece, the dentist to do the procedure, but I always try to encourage parents not to expect an instant improvement.  As an average, I would say it takes anywhere between two and five weeks to see real improvement.  You may notice a little bit, but it's not going to be all of a sudden.  It's gradual.
Alyssa:  I think that's important to note because I could see how a mom would say, I'm going to fix this right now.  You're going to do the procedure; you're going to help me do the exercises, and it will be all better.
Shira:  And that does happen.  I mean, it happens occasionally where you have a mom that has incredible pain nursing, and a baby has a procedure and a mom can tell a huge difference that first nursing session after the procedure.  So that does happen, but I would say more often than not, it's a process, and it can take weeks for that to change.
Alyssa:  It's almost like retraining the baby.  What if it's a one-week old baby?  Like, the baby hasn't even been nursing for that long?  They don't need to be retrained if it's only been a week.
Shira:  Well, they practice sucking in utero, though.
Dr. Katie:  They've been practicing for a while.
Alyssa:  So when you're saying this affects things in utero…
Dr. Katie:  They're moving around.  When they're kicking you, they're probably sucking as well and practicing all that movement.
Alyssa:  Well, yeah, you do see them sucking their thumb on ultrasound photos.
Shira:  Some babies that have tongue restrictions also will have a high palate, so the roof of their mouth may be higher than usual, and that's because the tongue's normal, healthy resting position is on the roof of the mouth, and that starts in utero.  So way back, when baby is first developing, the tongue should be hanging out up on the roof of the mouth to shape the mouth.  And that was something else we've been talking about, too, is how the tongue having its full range of motion is so important not just for feeding but for oral development, facial development, jaw development.
Dr. Katie:  Yeah.  And one thing I wanted to touch on, too, is that babies are amazing.  They're very resilient, and even before I had taken these courses, my niece was somewhat tongue and lip tied.  And I'm so sad even now because my sister had been struggling so much with breastfeeding and with having all this spit up and reflux.  She would hiccup after almost every feeding, like a lot of hiccupping.  Things like that where she didn't really need to have that, and she had worked with a lactation consultant and all that, as well, but it never really truly got resolved.  But my sister worked through it and breastfed for a year.  With probably accommodations they both made in order to make it work, though; it was extra work.  It didn't need to be that way.  But now, things are otherwise happening with my niece.  She's a thumb-sucker.  She has a little bit of a lisp.  So that's a really good example where it may have not totally affecting feeding for mom and baby, but it can have other impacts later because now, she still needs some oral stimulation, so the thumb got involved because her tongue doesn't have full range of motion.  When we're at rest — and you'll start to think about this now — when you're at rest, you'll notice your tongue goes to your palate.
Alyssa:  Hopefully!
Dr. Katie:  Hopefully!  That's typically what happens, but because she's tongue-tied, she needs her thumb now to have that stimulation, and that's sometimes a sign, as well.  Not always, but that can be something, as well.  And then the little lisp going on, so now there's a speech situation going on.  It's just a situation where, man, I wish I had gotten involved when she was three weeks old, but now she's almost five.  But it's kind of amazing how babies can grow and change and evolve to get their nutrients and what they need, and the same with Mom.  But, again, their growth and development happens over the years to come, so all of that development going on can still be impacted later.  There's been lots of good stories, though!  I had one baby who was about six weeks old when I met her.  Her mom had been working with a lactation consultant briefly and was told that she was probably tied, but they couldn't really tell and that they should see a dentist about it.  So she had seen a friend of mine who referred her to me because he knew I could diagnosed those kinds of things.  We did do the frenectomy procedure for her lip and tongue, and the first 48 hours were a little tougher because she was healing and all of that, but generally, she did much better as the week went on.  I saw her at two weeks and three weeks post-op.  When I had initially seen her, she had baby acne pretty severely, like, red, rashy, peeling skin, lots of bumps, things like that.  And then when I saw her two weeks later, she had gained weight.  She no longer had baby acne at all, and Mom was obviously much less stressed and much happier.  And she said it was still a little tough; when I saw her at that two-week mark, there was still some healing going on.  I said, let's see her in another week, and I want to see how you guys are doing after she's 100% healed.  I saw her after three weeks, and she was doing so much better.  So just like Shira said, it takes some time.  It does.  I don't know specifically what was going on because lots of kids have baby acne and things like that, but when I saw her after two weeks and she had cleared up, I was like, well, maybe it's because mom is less stressed, and there's less cortisol in her body, which is our stress hormone.  Who knows; it could be multiple things, but that could have been part of it.
Shira:  Or more milk volume, too.
Dr. Katie:  That, as well.  So lots of things going where baby was just doing great afterwards, and Mom was so helpful for me, as well.  It was probably one of the first times I had actually really done the procedure for that young of a baby, and Mom was really helpful in all the things she was observing as it went.  They were doing great.  So that was a good success story.  Oh, and she had been on a reflux medicine, and she didn't have to take it anymore.
Shira:  That's probably one of the biggest things I see.  I see lots of babies that are on reflux meds, and babies who have their tongue tie treated are the babies that tend to no longer need that.  That's usually a symptom of the tongue tie, and it goes away.  Gassiness, things like that.  Babies are sleeping longer.  A lot of times, babies with a tongue restriction don't have long sleep cycles.  They are woken up; probably because of their tongue not resting on the roof of their mouth, which is kind of a soothing thing.
Alyssa:  Well, and part of it, too, is that if they're not effectively draining the breast, they're hungry.  They're waking up hungry.
Dr. Katie:  They're hungry more often; they fall asleep at the breast because it's really exhausting for them to eat.
Alyssa:  Yeah, I mean, if a breastfeeding session takes an hour at each breast…
Dr. Katie:  It's like running a marathon for them to even breastfeed.  So they're exhausted.
Shira:  So it's not necessarily just what breastfeeding feels like to the mom or that baby is all of a sudden gaining weight, but there are all these other little pieces of health that can be related that maybe no one would have thought would be related.  You know, you take a baby to the doctor for gassiness or digestive things or not sleeping enough, and a tongue tie is rarely the first place they look.  Oral function is not often where they're going to look.  But they're definitely related.
Alyssa:  So moral of the story is, you need to find a team to help support you, and be patient once this happens and don't expect instant results.
Shira:  Yes.  And I want to emphasize that you do need to find people who are well-trained and familiar with this process, with this procedure, and with assessing oral function in the first place because I will say that many pediatricians, many dentists, or many lactation consultants, in fact, are not trained at really assessing what the tongue is doing or what it should be doing.  So this situation gets overlooked or even ruled out, even, when it's a concern that parents have.  It's often ruled out when it really should be addressed.
Alyssa:  Well, I know that for the two of you, it's kind of your specialty.  Shira, I know it is for you.
Shira:  So if a parent think that they're dealing with these symptoms, just keep looking.  Keep looking for somebody who will listen to you and really give you the help that you need.
Alyssa:  They should just call you!
Dr. Katie:  Absolutely I'm not going to diagnose something if it's not there, but it is really important to go to someone who does, like you, understand oral function and what should be going on.  Obviously, as an IBCLC, you have more training in what's going on, and myself, as a pediatric dentist, I have sought out that training, but yes, not even every pediatrician understands how to evaluate.  That's why I'm a kid specialist of the mouth; that's a simple way of putting it.  I'm always in the mouth; I'm looking at the mouth, and that is my specialty.
Shira:  It's an important part of the body!
Dr. Katie:  It is!
Alyssa:  Well, tell people where to find you.
Dr. Katie:  I'm actually in a practice called Pediatric Dental Specialists of West Michigan.  We are located at East Paris and Burton in the new Bankston Center, and you can find us online on our website or give us a call at 616-608-8898.  We'd love to connect with you and connect you with Shira, as well.
Alyssa:  You can find Shira on our website.  People call for you all the time!  People love you.  We love you, too!  We're so happy to have you!
Shira:  I'm so happy to be with you!
Alyssa:  Thanks for tuning in, everybody!  If you have any questions for either one of these ladies, email us at info@goldcoastdoulas.com.  We are also on Instagram and Facebook, and you can listen to our podcast on iTunes and SoundCloud.
After this podcast aired, Shira wanted us to clarify some things that were mentioned:
"A tongue release procedure, frenectomy, can be done well by any type of provider (dentist, ENT, physician, midwife, etc), as long as they have good experience and training. Likewise, good releases can be done with a laser, scissors, or scalpel — it is the skill of the provider that matters most, not the tool used.
An experienced release provider does not use general anesthesia for babies – they either use topical anesthetic, or nothing at all. Avoid providers who say they use general for babies, as that is neither safe nor necessary.
A good way to find a provider is to ask an experienced IBCLC who they recommend, or ask a potential provider how often they do frenectomies, how many they've done, what their training is, etc. Having it done by a less experienced provider often results in an incomplete release, which may have to be redone to provide full benefits".
Shira also wanted to note that she did not train with Dr. Ghaheri, but did get to shadow and learn from him during her education."