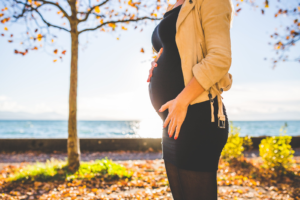 7 Ways To Save Money When Having A Baby
Emily Graham is the creator of mightymoms.net. She believes being a mom is one of the hardest jobs around and wanted to create a support system for moms from all walks of life. On her site, she offers a wide range of information tailored for busy moms — from how to reduce stress to creative ways to spend time together as a family.
While most of us understand that having a baby is expensive, many don't have an accurate idea of just how much so. A 2017 survey revealed that most parents-to-be are vastly underprepared for the cost of having a baby, with over half of them assuming the first year would cost less than $5,000 (the real figure was $21,248 for lower-income households).
This can be worrisome when you are expecting your first baby, but it's no reason to panic. There are many ways to save money during pregnancy and those first few months of parenthood. You just have to be smart and do your research.
Check Your Insurance Coverage
Under the Affordable Care Act, health insurance must include coverage for pregnancy, labor, delivery, and newborn baby care. The actual benefits, however, depend on the individual policy, so find out exactly what you are eligible for. If you can't afford private insurance and don't have it through your employer, you may be able to claim it through Medicaid or CHIP (Children's Health Insurance Program).
Get Creative With Your Gender Reveal
Some people go big on their gender reveals, but you really don't have to. There are many ways to do a memorable gender reveal with very little money. Kindred Bravely suggests ideas like having a cute photo op for social media, printing bespoke T-shirts, or using colored sparklers. By getting creative, you'll be sure to end up with something more personal.
Buy Second-Hand Accessories
Baby accessories are the quintessential second-hand item. The baby will inevitably outgrow everything, and once you're done having children you're left with a bunch of useless stuff. For this reason, second-hand websites are some of the best and cheapest places to find everything you need for your baby, from strollers to cribs to clothes.
You may also be able to get some free stuff on websites like Freecycle. It's not all low-quality, either – some people just prefer to give their stuff away rather than going to the trouble of finding a buyer and selling it.
Look For Free Formula
Not all mothers breastfeed, and even those that do may want to supplement with formula. The cost of this can add up quickly, especially if you need to buy fortified formulas. Luckily, there are many ways to get free formula. Major brands often offer free samples and coupons, and you can also get some at your doctor's office or hospital.
Ask for a Prenatal Prescription
There are several supplements that are often recommended for a healthy pregnancy, such as folate, iron, Vitamin D, and prenatal vitamins. If you're at the beginning of your pregnancy, you know you're going to be taking these for the foreseeable future. Ask your doctor to give you a prescription for prenatal vitamins, which you can easily fill for $4 at retailers like Walmart and Target.
DIY Your Nursery
It's easy to get carried away with dreams of the perfect nursery, but remodeling a whole room can quickly become expensive. Instead of spending a fortune on decor that your child will want to change in a few years, make your nursery even more special with some cute DIY projects. This list by Brit + Co has some lovely ideas, from washi tape wall art to an upcycled cradle and several pom-pom projects.
Teach Your Partner Some Massage Tricks
Soreness is an almost inevitable part of pregnancy, and not everyone can afford regular massages. What you can do is teach your partner (or a generous friend) to do it for free. A good prenatal massage should be gentle, with unscented oils, in a position that is comfortable for you – usually, sideways with pillows supporting your back.
Some parents feel like they have to spend large amounts of money to give their child the best. However, as long as you provide them with the basics for their health, comfort, and safety, you are doing your job as a parent. Being smart about money at this stage allows you to devote more money to things that matter, like saving up for college or having fun family experiences. In the end, it's the love and support you give the baby that's going to make a difference, not the money you spend.