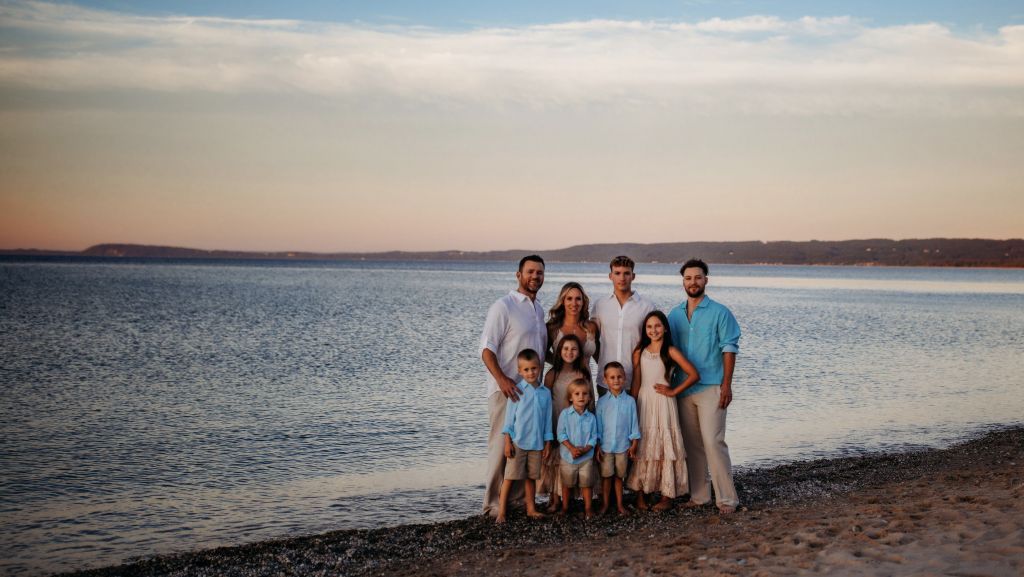 1) What did you do before you became a doula/consultant?
For many years, I primarily have been a "domestic engineer", a stay-at-home mom. Although in some of those years, my family has owned a few restaurants, and I helped there when I was needed.
2) What inspired you to become a doula/consultant?
Becoming a mama at a very young age, to two boys, and the birthing experience I had with them started my journey to want to make others mamas experiences more empowering and filled with better memories and support. Because of my birthing experience with them, for a long time I wanted to be a labor and delivery nurse, or an OB nurse practitioner, but that was not my life path.
I now have 7 beautiful children, and each one of those birthing experiences was different. It was not until my 6th child that I became more aware that I have a choice to a have different birthing experience. Now I want to empower mamas to know that they can too.
3) Tell us about your family.
We moved here to the Traverse City area at the end of 2020, from Henderson, Nevada. We would visit family here every summer, and loved the area.
We are a very outdoor family. Love the beach, paddle boarding, fishing, soccer, snowboarding, sledding, all fun activities
4) What is your favorite vacation spot and why?
I absolutely love Hawaii. The beaches, the warm water, the smell, the culture. It is my Happy place.
Traverse City use to be one of our favorite vacation spots every summer also, until we moved from Las Vegas.
Now Las Vegas is one of my favorite vacation spots, so I can see my son, my amazing friends, and my previous village.
5) Name your top five bands/musicians and tell us what you love about them.
This is really hard to answer. I really think it depends on intention, mood, and the time of day.
6) What is the best advice you have given to new families?
There is so much "best" advice to give! Give yourself Grace, time to heal and rest, do what is best for you and your family even if that means setting boundaries, and do not feel the need to follow the western culture to "bounce back".
7) What do you consider your doula/consultant superpower to be?
From what I have been told, is that I bring great, empowering, safe energy when I walk into the room
8) What is your favorite food?
I love raw sushi and Mexican food
9) What is your favorite place on West Michigan's Gold Coast?
I love Empire, Sleeping Bear Dunes, Glen Arbor, & Traverse City
10) What are you reading now?
The First 40 Days
11) Who are your role models?
I love to listen and surround myself with empowering woman and friends.
[/fusion_text][/fusion_builder_column][/fusion_builder_row][/fusion_builder_container]