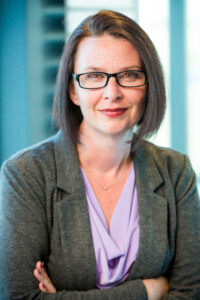 Surrogacy Options: Podcast Episode #212
Kristin Revere talks to Jennifer White of Bright Futures Families about different options related to surrogacy.   
Hello!  This is Kristin Revere with Ask the Doulas, and I am so excited to chat with Jennifer White today.  Jennifer owns Bright Futures Families.  She is the owner and director, and she wears many hats in the fertility sphere: survivor, advocate, and professional.  Jennifer loves helping people realize their dream of becoming parents and is honored to play a role in their intimate and life-enhancing journeys, as well as advocating for access to care for all.  Welcome, Jennifer!
Thank you so much for having me!  I'm excited to be here.
I'm so happy to have met you at DoulaCon in Colorado and to learn more about the important work that you're doing in the surrogacy and fertility fields.
Absolutely.  I will say, start me off from your end on the doula perspective.  What are the burning questions that you want to know about surrogacy?
I have so many questions, since surrogacy is not an option for families in Michigan.  As a doula, I have yet to support a family working with a surrogate.  I have doula friends –
I will caveat, parents can have surrogates, but they just have to be outside of your state is what it comes down to.
Exactly, yes.  I was going to say, some of my doula friends have supported families with surrogates in other states and then flew out to those states for the birth and so on. 
There's an amazing advocacy group that's trying to get that law changed for you all, though.  They're working on it.
Fingers crossed!  I remember you saying that at conference and that would be amazing to have as an option for families in Michigan.  As far as surrogacy, from a parent perspective, what is that process like?  Can you walk me through how you support families who are looking to get matched with a surrogate?
Sure.  Some of it really depends on what perspective people are coming from because everybody comes to the need for a surrogate from a slightly different place.  There's many people who come to it from infertility.  Some people come from needing it for an LGBTQ family who just simply does not have a uterus, we'll simply say, for lack of a better way to say that.  Sometimes it is because there may be a mental health need that they can't possibly go off medications or things like that.  Sometimes people have had cancer, so they no longer have the ability.  Everyone has to come from it at a different place.  So that's one of the things that we do.  We meet people where they are, to start.  From the parents perspective, they need to create embryos to transfer because we only do gestational surrogacy.  There are two kinds of surrogacy, and one is more common than the other.  Gestational surrogacy is where the person carrying the embryo is not genetically related to the child that they are carrying, which means that the parents created the embryo either with their own gametes, so their own egg and sperm, or they utilized a donor.
The other less commonly used is something called traditional or genetic surrogacy where the actual surrogate is actually donating her own egg.  So she is biologically related to the child she's carrying.  It's far less common now.  You rarely see it, but it does exist, and it is legal.  Legal in some case; not legal or recognized in other states is what it comes down to.  So as parents, they need to have created those embryos to transfer to their gestational surrogate.  When they come to us, we spend a lot of time talking through what it is that they desire and want in a surrogacy match because this is hard, right?  People are giving up control of carrying their own child, which can be emotionally very difficult.  We really want to make sure that we meet them where they are, and if there are things that are really important to them, that we are honoring those requests.  Obviously, in your state, for example, we can't honor the request to find a local surrogate just because that's not possible by the law.
But we also then can have conversations about reasonableness about their requests.  We've definitely had parents – I had a parent once who said, I want the surrogate to text me or call me every single time she leaves the house, arrives at her destination, et cetera.  And I understand their fear, right?  So I can come to them and I can see where their fear is coming from.  Their child is being carried, and so they're very nervous about what's happening.  But it's also not a reasonable burden to put on the person who's carrying your child.  And so we had to have a conversation in that situation about reasonableness of expectations.  And so we can help as an agency to guide people through, what is a completely normal request.  And a lot of times people get very fearful that things that actually are normal, they're like, is it too much?  And like, no, it's completely normal.  But then also we want to make sure that if they're scared, let's talk through, where is this coming from?  Why do you want this?  What else can we do to mitigate that instead?
There are three things that, when we're matching, I consider completely, and I call them nonnegotiable.  What I mean by that is that everyone has the right to their own opinion, but we want to make sure that opinions match because, of course, by the time you're pregnant, it's too late to be having that conversation and be at a mismatch.
The first is the number of embryos to transfer per transfer attempt.  Most clinics will only transfer one, but sometimes parents ask to transfer two.  And gestational carriers, of course, have the right to say, hey, I don't want to put two embryos in my body because that increases the chance of carrying twins, which increases my risk, right?  So we always want to make sure that everybody is on the meeting of the minds there.
The second is the stance on vaccines.  And I know COVID vaccine, of course, is something that is still at the top of people's minds, even though we're now at kind of endemic stage.  But some people chose not to be vaccinated, and that's perfectly valid.  Or some people may have been vaccinated with one, and then chose not to vaccinate further.  Also completely valid.  Some people have all the vaccines.  Great.  But what we want to do is we want to make sure that both sides, the parents and the gestational carrier, are at agreement with each other on that.
And it goes further than just the COVID vaccine because routinely, OBs and midwives ask for the flu vaccine during pregnancy.  They also ask for the TDAP vaccine, as well as recently now asking people if they will get the RSV vaccine.  So we want to make sure before she's pregnant, right, before a gestational carrier is pregnant – it would be catastrophic, right, if the parents were like, hey, I believe fully in TDAP, and the gestational carrier is like, no, I refuse to get it.  Well, she's already pregnant, right?  It's too late to have that meeting of the minds.  So we want to have that conversation beforehand.
Makes perfect sense, yes.
It's one of those things that you're like, oh, yeah, now that you think about.  And there's not a right or wrong to it.  Everybody's choices are valid.  We just want to make sure that we find people who match each other in their belief.
The third one, and this one can be a hard conversation and a very emotional conversation, is to talk about everybody's stance on termination of a pregnancy.  Obviously, in surrogacy, these are very, very wanted pregnancies.  Surrogacy – I mean, the unfortunate thing is that surrogacy is very, very expensive.  So it's not like people undertake this as, hey, I just decided to do it, and I'm going to change my mind.  That doesn't happen.  The question, what it really comes down to, is what happens if a major medical decision needs to be made.  And same as with vaccines; all stances are valid.  Everybody has the right to their own personal belief.  We just want to make sure that people match each other so that if a major medical decision needs to be made, I wouldn't want to have matched a gestational carrier who says, I would never terminate a pregnancy under any circumstances except in favor of my own life, with a parent who's like, hey, I really need to be able to make that medical decision, and I don't want any harm or any suffering or things like that.  We want to make sure everybody matches up with each other.  No right or wrong; no judgment in that question.
Also, of course, as we're having to now in this day and age, we have to also have a conversation about is the gestational carrier willing to travel is a termination is necessary and requested and agreed upon to.  In some states, there is no access to that care, and so we really want to make sure that we've thought through – and I will say, I think that people get very overwhelmed and terrified by that conversation.  It's very important to have it, but it is very, very rare to actually have to act upon the conversation.  It's just that as an agency, it's our due diligence to make sure that, hey, if you are that one in a million who's in this worst case scenario, did we talk about it in advance, and everybody feels good about this conversation.
The first part of matching – I was going to say, I can keep going about it, but those are the big criteria for matching.
Yeah, and then obviously, you know, there are personal preferences and contracts that could be negotiated; say, if the family wanted the surrogate to have a doula, or if the surrogate wanted to have doula support.
Absolutely.  I can only speak to my agency and our policies.  We actually have a line item in our benefit package when a gestational carrier comes on board that actually says – she checkmarks, I would like a doula.  And so then that means that from the point of matching, the parents have agreed that, hey, yes, we understand you want a doula.  We are willing to pay for you to have a doula in this process.
There's so many, many reasons to need a doula besides birth, as well, and so we're oftentimes talking as things go further along about other things.  When you're a doula, you support your specific client, right?  In that situation, where they check the box that I want a doula, they're supporting the gestational carrier.  The parents are still there, too.  And it could be that the parents need a doula during the process, as well; somebody to take care of them and help them in their anxiety and their worries through the birth process.  Sibling doulas could be a possibility for that gestational carrier to take care of their children who are home because all gestational carriers already have children.  So they have to think through, who's taking care of those children?
I love when there's sibling doulas because instead of being like, hey, I'm just going to call my neighbor down the street – it gives me a lot of peace in that situation because then I know that there's somebody who's 100% dedicated to being on call for them no matter what.
Newborn doulas, of course, afterwards.  I think doulas are so valuable, especially in the LGBTQ sphere, because a lot of the newborn classes and birthing classes at hospital are geared to use very gendered language and to talk to the pregnant person.  So hey, mama.  Mama, this is what you're going to do.  And you have a lot of same sex males couples who are very uncomfortable going to those classes because they're not geared towards them and what their situation is going to look like.  So there's so many opportunities and need for education for doulas to do pre-birth education.  Quite honestly, it's limitless.  We need doulas out there!
With the newborn care specialists or postpartum doulas, then, the family would be hiring the doula versus the surrogate?
That's correct generally.  I mean, every once in a while, I have seen a surrogate say, hey, I want somebody to come in and just be with me for the week afterwards while I'm recovering, but you're absolutely correct.  Generally, it is the family of the new newborn who is asking for somebody to come in and say, hey, you know, especially sometimes they need overnight care to figure out how to get through that new rhythm of having a new child at home.  Or of course, like, hey, we've never had children.  Can you please help us through this in that first starting off point?  We see that quite a bit.
We also see it quite a bit, actually, with international families because surrogacy is not just limited, of course, to parents who are in the United States.  There are oftentimes families that come in from overseas, and so then they are lacking that family support around them that a lot of us can take for granted.  Like, when I had my child, my parents flew out, right?  Great; they were there; they helped me.  But when you're international and you're in the United States – one, you have a language barrier, and two, you don't have that family safety net surrounding you.  So there is a huge opportunity and need for help there because that gives them that help and safety net, especially while they're trying to deal with passports and paperwork and things like that with a brand new baby so they can get themselves home.
Right.  That makes so much sense.  And there could be delays. 
Especially during COVID, there were delays.  There were significant delays.
Right.  And certainly for the surrogate, having a postpartum doula in the hospital or, as you mentioned, with recovery and sibling care could be very beneficial for the first week or so.
Absolutely.
I love it.  So for our listeners who are interested in becoming a surrogate, what is that process like?
I think the biggest thing is a genuine love of being pregnant yourself.  I can absolutely admit with full heart that I really did not love being pregnant.
Same.
Some people do, and some people don't.  And again, no judgment, right?  I just – that's why I will admit it.  I did not love it.  But there are people out there who think that the greatest moments of their lives are always when they are pregnant.  It's just that they're done growing their own family.  So from my perspective, I feel like you really should be done growing your own family because as we all know, any pregnancy can lead to complications and could end your childbearing ability.  So we never want somebody to say, hey, I'm going to give this most selfless gift to somebody else, but I'll just wait and have my own children later.  No, no.  You can't do that.  We want you to have finished your own family so that there's no hard feelings or guilt over this as things go forward.
So finish growing your own family.  Love being pregnant.  Have complication-free pregnancies.  Not be on any mental health related medications.  So I know in this day and age, we're all cumbered with anxiety, but unfortunately, we can't be on those medications to move forward in the surrogacy journey.  Can't be on any government related aid.  Needs to have a reasonable current health history.  So, like, reasonable BMI, and I hate to – it's not that there is – I don't personally discriminate against people based on their size, but there is something with the medications that you are given during the IVF process that the body metabolizes better at lower BMIs, usually 32 or under.  That's why we ask for that, and that's why the clinic asks for that.
That's the general, big overarching.  Can't have more than three C-sections.  Can't have had more than five pregnancies.   That kind of thing.
So as far as finding the surrogate and matching with a family, you talked about some of your criteria, and they can obviously be in different states, but what would be the – I mean, do you ever have family members go through the formal process, or people that a client has identified versus getting matched with a stranger?
Yeah, absolutely.  And I will say, I know that's scary when you say the word stranger because that kind of makes it a little harder feeling, but we're very methodical about matching.  People meet each other, and they make a conscious decision to match with each other.  So we actually introduce and walk through introductions; have full, long, detailed conversations about everybody's expectations, about getting to know each other.  It's not that you are – if you're going through an agency, and I'm going to put in my little air quotes that nobody can see, a "stranger" – that you are a full stranger.  It's that you actually have full free will on both sides.  You meet each other, and you make a decision as to whether you want to move forward together in this journey.  It's not that scary, is what it really comes down to.
That makes sense.
It can seem really overwhelming, and I will say, there are some agencies out there that just say, yeah, no, you're matched, and you just go.  And you go, oh, okay.  But most agencies actually are going to introduce the parents and the gestational surrogate together.  You're going to make a conscious decision about matching with this person about whether you want them, whether you like them, whether you have the same aligned beliefs with them and things like that.  And that's the way it should be.
Right.  And as you mentioned, the communication and everything would have to be agreed upon by both parties on the involvement or lack of involvement, depending on choices.
Correct.  Absolutely.
I love it.  So how did you get into this work?  I know you're very involved in the fertility space and advocacy.  You have traveled and lived all over the country, so you do work in multiple states currently.
Yes.  I personally went through my own infertility journey.  We went through seven years of infertility.  My husband was active duty military until two months ago.  He just retired with 24 years of military service.  We went through our infertility journey while he was in the military.  And we now have an 18-year-old.  It's amazing, and we've gotten this far, but the thing is, the military hasn't changed in how they help people and use their healthcare system for infertility.  And access to care is extraordinarily difficult for military families because we move so much, because we don't have the insurance that covers anything related to fertility or family building.  And so that's part of what brought me into this, of course, is my own personal journey.  Then I actually started working in a law firm that does assistive reproductive technology law.  I was, of course, dealing with legal contracts and looking through things there.  Full disclosure, the law firm was owned by my sister, so I feel very strongly about family in all of these things, too.
And then after a number of years of us helping people who were independent matched – which is exactly what you alluded to, right?  A family member or a friend that you already knew.  They tend to independently match outside of an agency.  Well, as a law firm, we were helping a lot of those.  And what we found was that we couldn't serve people very well there or very fully on the law firm side and give them what they all needed.  And honestly, I love logistics.  I feel like a party planner every day, and the most amazing party is having a baby.  So we actually broke out the agency separately from the law firm.  So my sister still has the law firm, and I now run the agency.
Beautiful.  And as far as you being involved heavily in the Colorado advocacy, as well as having the agency, how did that – was that just based on where your husband was stationed at the time, or how did that come about?
Yeah, so actually, my sister lives in Colorado.  So I was stationed in Colorado at one point, and at the same time we were stationed there, my sister moved there, and then we ended up moving away because we got stationed somewhere else.
You're on the East Coast now?
I am now, but in the middle, I've been in a couple other places.  Since I was in Colorado, I went to London, then Alabama and California, and now I'm back out on the East Coast.  We've lived all over, but we were in Colorado originally, and so that's where that started.  Since my sister is there and our original agency – well, we are Bright Futures Families.  We have DBAs in a lot of locations.  And Colorado Surrogacy was actually our original location.
What we saw there was a lack of access to insurance coverage, right?  This goes back to the access to care conversation.  And while it didn't affect Tricare on a federal level, we wanted to see what we could do to help on a state by state basis.  So we founded Colorado Fertility Advocates, and in conjunction with Resolve, who is incredibly helpful to us, we actually had legislation introduced, and we had a big, huge advocacy day in Colorado.  We actually got the bill passed.  Ironically, on April 1st, which was not an April Fools' Day, of 2020, right as the world shut down, the governor signed the bill giving fertility benefits.  It's only to the large cap market.  It has a few issues, as all bills do, right?
Sure, but it's a huge step!
It was absolutely amazing.
So going into working state by state and also dealing with benefits – as you mentioned, Tricare does not cover surrogacy.  Are you seeing changes in employer funded benefits to expand to cover surrogacy?  I know many are adding adoption.  Some are even adding birth and/or postpartum doulas to their coverage plans.  I have so many questions related to that.
I'm not seeing it on a health insurance basis.  The health insurance is more about fertility benefits like IVF and gamete freezing and things like that.  I will say, though, I am seeing a lot of trends towards employers having other benefits programs.  So, like, Carrot Fertility and Progeny where they either have discount programs or they have a pool of money and they'll say, hey, you know what, you get $25,000 worth of benefits towards any of these fertility-related things.  I am seeing that as a big improvement that is happening out there.
The only state I know of that has made a really big difference – and insurance is such a – I love talking about insurance, and I can and will talk about it all day if you will let me.  The thing is that as an intended parent, you can never cover a surrogate on your own policy because she's not your beneficiary.  So what they have to look at is the actual surrogate's health insurance, and not all health insurance will cover a pregnancy when acting as a surrogate.   So that also then becomes a very important thing.  So then you have to talk about open enrollment exchange if it doesn't cover and again, I could talk about it all day.  But there are a couple states that have moved and said that it is illegal to discriminate on that basis.  Nevada is notably one of them.  So all policies in Nevada must cover pregnancy when acting as a surrogate, which is amazing.  That's kind of a goal.  All of us are trying to use that gold standard and see if we can get things moved towards that.  I know especially in New England, like Resolve New England is working very hard to try to get some policies in some states changed up here, as well.
Okay.  So you'd mentioned Carrot, and I've worked with Carrot for clients with both birth doula support as well as postpartum.  As you mentioned, they have a set amount of money, so they're able to utilize that for surrogacy if that is their choice?  Is that correct?
So that would be actually a question for an expert from Carrot, quite honestly, because I imagine they have different employer policies for different places.  I know sometimes they negotiate discounts or sometimes they say, hey, you have this pot of money.  What Carrot is, it's a benefits administrator.  So they administer out whatever it is that the company has agreed to provide to their employees and their beneficiaries.  So I couldn't give a blanket as to what Carrot does.
That makes sense, and I've noticed it does depend on the employer.  It varies.   That's so fascinating.  And hopefully things keep moving similar to the fashion that Nevada has, state by state, to be more encompassing.  Do families pay for insurance?  I know you mentioned that a surrogate cannot be on state aid, but do they add on to insurance policies for the carrier?
If her insurance will cover a pregnancy while acting as a surrogate, then she can use her existing health insurance at that point.  And then the parents would be paying for up to her maximum out of pocket amount.  If her insurance does not cover, then in that situation, then they would be taking out an additional policy on her, one that would cover a surrogacy.  And in 49 out of 50 states, there is a policy through the open enrollment exchange that covers pregnancy when acting as a surrogate.  I just always want to caveat the one.  There's always one exception to every rule, right?  And because I'm licensed in New York, I would be very careful about this.  Under New York law, if you're matched with a surrogate in New York, the parents still must pay the premiums for her policy, even if it is an existing surrogacy-friendly policy.
Oh, interesting.  How many states do you work with families out of, then?  You mentioned being licensed in New York.  You're obviously working in Colorado.
We generally have about 17 to 18 states that we work in.  We will actually work with a surrogate in any state where surrogacy is legal.  We just don't tend to have as many from certain states, not because we're against those states.  We just have them in places that are much more.  My six d/b/a's are Colorado Surrogacy, Montana Surrogacy, Texas Surrogacy.  Then we get a little more regionalized with Southwest Surrogacy, Pacific Cascade Surrogacy, and New England Surrogacy.  So obviously, that leaves out kind of the Midwest and the Southeast, not because we are against those places.  We absolutely would have surrogates from there.  It's just that those are more where we're concentrated and looking is those other locations.
That makes sense.  So how do our listeners connect with you, Jennifer?
Sure.  So they can head to my website, which is www.brightff.com.   Or they can send me an email at jwhite@coloradosurro.com.  Either way would be absolutely great.
Also, if I can throw a little plug in there – we have a great referral program if there are people who are listening who say, hey, I can't be a surrogate myself, but I know somebody who might be a fantastic one.  Our referral program – if you just have the conversation and encourage them to fill out the intake form and put your name on it, you each get a $5 coffee gift card.  I know that seems silly and little, but just have a cup of coffee on us for having the conversation.  If they are qualified enough to fill out the application, each person gets $100 for the referral, and if they end up being matched, each person gets $500 for that referral.  So it's worth having the conversation with people that you know who might be interested in surrogacy.
Are there any national resources that you would recommend in starting this process and doing more research on either becoming a surrogate or the process for families who are looking into it?
Yeah, that one's a little harder.  I definitely think we try really hard to be open and transparent on our webpage.  If people head to our webpage – I know a lot of people go to Facebook.  There's a lot of Facebook surrogacy groups out there.  You have to take some of that with a grain of salt.  They absolutely have some level of valuable information, but they also have some not always accurate information.  So you have to be a little bit of a cautious consumer in those groups, but they are really good sources of information, too.
Excellent.  Any final tips for our listeners?
The honest answer is, it's not even a tip.  It's a shoutout that I love doulas and everything you all do to support our families.  It makes me happy every day.  So I just want to say I appreciate you all.
Oh, thank you!  Well, I appreciate the work that you're doing, especially in the advocacy space, and hopefully things change in Michigan in the future.
I hope so, too.
Maybe we'll work together!  Thanks so much for sharing your wisdom and educating our listeners and our doula clients on this option.
Thank you for having me!
IMPORTANT LINKS
Birth support from Gold Coast Doulas
Postpartum support from Gold Coast Doulas