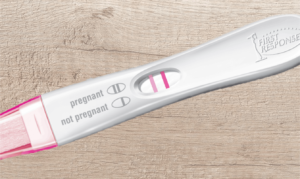 This blog is written by Jessica Kupres, BSN, RN, CLC, CBE a Postpartum Doula with Gold Coast.
As you lie in bed thinking about your day and putting your brain to rest, you might think about the great presentation you gave today. Did you put the clothes in the dryer? When was your last period?…. When was my last period? Was it over a month ago? Am I pregnant?!
The best indicator of pregnancy is taking a pregnancy test. Today's home pregnancy tests can be over 99% accurate, and many can be taken even before you miss your period. You can even get them at the dollar store. But what are the symptoms you might experience that mean you could be pregnant?
Remember that everyone is different, so you might have one, none, all, or a handful of symptoms. Probably the most common first indicator of pregnancy is a missed period. Every month your body prepares for pregnancy by thickening the lining of the uterus, and when no fertilized egg implants into the uterus, the additional lining sheds, and you have your period. This can be a little tricky, though, because 15-25 % of women will have implantation bleeding. Implantation bleeding is when you have a small amount of bleeding or spotting as the fertilized egg (zygote) implants or anchors itself into the uterine lining. For all three of my pregnancies, I took and had a positive at-home pregnancy test at the start of my "period" which was actually implantation bleeding, and not a period at all.
But let's say you're lying in bed, don't have a pregnancy test at home, and may or may not be spotting. What other symptoms might imply you are pregnant? As soon as your body recognizes you are pregnant, it starts going into overdrive and your hormones quickly shift to prepare for the pregnancy. You might be surprised how quickly your breasts change. They might feel tender or swollen, and you might notice your nipple and areola, which is the area around the nipple, become darker. Surprisingly, this is already in preparation for childbirth, when the darkened nipple and areola become a "bullseye" for baby to easily see and help him or her latch on for breastfeeding!
You might also noticed an increased need to urinate. You might think this is something that comes with a large uterus pushing on your bladder, which it does later in pregnancy, but at this point, your new pregnancy hormones and increased blood supply cause your kidneys to filter more fluid and increase the need to urinate.
You might also notice an increased sense of smell, or changes in food preferences. All of the sudden you may crave a lot of potato chips, and the smell and taste of chicken may send you running to the bathroom, even though chicken was a favorite food before. For me, I have always been a chocoholic, but for the first 14 weeks of my first pregnancy, the thought of chocolate was repulsive to me. And along with food and smell aversions, you may have nausea and/or vomiting. This may or may not be directly linked to food or smells, though. Many women find they get nauseated, or have morning sickness, if they get too hungry in the first trimester. That's why it was originally associated with the morning… you are probably hungry from not eating all night, so might have morning sickness. A helpful trick might be to have some crackers by the bed, and eat a cracker or two before you move or get out of bed. This may help ease this hunger related morning sickness. Unfortunately for many, though, morning sickness doesn't just stick to the morning. Some may experience it all day.
In early pregnancy your body is working really hard to get everything set for a healthy pregnancy, and as such, you may feel an overwhelming fatigue. You may also experience increased irrationality, mood changes, headaches, dizziness, or faintness. When this happens, it's best to sit or even better, lie down, if you are not feeling well. Your body temperature may also increase slightly in early pregnancy, though not high enough to be considered a fever. Some of the less talked about symptoms of early pregnancy may be increased gas, constipation, and a change in vaginal discharge.
Finally, you might notice some insomnia in early pregnancy. Your mind may be racing with all of the questions and excitement pregnancy brings, making it hard to fall asleep. So as you lie there trying to fall asleep, you now have a good list of symptoms you may experience in early pregnancy. And if you are still wondering if you are pregnant, it is probably a good idea to take a home pregnancy test and call your health care provider if it is positive!
Photo: First Response Pregnancy Test