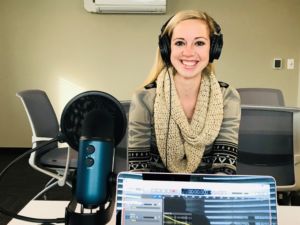 Podcast Episode #48: Bri's Postpartum Story
In this episode our dear friend, Bri Luginbill of BetterBodyImageConference.com tells us about her struggle with depression and anxiety before, during, and after pregnancy.  You can listen to this complete podcast episode on iTunes or SoundCloud.
Alyssa:  Welcome to another episode of Ask the Doulas.  I'm Alyssa, and today I'm so excited to be talking with my friend Bri.  Hey, Bri.
Bri:  Hi, everybody.
Alyssa:  She is with the Better Body Image Conference, and we did an event together – how many months ago was that?
Bri:  It was this March.
Alyssa:  Was it this year?
Bri:  It was this year.  Doesn't it feel like it was last year?
Alyssa:  Forever ago, uh-huh.
Bri:  It was this year, March.  I believe the 11th.  Crazy.  It feels like eons ago.
Alyssa:  Yeah.  Well, maybe since I mentioned it, tell everyone a little bit about what that conference was, and then at the end, we can ask you for more information.
Bri:  So that conference was a way to connect people in the community with different organizations that are very passionate about body image and just the mental and physical health, as well as social change, that can happen in our communities around that certain issue.  And so Gold Coast Doulas actually did a workshop on body image with pregnancy and postpartum bodies and had a lot of intimate conversations with different moms or even moms-to-be.
Alyssa:  Yeah, we loved that conversation.  It was – when our time was up, I remember someone came in and said, "Time's up," and everyone was like, "No, no, we just got started!"  So it would be fun to continue that conversation at another point.
Bri:  Definitely.
Alyssa:  Or even to have a podcast about it.  That could be a good one, too.
Bri:  Do a mini-event.  We're trying to do mini-events now, too.  But we'll talk later about that.
Alyssa:  So Bri and I see each other all around, and the last event we went to was just, again, the postpartum time with moms comes up a lot.  It's just a topic that we always talk about, and you even spoke to the group about the struggles that you had, so I think – I just want to kind of continue that conversation, the two of us together, and let's just have a real conversation about what it was like for you having a baby and was it even – did you struggle during pregnancy, too?
Bri:  During pregnancy I struggled more physically.  I had a lot of the sciatic nerve pain that a lot of people had, so I did go see – in my third trimester, it was weekly appointments with my DO just to get adjusted.  But the mental health was still okay there.  I think as soon as I had my baby, it was a very – I even had a lot of blood loss.  I almost hemorrhaged, too, during it, so I think when I had my kid, I was just exhausted, and I remember them putting him on me, and just being like, hey, there's a baby there, but not really feeling that, like, instant love because I was just so exhausted and tired.  And so from that first point, I'm like, whoa, I was told I was supposed to feel instant love, instant excitement, and I was just worn out.
Alyssa:  You weren't the photo of the mom in the hospital looking lovingly down at her baby; you were like, just let me sleep.  What's on my chest?
Bri:  Yeah.  And then I even had to get walked to – when I went to the bathroom, another blood clot passed.  I almost actually passed out.  I remember telling the nurse, "I can't hear anything, but I know you're there.  I'm starting to not be able to see.  I'm just letting you know."  So that was my experience, which some people even have it crazier than that, but I think I was just trying to make sure I was awake enough to be there, like not passing out, to be there for him more than, oh, my gosh, I didn't have that moment to really be like understanding what was happening because of my health at that point in time.  And then after that, I do have a history in my family, and I have anxiety and depression, which I feel like is not a fair combination to have.  You get anxious, and then your thoughts race, and then you feel bad about yourself, and then it's just like a cycle.  So I've learned over time coping strategies and things like that.
Alyssa:  And this something you struggled with before having a baby?
Bri:  Even before having a baby.
Alyssa:  So you knew that your risk after was so much higher?
Bri:  Yeah, definitely.  And I remember coming home, and we entered the door, and I just was bursting into tears, and I knew.  I also have a hard time with transitions.  I take them a lot harder than most people, and so I knew even with that it was going to be a little bit harder.
Alyssa:  Probably the biggest transition of your life thus far.
Bri:  Very true.  So I was super honest.  That's the thing my mom taught me growing up.  She said, our family has these things; I'm going to tell you, and you just – if you feel anything, make sure you tell people.  So her training me in middle school with that still helped, and so I was able to just let people know, like, I know that I'm feeling these things, and logically and practically, I shouldn't be sad; I shouldn't be like this.  I just – it's just so hard to fight that.  And then I was anxious at night because I was worried for him and just wanted to make sure he was okay, my baby, and then I was kind of depressed during the day just because that anxiety wore me out.  And I would go and sleep in the sun in our hammock because it was summer time, just to get some sunlight.  I actually did talk to my doctor and I did start taking medicine as soon as I could after getting out of the hospital, just because I had taken those before.  Zoloft is what I took, even before him, so I was doing all the things to try to deal with it, but I wasn't being very compassionate to myself to just let myself be, and so I think my word of advice and encouragement to people is if you are feeling those feelings, as long as you're voicing them and getting help and asking for support, just don't beat yourself up too much.  You're already doing so much, and it's hard not to beat yourself up, but you've got this whole new world that's going on, and you deserve to also be understanding to yourself, and you're trying to understand what's happening.
Alyssa:  Did actually getting on medicine seem to help?  Or not enough?
Bri:  It seemed like it helped a little bit, but it was still learning a new system, learning a new normal, learning what this means, and it really does take a village.  My mom helped a lot.  I had different friends that were helping.  I needed a lot of support from my husband.  There were times where we would wake up together at night with the baby because it was just nice, even if he was just sitting next to me, just having that person there.  And so, yeah, it was hard.  My anxiety, I knew was there because I remember just being so worried, is he eating enough?  Is he getting enough food?  And I would line up these bottles and then I would just obsess with counting and all that, to a point that was detrimental, and I remember I was over-pumping and all I was doing was pumping and taking care of my kid and eating, and that's all I was focusing on for a few weeks, and I remember my husband pulling out all of the milk from the freezer, and he was like, there are 30 bags of 4-ounce milks here.  He is getting fed enough, and you've got enough.  I just think I was worried about my stock because I have to go back to weddings and I have to go back to work.  I was a wedding photographer, and just trying to make sure my stock was there.
Alyssa:  Anxiety turned a little bit OCD, it sounds like.
Bri:  Yes.  Yeah, so I just like to be open about it because I feel like a lot of people have their own experience of what goes on, whether they have anxiety or depression or not, but we're usually always looking to someone to tell us – which is what I did.  I would ask all these different people of, what did you do?  What did you do?  Or what was your experience?  And none of their experiences were like mine, so I felt like I was doing something wrong, when in reality, everyone has their own unique experience, so don't compare yourself to someone else's postpartum story.  Just let yours be yours, and know that the one constant is that everyone's journey is going to be different, and that's okay and that's good.  But I think sometimes, too, we just want to do it right because that's what we're taught in our society.  "Do it the right way."  And there's really no right way.  The only right way is making sure your baby is fed, has shelter, and that they're loved.  And how the system happens for that is up to you and up to what your body and your family is able to do.  I did end up doing – I stopped breastfeeding at nine months just because he started not being interested anymore.  It'd be two minutes, and then, hey, what's over here, looking around, and then he was always kind of a chomper, and I never discouraged that because I didn't understand at the time, and my lactation consultant was like, uh-oh.  And so I was about done once he had teeth, too.  So for me, that ended at nine months, and then we did formula.  And sometimes people have to supplement or do both or do all formula, and that's – it doesn't really matter.  It's whatever works for anybody.
Alyssa:  By the time you got to the nine-month mark and weaned him, did that help your mental health in and of itself, or had you gotten pretty much to a better place by that point?
Bri:  It did actually help my mental health even more just because then it was one less thing to think about, and I do think – I don't know; I'm not a doctor, but I think your hormones after you're done breastfeeding – do they normalize more?
Alyssa:  I feel like they're always fluctuating after you have your baby.  Five and a half years later, I still think mine are all wacky.
Bri:  Yeah, you know, I would agree with that, too.  I think I felt a little bit less – maybe it wasn't chemically after stopping breastfeeding, but at least one less thing to have to do.
Alyssa:  Well, there are hormones involved because, you know, there's the hormones that actually produce, that allow you to produce the milk, so they are changing, but I think for someone with anxiety, who's worried about breastfeeding and pumping and how much milk – now you can give them solid foods and a bottle that's very quantifiable.
Bri:  And I don't have to worry about producing that.
Alyssa:  And again, like you said, everyone's story is different.  For some moms, weaning becomes a source of depression because now it's the end of this time with your baby that you'll never get back.
Bri:  That's true.
Alyssa:  So you really just can't compare.
Bri:  Yeah, no comparing whatsoever.  I thought of wanting to make some sort of book, and it wouldn't be photo; it would be more of just stories, and it would be everyone's experience postpartum, like just different people's stories of postpartum, and then you can gift it to people who are pregnant but tell them not to read this until you feel like you want to read other people's stories, like after you've had your kid and maybe you're tearing your hair out, like what is going on, in the thick of it, and then you can see, look, everyone's had a different experience, and that's okay.  Because it's something that you don't want to take away from their pregnancy experience with all this; we don't want to scare people; we don't want to also say well, this is what I went through so you should go through this same thing, but having a collection of those stories, when it just seems like so much and you don't know if what you're doing is right, look at all these people, and they did it right.  Their kid is healthy.  Your kid will be healthy, and there's all different experiences.
Alyssa:  They did what's right for their family.
Bri:  Yeah.
Alyssa:  In that moment.
Bri:  Yeah.  But that's one idea I had recently.  I have too many.
Alyssa:  That's funny that you say that really, all that Baby needs is food, shelter, and love.  That's how I end my newborn survival classes.  I'm like, all this information that I gave you, if you get nothing else out of this, is keep it simple because there's just way too much information out there, and Dr. Google is telling you one thing, and your neighbor is telling you another thing, and your mom and your mother-in-law are conflicting things.  Keep it simple, and give this baby food and love and shelter.  That's all this baby needs.  The rest is just icing on the cake.  They're going to be fine, and you're going to be great parents.  Just keep it simple.
Bri:  I love that!
Alyssa:  Anything else about your postpartum journey?  How old is your son now?
Bri:  He is a year and a half.
Alyssa:  And how has it gone from the nine-month weaning period to twelve months walking?  How has your journey been?
Bri:  So he had actually had some – we actually went to food therapy for him, too.  So we weaned him at nine months off of breastmilk, and then we did formula.  We noticed he was having trouble eating solids.  He would try to eat and try to swallow, but then he would gag and sometimes to the point of vomiting.  So at first, I thought, you know, maybe it's just something he's doing and he's learning, but it would happen a lot, and so I actually got a request to go to Mary Free Bed, and they were wonderful there.  They actually said, yes, he has silent reflux, and so that is why this is happening, and then they were showing how his tongue wasn't working in the correct ways to swallow and get all the food out of his mouth that he was eating.  So we went there for a few sessions and then I just did stuff at home.  Also, that of course didn't help my anxiety, but that's okay.  It really taught me to be patient and to be understanding and being a part of Better Body Image, I don't want his relationship with food and his body to be stressed from the beginning.  He needs to have me be calm so that he doesn't get a bad relationship with that food from the start, and he needed more of me to be the patient and calm one, and he now is doing great.  He has weaned off of bottles now.  He does do a bottle of water for comfort sometimes, but he's drinking his sippy cups.  He's eating lots of food.  Our magical food we found that he just could do really well with was cottage cheese, and he loves it and he'll eat tons of it, and now he's doing better.  He actually ate noodles last night, and he usually never eats noodles, and he ate some chicken, and I was like, whoa!  And it was just really exciting.  So that's how his food journey has been more unique, but it's been really good for me because I'm able to understand the signs better, and he's a healthy, happy boy.  He likes to play.  He's very extroverted, so he likes to go up to people and talk to them.  And right now, it's half-gibberish, half sentences, and the other day I was washing dishes while he was eating some snack, and he goes, "What are you doing?"  And I'm like, whoa, you just…
Alyssa:  A full sentence!
Bri:  Yeah, out of nowhere!  But I always ask him that all the time, like, "What are you doing?"  And so I thought that was funny, and I just told him, "Well, I'm washing dishes.  That's what I'm doing right now."  And then the other day, my husband said, "Hey, did you go to the doctor today?" And he answered, "I didn't do it."  And then just went and played.  So it's been a really fun journey.  And I'll say that I know I wouldn't be the same without having him as my son.  There's something about having a child that does change you in different ways, and it challenges you to be a better version of yourself, more patient, just perseverance to a different degree, and being able to function on less sleep.  You still want to get enough sleep, but you realize how much you can actually do in a day vs. when you didn't have a kid.  I'm so much more efficient in certain ways.
Alyssa:  I'm definitely more productive.  My time is so important, and I get so much done.  It's very valuable; I'll say that.
Bri:  Yeah, very valuable and efficient.
Alyssa:  So do you feel like, even though your whole life you're going to struggle with anxiety and depression, that you're just learning different ways to cope with these new developmental milestones, and instead of internalizing everything – and it sounds like your husband may be like mine, where he's very rational?
Bri:  He's very calm.
Alyssa:  And says, hey, let's look at all these bottles you've got laid out and you're counting and all the supplies – my husband did the same thing for me when I was struggling with breastfeeding.  He was my voice of reason, so finding somebody like that, that you can talk to and say, okay, how can you calm me down?  Tell me something that's rational.  Validate me and understand my feelings, but let's look at this outcome or this fact.
Bri:  Yeah, I definitely think so.  I think I've learned with him to let go of control more.  I'll still always really – I'm a planner, and I like to do stuff like that, but I'm trying to let go of control more.  And then I think also having self-compassion more, which is my new thing I like to teach people about, but just being compassionate towards myself makes things a little bit less extreme or less anxious.  So, oops, I lost my temper or something with my son because I was up here and there were so many different things going on that day.  Well, I make sure to apologize and hug him, and then that's that.  I forgive myself, and I don't dwell on it.  In the past, I would have, the whole rest of the day, been just dwelling on that, or any event that happens; dwelling on every single thing.  And there's too many things that happen in a day that can bring you down, and if you just take each of them so much and internalize it, you're going to drive yourself crazy, and it's just not fair to yourself.  So I think also embracing that life is always going to throw you different things, and that's just another constant that you can know and expect, and just don't put too many expectations.
Alyssa:  My journey is very similar to yours.  I think I didn't realize that I ever had anxiety until I had a kid because I went through a lot of the same struggles you did.
Bri:  Yeah, there's a lot of different exercises I use daily, too.  If my mind starts to spiral, I stop that thought, and I go, okay, is this thought – this feeling can be valid, but is this thought truth or a lie?  Is this really something that I should think about to that extent?  No, it's probably not, so let's stop that.
Alyssa:  All the would-have, could-have, should-have, right?  Like all these things that could happen – well, it didn't happen.  It probably won't happen.  So why am I dwelling on this?
Bri:  Exactly.
Alyssa:  This intrusive thought of something I'll never have to deal with.  I totally get it.  Well, you have your own podcast?  Tell us the name of that and where people can find it.
Bri:  That podcast is called Compassionately You, and you can find it on iTunes and Google Podcasts.  It's also on my website, and I just host conversations where I have people on and they talk about either a personal journey or a body image journey and we talk in vulnerability in hopes of inspiring other people or if someone went through a similar situation, they can relate and feel that they're not alone.  And we also usually feature people's businesses in there, as well, during that podcast.
Alyssa:  Cool.  So the Better Body Image Conference – is it once a year?  Are you going to do it every year?
Bri:  Yeah, once a year.  We are set for next year, same place, Wealthy Street Theater, on March 2nd, 2019, so we're set for that date.  And, actually, our speaker is going to be Diane Bondi, who's in the yoga world.  But we are looking into and we have done a few mini-events where we just partner with an organization or a few and we host – who knows what I can be, but we host different types of mini-events.  One was a reshowing of the movie that we showed at our conference this year.  I think we are going to possibly be partnering with an organization this December to do another event, and then there might be some in the works for January, as well.
Alyssa:  Where do you promote those?
Bri:  We usually promote them on our Facebook and on our website, which also just got a redesign.  One of our board members is a designer, and the lovely Brittany redesigned it, and it has pictures from last year.  I think, actually, our main header image is a picture during the Gold Coast Doulas workshop.
Alyssa:  I'll have to look.  I didn't know you redesigned.  I'll have to look.
Bri:  We just did it this week.  She's been working hard on that.  And so that's a lot of fun there.
Alyssa:  Awesome.  Well, thanks again for doing this.  It's always great to see you and talk to you.  Thank you for being vulnerable and sharing your story.
Bri:  Definitely.  Thanks for having me, and if people wanted to follow my Instagram page, I'm pretty vulnerable with just life.   So it's just @briluginbill.  I just try to be super vulnerable in my days and let people know, like, hey, if you're having this type of time, I might be, too.
Alyssa:  Well, you can always find us at our website, Instagram, and Facebook, as well.  Hopefully we'll talk to Bri again sometime soon.  Hopefully, everyone has a great day!