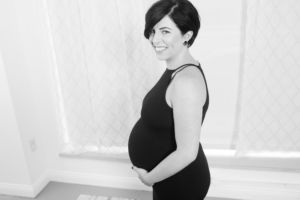 Podcast Episode #23: Amber's Cesarean Birth Story
On this episode of Ask the Doulas, Amber shares how her Gold Coast Doulas supported her through her C-section experience.  You can listen to this complete episode on iTunes and SoundCloud.
Alyssa:  Hi, welcome to another episode of Ask the Doulas.  I am Alyssa Veneklase, co-owner and postpartum doula, and we are talking to Amber again.  We talked to her last time about her story of hiring a doula, and we learned that after planning for a natural delivery and using hypnobirthing techniques and going through that course together, you found out that you needed a C-section.  So tell me when you found that out.
Amber:  At 37 weeks.  So I have midwives, and I had not had an ultrasound since 20 weeks, and we definitely thought he was in position.  We were getting ready to go to Chicago for the weekend to our friend's cabin and just had a quick little visit with our midwives and we did an ultrasound during that, which I thought was obviously going to be super routine and just a little quickie, and then received the information that he was breech.  So he was actually sitting across my pubic bone.  It was shocking, to say the least.  I thought with all the appointments that we had that he was face-down and ready to go, and that's just what I knew and what I was comfortable with, and it definitely took us for a little bit of a roller coaster.  I was a little bit in shock when I found out, and then as we were walking out, I just started bawling in the parking garage because it just really hit me.  In the hypnobirthing class, one of the things that you do to release fear is just write down all of the things that you're scared of, and the biggest thing that I was scared of was having a C-section because I'd never had a surgery before.  I was emotionally and relatively physically prepared at that point for a natural birth.  I was 37 weeks; I had done all of my classes; I had my doulas; I had my midwives.  This is what was going to happen, and so it kind of flipped all of that upside down a little bit.  It was difficult pill to swallow at first.
Alyssa:   So what happened then at 37 weeks?  You just said okay, it is what it is?  Or what did you do?
Amber:  Oh, no.  No, not with my personality.  At the ultrasound, my midwife definitely – she knew what we were doing.  She knew that we were preparing for a natural birth.  She knew that we had doulas, and I think she could see it on my face that I was relatively devastated by the news.  She told me that we still had time, still three weeks to try to flip him, and it's totally possible.  So she did give me a little bit of hope in it, but then also did explain that I was relatively far along, and I didn't have as much amniotic fluid for him to flip naturally and it was going to be a little bit more of a challenge.  But I didn't lose all hope at that appointment.  I think that it just took me a second to, I guess, digest the news.  Then with my personality, I just started Googling everything I could about breech babies and how to flip them, and I remember one of the first things I did was text Ashley and Kristin, and I was like, what can we do to get this baby down into position?  So I did a little bit of a roller coaster of being sad and then almost getting a little bit obsessed, I think, with turning him.
Alyssa:   So tell me some things you did.  What did you try?  What didn't you try?
Amber:  Oh, my God.  What didn't I try?  So we had gone to our friend's cabin that weekend in Chicago.  I spent a lot of time in the water.  I did a lot of headstands, which was just absolutely hilarious, this huge pregnant woman doing a bunch of headstands in the water.  People were like, what is she doing? So yeah, spent a lot of time in the water, did a lot of headstands.  I did some inversions.  I looked up a lot of stuff on spinning babies, so I did a lot of inversions.  We did Moxa, a Moxa stick, burning it by my feet, which in Chinese medicine is supposed to help.  I did acupuncture.  I did chiropractic work.  I did literally everything, and there were a couple times – I was so in tune with my body at that point because I was like, "I know I'm going to be able to feel him when he flips," so everything that he did, I was like, "Oh, he just flipped.  He just flipped."  I just kept talking myself into the fact that he was, and then I went in for a couple ultrasounds during those couple weeks, and he didn't.  So our last-ditch effort – I did an ECV in the hospital with Sara LaGrand and my OB, Carrie, and Ashley was there to support us.  I went in and I was like, "This is it.  He's totally going to turn."  They had a really good success rate in doing that, and oh, my God, they tried, for a good 15 minutes, and he would kind of get sideways, and then he would just snap back up into position, and it just got to a point where Carrie was like, "I just don't think that this is going to happen today."  And then there was just another huge letdown because it's like, I really put all my eggs in one basket for that, and that's just such a dangerous thing.
Alyssa:   How far along were you when this happened?
Amber:  I was 39 weeks.
Alyssa:   So you knew you had exhausted all possibilities at this point.
Amber:  Yeah, that was it.  That was it.  We waited so long because there's a good chance that you can go into labor after that.  Your placenta can detach.  It's a pretty aggressive form of trying to flip them, but it's what I wanted.  I was willing to do anything at that point because I just had such – in my mind, I had really gotten obsessed with the idea of laboring, and of laboring with my husband and just having that really intimate experience together, and I think that was a really hard thing to let go of because while I know that C-sections are completely routine, they happen all the time, it is not what I wanted.  And how is this fair?  So many people go into birth not doing any type of research about what kind of birth they want or any education and end up having successful births, and it's just like, how did this – why?
Alyssa:   You did all your homework.
Amber:  Yeah, so once again, I kind of got into a little bit of a funk, and I was like, at this point, my C-section was scheduled for the next week on his due date at 40 weeks.  And I just knew the chances of him turning at this point – he's just not going to.  You know, if he wasn't going to turn with two grown women waling on him from the outside, it's just not going to happen.  And so I was sad, of course, and I allowed that.  And I had this conversation with Kristin one night.  I was just really emotional, and I very much wanted to bring my son into the world and be in a really good place with what was going to happen, and I just wasn't.  I really needed to do some work on myself emotionally to get in a good place to just accept what was going to be.  And I think that the whole situation was a huge learning experience for me because birth is really out of your hands at the end of the day.  You can do whatever you can do to try to set yourself up to have the birth that you want to have, but the reality of it is he's going to come the way that he's going to come, and there's nothing that I can do to control that.  And so I was really sad one night, and I called Kristin, and we just had a really real conversation about me and where I was at with it, and I just got such amazing advice from her and the fact that this is still your birth story.  This is not a situation where you have lost all control.  You still do have control over this.  It's still a birth; it's still what you want it to be.  And so she really empowered me to kind of take the reins back a little bit and think about what kind of experience we wanted to have in the OR.  And I feel, honestly, so blessed about the team that I did have.  Because of Gold Coast, actually, like really early on when we brought you guys on, I was having second guesses about the practice that I was with just because it was a really big practice, and I did want something so specific, and I just didn't think that I was completely aligned with the OB that I originally had.  She was absolutely wonderful, but I don't think she really participated in a lot of natural births, and she didn't work with doulas a lot, so that was just kind of something that I had a gut feeling about.  And I was relatively far along at that point.  I was like, I don't really think I can switch, and because of conversations that I had with Kristin, I did end up switching to Advanced OB, and that was the best-case scenario.  I just think about all these little pieces that kind of fell into place, and I had Breck and Sara as my midwives and absolutely loved them.  Obviously, they could no longer really have me after I found out that I was breech, so I ended up being switched over to the – there's only two OBs in that practice.  It's Carrie Roberts and John LeGrand, and I remember my first meeting with them.  They knew I was super upset about it, and they didn't do a lot of C-sections in that practice, either, and they were so open to just a lot of conversation around it.  They heard my fears around it.  I felt so supported already in the fact that this isn't what I wanted, but they're going to make it as good as they possibly can for me.  So after that conversation with Kristin, I decided to write a birth plan that night.  I was like, what do we want?  So we created a playlist and had a playlist playing when he was born.  He was born into the most amazing, beautiful song ever; I still cry every time we hear it.  We did immediate skin to skin.  They did delayed cord clamping.  So many things that were on my original birth plan still happened.  And I think another big thing that came out of that conversation with Kristin that night is I actually wrote a letter to Parker, and that was really cathartic for me because I just told him that I trust him, and I trust that he was in this position for a reason and that we were still going to work together as a team and have a successful amazing birth, and that was – I just felt like I got a little bit of power back, I guess.
Alyssa:   I think that's what people don't understand.  The support of a doula through a C-section, even if it's a planned C-section, that it's still a birth, it's still your story, and you can still have a plan put together that makes it feel like your own and that you do have choices still.
Amber:  Yeah, I mean, I had the two OBs in the office there during my C-section, and Sara LaGrand, my midwife, showed up too.  She did not need to be there, and she took video of my entire birth.  She took a lot of pictures.  When I watch my birth video, even though it was a C-section, I feel so – I cry every time.  I feel so emotional, and it really came full circle.  I was sad; I had to digest that; I had to allow that.  I had to feel in my heart that I did as much as I could to have turned him, and I did, and I was at peace with that, and then I was like, how do I want to show up in this?  And I did.  I did my emotional work; I did what I felt I needed to do to be in a good place with it, and I could not have had a better experience.  And I thank the doulas for that.  I thank Ashley and Kristin so much.  Ashley ended up giving me scripts of hypnobirthing for C-sections, and so I still felt super supported in that, and then my midwives and Dr. LeGrand and Carrie Roberts were just the most amazing team.  And I didn't feel like it was a surgery.  I didn't feel like it was just a routine thing, like they were concerned about my experience and really wanted me to have as good of an experience as I could, and I did.  And I'm so blessed to say that, and I just don't think that it would have ended up like that if I was anywhere else.
Alyssa:   Well, thank you for sharing.  It's a really beautiful story, and I know it's emotional, but it's lovely to hear stories like that, and I think you're really going to help some other women.  A lot of women don't process it the way that you did, and I think it's really healthy and really good that you were able to do that.
Amber:  Thank you so much.
Alyssa:   So if anyone has any thoughts about that, feel free to email us at info@goldcoastdoulas.com.  And you can find us on our website, www.goldcoastdoulas.com; Facebook, Instagram, and then obviously you can listen to our podcast on iTunes and Soundcloud.  Thanks again, Amber.
Amber:  Thank you.