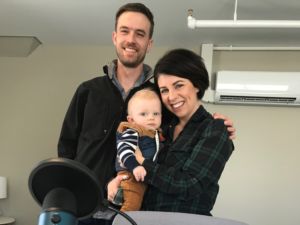 Podcast Episode #22: How to get Dad on board with Hiring a Doula
On this episode of Ask the Doulas, Alyssa talks with Amber and Ashton about getting your husband or partner on board with hiring a doula.  You can listen to this complete podcast on iTunes or Soundcloud.
Alyssa:  Hi, welcome to another episode of Ask the Doulas.  I am Alyssa Veneklase, co-owner and postpartum doula, and today we are talking to Ashton and Amber, and little Parker is here as well, so we may hear him talking, too.  Hi, you two.  Thanks for joining us.
Ashton:  Hello.
Amber:  Hi.
Alyssa:  We have you both here today because some clients do have a little pushback when Dad kind of says, why would we have a doula in this sacred space, this birth space?  So can you two tell us how that story started for you and what it looked like, your journey into actually hiring a doula?
Amber:  Yeah, definitely.  I think for me, I have always been very attracted to the idea of having a natural birth, ever since I can remember, really.  I'm a hair stylist, and I have a lot of clients who have had babies, and actually, a lot of them have had natural births, and it's always such an emotional thing to listen to their story and the experience that they have.  And I really do think it's something that you very much need to prepare for and set yourself up for success with, not just something that you want to do, but something that you are fully comfortable with for the most part and having people in your court to cheer you along.  So I always knew what a doula was and a little bit of what kind of role they played, and that was always the common denominator in all of the births that I heard about was that they did have a coach there, a doula there, and so for me, it was kind of a no-brainer.  It was just something that once I found out I was pregnant, I was like, well, we need to start looking into doulas.  And so I had brought that up to Ashton one day and was just telling him, you know, we've got to hire a doula.  And I think it kind of caught him off-guard a little bit, and he wasn't exactly sure what it was or why we would need one.  It was something I knew that I wanted, but I wasn't so prepared to explain to him what kind of role they actually did play in the delivery room.
Alyssa:  How did that conversation look?  How did you start that conversation with Ashton, and, Ashton, what were your initial thoughts when she said doula?  You're like, doula what?
Amber:  Yeah, I think I just went in assuming that he was going to be on board with it, and yeah, of course we're going to have a doula.  So I was already kind of researching ones in the area and brought it up to him, and I just remember a little bit of a – well, why?  And that took me off guard a little bit because – I don't know, but why I assumed he knew what one was and that it would be really helpful to us.  In that moment, I wasn't sure, either, how to explain to him what one was, so I kind of remember there being a moment of, well, we'll go back to the drawing board for a minute; I'll do my research and kind of come up with some possibilities of ones to talk about.  It just didn't go as smoothly as I thought, and I guess I kind of felt bad, too, that I didn't explain better what a doula was, and I think – and obviously you can talk more about this, but I feel as though he thought it just wasn't necessary, and yeah, the why, like why would we need that?
Ashton:  Yeah, I think the conversation when you brought up the idea of having a doula – I didn't know what a doula was; had never really heard the term before.  I think maybe we'd seen some episodes of The Mindy Project and that was kind of my first exposure to a doula.  So yeah, at first, the idea – you know, at this point, we're a few months along with the pregnancy, and obviously the shock has hit us.  It's still kind of surreal; we're not sure what to expect.  And the thought of – up to this point, it's the two of us, you know, the team effort that's going to get through the delivery, and I guess I kind of had that anticipation going into it that it would just be the two of us.  I was thinking that yeah, we can do this; we'll do our homework, and we'll learn the techniques that will help you deal with the pain and everything and how I can help you cope with that.  And the idea of bringing someone else in, as you described it, somebody to help you through the birthing process: at first, yeah, I felt a bit taken aback, almost that I wasn't going to be good enough; like, what, am I not good enough?  Am I not able to support you through the birthing process?   So I felt a little shafted at first, and it probably wasn't until I did some research and we picked up the book The Birth Partner by Penny Simkin, which is really an in-depth guide to what doulas are and a good resource for fathers and expecting mothers and probably other doulas and birth companions.  So it wasn't until I started reading that and learning about the doula's role; you know, it's not that they're coming and just supporting you, but they're really supporting me as well, and I didn't really understand that initially.  I didn't think that I would need support through the process, but the fact is, we ran into all sort of obstacles and unknowns, and having this doula, somebody who's been through dozens if not hundreds, even, of births with different people – having that kind of experience in our court really helped to ease a lot of concern.  Overall, looking back on it, we would absolutely do it again, even though we ended up having not a natural birth but a Cesarean birth.  It was maybe even more beneficial because it was such an emotional roller coaster.  We were set up to have a natural birth but we ended up needed a Cesarean because he was breech, and that emotional deviation was – yeah, the doulas really helped us process that as well.  So yeah, it was tough to process at first, but I definitely would recommend it.
Alyssa:  How long did it take you to get there, from the day Amber said, "I want to a doula" and he was like, what the heck, so this now, of him saying, okay, sure, I'll read this book?
Amber:  You know, for Ashton, I think that he needs a lot of information around something before he's on board, and I'm totally the opposite.  Like, I put all my eggs in the basket, and I just go full-forward without – and I'm like, I'll figure it all out later.  Well, he's very opposite, and so I had picked up The Birth Partner book for him because I do think that he just really needed to understand the whole picture and the role that a doula does play, and he didn't know that.  So how I am going to get him on board for something if I just say, well, they're just a coach in the delivery room?  It is so much more than that.  And so I think that just having the information is so powerful with that because everybody has pushback to stuff that they don't understand.  That's just kind of human nature, right?  So I think, yeah, the more information that he received – and reading that book, too, I think that he felt so much more empowered about birth and being a good birth partner for me, the role that he would be in, and knowing that a doula is just making him stronger throughout it and making me stronger.  It's also just having somebody to always go to with questions, no matter what it is.  For me, I feel like our doulas, Ashley and Kristin, showed up in such a different way than I had originally expected.  You know, you bring them on to help you in the delivery room, and that unfortunately wasn't the case for us, but the support that we received going up to that was just incredible.  You know, texting them with random little things.  I mean, it was my first pregnancy.  I would have a question about something or I would have a sensation and be like, is this normal?  And I always had somebody that I could go to with just the shooting of a text, no matter what time of day it was.  And that was really, really awesome for us, but especially for me, just knowing that things were normal, and I didn't have to worry about stuff.  And we went through the hypnobirthing as well, so we just received so much by bringing Gold Coast on.  We had interviewed a couple doulas, and you guys were one of them, and we just felt like it was such a good match.  We did the hypnobirthing and just received so much information around labor.  I had no idea what your body even does during labor, and I think that bringing a doula on and just getting so comfortable and confident around what labor is, how it goes down, the differences, the changes that your body goes through – I think understanding that alone made me feel so much more comfortable in my pregnant body and potentially going into a natural birth.  That was what we had planned for, and it didn't happen, but regardless, I felt like I had so many tools in my belt, and I just understood a lot more that I wouldn't have received if I hadn't hired a doula because then we probably wouldn't have done the hypnobirthing or any of the other classes that we did, as well.  So think that it's just kind of a –  you know, once you bring a doula on, there's so much information that you can get from it that can potentially set you up for a successful birth.
Alyssa:  So we'll have you on again to talk about how planning for a natural delivery and ending up with a Cesarean.  Ashton, I actually wanted to ask you one more question before we wrap up here.  So for the guys, for the dads out there who don't read – like, my husband would have never read a book, had I asked him to.  If you had to tell them a couple things to say, okay, this is why you need to hire a doula; what would you say?
Ashton:  You know, I think it's a tough question to distill it down.  Everybody's going to have a different perspective on it.  I could tell pretty early on when Amber approached me with the idea of bringing a doula on board that it's something that would make her feel more confident in the delivery of our first child, and at the end of the day, I think that's ultimately why I wanted to support it.  I wanted to learn more about it because especially with the stress and the difficulty and the emotional roller coaster that goes on with having your first child, all the unknowns, all the fear – you know, at the end of the day, if having a doula is going to make you more comfortable, then that's probably not something I want to oppose.
Alyssa:  How did the doula support you?  You had said that it wasn't just for the laboring mother but for you as well.
Ashton:  Yeah.  Well, it was mostly educational, so we did participate in the hypnobirthing class, and I think learning so much about the birthing process through that also helped me understand the role of a doula, but also the role of myself in the delivery process.
Amber:  You felt very empowered after the hypnobirthing, right?
Ashton:  Yeah.  It took a lot of the fear and the unknown and made it more accessible because I knew or I had at least some ideas of what we were getting into.  But again, I think the emotions and the fears are probably some of the hardest parts around having our first child, at least for us, and having the doulas with us to answer both of our questions, being there at the delivery, helping us with our first latch once Parker was born – I think just having that reassurance and that additional resource and expertise just made us more confident going into it, which was certainly worth the cost.
Amber:  Yeah, I feel like we really had an incredible relationship with Ashley and Kristin, and it happened quickly.  And like I had already said, just always having somebody to reach out to.  I had so many little questions along the road, and it's not like you can call your midwife or OB every single time you have a question, and going to the internet when you're pregnant is just –
Alyssa:  Stay away from Google!
Amber:  You stay away from it.  So there was just always somebody that we could reach out to, and that alone was worth it.  And just the relationship that we both created with them, I think especially through the hypnobirthing, we both felt very empowered.  But they really empowered Ashton to be a good birth partner through labor, and doing the breathing techniques together, having him be my coach through that stuff.  While our doula taught it, I think that she really put a lot into his court in a good way.
Ashton:  Yeah, it was like a having a – Ashley in this case was a birthing coach for me and a birthing coach for Amber, but she definitely made me a more competent and confident partner going into the delivery room and through the last stages of pregnancy.  So yeah, ultimately, it made us both more at ease and more relaxed in the pregnancy in general, and that's a hard thing to put a price on.
Alyssa:  Well, thank you for sharing.  We'll have you back again, and we will talk about how your actual last few weeks of pregnancy went and how your doula supported you in that role.  Let us know what you thought about this episode.  If you have any questions, you can always find us: info@goldcoastdoulas.com.  You can email us there or find us at goldcoastdoulas.com, Facebook, and Instagram.  Thanks.