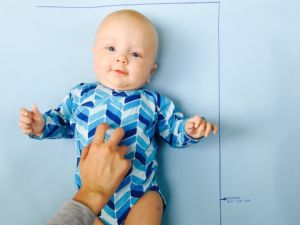 Podcast Episode #19: Lisa's Postpartum Journey
On this episode of Ask the Doulas, Alyssa talks with Lisa about her postpartum doula and how having a doula helped with her recovery.  You can listen to the complete podcast on iTunes and SoundCloud.
Alyssa:  Hi, welcome to another episode of Ask the Doulas with Gold Coast Doulas.  I am Alyssa Veneklase.  I am co-owner and postpartum doula.  Today we are talking to a client, Lisa, again.  Hello, Lisa.
Lisa:  Hello.
Alyssa:  Last time we talked about her and her husband's struggle with fertility and how that looked for her.  Just to kind of recap, it took them about two and a half years, and then she ended up with an emergency C-section five weeks early.  So we're going to talk about what her life looked like once she got home.  So Ethan spent five days in NICU, and you said you were ready.   You were ready after that; five days was enough.  Is that because it was scary having a baby in the NICU, or you just wanted to go home?
Lisa:  Everything is very medical and monitored, and it feels – there's definitely a separation between the natural kind of mother-and-child bonding, I think, that happens in those early hours, those early days.  So for example, when I had the C-section, they wouldn't actually let me go visit him until I was able to get up out of bed by myself and go to the bathroom.  So I ended up not being able to see him for the first 17 hours.
Alyssa:  You were like, "I will get up and pee by myself!"
Lisa:  If this is the last thing that I do, I am going to get out of this bed and go pee!  Yeah, so, that made me anxious because I was literally sitting in this hospital bed by myself in a room by myself because my husband was with the baby doing skin-to-skin, and I was counting the minutes.  When do I get to go meet him?
Alyssa:  So five days later, you get to bring him home.
Lisa:  Actually, eight days later.   Yeah, we bring him home, and it was so funny because as much as I wanted to leave the NICU, the minute we got home, he wasn't hooked up to a monitor so you don't know his oxygen saturation levels; you don't know his temperature; you don't know all these things that the machines are telling you.  And I literally was fearful that he was going to die in the middle of the night.  I'm like, "Well, he's just going to stop breathing, and I'm not going to know because the beeper isn't going to go off."  And so then I had this anxiety about not having all of the faculties that you have in the hospital.  But luckily, we knew right from the beginning that – we had a birth doula who played a very different role than what I expected her to play in the beginning.
Alyssa:  Yeah, absolutely.  How did your birth doula end up supporting you with an emergency C-section?
Lisa:  She didn't make it to the hospital in time because it was – it happened basically in 45 minutes, and so just with the distance, she couldn't get there, but she sat with me in the room after I recovered for several hours, when I was coming down off the gas and stuff that you get.  Not gas; it's an injection, but anyway, you know, when you're really coming out of the stuff that they give you, and that was really helpful.  I'm glad that I wasn't alone then.  But we knew that we also wanted a postpartum doula.  Neither of us had been around babies very much in our adult life, and we wanted somebody who was an expert with infants that knew the research and the range of – what are the options, when I have a question?  You know, about sleeping or whatever; that would be a great one because we did struggle a lot with sleeping.  What are the different approaches and why, and what are the pros and cons to each?  I talked a lot to my postpartum doula about sleeping and how to encourage sleeping, creating the right environment and all of that.  But otherwise, I didn't know what I was doing.  I was also recovering from an abdominal surgery, and I just plain needed help, you know?  I was struggling with getting up and down stairs because it was still quite painful.  And so we had a postpartum doula come in every morning from six to nine through the work week and then on the weekends, my husband and I were together, so then we were able to kind of tag-team, and that was obviously different.  And then we also did have several overnight stays.  But even simple things the postpartum doula helped me with was, how do you get up with a new, new baby, at least get yourself in the shower, and eating breakfast, before you're kind of down on the couch nursing them for the first time or for the first nap during the day?  And I think that would have taken me weeks to figure out.
Alyssa:  To figure out, like if I get up a half an hour early and try to get in the shower…
Lisa:  Yes!  And just a shower and eating before you're starting the whole rigmarole of the day, especially when you're breastfeeding, because I was really hungry – that makes a huge difference.
Alyssa:  Well, and most women, especially in the beginning when you feel like you're nursing all the time –
Lisa:  All the time!
Alyssa:  And you're so hungry and so thirsty, and then they tell me, well, I don't have time.  You need to make time.  If you're not drinking, you're not eating, your milk supply is just going to start to slowly diminish.
Lisa:  Yeah.  And then I couldn't do things like go to the grocery store; that was a big challenge, or do any type of meal planning.  So then our postpartum doula – we said, this is the food that we like, and so she basically created some meals, went to the grocery store, brought them back, did some or all of the food prep for the different meals, and that was just life-saving as well.   But mostly I think for me it was a trusted partner.  Like, who can I just ask anything to and it be just fine?  And maybe it's lack of knowledge for me or just that I don't know who else to ask this question to.
Alyssa:  Well, it's overwhelming your first time.  You literally know nothing.  I mean, very little.
Lisa:  I didn't even know how to swaddle.  I mean, swaddling was a big learning curve for me.  I never really got it tight enough.  In the beginning; I eventually did, but –
Alyssa:  He'd just kind of ninja his way out?
Lisa:  Yes, he did!  Yeah.  This person, this woman, this angel of mine, her name was Kate, and she was wonderful.
Alyssa:  Now, we should mention – we didn't mention that you lived in Seattle at this point.
Lisa:  Right.
Alyssa:  So you were not in Grand Rapids.  When did you find out you were moving?
Lisa:  When our son was three months old.  He had just turned three months.
Alyssa:  Yeah, because you had just gotten here when he was about four months, right?  So you had a month to prepare.  How was that?
Lisa:  I think I was in a little bit of denial about how much needed to be done.  We decided to spend more money to push the easy button, so we hired movers to actually pack us for the first time as well as do the cross-country move, and that was worth every dime that we spent, even though that is not cheap.  It was really worth it.  And I just focused on my recovery and my baby and the bonding and just let all that other stuff go.
Alyssa:  So then you got here, and you had Judd's family here.  You have no family here, and your doula in Seattle found me.
Lisa:  Right, so then I was talking to her, and I said, "You know, I don't know what I'm going to do.  I don't know anybody there.  How am I going to unpack into a new house, meet anybody?"  And she's like, "Oh, well, let me just do some research.  I'll do some looking for you today," and she came back the next day, and she was like, "I found somebody."  And it was Alyssa.  And I was like, "Perfect!  Perfect!  At least I have a doula that I can totally lean on!"  And that was you, and…
Alyssa:  We met, and the rest is history, right?
Lisa:  The rest is history.  And my husband's family helped us move into the house, and that was unbelievably healthy.  Healthy?  Helpful!  I still have mom-brain.
Alyssa:  It never goes away.
Lisa:  I transpose these words and then it doesn't make sense.
Alyssa:  It doesn't go away.  It's not pregnancy-brain; it's mom-brain, for sure.
Lisa:  So at the end of the day, I'm really glad that we moved.  I think it was a really, really hard time.  I think moving may be – if you can wait until your baby is closer to one or something, that might be easier, an easier transition for the mom just because you're so exhausted in the beginning.  But Grand Rapids is really family-friendly, and I'm just so appreciative of that, and I feel like it's a good place to raise kids.
Alyssa:  We're glad you're here.
Lisa:  I'm glad that we're here.  And I'm glad to have met you!  Thank goodness for you!
Alyssa:  Yeah, we worked eight months, maybe, seven months?  Off and on; it was a lot in the beginning.
Lisa:  Yeah, until he was about a year, yeah.  At a year, I kind of felt like, oh, the weight of all of being a new mom kind of lifted a little bit for me, and I just felt more confident, I guess.
Alyssa:  Well, and he was gaining so much more independence that it was almost – I remember one day you saying "It's so great.  He's sitting up and he's doing all these things, but he's not my little baby anymore."  It was like this – I'm so glad he's doing this because now he can play by himself for a little bit on the floor and I can actually go sit down and eat or do dishes or something, but you struggled with this.  He's my baby, but he's not my little baby anymore, and he's doing all these other things.  And I think we all struggle with that.  Me, I only have one child, so every phase, every developmental stage, I just – good and bad, I love it.
Lisa:  Because that's the only one you get.
Alyssa:  Yeah.  So I guess that's a piece of advice I give, especially if you're only having one –and you may end up trying for more; who knows, but you just – it helps you get through the hard times.  Even the sleepless nights; it's all temporary because soon he's going to be eight, right?  He's not going to want to sleep with you, and he's not going to want to wake up.  You're going to have to wake him up!
Lisa:  That's right.  I can't even imagine that!  He's still waking up probably three times, religiously, every night.  But it's a lot better than what he was.
Alyssa:  You're getting sleep.
Lisa:  Yeah, I'm getting enough sleep now.  I'm not crazy like I was; sleepless-crazy.  You know, an hour or 45 minutes of continuous sleep, all during the day, if that's all you get, that is not enough for a person to have their wits about them.  It's just not.
Alyssa:  No.  I think we'll talk next time with Lisa about the effects of sleep deprivation and how – you know, a pregnancy journey that doesn't go as planned along with sleep deprivation and an emergency C-section; all these things; how does that play in your brain.  So stay tuned; we'll talk next to Lisa about that.  Thank you for sharing today!
Lisa:  Thanks.